A suburban Museum focuses on war and peacekeeping. 
This year, the U.S. Army's First Infantry Division celebrates its first century. To commemorate the centennial, the First Division Museum at Cantigny Park in Wheaton has expanded its mission.
TRANSCRIPT
Phil Ponce: Outside, the Museum is flanked by historic tanks.
Inside, life-size dioramas take you into the trenches of World War 1, onto a frozen battlefield of World War 2 and through the jungles of Vietnam.
At the center of each conflict was the U.S. Army's First Infantry Division known as The Big Red One.
JD Kammes, First Division Museum: I served with the First Infantry Division for about eight years on Abrams tanks. I was stationed in Germany and deployed to Kosovo and Iraq.
The mission of the museum is to preserve and present the history of the First Infantry Division, and we embody that by trying to connect people with their soldiers. The division, the soldiers, the mission all belong to the American people. We want to connect the people to their soldiers so there's a lot of things about personal stories, personal artifacts that soldiers carried, things that they had with them, you know, equipment they used, because we want to get at that, the soldiers themselves.
Tons of places can talk about the battle and how this went and that went, but we want make that personal connection and see that these are just regular citizens like us, and they volunteered to do something dangerous and amazing, and they do it on our behalf.
Ponce: The major redesign of the museum offers a more complete history of a division that remains on duty.
Paul Herbert, executive director, First Division Museum: This year is the centennial of the First Infantry Division, it's 100 years old, it's never been off active duty, so we certainly wanted to do something big for the centennial, but our existing galleries only told the story through the war in Vietnam, which is really just the first 50 years, so we had this whole, more contemporary story that we had to tell, and we wanted to do that.
It's the complete 100-year history. Some of the things in the new gallery occurred in 2017.
The First Infantry Division is still on active duty, it deploys troops all over the world, matter of fact, next month it's deploying to Eastern Europe to bolster our deterrence there. So as long as we're here, we'll keep up with that continuing history.
Ponce: Chicago Tonight visited before it reopened to the public. And we found some special guests – soldiers from today's First Division, visiting from their home in Fort Riley, Kansas.
Sgt. Curtis Rhodes, First Infantry Division: We're here to be a part of the grand opening of the Cantigny Museum, here celebrating our 100-year anniversary being a division, the First Division, and we're here to fire the salute cannons, and I'm part of the salute detail.
Ponce: A new gallery features a virtual reality experience that simulates a modern First Division mission.
Rhodes: It was interesting to see such technology used in a military museum because I've been to a few military museums before and I've never seen something like that.
Herbert: We've always said that you can walk through the division's history in the boot prints of our soldiers. Well you can take that a step further; you can sit in a mock helicopter and go on a virtual reality experience with a squad of infantry trying to capture a bomb maker somewhere in the Middle East.
Ponce: The new gallery is also home to a big chunk of the Berlin Wall. And the museum is the proud custodian of seven Medals of Honor.
The museum is endowed by the McCormick Foundation. The editor and publisher of the Chicago Tribune, Colonel Robert R. McCormick, served in the First Division in World War 1. He renamed his country estate Cantigny after the small French village where the division fought and won its first battle.
Herbert: There was nothing in his very accomplished life that gave him more pride or satisfaction then his service as a soldier in the First Division in World War 1, and that's why our museum is here.
Ponce: 100 years of history have forged a great deal of pride within the division.
Herbert: The U.S. has created a lot of Army divisions and they all have great histories, but there indeed is something special about the First Division. It's that sense that we were first, we are first, duty first. There is a culture in that division that makes them more than they appear to be.
Rhodes: It's just amazing to be around the leadership and the soldiers that we have that help motivate and get through operational tasks to have a big effect, whether it be in the world or just in our area.
Kammes: There's this connection that you just have with people because of the things that you've had to do, and the similar experiences you've been through, and, it last forever.
We can keep adding to that story, because the division continues to serve, that story's going to continue to grow, and we want to be able to tell it.
Ponce: And it's a continuing story they want to impress on their fellow Americans.
Herbert: We want them to think about our troops – who they are, where they go, why they go there, and our own responsibilities for our common defense and for their welfare.

More on this story
The First Division Museum at Cantigny Park in Wheaton is open to the public. Admission is free, but there is a parking fee. 
---
Related stories: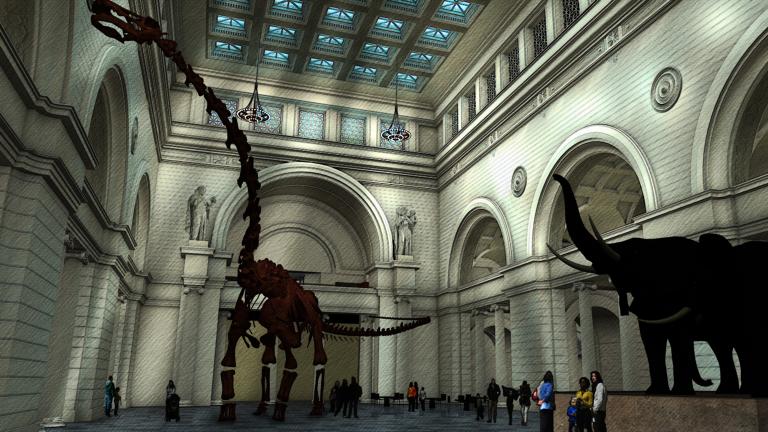 Photos: World's Largest Dinosaur Coming to Field Museum
Sept. 1: Chicago's iconic T. rex Sue will get a makeover when the largest dinosaur ever discovered comes to town. Stretching 122 feet from snout to tail, the titanosaur is longer than two accordion CTA buses end to end.
---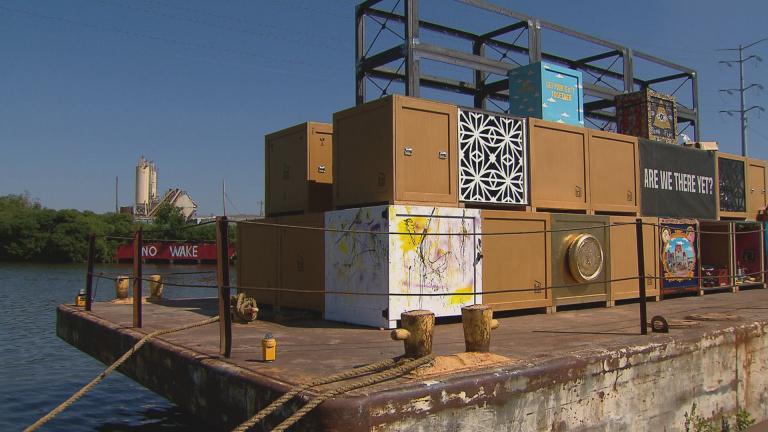 Floating Museum Begins its 3-Month Journey Up the Chicago River
Aug. 15: There's a new floating attraction along Chicago's Riverwalk. We go for a look.
---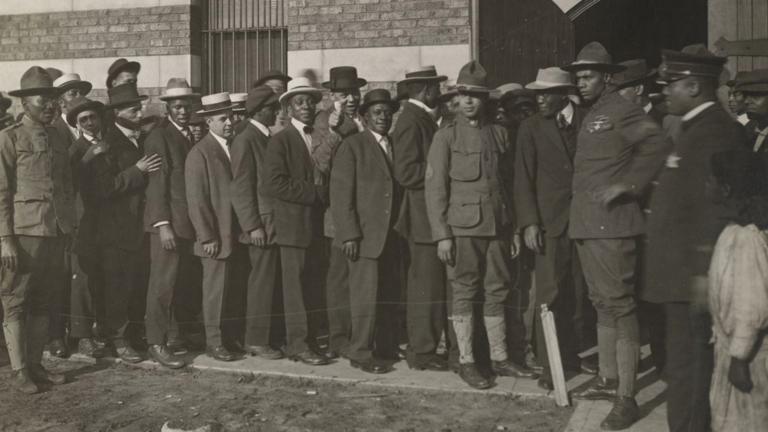 DuSable Museum Seeking World War I Artifacts, Stories for New Exhibit
June 12: The museum is turning to the public for help in telling the story of African-Americans who served as combat soldiers during World War 1.
---