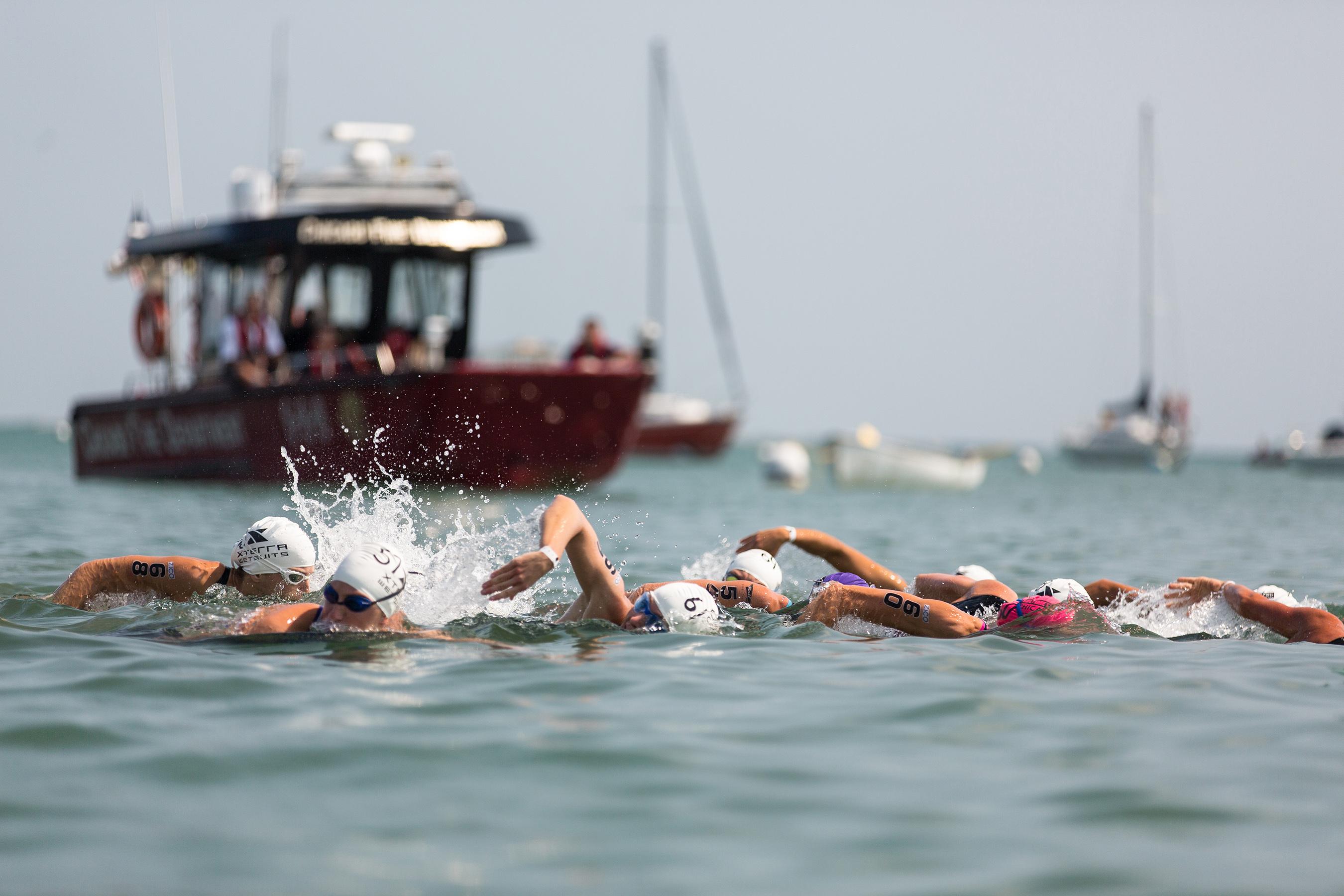 (Courtesy of Transamerica Chicago Triathlon)
1. Cheer
They have spent months sweating on bikes, running tracks and in wet suits. Now comes the party. Cheer on some 9,500 athletes from Chicago and beyond at the 35th annual Chicago Triathlon. Whether you know a participant or not, prepare to be inspired. Race day includes sprint and international distances, which break down to a 750-meter or 1.5-kilometer swim, 24.5K or 40K bike course, and 5K or 10K run. A post-race festival in Grant Park for athletes and specators includes food trucks, Goose Island beer vendors and live music.
Following an athlete? Check out the athlete tracker here.
Details: Swim course starts at 6 a.m. (international) and 8:45 a.m. (sprint) Sunday in Monroe Harbor, 700 S. Lake Shore Drive; finish line is along Columbus Drive in Grant Park. Free to spectators. Street MAP | Course MAP
2. Shop
Before the behemoth known as Renegade, there was—and still is—the Bucktown Arts Fest, a mecca for makers and spenders alike. The 32nd annual fair showcases handmade works by 175 artists, ranging from jewelry to photography to woodworking and beyond. Extras include food and drink vendors—including food trucks—two stages of live music featuring area bands, kids activities and entertainment, and—new this year—a dog parade on Sunday.
Details: 11 a.m.-7 p.m. Saturday-Sunday at Oakley Avenue and Lyndale Street. Free. |  MAP
3. Sip
Trade the bar scene for some real party animals at ZooBrew. The sixth annual beer event held on zoo grounds includes 3 oz. samples of more than 80 options from dozens of breweries, including Alarmist, Band of Bohemia, New Belgium, Revolution and Wild Onion. Live music, food vendors and a silent auction round it out.
Details: 5-9 p.m. Friday-Saturday at Brookfield Zoo, 8400 31st St., Brookfield. $55; $35 "designated driver" tickets available. | MAP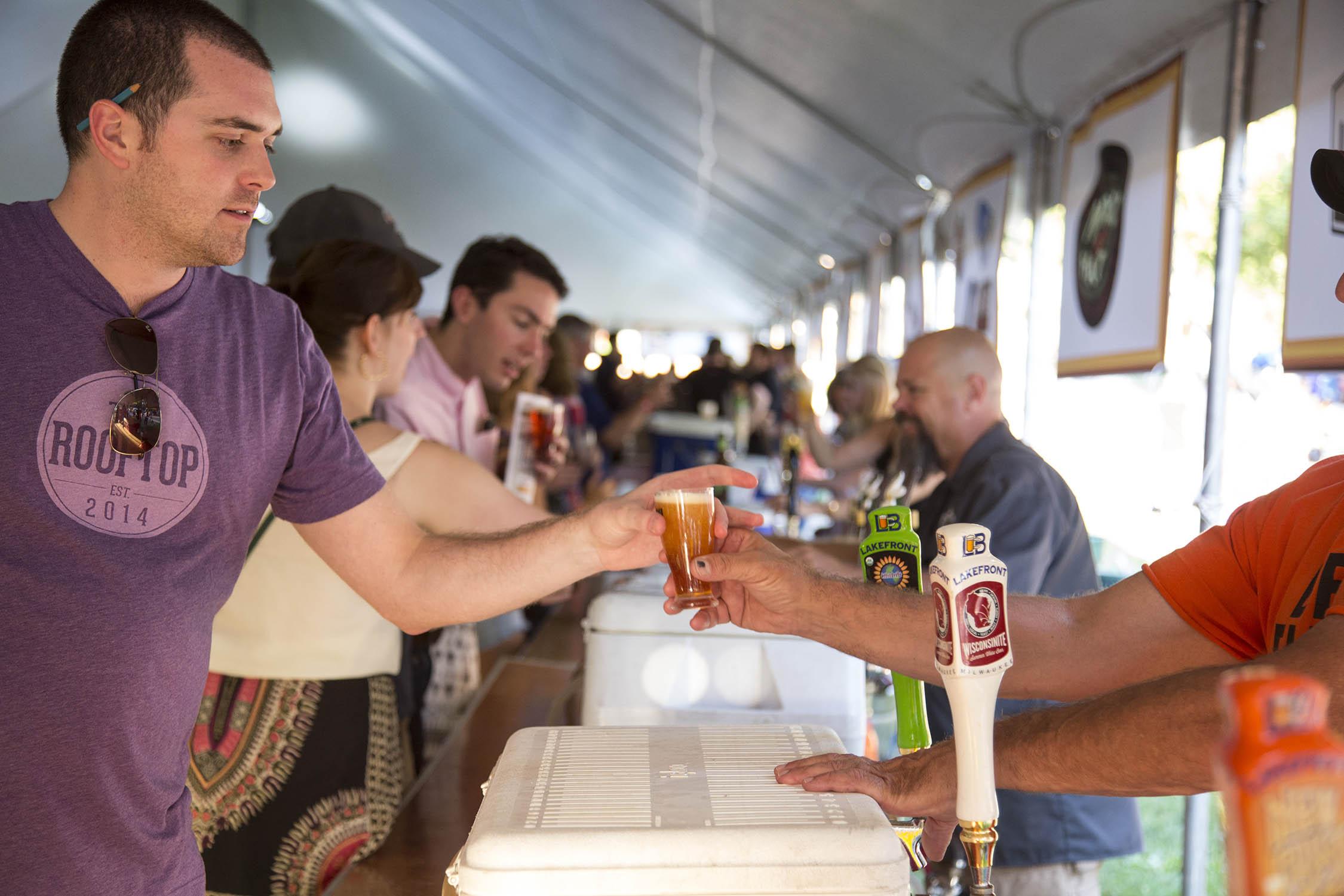 (Courtesy of Chicago Zoological Society)
4. Explore
The old dinner-and-dancing combo gets a Mediterranean upgrade at the 28th annual Taste of Greektown. Stop by Saturday for dance lessons (5 and 7 p.m.) from the Orpheus Hellenic Folklore Society; on Sunday, the troupe performs (8 p.m.). Neighborhood restaurants, including Artopolis, Athena, Roditys and Santorini, sell food and drinks. Other highlights: a gyro-eating contest (6 p.m. Saturday), live music and kids activities. 
Details: 4-11 p.m. Friday; noon-11 p.m. Saturday-Sunday at Halsted and Van Buren streets. $5 suggested donation. | MAP
5. Shake a leg
It's a celebration of all things dance, and you're invited. The SummerDance Celebration includes competitions, social dancing and performances from local companies such as Chicago Dance Crash (see video, below), M.A.D.D. Rhythms and Ballet Chicago. Stop by Dance Village to check out performances and find local classes, watch the SummerDance-Off Footwork Competition finale, take a seat in Jay Pritzker Pavilion for an evening performance and round out your night with a House music dance party at the Bean.
Details: Noon-9:30 p.m. Saturday at Jay Pritzker Pavilion, Millennium Park, 201 E. Randolph St. Free. | MAP
6. Explore
The free, all-ages, world music and arts festival, Villapalooza: The Little Village Music Fest, highlights more than 20 local and international musicians on three stages, including Fidel Nadal, Combo Chimbita, AJ Davila, The Chamanas, Gio Chamba, Mare Advertencia Lirika (aka Mare), Dos Santos Anti-Beat Orchesta and DJ Jesse De La Pena. The seventh annual event also includes 30 local food and craft vendors and community organizations, and family activities.
Details: Noon-10 p.m. Saturday; noon-9 p.m. Sunday at 26th Street and Central Park Avenue. Free. | MAP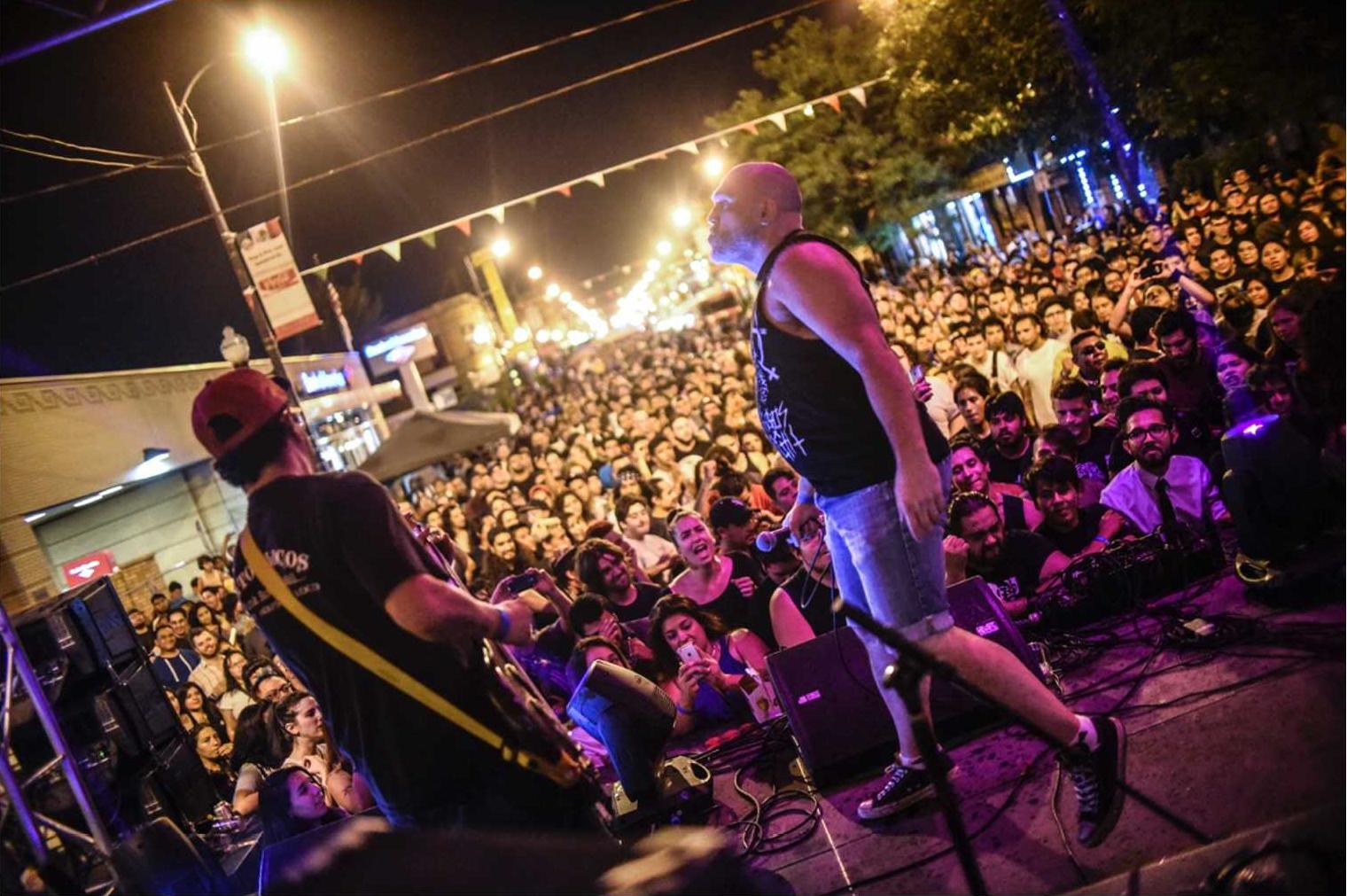 (Courtesy of Villapalooza / © Carolina Sanchez)
7. Refresh
This weekend's edition of the annual peace festival series So Fresh Saturday doubles as a back-to-school drive for local children. Stop by to pick up backpacks and other fall supplies, and stay for entertainment by DJ Dap, P.O.E.T. Movement, Hadiya Love and others. To drop off supplies, call: 866-845-1032. Hosted by the  Resident Association of Greater Englewood, or R.A.G.E.
Details: 3-7 p.m. Saturday at the Hamlin Park Cultural Center, 513 W. 72nd St. | MAP
8. Lounge
What started 7 years ago with a handful of vendors has grown into a two-day event. The Harambee Art and Craft Music Festival includes 20 vendors, musicians, spoken word artists and a daily fashion show at Nichols Park. Food and drinks from 53rd Street restaurants are available for purchase. Lawn chairs and blankets for park lounging encouraged.
Details: Noon-8 p.m. Saturday-Sunday along 53rd Street, between Kimbark and Kenwood avenues. Free admission. | MAP
9. Swirl
More than 250 wines from around the world highlight the annual Naperville Wine Festival. Tickets include up to 20 samples, a tasting glass, live music and chance to buy wine at a discount, plus access to seminars and cooking demonstrations. Food from nearly 20 restaurants, including the Melting Pot, Riva and Sullivan's Steakhouse, is available for purchase. Rain or shine.
Details: 5-10 p.m. Friday-Saturday at Naper Settlement, 523 S. Webster St., Naperville. $35-$45. | MAP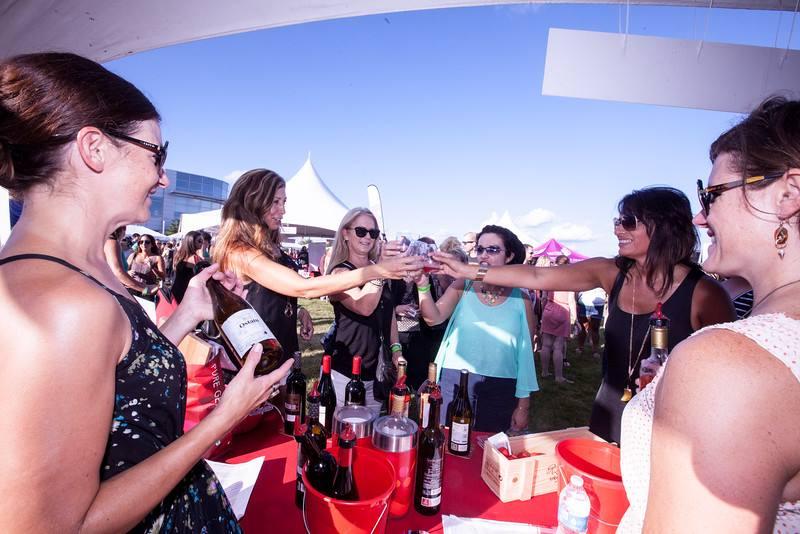 (Naperville Wine Festival / Facebook)
10. Graze
We suggest mapping out a food strategy in advance of the Logan Square Food Truck Social. The second annual event features two dozen food trucks each day, plus local restaurants and retail vendors, live music and DJs programmed by Empty Bottle Presents, a photo booth and Revolution beers. Music highlights: The Gories, Skip Church (Friday); Hair, Endless Boogie (Saturday); and Mykele Deville, Eternals Espiritu Zombi Group (Sunday).
Pay cash for food or purchase a special sampler ticket ($20) for six sample-sized portions from participating food trucks and restaurants.
Details: 5-10 p.m. Friday; 11 a.m.-10 p.m. Saturday-Sunday along Humboldt Boulevard, between Armitage and Bloomingdale avenues. $5 suggested donation. | MAP
Events listed are subject to change. We recommend double-checking times and locations before you head out the door. Want to share your upcoming events with us for consideration in a future roundup? Send us an email.
---