The tomatoes from the WTTW garden are irresistible (a certain host is often spotted enjoying a handful of them as he makes his way into the building).
But lately, someone or something else has been enjoying them too. Earlier this week a chipmunk was spotted lingering outside the north garden bed near the tomatoes. Not thinking much of it, WTTW staff left it alone (later it was reported this same chipmunk boldly hopped into the garden bed).
As staff harvested on Wednesday, a rather large hole was discovered beneath the marigolds, which The Organic Gardener staff said belonged to a chipmunk.
It's unclear how long this hole has been in the garden (our staff couldn't figure out what the chipmunk did with all the dirt that was removed to create its home). Based on the size of the hole and pile of partially eaten tomatoes in the garden, it appears the critter has been there for some time.
The Organic Gardener Jeanne Nolan suggested we sprinkle cayenne pepper or chili powder around the garden to deter the critter from returning. Alternatively, the chili powder could be mixed with water and used as spray on the plants themselves, though it would have to be reapplied after a rain. (Note: diluted hot sauce works as well.)
Stay tuned to see if we're successful in deterring our furry foe from returning. We've been warned they can be "tricky to control."
For more information on dealing with garden pests, visit the Homegrown website.
Follow Kristen Thometz on Twitter: @kristenthometz
---
Related stories: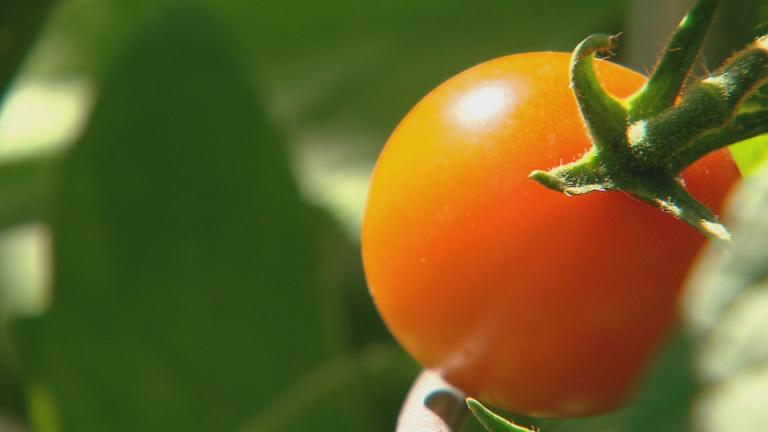 Techniques for Harvesting Your Garden
July 18: Summer is in full swing, and the WTTW garden is in full bloom. Lots of vegetables are ready to pick and to eat.
---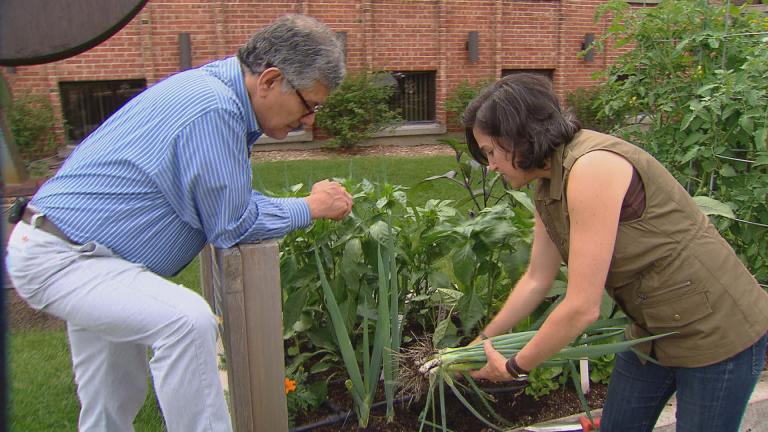 Summer Gardening: How to Maximize Your Crops
June 29: Organic gardener Jeanne Nolan explains how to keep your gardening soil productive and shares tips for succession planting.
---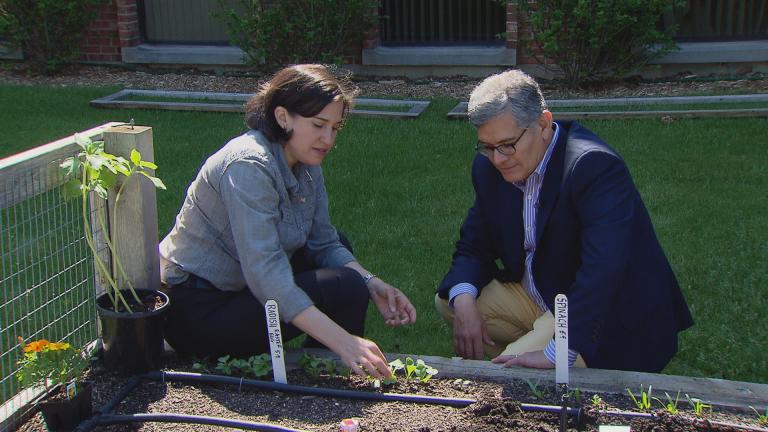 Tips for Terrific Tomatoes, from Soil Prep to Staking
May 25: Plump, sun-ripened tomatoes are indisputably the crown jewel of home vegetable gardens, and a successful tomato crop means giving them the best start possible. The Organic Gardener Jeanne Nolan shares her tomato tips.
---