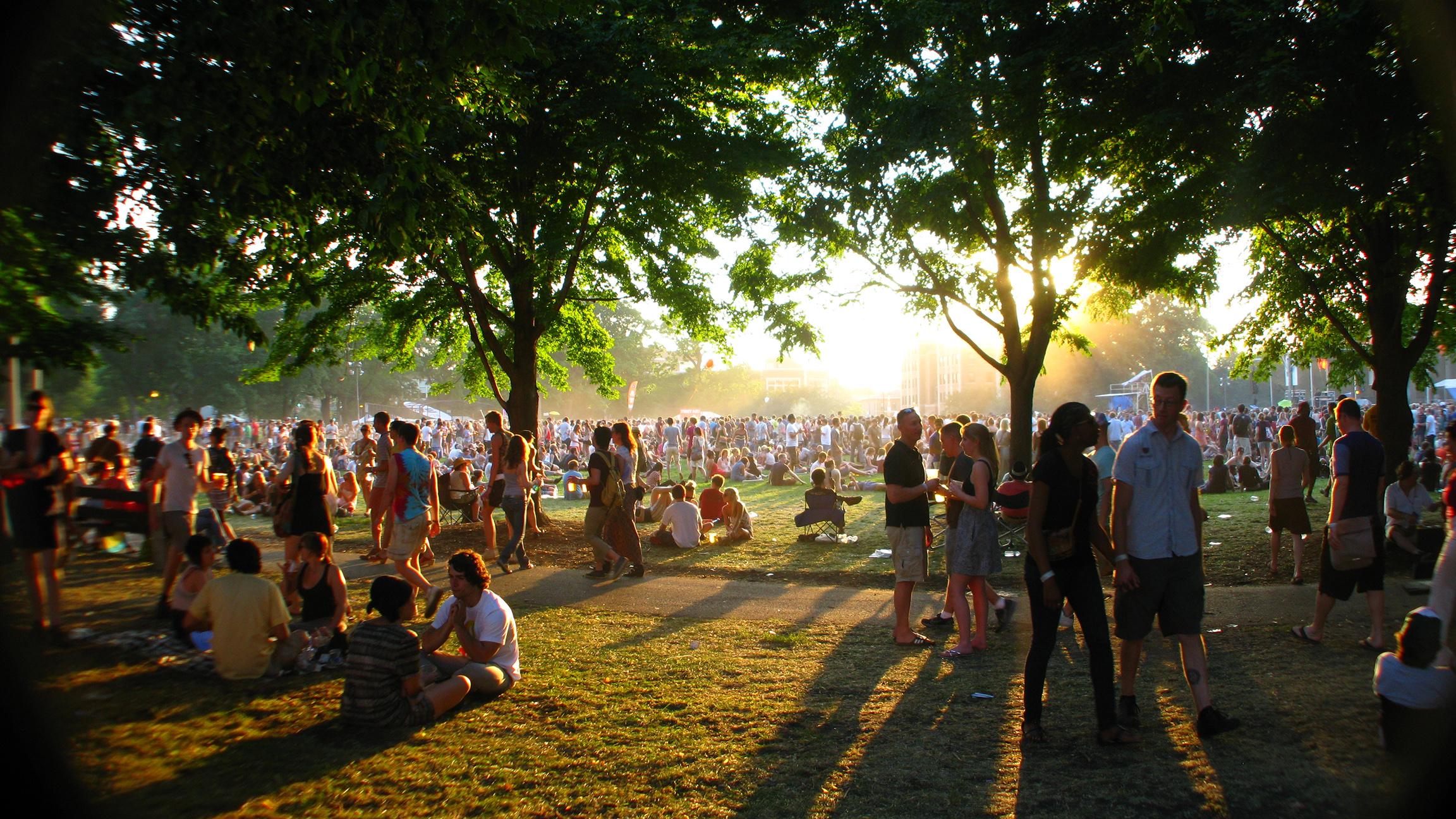 Pitchfork Music Festival, 2011 (Incase / Flickr)
1. Flock 
Believe it or not, Pitchfork Music Festival is in its 12th year in 2017. More than 40 new and emerging artists perform on three stages for what looks to be—as of Wednesday evening—a relatively mild weekend. Headliners: Dirty Projectors, LCD Soundsystem (Friday); Francis and the Lights, A Tribe Called Quest (Saturday); Nicolas Jaar, Solange (Sunday). Shopping opportunities abound, from vinyl at the CHIRP record fair to show posters to an edition of the Renegade Craft Fair and an interactive book fair. A kids area features games, workshops and a musical "petting zoo."
Details: 1-10 p.m. Friday-Sunday at Union Park, 1501 W. Randolph St. $75 for single-day pass. | MAP
2. Inhale
Explore more than 20 private gardens during the 59th Annual Dearborn Garden Walk. Tickets include a map for self-guided walking tours, live classical and jazz music in select gardens, plus an hourlong neighborhood architecture tour (departures at 1:30 p.m., 3:30 p.m. and 5 p.m.). 
Details: Noon-5 p.m. Sunday. Start: The Latin Middle School, 45 W. North Blvd. $30-$35. | MAP
Explore green spaces that are usually off-limits. (North Dearborn Association / Facebook)
3. Muse
Take stock of new artists, voices and theatrical works at MUSE 2017: Femmes Noires de la Resistance, a showcase of readings, performances and spoken word presented by Pegasus Theatre. Each work focuses on "black women holding their own power," according to organizers. 
Details: 7:30 p.m. Thursday-Saturday, 3 p.m. Sunday through July 23 at Chicago Dramatists, 773 N. Aberdeen St. $10 per performance, $18-$35 for festival pass. | MAP
4. Discover
The late music promoter Bill Graham worked with music legends such as Jimi Hendrix, the Rolling Stones, Janis Joplin, the Grateful Dead and countless others. A new multimedia exhibition, "Bill Graham and the Rock & Roll Revolution," explores the life of Graham, who came to the U.S. as a young Jewish refugee fleeing Nazi Germany.
Details: 10 a.m.-5 p.m. Sunday at the Illinois Holocaust Museum, 9603 Woods Drive, Skokie. $5 in addition to museum entry, $6-$12. Exhibit continues through Nov. 12. | MAP
5. Relax
The new Dinner & Docs series at a revamped neighborhood movie theater (it now includes a restaurant and bar in addition to comfy new seats) includes pre-screening cocktails and a dinner buffet. The kickoff features the documentary "City of Ghosts," which follows a group of activists who band together after the 2014 takeover of their homeland by the Islamic State. Stick around for a post-screening Q&A with director Matthew Heineman.
Details: 6 p.m. at the Davis Theater, 4614 N. Lincoln Ave. Movie tickets are free with RSVP; $30 per person for dinner. | MAP  
6. Explore
Get a taste of the neighborhood at the annual Chinatown Summer Fair. Don't miss a traditional lion dance procession (12:45 p.m.), martial arts demonstrations, classical dance performances and more. Local restaurants and merchants line the streets. Pony rides and a petting zoo round it out.
Details: 10 a.m.-7 p.m. Sunday along Wentworth Avenue from Cermak Road to 24th Place. Free. | MAP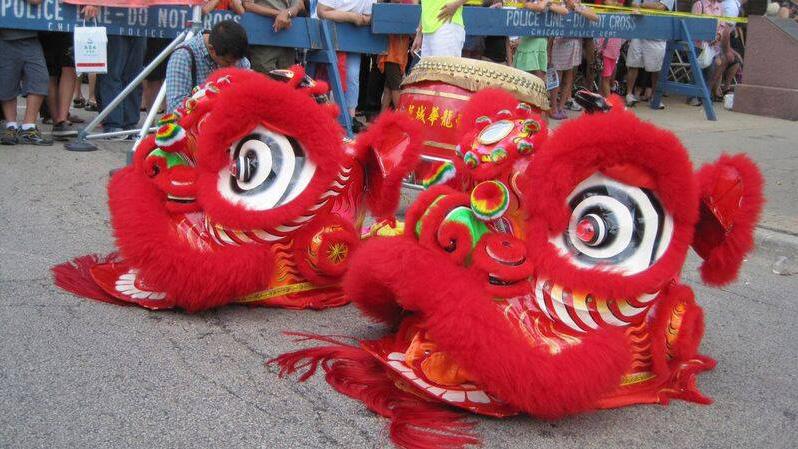 A lion dance procession highlights this weekend's fair. (Special Events Management / Facebook)
7. Browse
More than 75 artists set up shop at the Southport Art Festival, offering everything from photography and jewelry to glass, sculpture, oil paintings and mixed media along a restaurant-heavy stretch of road.
Details: 10 a.m.-7 p.m. Saturday; 10 a.m.-5 p.m. Sunday along Southport Avenue between Waveland Avenue and Grace Street. Free. | MAP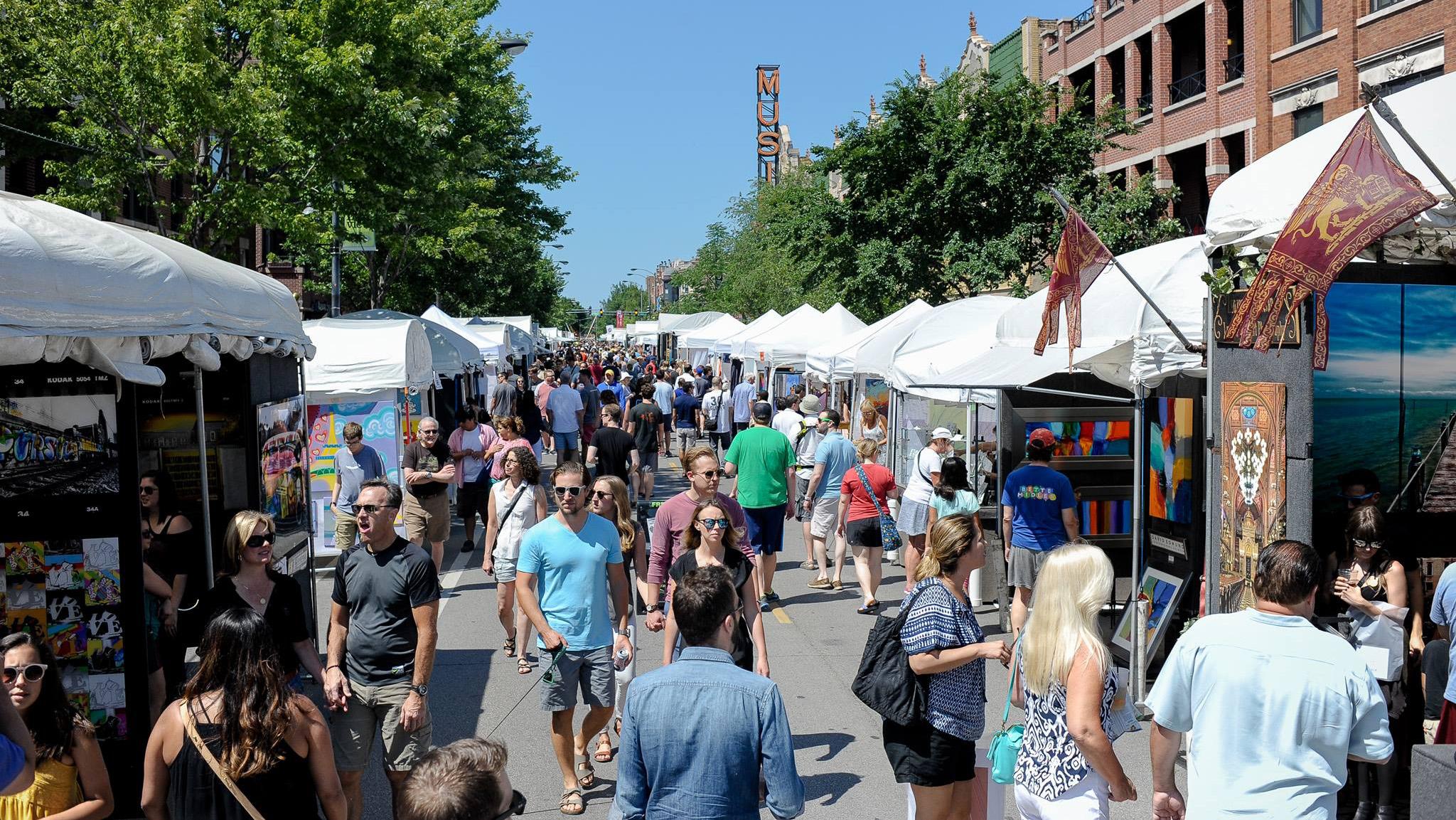 Refresh your apartment art at the Southport Art Festival. (Amdur Productions / Facebook)
8. Mingle
Live music, a School of Rock showcase (Saturday), kids activities and a Friday night beer tasting ($25) highlight the annual BenFest. Hear bands Sixteen Candles (Friday), Stache (Saturday) and Movement Revolution (Sunday), among others.
Details: 4-10 p.m. Friday; 1-10 p.m. Saturday; 1-7 p.m. Sunday at St. Benedict Catholic Church, 2215 W. Irving Park Road. $5 donation, free for kids under age 5; kids activity wristbands cost $15. | MAP
9. Indulge
Gear up for grub and suds at the Windy City Smokeout, where 17 pit masters cook up everything from brisket to chicken wings (there are non-barbecue options if you get – er, burnt out). Live music from dozens of artists includes Jake Owen (Friday), Kip Moore (Saturday) and Lee Brice (Sunday). Extras include a Saturday whole hog brunch ($60) and crawfish boil ($60), and a barbecue brunch Sunday ($55).
Details: Gates open at 2 p.m. Friday; noon Saturday-Sunday at Grand Avenue at the Chicago River, 560 W. Grand Ave. $40 for single-day pass, $110 for three-day pass; free for kids ages 10 and under. | MAP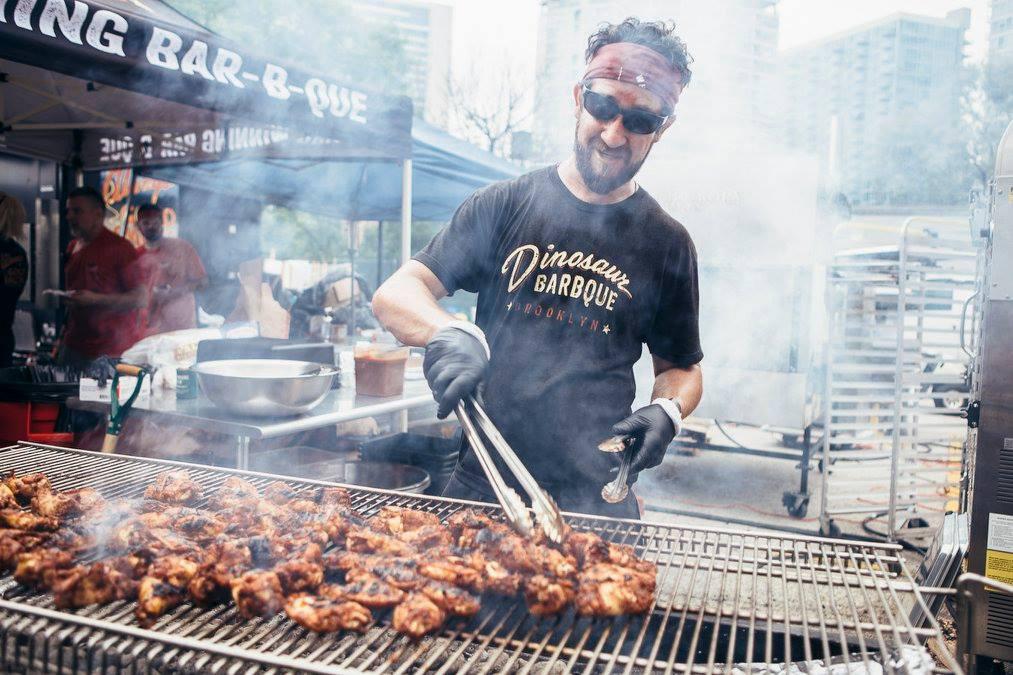 More than a dozen pit masters are stoking the flame – and your appetite. (Windy City Smokeout / Facebook)
10. Celebrate
Celebrate French culture at the family friendly Bastille Day Chicago, marking the national French holiday celebrated every July 14. Bring a picnic (no outside alcohol, please!) and blanket, learn how to play petanque, a centuries-old French game, dance to DJ Maxime Bonnard, watch a waiter's race and catch a screening of the animated movie "Ernest & Celestine." Beer and wine available for purchase.
Details: 5:30-10 p.m. Friday at Lycee Francais, 1929 W. Wilson Ave. Free. | MAP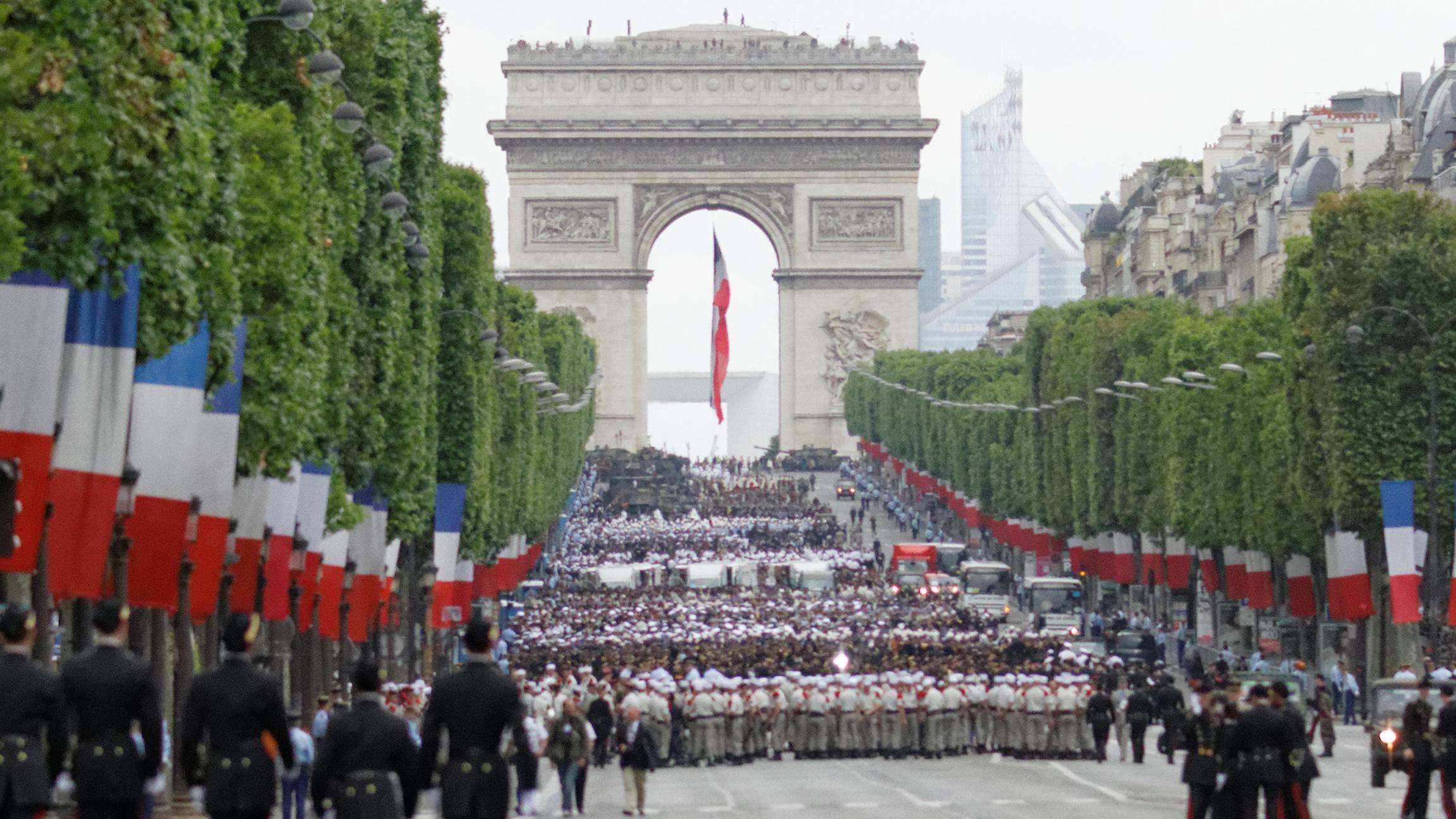 Bastille Day 2014 military parade on the Champs-Élysées in Paris. (Pierre-Yves Beaudouin / Wikimedia Commons)
Events listed are subject to change. We recommend double-checking times and locations before you head out the door. Want to share your upcoming events with us for consideration in a future roundup? Send us an email.
---