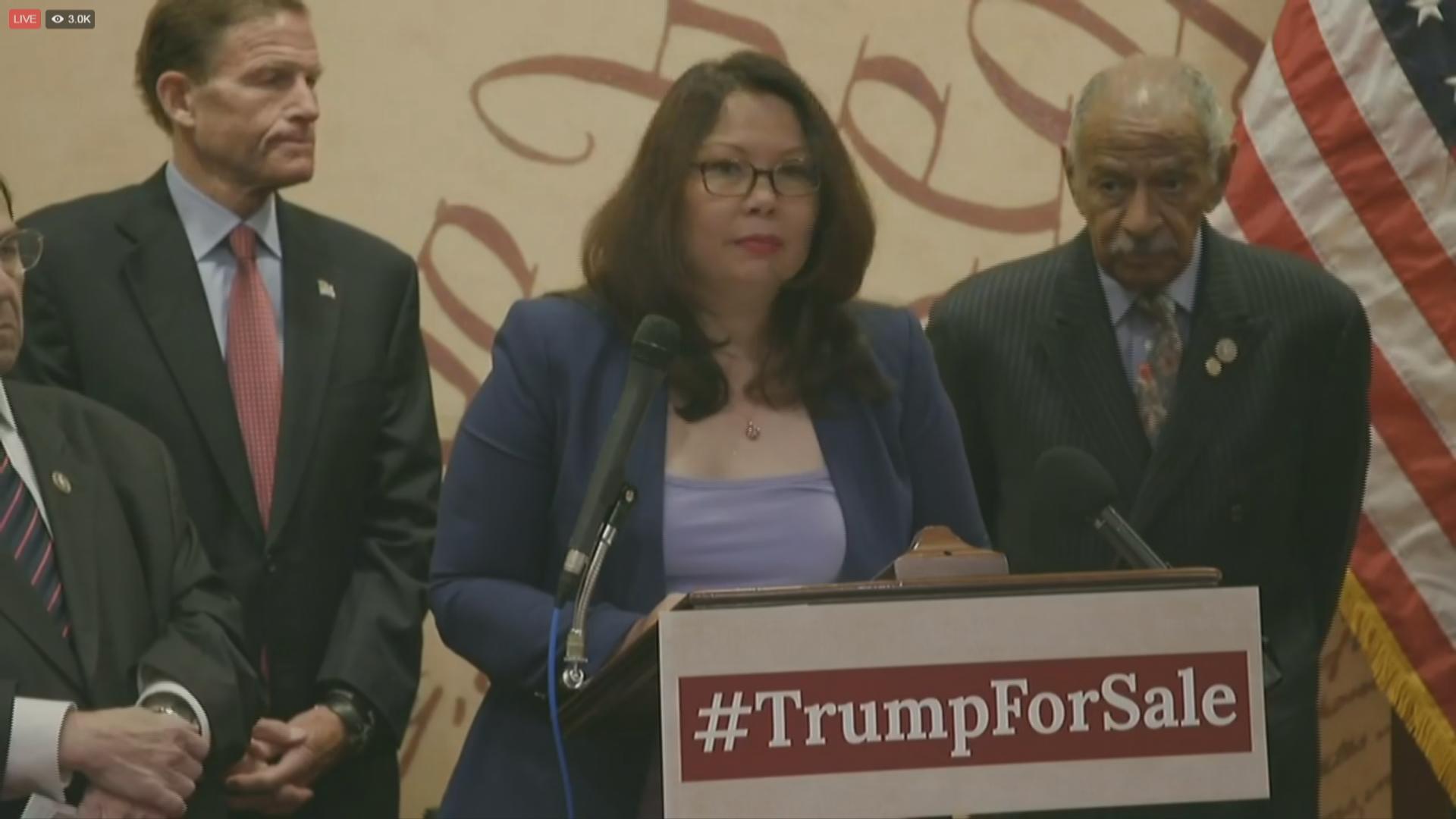 U.S. Sen. Tammy Duckworth is joining several other members of the Senate and House in a lawsuit to compel President Trump to obey the Constitution's emoluments clause.
The group spoke at a press conference on Capitol Hill Tuesday, detailing a lawsuit that includes 200 members of Congress.
The group says the president must first come to Congress for consent to accept benefits or other emoluments from foreign governments but he hasn't.
"This isn't something the Constitution says Congress has to ask for – though, of course, we've asked him many times. The Constitution actually requires the president to go to Congress first to help ensure the president is asking in the best interest of the public, not his own," U.S. Sen. Tammy Duckworth said.
The complaint, filed last week, has no Republican plaintiffs, but came just a day after Attorneys General for both Maryland and Washington, D.C. filed a separate complaint over Trump's businesses.

In other news in Chicago tonight: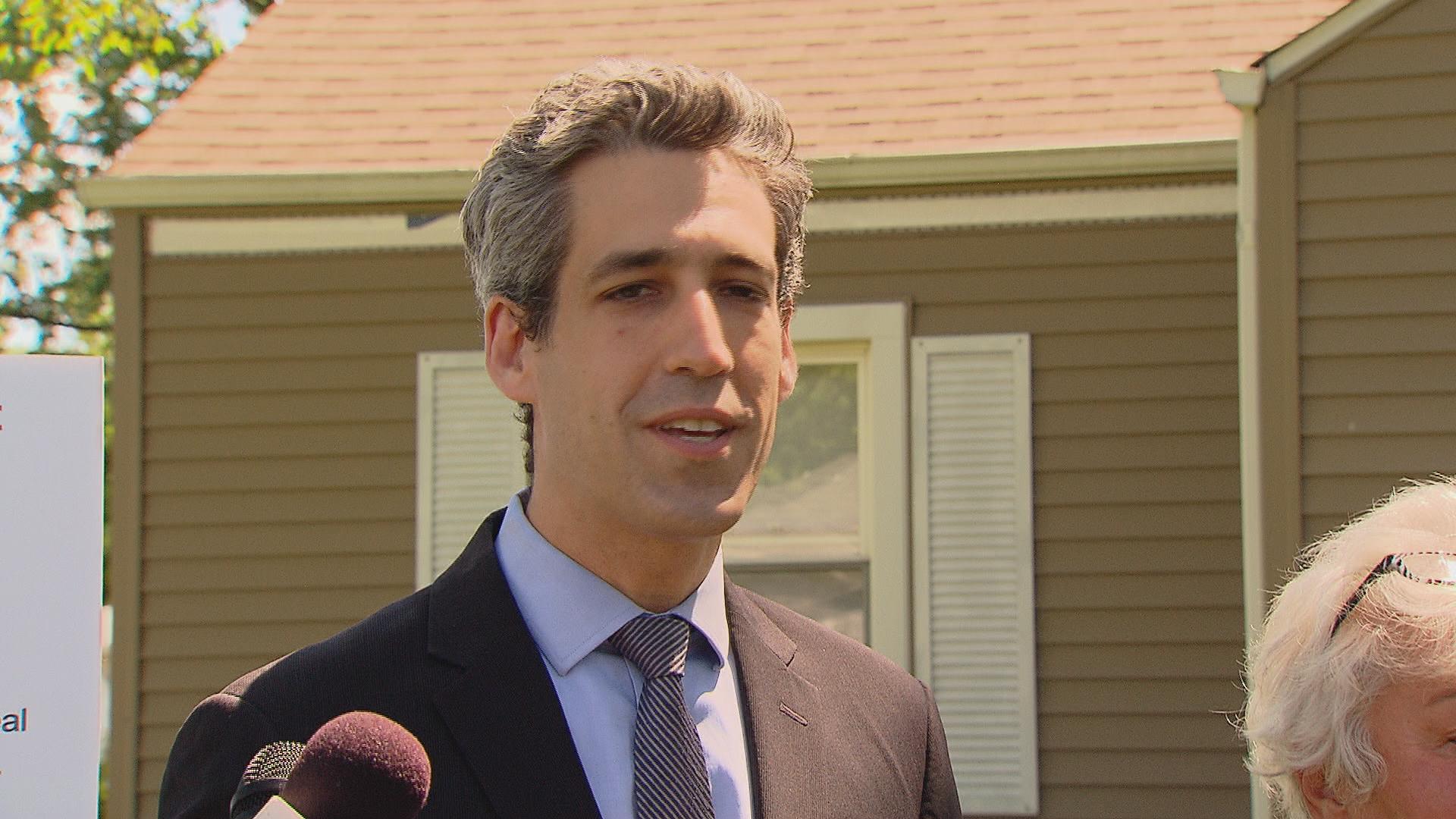 Democratic state Sen. and candidate for governor Daniel Biss says he's introducing legislation that he believes would make property taxes fair and bring relief to the state's middle-class property owners.
Biss made the case in suburban Melrose Park Tuesday, alongside one of those homeowners.
He argues the appeals process fails homeowners but benefits attorneys and politicians.
"Not only is our system of property tax assessment unfair, but the homeowner literally can't figure out what the mechanism of assessment was," Biss said. "So if you feel like your taxes were unfair, you're simply going to get the bill and not figure out how it was calculated. That has got to stop, and so we begin with transparency, full transparency of the assessment models and the mechanism by which assessments are calculated."
Biss' HOME Act stands for Honesty, Openness, Modernization and Ethics in Assessments, and it would require assessors to publicly disclose formulas to estimate and validate the value of homes and businesses, require detailed statistical analysis by the department of revenue, and subject property tax lawyers to pay-for-play rules to curb conflicts of interest.
Biss says he plans to introduce the legislation during the special session later this week.
Court Rules State Must Pay DCFS
As a court rules the state must continue to pay for services rendered by the Department of Children and Family Services, advocates say the agency's reform process is moving slowly.
During a hearing Tuesday morning, U.S. District Judge Jorge Alonso said the state comptroller must continue paying for DCFS in order to comply with a consent decree.
But the American Civil Liberties Union of Illinois, in its role as advocates for children in the state's care, is expressing concern that the agency's reform efforts are moving too slowly and its leadership has been unstable.
School Year Ends for CPS
School's out for summer for Chicago Public Schools students.
Tuesday was the last day of student attendance. The next two days were intended to be professional development days for teachers and staff, but they were converted to furlough days this year as the district struggles to meet financial obligations.
On Monday, the district announced it's borrowing $275 million in "grant anticipation notes" from J.P. Morgan at a 6.39 percent interest rate.
The notes are secured against funds the state still owes Chicago Public Schools and other districts.
While speaking at the National Press Club in Washington, D.C. on Tuesday, Mayor Emanuel promised schools will reopen in September regardless of a state budget.
---