A report out this week suggests Chicago Public Schools needs to change the way it thinks about addressing students' trauma and mental health needs.
The report from teacher advocacy nonprofit Educators for Excellence cites the levels of violence and poverty as a hindrance to student success.
For example, the report points out that in 2016, 324 shooting victims were under the age of 16, and 36 of them died. But during the 2015-2016 school year, the district had only 323 social workers for 390,000 students, leaving about one social worker for every 1,200 students.
While the report makes recommendations for how to address those student needs, CPS says it's been quietly working to spread social emotional learning for the last two years.
While students and teachers at Marcus Garvey Elementary School in Washington Heights set aside at least 30 minutes a week specifically for social emotional learning, it's also baked into the culture and used in other classes throughout the day.
"Through the instructional program, how students walk in hall, how we speak to student. During reading, if a teacher is doing a 'read aloud' they can talk about how a character is feeling," said Lori Guidry, a fourth-grade teacher at Garvey.
Garvey is one of 44 CPS schools certified as exemplary for social emotional learning. Seventh-grade students and friends Indigo Shephard and Carolyn Beemon say it matters because not all students have supportive adults outside of school.
"Honestly, I think it's important, not just for me but for other students, because a lot of other students at home don't have someone to talk to," said Carolyn Beemon. "Sometimes, I just don't want to tell my parents stuff."
"Once we started having second-step lessons, then I started talking to other people, and other people kind of understand how I felt being the new kid of the classroom," said Indigo Shephard.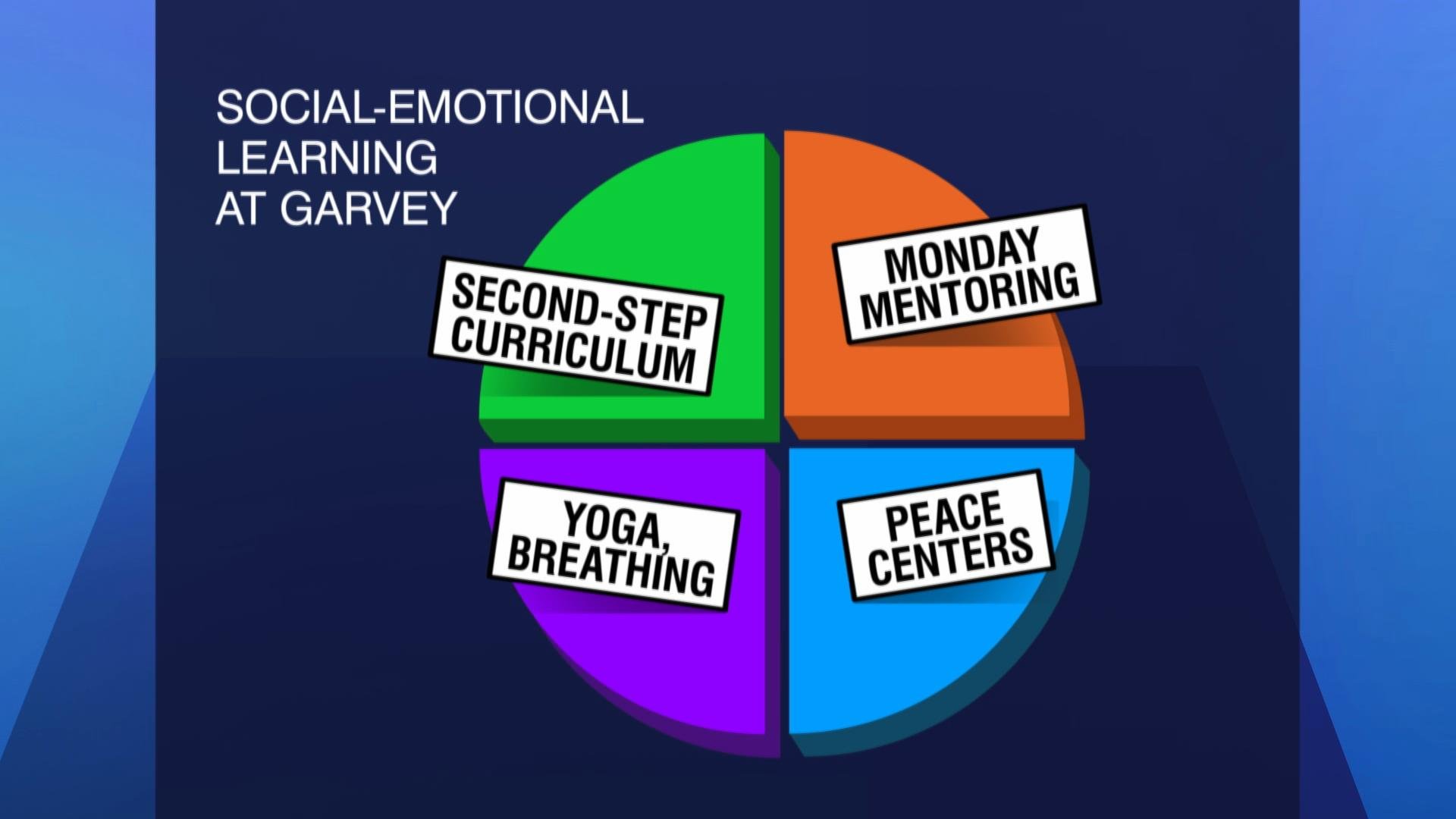 The second-step curriculum Shephard is referring to are lessons that help students build skills like compassion, empathy, acceptance and cultural awareness.
It's just a piece of the social emotional pie at Garvey. In addition, there's Monday mentoring, where students are paired with an adult for their entire elementary career, yoga, breathing strategies and peace centers – where something as simple as a bottle of glitter water makes the difference.
"The calm down bottle is used if students have a problem. Instead of handling their emotions with anger, they shake the bottle and watch the glitter fall," said Guidry. "It allows them to breathe and to take a few minutes to think about what was going on. And then they're ready to have a conversation about it afterward because you can't talk to a student if they're angry."
The Chicago Public School district is working to spread some of the practices that make Garvey exemplary to other schools, starting with ramping up trauma sensitivity training for educators, counselors and staff.
"Even something as simple as us as educators changing the question from, 'What's wrong with you,' to 'What's going on with you,' or 'What happened to you?' – I think that's very powerful. And to also not to take it personally," said Pablo Guzman of John Spry Community School. "If I approach every child as 'he's not doing that to me, it's not to me, it's something that's going on with him.'"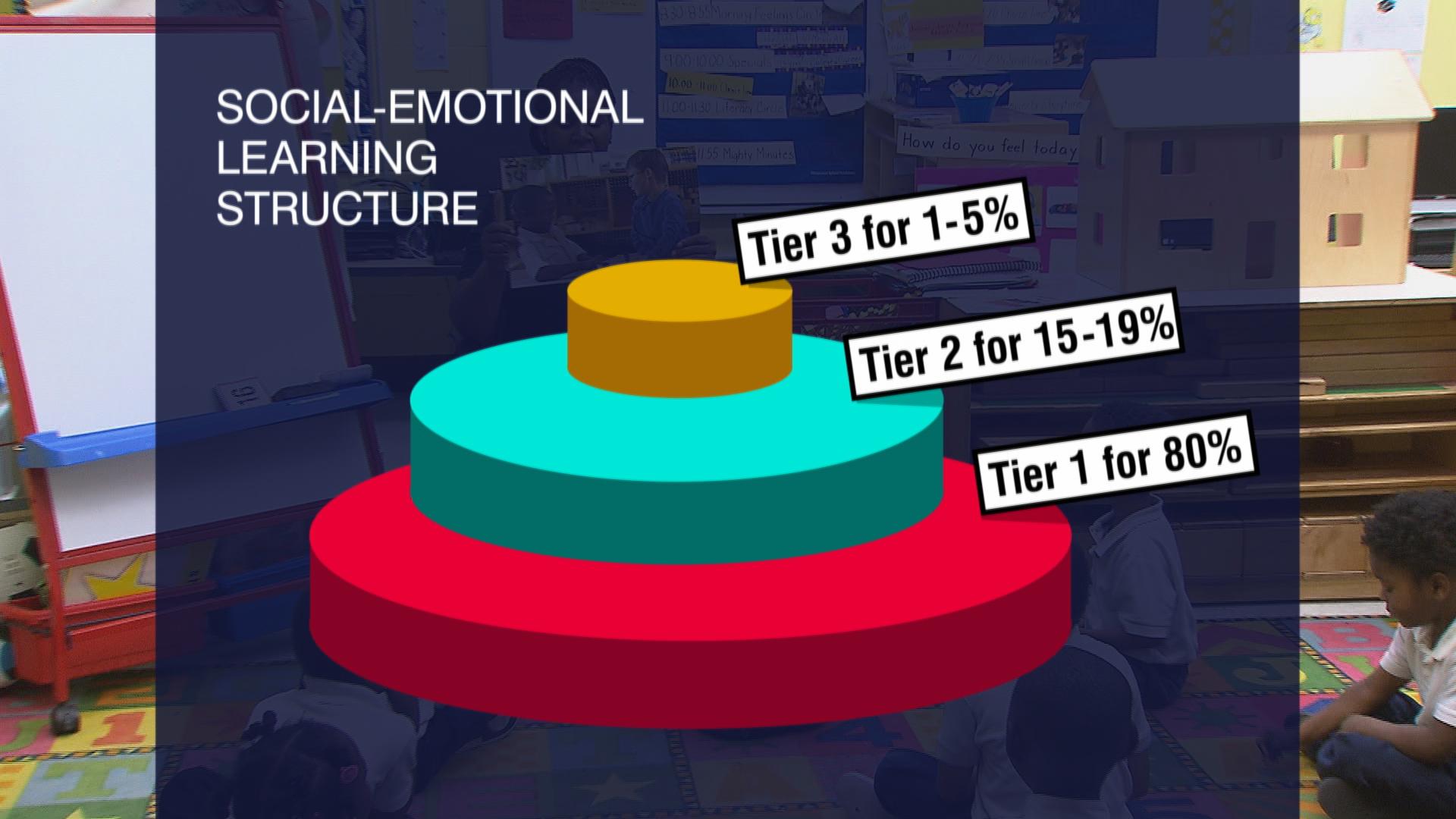 The district's office of social emotional learning says 80 percent of students fall onto tier 1 of the district's SEL structure of needing a positive and safe learning environment with clear expectations and connections with adults to feel socially and emotionally supported.
But the other 20 percent need more, and a smaller percentage of students need a little more help because, perhaps, they've experienced trauma or just need help managing their emotions. About 1 to 5 percent of students fall onto the district's SEL tier 3 and need more intensive one-on-one counseling.
"What typically happens in a traditional mindset is that we don't understand trauma, so we see the symptoms of trauma but we don't understand the root cause," said Justina Schlund of Chicago Public Schools.
"In a traditional sense what I might do is a series of punishments that we know are extremely ineffective. The traditional kind of response for a big outburst from a student might be removing them from the classroom, it might be suspending them. And these are some of the least effective strategies that we have to change behaviors."
In training, teachers and staff learn how to find the source of a student's problem and address it with what research shows to be the most effective approach.
"In a trauma-sensitive approach and a restorative approach, we're really taking the root cause of the situation into consideration and thinking through what's causing this student to act this way," said Schlund.
"So the first thing I'm going to do before I even jump to a response is think about what are the series of things I've done as a teacher, as an administrator, as a security officer – or what's the environment like that's kind of triggered this student that led up to this response – and I'm going to change that."
They also learn to address their own trauma.
"I just lost a student. He died of a heart attack and it really floored me, and from this experience of losing him, but also being here today, it's OK to say that I'm floored," said Kendall Straughter of Beulah Shoesmith Elementary School. "It's OK to say that I'm hurting too."
For both staff and students, the training is getting positive results. Seventh-grader Indigo Shephard uses her SEL lessons to help prep for tests.
"I just get really jumpy, but then I would take deep breaths or count to 10 in my head, and say, 'Indigo you're a really good person and if you pass this, you really showed yourself that you can do this,'" said Shephard.
Follow Brandis Friedman on Twitter: @BrandisFriedman
---
Related stories: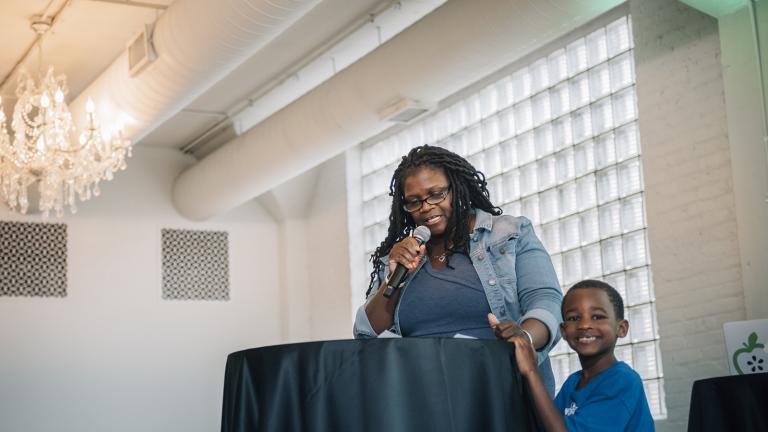 Chicago Teachers Offer Plan to Better Handle Student Trauma
June 14: Local teachers are recommending changes to Chicago Public Schools to offer better support to students dealing with poverty, homelessness and violence.
---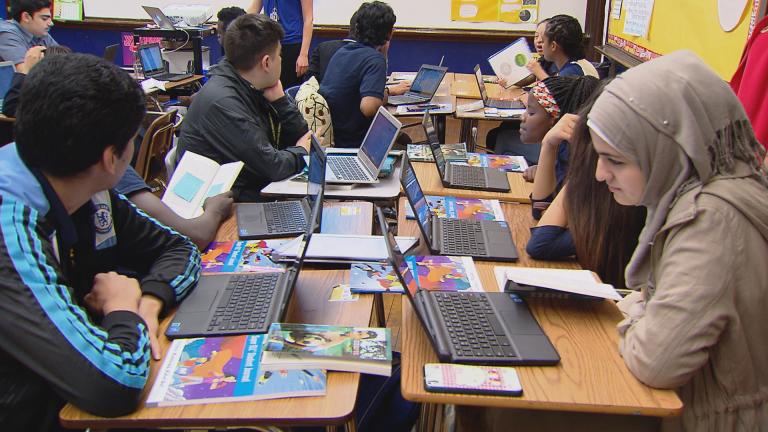 How One Chicago Public High School is Embracing Refugee Students
May 22: Nearly 40 countries are represented at Sullivan High School in Rogers Park. We meet the head of the school's English language program – and the reporter who recently wrote about the school.
---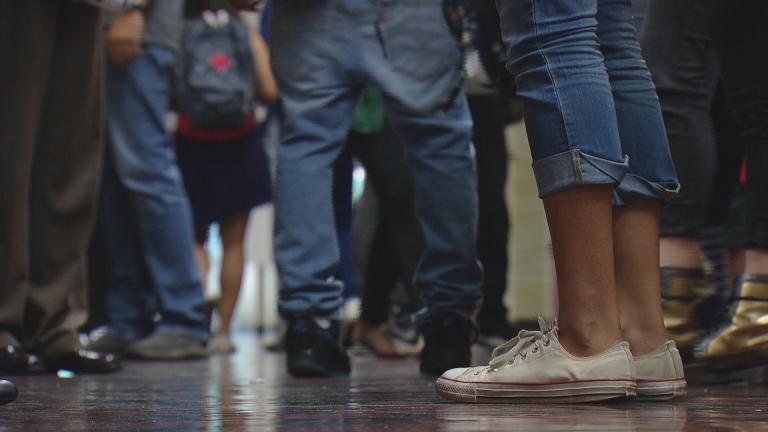 Chicago Researchers Pushing For Expanded Social Emotional Learning
April 25: Officials from a Chicago-based education collaborative looked at years of studies on social and emotional learning and found consistent, positive effects on student behavior and outcomes.
---