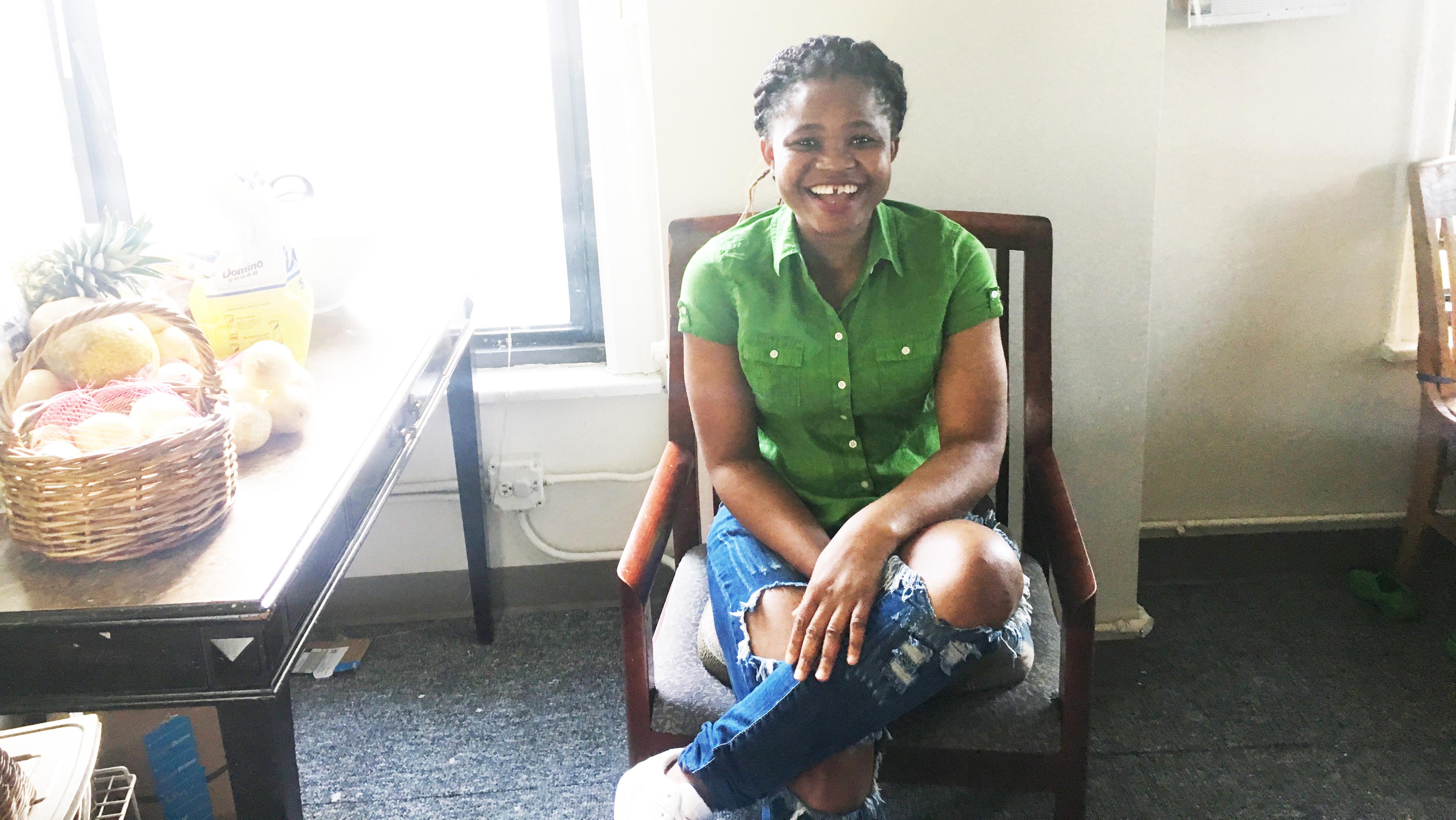 Vida, a 20 year-old asylum seeker from Ghana, lives at the Marie Joseph House of Hospitality for Women in Hyde Park. (Maya Miller / Chicago Tonight)
"This house is more than home to me."
That's how Vida, a 20-year-old asylum seeker from Ghana, describes the Hyde Park dormitory where she's living with nine other women.
Vida – who asked that we use her first name only – is here awaiting court dates and paperwork regarding her immigration status. Several of her housemates are in similar situations; others are working and studying while trying to assimilate to American culture.
The home is run by the Interfaith Committee for Detained Immigrants, a nonprofit organization that provides services to the region's immigrant and refugee population. The group has struck a unique agreement with the Immigration and Custom Enforcement Agency to provide refugees and asylum seekers an alternative to detention: housing and support.
For the past three years, ICDI has operated the Marie Joseph House of Hospitality for Women in Hyde Park, which has space for 14 residents. The group also operates a men's home in Cicero, which can house 17 people.
"Welcome" is written in a variety of languages in the entrance to the dining room and kitchen area, where a chore chart also hangs. (Maya Miller / Chicago Tonight
Staff at ICDI visit five area detention facilities each week and work with ICE officers to identify asylum seekers who may be eligible for release into one of the two houses, where residents are expected to work or study, and must be open to living with people from different cultures and religions. They're provided immigration lawyers, food and three live-in volunteers to help with everything from post-traumatic stress to homework.
"We might see somebody in pastoral care in detention and decide we know enough about their story or ICE may approach us about a particular case," said ICDI Executive Director Melanie Schikore. "They don't have friends, family or housing, but they're asking for asylum."
ICE spokesperson Leticia Zamarripa said the relationship between the two groups is "positive" and "long-standing."
According to data provided by McHenry County Jail, 289 of the 433 inmates held at the Woodstock facility on May 18 – some 67 percent – were detained under ICE jurisdiction. At the Kenosha County Detention Center, 145 of the 689 individuals incarcerated were being held under ICE, according to figures provided by the detention center for a single day in mid-May.
'I'm not a criminal'
Eggshell-colored walls are adorned with world maps, paintings and chore charts on the fourth floor of the Marie Joseph House of Hospitality for Women. Single bedrooms and shared bathrooms, a communal kitchen, dining room, study room and TV room fill out the space.
Vida's arrival in Hyde Park marked the end of a nearly yearlong journey that included traversing nine countries and spending three months at Wisconsin's Dodge Detention Facility. She was arrested by ICE agents at age 18 for a lack of documentation.

"I was so surprised, I'm not a criminal yet they put me in handcuffs and took me to jail."
–Vida
---
Space shortages at the facility mean undocumented immigrants like Vida live among criminal offenders. During her first few weeks of detention, she said she was inconsolable. She had no network – nobody to call – and undocumented immigrants aren't guaranteed lawyers under the law.
"The worst part was I didn't have anybody to help me, I didn't know anybody," she said.
Vida eventually connected with an ICDI staff member during one of the organization's weekly visits. Her case was reviewed by ICE, and she was released into an adult housing center in northern Illinois.
When space opened up at the Hyde Park home in June 2016, Vida relocated to the city. She's now finishing up her first full year at Truman Middle College, an alternative high school that's enabled her to take college-level courses in business and criminal justice.
"I think I have seen more than what I was supposed to see at my age," she said, discussing the physical, sexual and emotional abuse she endured in Ghana. "But, my dream was to go to school, and I'm doing it."
Schikore says there is a dearth of services for asylum seekers like Vida and refugees nationwide.
"If this house weren't here, she might still be in jail instead of (going to school), and that's just tragedy," Schikore said.
Earlier in May, Vida got more good news: Her lawyer said her work authorization papers had been approved. The court date to determine whether she'll be granted asylum is set for September.
She's also working with immigration lawyers to determine whether her son, who lives in Ghana with her aunt – away from her abusive husband – may be eligible to move to the U.S.
"There are obstacles and challenges, but if you make up your mind and want to do it, you can do it," Vida said.
---
Related stories: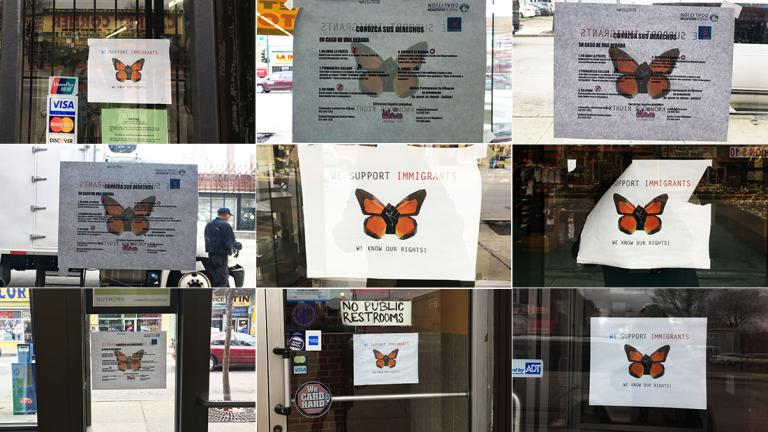 Monarch Butterflies Signal Immigrant Support
April 14: The orange-and-black insect has flocked to a Chicago neighborhood, but its presence is more of a political act than a natural one.
---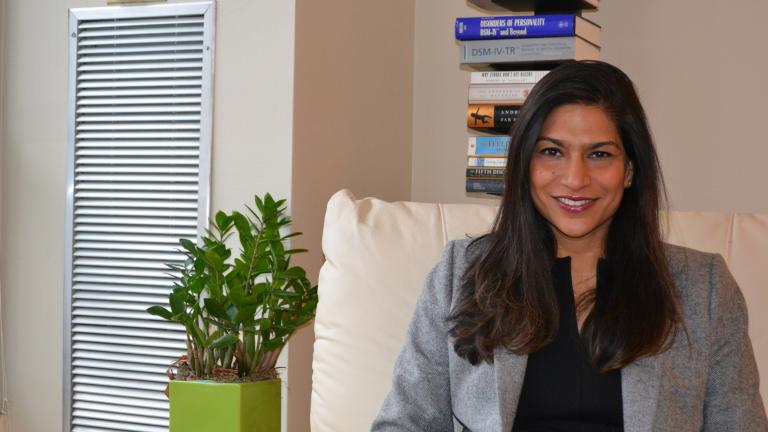 'Rewarding' Immigrant Experience Compels Chicagoan to Aid Refugees
March 3: Chicagoan Shaifali Sandhya knows what it's like to be a foreigner. Now a U.S. citizen, she wants to discover refugees' stories and address their "silent traumas" in the hope of making their resettlement easier.
---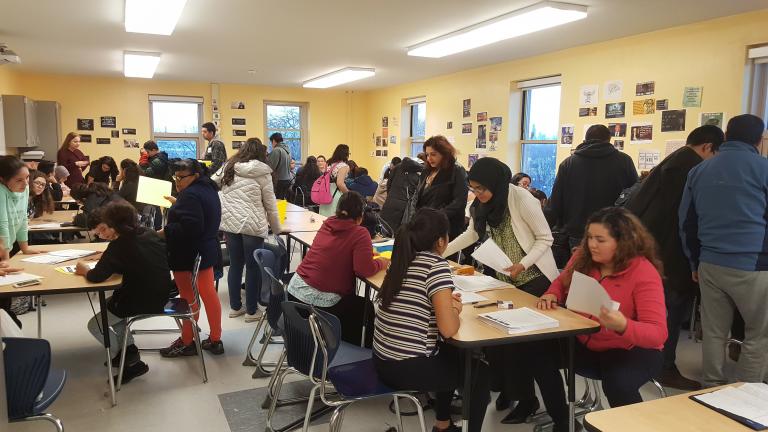 Demand Fuels Creation of Immigrant Hotline, Crisis Planning Workshops
March 16: Increased requests for immigration-related legal services led one Chicago group to launch an immigration hotline, "know your rights" workshops and emergency family planning sessions to address concerns.
---