Illinois legislators are edging closer to their adjournment Wednesday at midnight, but as of Tuesday evening – Illinois 699th day without a full budget – no agreed plan had surfaced.
And House Republican Leader Jim Durkin says he doesn't suspect one will.
"I think that people need to extend their leases, and we're going to spend some time over the summer," he said Tuesday.
Democrats control both chambers of the General Assembly, but it's increasingly doubtful that they'll agree on a spending plan to send to the governor's desk in time.
It's the House's turn, after Senate Democrats last week passed a series of tax increases coupled with a budget that cuts spending by $3 billion.
Budget gurus in both chambers are in near-constant talks, as the House is expected to modify the Senate versions (for example, representatives are expected to remove a new tax on satellite TV services; they're also considering reversing some of the cuts they believe go to deep, such as a 10-percent reduction to higher education that comes after universities have already taken a 65-percent hit over the past couple of years).
Thus far, though, a House spending plan hasn't surfaced. Sources say that in private meetings, Democrats don't have the votes to pass a tax hike without some Republicans support.
"I'm going to get up every day and do what people elected me to do, regardless of party, to do the right thing. Do the right thing. Stop the damn politics. Let's pass a real budget in the state of Illinois," Sen. Melinda Bush, D-Grayslake, said.
Hundreds of protesters, some of whom have spent the past couple of weeks hiking from Chicago to the capitol, were on the scene to demand a budget. But they don't want just any budget – they're calling for one that spends $23 billion more. That's 61 percent of the Senate's $37.3 billion proposed spending plan.
Some were forcibly dragged from the gallery above the Illinois House after disrupting debate; others demonstrated outside Rauner's office where protesters used plastic zip-ties to chain themselves together at the wrist, barricading the main entrance. The governor's office says it offered to invite a couple in to talk, but they declined.
Rauner and the Illinois Republican Party he funds have pummeled Democrats for the tax proposal, even though the governor has said he would support one if he gets his way on long-term changes he says will grow the state's economy.
The governor has lately said that a property tax freeze is the biggest source of contention.
The Senate on Tuesday sought to remove that as a stumbling block, approving a pair of two-year freezes, both of them exempting Chicago: one would freeze schools' property taxes, the other all other units of local government.
"I view this as a compromise because, you know what? As unpopular property tax freezes are, for some of us, we think it's really bad policy when you have the worst funding formula in the nation for some of our poorest school districts. So to freeze them all the same way for two years is a big big experiment and it's risky, but I'm willing to do it," Senate President John Cullerton said.
It's not enough for Rauner, whose office says it's "phony" and "riddled with holes." He wants a four-year freeze.
The House, meanwhile, advanced a measure that would pave the way for Rauner to sell state government's Chicago headquarters, the James R. Thompson Center.
Speaker Michael Madigan, Rauner's nemesis in the yearslong gridlock, says it is a demonstration of House Democrats' "willingness to work with the governor to achieve his goals, while ensuring—as is our duty—that these goals are achieved in the best interest of the people we represent."
But in a statement, Durkin called the proposal an "attempted money grab by the City of Chicago and a bad deal for the taxpayers of Illinois.
"The James R. Thompson Center was built with state taxpayer money and is owned by the State of Illinois – not the City of Chicago. Our first obligation should be to negotiate a deal that maximizes proceeds to benefit the State of Illinois. The bill that passed the House tonight takes care of Chicago at the expense of all other Illinois taxpayers," he said.
Republicans are also uneasy with a fresh version of a revised way of determining how much state funding Illinois school districts receive.
Senator Jason Barickman, R-Bloomington, said characterized it as "shoveling money to Chicago and its public school system" by rigging the formula to make CPS "appear poorer and needier, pushing them to the front of the line for state funding at the expense of our downstate and suburban school districts and taxpayers."
CPS funding has been a continued source of contention as legislators focus on education funding.
Legislators are also making last-minute moves to free districts from so-called "unfunded mandates" like recess, and to allow private drivers' education.
In other action, the Illinois House advanced a plan that would raise the state minimum wage in increments up from $10 to $15 by 2022.
"When you put money in people's pockets, they go out and spend it. And that stimulates business growth, that stimulates economic development," sponsor Rep. Will Guzzardi, D-Chicago, said. "We believe in lifting people from the bottom up, growing the economy from the middle out—those basic premises, that is what we as a party stand for and that is what this bill as a piece of legislation reflects."
The measure still has to pass the Senate, though expectations are that Rauner would reject it were it to reach his desk.
"If you think Cairo, Illinois, is going to have any economic growth on a $15 per hour minimum wage, you have absolutely no idea what businesses do. And they are fleeing this state and all we do in this chamber for the last two and a half years that I've been here is dump on businesses," Rep. Mark Batinick, R-Plainfield, said. "Businesses is another word for job creator."
Representatives also resolved a Memorial Day flap over legislation propelled by Chicago Police Superintendent Eddie Johnson, which would lengthen prison sentences for offenders caught multiple times for having a gun illegally.
After the measure, which was sponsored by a Democrat in the Senate but by GOP Leader Durkin in the House, passed, Rep. Thaddeus Jones, D-Calumet City, pulled a surprise move and used a parliamentary procedure to put it on hold and effectively squash it.
"We believe this bill is incomplete in its current formation. We are seeking to work on a holistic solution that includes revenue to impacted communities that will fully fund violence prevention programs, enhance public educational opportunities, job programs while also allowing police officers the tools needed to properly identify gun offenders" he said in a statement afterward.
Tuesday, he withdrew the motion, saying he'd meant no disrespect to Durkin and that he appreciates a commitment to working on the systemic issues that keep African-Americans in poverty.
Follow Amanda Vinicky on Twitter: @AmandaVinicky
---
Related stories: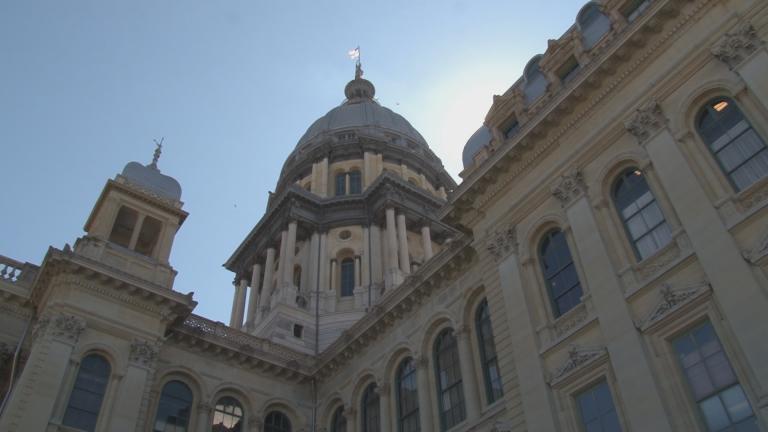 Illinois Still Has No Budget (But a Bunch of Other Bills In the Works)
May 29: Illinois legislators are under the gun to pass Illinois' first complete budget since July 2015. The spring session ends Wednesday, though with time running short it seems more likely that the deadline will be put off until the end of June.
---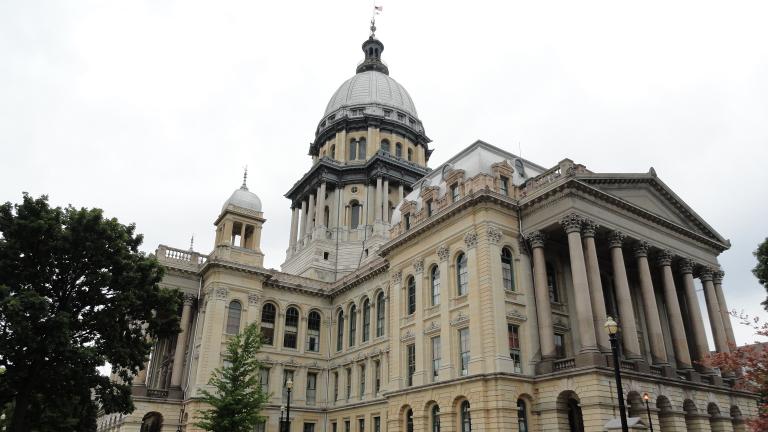 Without a Budget, 'That's It': Weekend State Budget Update
May 28: Lawmakers heard tales of woe Sunday as the Illinois House resumed what's supposed to be the swan song of the annual spring session. There is, increasingly, a prevailing sentiment that the Democratic-led General Assembly will fail to pass a budget by May 31.
---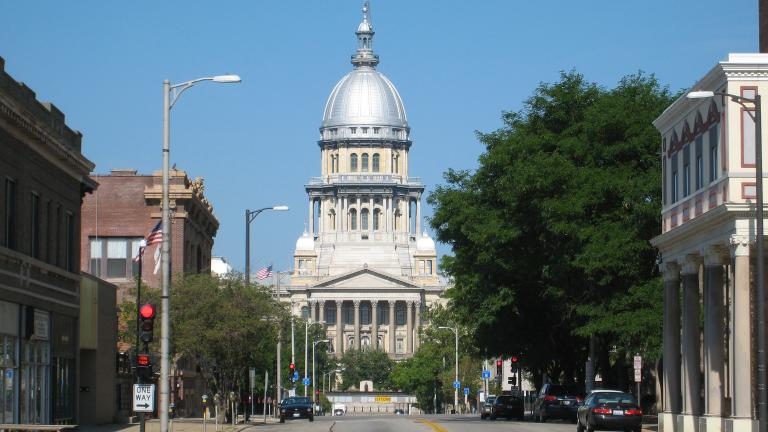 Lawmakers Adjourn as Budget Agreement Remains Elusive
May 26: A new round of finger-pointing played out as Illinois lawmakers left the capitol Friday for a mini Memorial Day weekend break.
---