UPDATE: The official opening date for the WhoaZone at Whihala Beach is June 24. 
Officials in Whiting, Indiana, think their city is about to become a whole lot more popular.
In June, Whiting's Whihala Beach will open its new floating water park, the first of its kind for Lake Michigan.
The park, which is essentially an inflatable obstacle course on water, will be installed by the German company Wibit, which has opened floating aquatic playgrounds all over the world. The park will feature slides, towers, bridges, cliffs, monkey bars and even a floating trampoline.
Although Wibit has installed similar parks in Florida, California and other U.S. locations, Whiting's new attraction is making waves in the middle of the country.
"This is really the first large one of this magnitude in the Midwest," said Ron Romens of Commercial Recreation Specialists, Wibit's distributor in the U.S.
Whiting is still finalizing permits for the WhoaZone at Whihala Beach – the official name for the new park – but it is set to open June 24. 
The WhoaZone will also offer new stand-up paddleboards, kayaks and beach chairs. The main attraction, the Wibit Sports Park, will be staffed by lifeguards and surrounded by buoys and other safety markers, Romens said.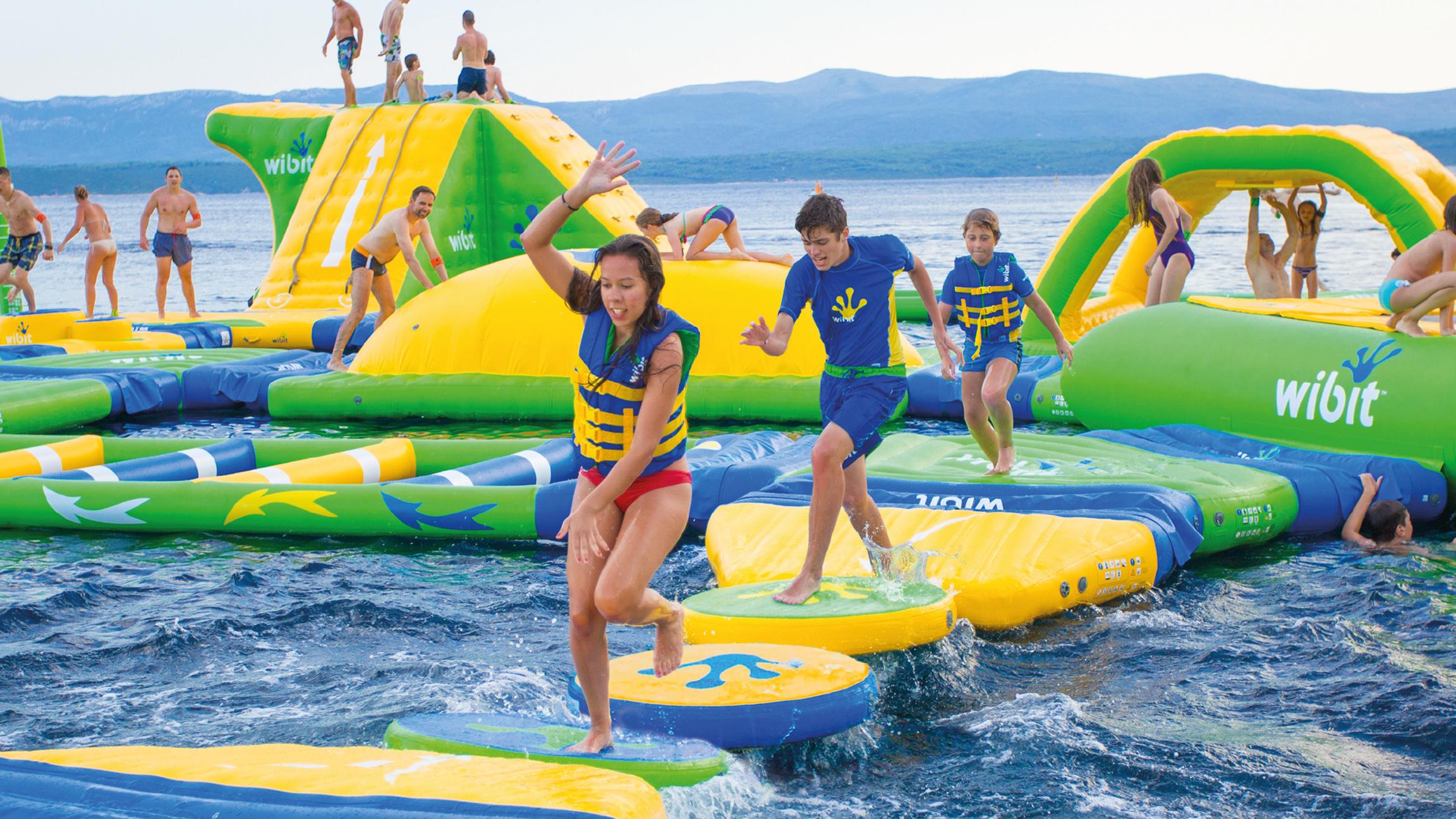 (Courtesy of Wibit Sports)
After its grand opening, the park will remain open through Labor Day during Whihala Beach's operating hours, which are daily from 10 a.m. to 6:30 p.m., weather permitting.
The new attractions are part of Whiting's ongoing effort to bring more visitors to the beach, which is about a 30-minute drive from downtown Chicago. 
"I think it definitely makes Whiting a destination," said Mark Harbin, the city's director of special events. "There's really nothing like it on Lake Michigan. I think it will draw from all over."
Visitors to Wibit's sports parks can dart across floating bridges and roundabouts, climb over towers by pulling on a rope and jump on a platform that launches their friends off the obstacle course and into the water.
Harbin recently shared details about the park with high school students on Mayor Joe Stahura's youth advisory committee.
"They're just blown away," Harbin said. "They're ready to go out on it. I think my kids are [also] ready for it."
Harbin said he, too, is curious to try out the floating water park, which is open to adults.
"You're challenging yourself on different things, whether you're bouncing or running or crossing this or climbing [that]," he said. "It definitely looks neat. I'm interested in going out there."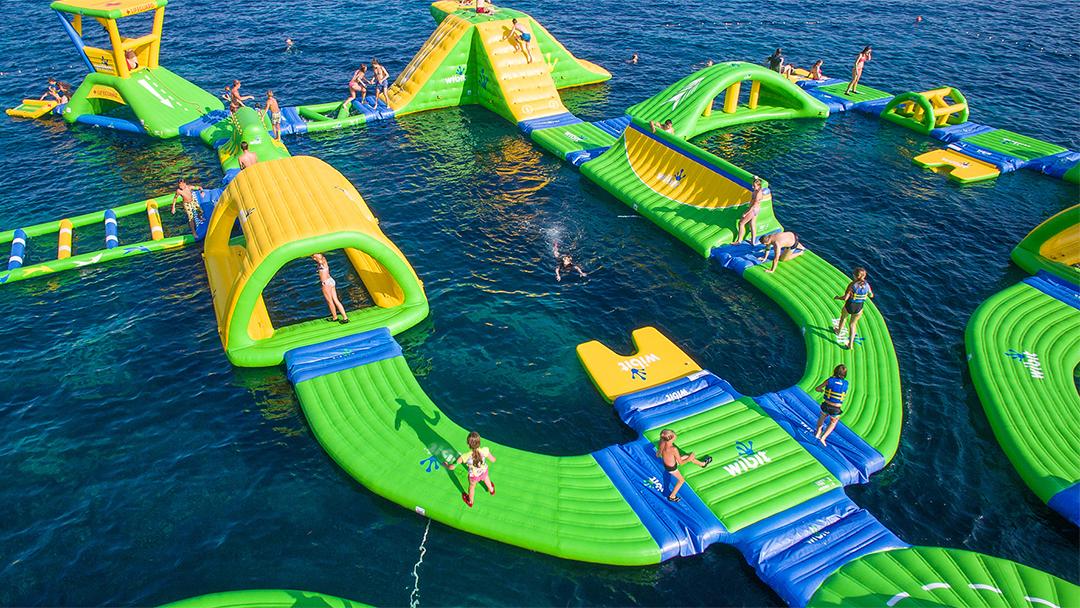 (Courtesy of Wibit Sports)
The new park will accommodate about 120 people at a time. Wibit will charge about $15-$20 per 75-minute session, Romens said. Parking at Whihala Beach costs $15 per day.
Whiting is paying about half of the initial $300,000 investment for the new park, Harbin said. The city is also working on a revenue sharing agreement with Wibit.
Before the park opens, Whiting must complete a permitting process that involves the Indiana Department of Natural Resources, the Army Corps of Engineers and the Coast Guard. Harbin said the city anticipates receiving approval for the park in time for a mid-June opening.
"This is their first go at really developing that beach area," Romens said about Whiting's effort to attract more visitors to Whihala Beach. "They're doing a great job with their brand, trying to reinvent themselves. It's been really impressive."
Installation of the park is scheduled to begin the weekend of June 10-11.
"It's a beautiful beach, and our backdrop is the Chicago skyline," Harbin said. "Now you have something that's more of a destination, a reason to go there besides going to the beach. It kind of reinvents itself."
Follow Alex Ruppenthal on Twitter: @arupp
---
Related stories: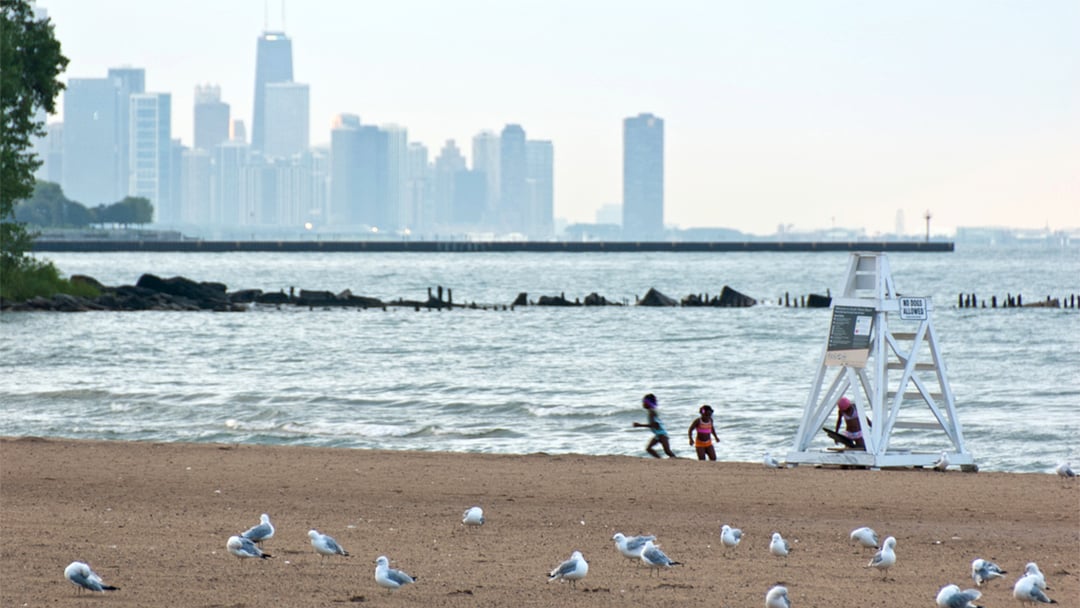 UIC Expands Rapid Water Testing at Chicago Beaches
May 25: Same-day water testing conducted at UIC's School of Public Health will give Chicagoans more timely alerts about water quality at their favorite beaches this summer.
---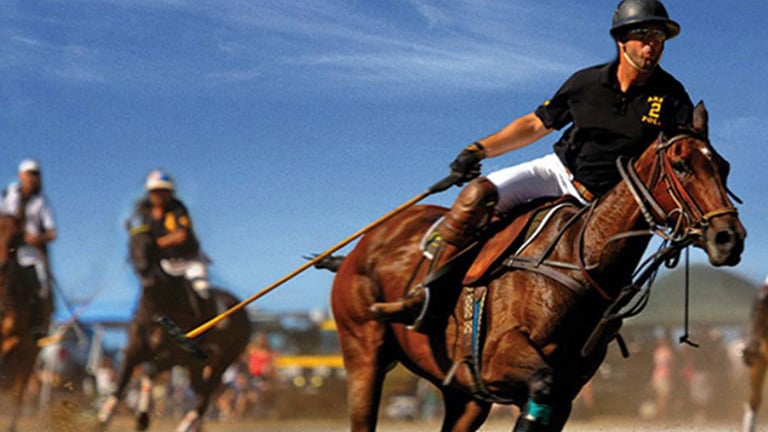 Polo Tournament This Weekend at North Avenue Beach
Sept. 6: Giddy on up to North Avenue Beach this weekend to watch the "sport of kings" at the Qatar Airways Chicago Beach Polo Cup.
---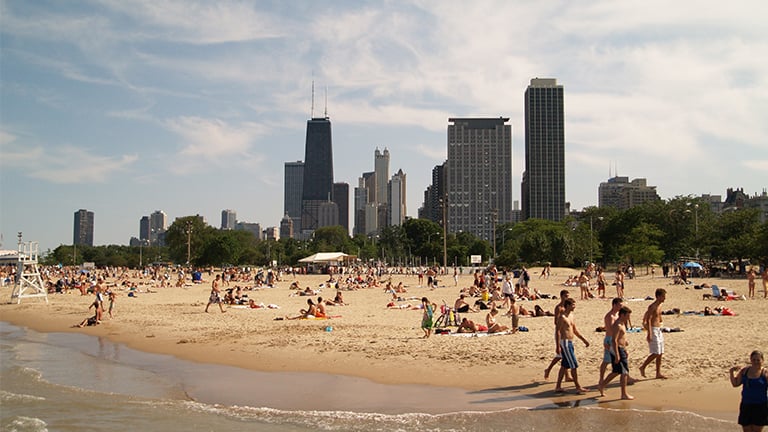 10 Things About Chicago Beaches You Might Not Know
May 25, 2016: Chicago's beaches – all 27 of 'em – open for the season Friday. Here are 10 things you may not know about the city's sandy side.
---