United Flight 3411 passenger Dr. David Dao was released from the hospital Wednesday night, after being treated for a concussion, broken nose and the loss of two front teeth, according his attorney Thomas Demetrio. Dao had been in the hospital since Sunday's incident, in which he was forcibly removed from the flight from Chicago to Louisville to make room for four United crew members.
Demetrio says his team is preparing a lawsuit that he hopes will reverberate beyond this single incident.
"This lawsuit will create a national and international discussion of how we want to be treated going forward," he said. "Are we just going to be treated like cattle? Bullied?"
Demetrio appeared at a press conference Thursday morning with co-attorney Stephen Golan and one of Dao's five children, Crystal Pepper, who lives in the Chicago area. Pepper says the entire ordeal has been difficult for her family.
"My dad is a wonderful father, loving grandfather," Pepper said. "That's the person we're trying to take care of."
Demetrio says United deserves the lion's share of the blame for what happened, but made clear that he believes Chicago aviation police acted beyond their authority in "violently" removing Dao from the plane.
"Nothing in their training says that in a non-confrontational situation, when other passengers are in jeopardy, should this type of force ever be used," Demetrio said.
Meanwhile, United and city aviation officials spoke out on the incident Thursday before the Chicago City Council. They were limiting in their testimony, citing pending litigation and internal reviews.
Chicago Tonight did learn in this contentious City Council hearing that an airline official had contacted the city's Aviation Operational Command Center, which then dispatched the Aviation Security Officers to the scene. This is a group of about 300 security personnel that work at O'Hare and Midway. They go through about four months of training at the police academy, where Chicago Police Department officers go through six months.
Aviation Commissioner Ginger Evans says Aviation Security Officers and traditional CPD police were dispatched to the scene on Sunday.
"The ASO's normal duties involve checking for alarms, checking for badges in that part of the terminal, so they are oftentimes closer to an incident than the police," Evans said. "CPD is also dispatched, but they are mostly stationed in the front of the terminal."
And from United we learned that it wasn't an overbooked flight. Four passengers needed to get off the plane for four crew members who by FAA regulations had no other way to get to Louisville.
United officials also testified that there is a formula to identify the people who should involuntary leave based upon a few factors: how cheap of fare they paid, amount of frequent flier miles, and how late arriving they were to the gate.
Remorseful United officials said they'd never seen a situation like this, and said there was no established protocol to deal with it.
"This is such a rare situation that generally the discussion happens one-to-one with a customer," said John Slater, United's vice president of O'Hare operations. "Ultimately compensation is offered and alternate flight arrangements are made for them."
United and city officials vowed to give more answers in writing next week. There is no word on how long the Aviation Department's investigation will take, beyond the fact that it will involve outside experts and a study of best practices at other airports.
Alderman each took multiple whacks at the proverbial piñata, but the ultimate impact of the hearing will likely be little more than a public airing of grievances.
Follow Paris Schutz on Twitter: @paschutz
---
Related stories:
United Faces Multiple Probes After Passenger Removed from Plane
April 11: Lawmakers at multiple levels of government are calling for probes into what happened on Sunday night aboard United Airlines flight 3411.
---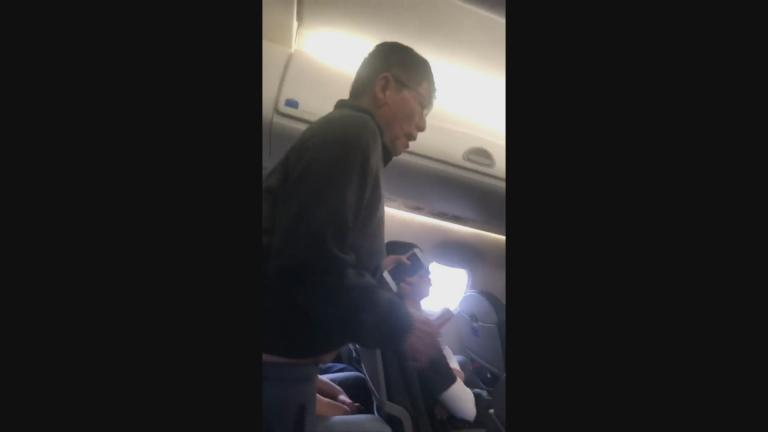 Passenger Dragged From Flight, Security Officer Put on Leave
April 10: An aviation security officer is put on leave after a passenger is dragged from an overbooked United Airlines flight at O'Hare.
---