There was more trouble Tuesday for United Airlines.
Lawmakers at multiple levels of government are calling for probes into what happened on Sunday night aboard United Airlines flight 3411, in which a passenger was forcibly removed from the cabin before takeoff. The flight from Chicago to Louisville, Kentucky, had been overbooked – standard practice in the industry – and the incident was caught on multiple videos that have since gone viral.
The passenger has been identified as Dr. David Dao, and he's currently being treated in the Chicago area at a hospital for undisclosed injuries, according to his Chicago-based personal injury attorneys.
This is all after that infamous video showing aviation security officers forcibly dragging Dao from his seat on that flight to Louisville. Dao was told he had to leave the flight because it was overbooked due to the fact that four crew members needed to be transported to Louisville.
United CEO Oscar Munoz's original statement on the matter said the situation was compounded when Dao refused to leave after being politely asked to leave the plane. Munoz called Dao "belligerent." But Tuesday after falling stock prices and global outcry Munoz issued a lengthy mea culpa saying the event was "truly horrific."
"I continue to be disturbed by what happened on this flight and I deeply apologize to the customer forcibly removed and to all the customers aboard. No one should ever be mistreated this way," Munoz said in a statement.
"I want you to know that we take full responsibility and we will work to make it right. I have committed to our customers and our employees that we are going to fix what's broken so this never happens again.
"This will include a thorough review of crew movement, our policies for incentivizing volunteers in these situations, how we handle oversold situations and an examination of how we partner with airport authorities and local law enforcement."
Munoz said the company will have results of an internal probe by April 30.
Follow Paris Schutz on Twitter: @paschutz
---
Related: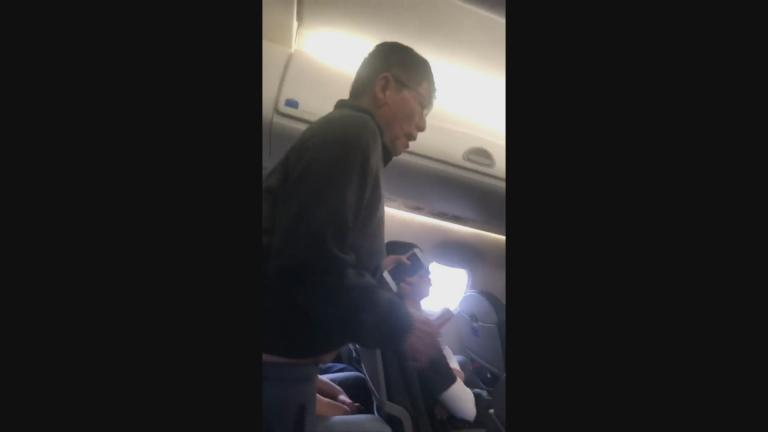 Passenger Dragged From Flight, Security Officer Put on Leave
April 10: An aviation security officer is put on leave after a passenger is dragged from an overbooked United Airlines flight at O'Hare.
---