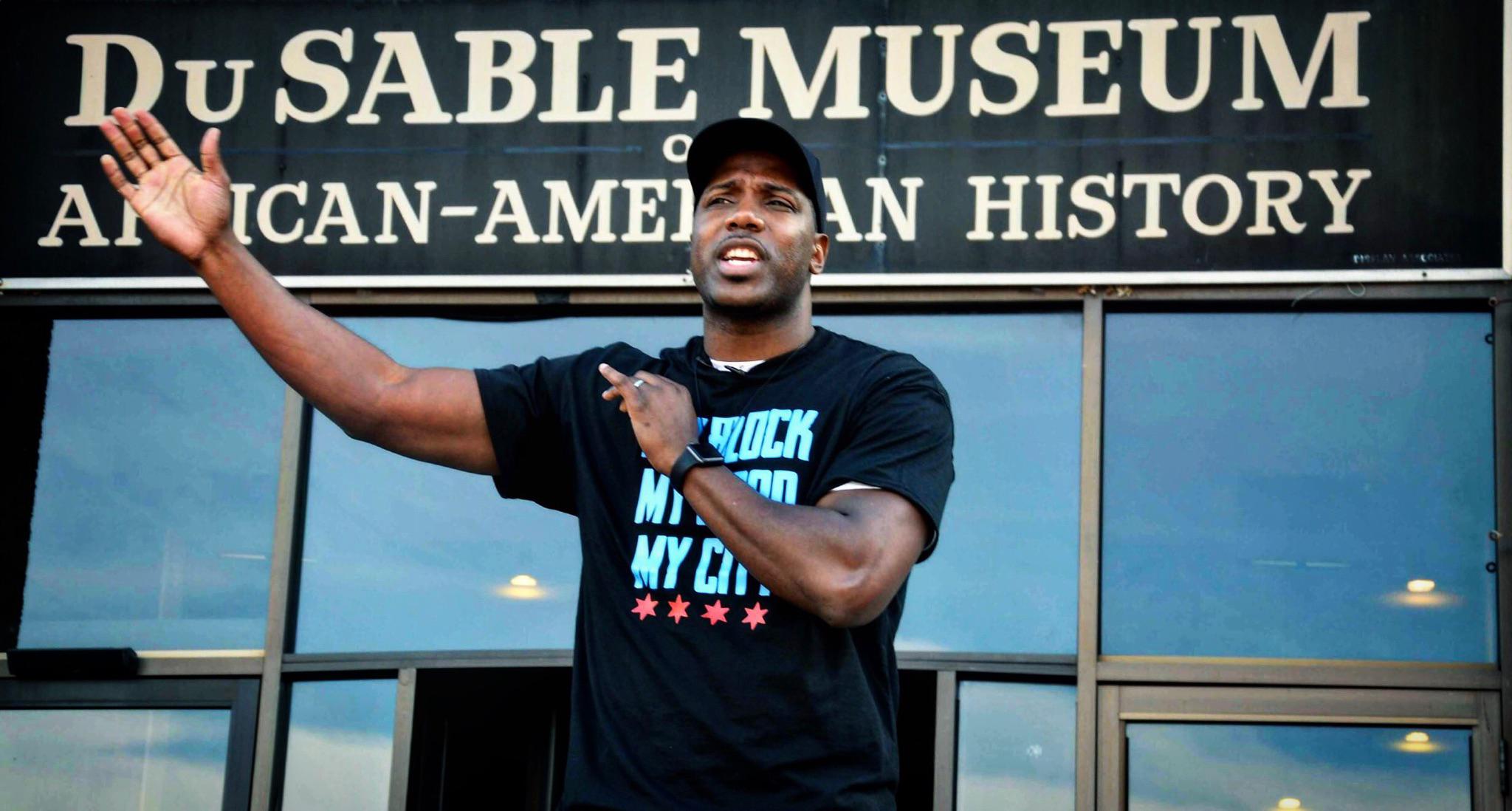 Jahmal Cole speaks at the DuSable Museum of African-American History in February. More than 400 people showed up to learn about his organization. Cole was expecting 100. (Courtesy of Jahmal Cole)
Behind the Headlines: This Chicago Tonight series spotlights individuals and organizations working to diminish gun and gang violence in their communities.

Jahmal Cole was 11 years old the first time he left his suburban hometown of North Chicago. Though unfamiliar with life outside the lakefront suburb,  he was all too familiar with poverty and homelessness.
"I didn't know a food stamp wasn't a real dollar until I put it in the pop machine," Cole said. Now 33, he remembers feeling "shameful" when he went with his mother and two younger siblings to food kitchens on Thanksgiving.
But Cole's perspective shifted when he took a bus from North Chicago to Texas.
"I just remember looking out the window and seeing the beauty and diversity of the country," Cole said. "I always say I'm an amateur anthropologist because of that."
Cole pinpoints this memory as the genesis for a nonprofit organization he would start 20 years later—My Block My Hood My City. The program gives young students from neighborhoods with high rates of poverty and crime a chance to visit businesses, cultural hubs and restaurants in other parts of the cit y   . Places they may not explore on their own.    

"They say it takes a village—it takes a city. This gives people an opportunity to be part of the change."
–Jahmal Cole
---
It also gives students from more affluent areas in the city an opportunity to visit neighborhoods different from their own, such as Englewood, and "learn about a gallery or go to a woodshop," Cole explained. "You can show them that you can come through Englewood and it's a beautiful place."
Cole says 75 teens have participated in explorations organized by My Block My Hood My City over the past year, the program's first.
"I try to tell them to take ownership of Chicago, so it's not my block or my hood, it's my city," Cole said. "And if you see something in another neighborhood or community that should be in your community, advocate for that."
In that sense, the Gold Coast belongs to the "explorers" in the same way their home base in North Lawndale does, and vice-versa.
Noah Hackworth was 17 years old when he met Cole. His first excursion with the group was a walk through Wicker Park with a dozen other teens.
Hackworth, born and raised in South Shore, said he noticed the way "people actually looked like they had somewhere to go." He said a level of comfort replaced his usual feelings of anxiety about safety.
But he said he also noticed something else.
"People were looking at us like we didn't belong there, but the city of Chicago is my neighborhood, that's how I look at it," Hackworth said.
Now in his second year at Robert Morris University, Hackworth credits the program with giving him the ability to look at things from different perspectives.

"It opened my eyes and it opened theirs, too. You can't judge someone on where they're from."
–Noah Hackworth
---
Cole agrees that his group's explorations often push peoples' assumptions and expectations, but that ultimately, they can also help bring people together.
"I just think people don't feel connected to the city," Cole said. "They just feel like they're comfortable in their isolated community of Lincoln Park, or their under-resourced community in Roseland. And both of those people, if you have that limited mindset, that's what's holding our city back."
For now, My Block My Hood My City is largely run using profits from online sales of branded T-shirts and hoodies. Cole hopes to get funding from grants in the upcoming year. He's also working with researchers from the University of Chicago to compile data on the efficacy of the program.
He believes that if every Chicagoan took responsibility for their community, the neighborhood divisions may begin to change.
"You can't choose where you're born, but you can choose where you want to make a difference," he said.
Cole moved to Chatham with his wife a few years after graduating from Nebraska's Wayne State College in 2005. The neighborhood has long garnered a reputation for being a stronghold of middle-class African-Americans. It's a reputation that motivates him. 
"If we want this summer to be a great summer in Chicago, we can make it happen," Cole insisted. "If people wanted things to change, they can change."
---
Related stories: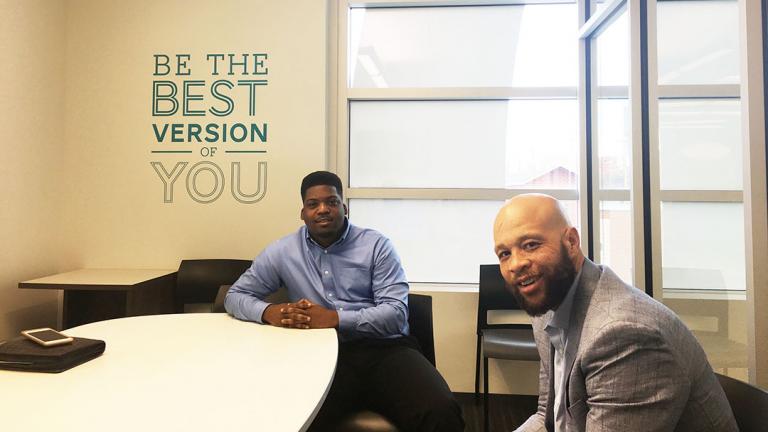 'Positive Vibes' in North Lawndale an Alternative to Crime Narrative
Feb. 21: North Lawndale native Patrick Daniels says his neighborhood is defined by more than violence, and he's working to change that narrative at UCAN.
---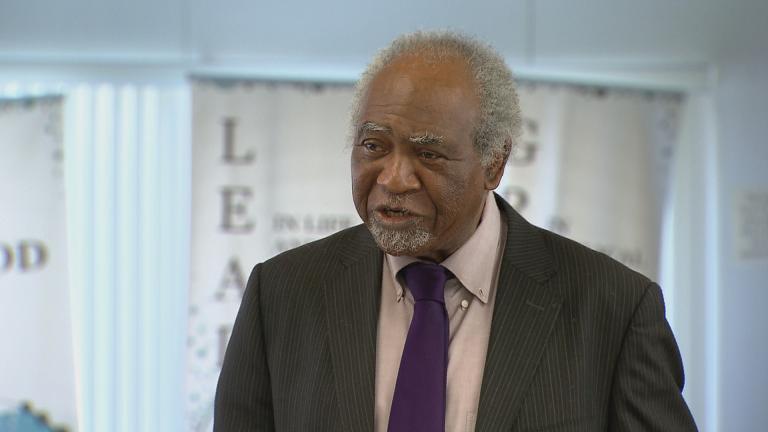 Data: Upward Battle for African-American Males in Chicago
Feb. 20: Unemployment rates for African-American males in Chicago are nearly three times higher than the national average, according to data released Monday by U.S. Rep. Danny Davis.
---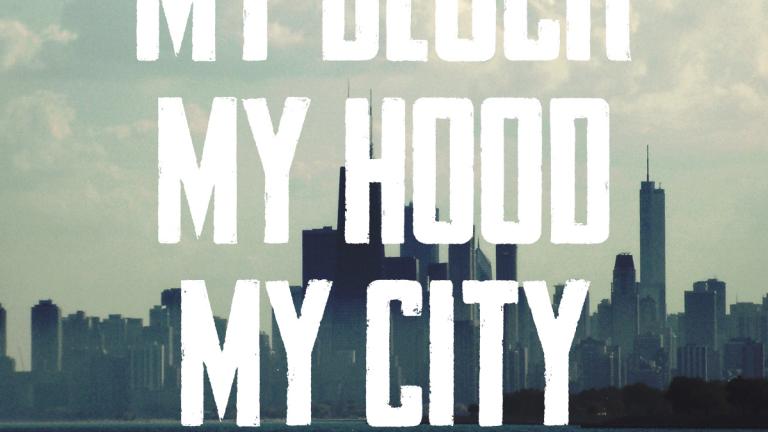 My Block, My Hood, My City
Aug. 8, 2013: Jahmal Cole was inspired to create a new web series after volunteering at the Cook County Jail and realizing that most of the inmates had never visited landmark sites, such as the Willis Tower.
---