It's a massive undertaking that could take up to 20 more years and cost Peoples Gas customers billions of dollars.
But the project to upgrade Chicago's natural gas pipelines suffered a blow Wednesday when state regulators issued an order calling for more hearings and testimony from the company. It's part of an ongoing investigation into waste and mismanagement on the project.
This upgrade will affect all Chicago customers: It could cost $6.8 billion and last until about 2030, or possibly cost billions more than that and last longer. It calls for replacing 2,000 miles of old, worn out gas pipes in the city that are susceptible to leaking and replacing them with more modern, polyethylene tubing to deliver gas. All of those costs will be passed on to ratepayers thanks to legislation that was approved years ago in the Illinois General Assembly.
But the regulatory agency that oversees utility rates, the Illinois Commerce Commission, is investigating some mishaps with the massive program: Did the company originally lowball the cost estimate, has there been waste and mismanagement, and does the massive cost to ratepayers justify the benefits?
Wednesday, the ICC issued an order calling for further hearings on the matter before they decide how to rule on it as Peoples Gas customers have already complained about bills going up.
"I appreciate that customers have concern about their utility costs," said Andy Hesselbach, vice president of construction for Peoples Gas. "The challenge is, we have an old system, it served the community very well, but it's in need of repair and replacement. Like a roof on your house, it's not fun to replace it, but it needs to be replaced at some point, and there is a cost."
The company, which was bought by the Wisconsin utility WEC in 2015, settled with Illinois Attorney General Lisa Madigan for $18 million for purportedly knowingly and dramatically underselling the cost of this project. The consumer watchdog group Citizens Utility Board commended the order from the ICC Wednesday, and says it is a positive step for ratepayers.
"Nobody argues that we don't need new gas pipes. That's a safety thing," said Jim Chilsen, CUB communication director. "However, Peoples Gas doesn't need a blank check to get that done. Unfortunately, the way the program has been run so far is, it seems they have been treating it like a blank check, and that's a big problem."
Hesselbach says the company decided to go with a system-wide overhaul. He says it will ultimately be more efficient than a piece-by-piece pipe replacement approach as needed.
In 2017, work will happen across the neighborhoods of Albany Park, Beverly, West Beverly, South Austin, West Humboldt Park, Morgan Park and West Morgan Park. That means parking restrictions in those neighborhoods and tearing up of roads. The purpose of all of this is to stop the gas leaks, and move gas meters from the inside of all homes and businesses to the outside.
"Because these meters are located inside your house, we're required by law to get in 200,000 homes and businesses to inspect. That requirement will go away because if they are outside, you don't have to inspect that," Hesselbach said. "Also, the old system put out 230 metric tons of methane, a heat trapping gas like CO2, that's also eliminated under the new system."
Peoples Gas tells us they expect bills to go up by about 2 percent or less every year as part of this project.
Follow Paris Schutz on Twitter: @paschutz
---
Related stories: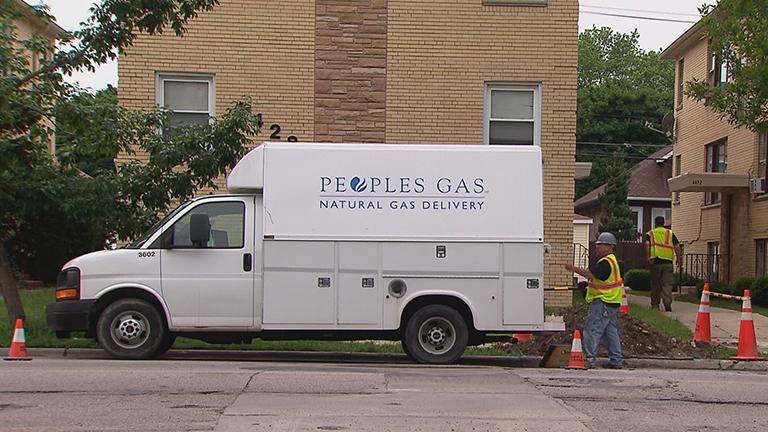 Crain's Roundup: Peoples Gas' $18.5M Settlement, Shrinking Sears
May 11, 2016: Crain's Chicago Business managing editor Ann Dwyer brings us the latest on a Peoples Gas settlement for misleading consumers, a new size strategy for Sears and an update on plans for a South Side trauma center.
---
Peoples Gas, CUB Discuss Gas Main Replacement Program
Feb. 15, 2016: The Citizens Utility Board and Illinois Attorney General Lisa Madigan have accused Peoples Gas of deliberately misleading regulators about the ballooning cost of a huge program to upgrade gas lines around Chicago.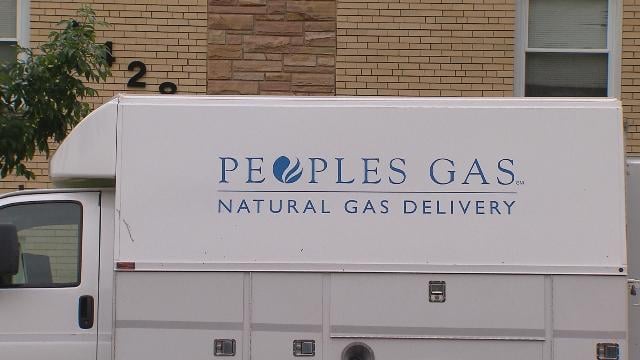 Consumers to Pay Higher Gas, Electric Bills
July 28, 2015: Crain's Chicago Business senior reporter Steve Daniels takes a closer look at the soaring cost of Peoples Gas' massive gas main replacement program and higher charges coming to Commonwealth Edison customers.
---