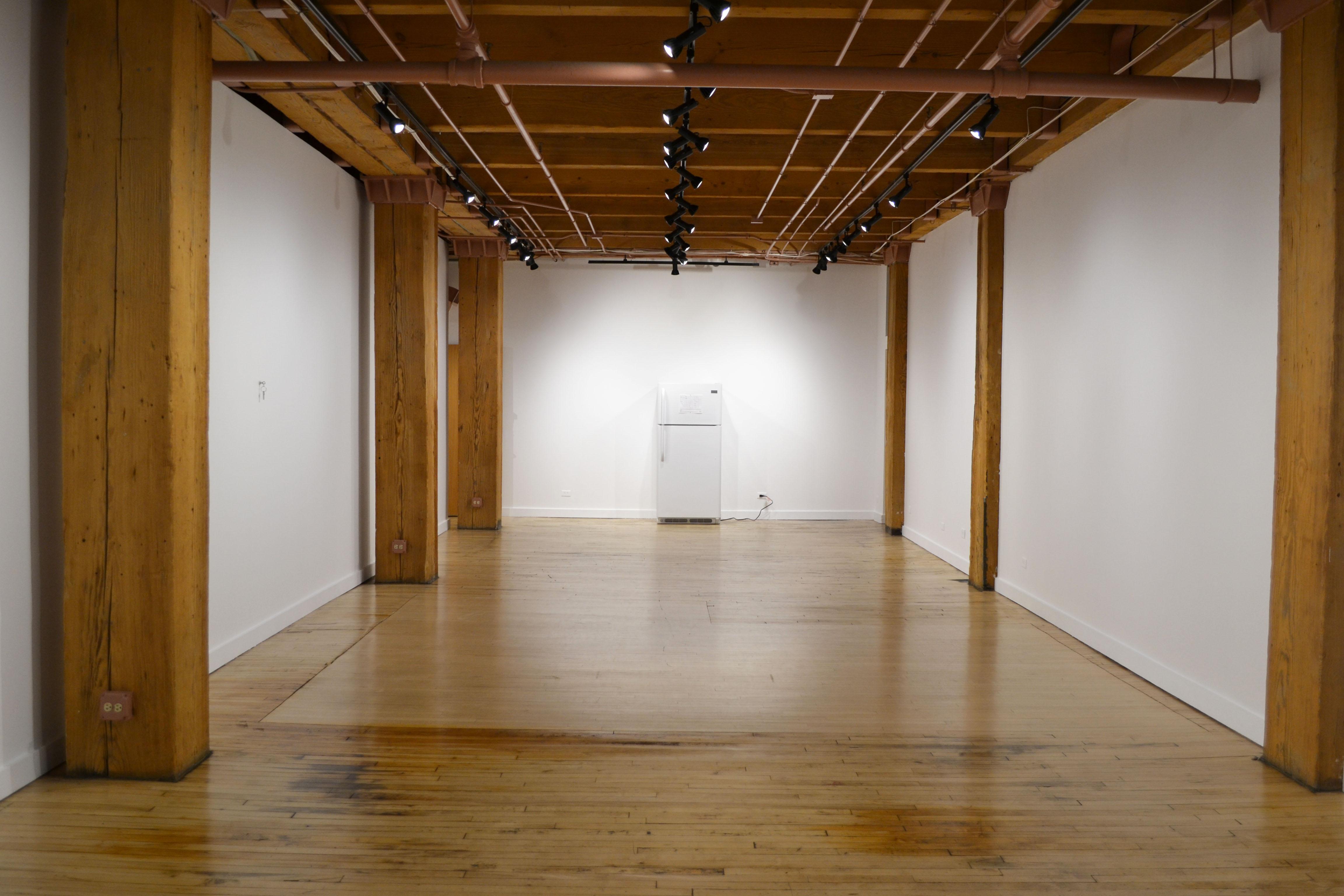 The minimalist exhibition at the Weinberg/Newton Gallery raises questions about representation in art and invites visitors to engage in the conversation surrounding homelessness. (Maya Miller / Chicago Tonight.)
When the Weinberg/Newton Gallery proposed an exhibition with a $12,000 budget to artist Billy McGuinness and curator Rhoda Rosen, the two immediately knew what to do.
The duo run a foundation called Red Line Service, which uses art to bring attention to homelessness. Rather than attempt to represent their work through photographs, they decided to use the bulk of the funding to provide housing for a year to two Chicagoans struggling with homelessness. The rest of the money would go toward developing the public exhibit, which opens Friday evening with a potluck-style reception.
The heart of the project, however, is in Englewood, where the two men have been living since Dec. 23.
"Regardless of the exhibition schedule, the site of the art is truly elsewhere," gallery director Kasia Houlihan said. "I really do think it's pretty radical."
The exhibit, "House," is largely conceptual, but it encourages action, too. (To this point, the name is intended to be read as a verb, rather than a noun.) While it aims to redefine traditional approaches to social issues and provoke questions about homelessness and the notion of representation, it also wants visitors to get involved.
But it's not a charity, curator and Art Institute lecturer Rosen explained.
"It's a socially engaged art project, it's not social service," Rosen said. "When you hand something to someone on a train platform and they say thank you, in a sense you've created an unequal encounter. We really are trying to create equal encounters."
In that regard, McGuinness and Rosen view the two men living in the exhibit-funded apartment not just as the central component of the project, but as "co-authors."
How did these two men become involved?
"We really like to say they chose us," Rosen said.
Both men met Rosen and McGuinness through Red Line Service. In one case, the artists set up a portable living room at both ends of a CTA Red Line train on a series of Saturday nights during the winter of 2015. Bringing food and water, they encouraged individuals to sit for a meal and participate in conversations as a way of building community.
Rosen and McGuiness are continuing to help both individuals find employment.
"We know in reality the problem is much bigger than what two people can solve," Rosen said. "Art is always necessarily symbolic, but [this exhibition] is an enactment of a solution rather than just pointing to the problem."
Rosen expressed her gratitude for working in a city such as Chicago that has become "internationally known for socially engaged art projects." In April, the city is set to host Open Engagement, billed as the third-largest artist-led conference dedicated to socially engaged art.
Though the two men are to remain anonymous throughout the duration of the exhibition, they are represented at the gallery by a set of keys to the residence and a copy of the lease.
These are two of just five items exhibited in the gallery that ultimately serve to encourage participation, rather than observation. For example, an empty fridge and grocery list rest on the back wall, inviting visitors to buy food and stock the fridge. Food will periodically be transported to the apartment.
Both Rosen and McGuinness say they were compelled to take artwork off the walls and "frame something within real life" because of their personal connections to homelessness (one of the artist's extended family members has struggled with the issue, for example).
"House" remains on view through March 5. Related events include a documentary screening and panel discussion as well as a housewarming party. Proceeds from the exhibition, which is free to attend but offers visitors a chance to participate financially, will go toward furnishing, renting and covering utilities for an additional pair of homeless Chicagoans. 
David Weinberg, who opened the Newton/Weinberg Gallery 11 years ago and shifted its focus to social justice issues within the last two years, believes artists "have a unique opportunity to communicate social justice in a fairly unusual way."
The unique approach of "House" has pushed him to adjust his original perceptions surrounding homelessness.
"I'm only now getting my arms around the meaning of it," Weinberg said. "It's very subtle and it's going to force people to think long and hard about how they view homelessness, and how they can help in its cause."
Follow Maya Miller on Twitter: @MayaTMiller
---
Related stories: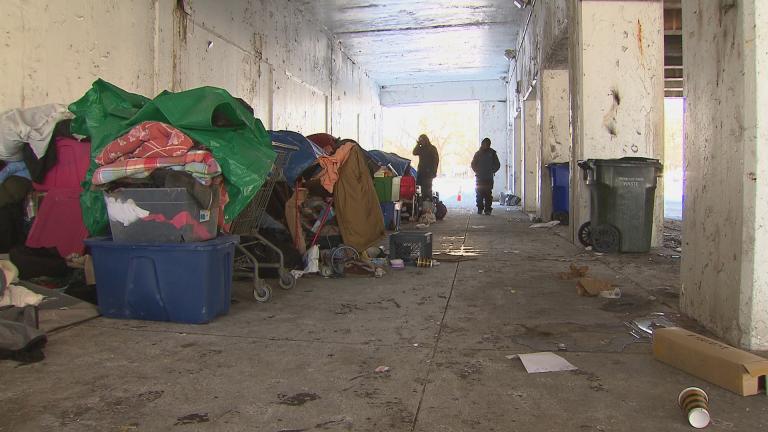 Bitter Cold Especially Challenging for Chronically Homeless
Dec. 19: Weathering the cold is especially hard on people who live outside. What's being done to help the homeless.
---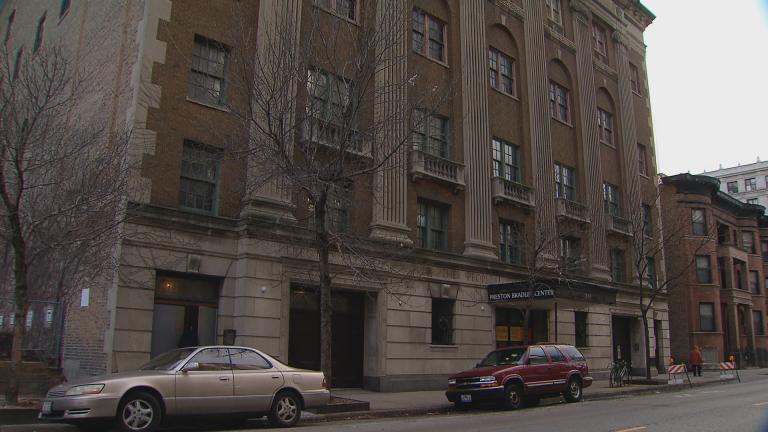 City, 'Secret Santa' Save Uptown Homeless Shelter
Dec. 27: The city of Chicago and a generous "secret Santa" stepped in at the eleventh hour to keep a North Side homeless shelter open after months and months of public protest. What does it mean for the city's homeless population?
---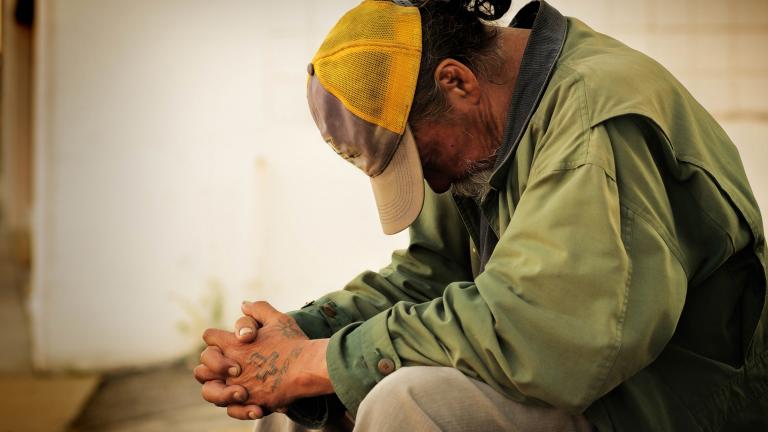 New Program Aims to Employ, Provide Services to Chicago's Homeless
Oct. 10: A pilot program announced last week by Mayor Rahm Emanuel and the Department of Family and Support Services aims to provide temporary employment opportunities and assistance to 100 homeless individuals.
---