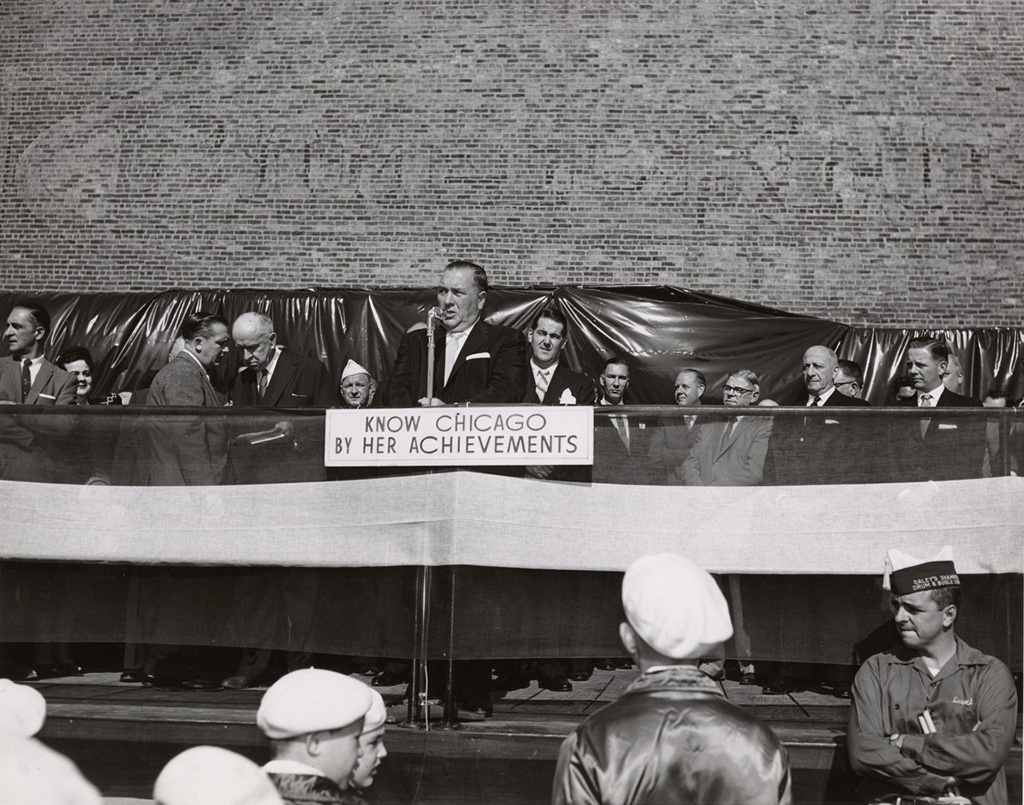 The University of Illinois at Chicago will begin offering a new seminar course examining the impact of Richard J. Daley next semester. (Courtesy of UIC's Richard J. Daley Library)
The University of Illinois at Chicago is planning a new seminar on the life and impact of one of the city's most iconic political figures: Richard J. Daley.
Days away from the 40th anniversary of his death, UIC announced it will offer a new honors course next semester on Chicago and its late mayor's role in local, national and international politics in the late 1960s.
The school announced it is planning a series of courses linked to its massive collection of Daley relics – which UIC says measures in at more than 700 feet of personal papers and artifacts kept inside its aptly named Richard J. Daley Library.
"It has these wonderful pinpoints," Sonia Yaco, head of UIC's special collections and university archives, told Chicago Tonight. "If you think of a snowflake, in the middle they're all these pieces and they connect to all sorts of other things. So there will be a picture of the late mayor and Muhammad Ali, there will be a picture of him with a painting of him with the Queen and it links to many of our other political collections, but it also links him and Chicago to the world."
The course, titled "City at a Crossroads: Local, National, and Global Politics in Chicago, 1968," will be taught by guest lecturer David Greenstein and focuses on topics ranging from urban renewal and presidential politics to civil unrest and the aftermath of Martin Luther King's assassination.
On top of the lectures themselves, students will be able to read through thousands of pages of first-hand materials highlighting both Daley's political and private life.
"It's going to be a great opportunity for students to learn," Greenstein said in a press release, "not only about Chicago and Mayor Daley, but also about working with original documents and other information-literacy skills."
The full Richard J. Daley Collection – which was gifted to the school in large part by Daley's wife, Eleanor – documents his personal life as well as the 21 years he spent in the mayoral office, containing publications, memorabilia, personal effects and photos spanning more than a century from 1870 to 2010.
John Daley – a current Cook County commissioner and one of Richard and Eleanor's seven children – said it was his father's first bill as a state representative that actually lead to the creation of the university's undergrad campus in Chicago in the 1930s.
"The university would not be there, quite honestly, without him," he said. "It was very controversial – I remember it growing up, the demonstrations against it – but it made the neighborhood better and I think it helped the university in the city establish itself as a major force in the academic world."
The state Senate later passed a bill calling for a Chicago campus in the 1950s and the process was finalized in the 1960s.
Daley passed away while serving as mayor, but John Daley believes that if his father had ever retired, he would have taken up some sort of lecture position at UIC. The younger Daley had just turned 30 when his father died, but upon 40 years of reflection, he said he still thinks back on the tough decisions his dad made as mayor and how he believes they improved the city.
"It had to be done," he said.
Last year, the university unveiled a new webpage detailing Daley's legacy through archival footage, photos, interviews and clippings. Yaco said that site contains only a portion of the collection's full breadth.
While that class is the only one that's been proposed and approved thus far, she said the university is planning additional courses in the future, all built around the idea of using its Daley collection.
"What we want is for our collections to be living things," Yaco said. "Not just to sit in our careful, climate-controlled rooms, but to have a life – to be part of classes, to be part of the curriculum, to be part of the community."
UIC officials have also announced plans to offer fellowships to grad students and researchers.
Yaco said it's not only political science and history majors filling up the class, but students from across campus studying biology, botany and a host of other interests.
"We're not surprised," she said. "I know from my colleagues in the history department that if they teach about Chicago history nobody drops the course."
Follow Matt Masterson on Twitter: @ByMattMasterson
---
Related stories: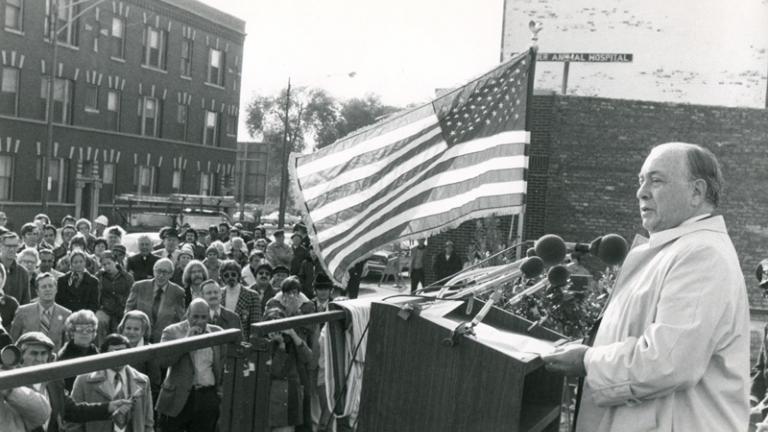 Richard J. Daley's Life, Legacy at Heart of New Website
Aug. 12, 2015: A new website from the UIC's Richard J. Daley Library examines the late mayor's life through archival footage and dozens of interviews with his family and colleagues.
---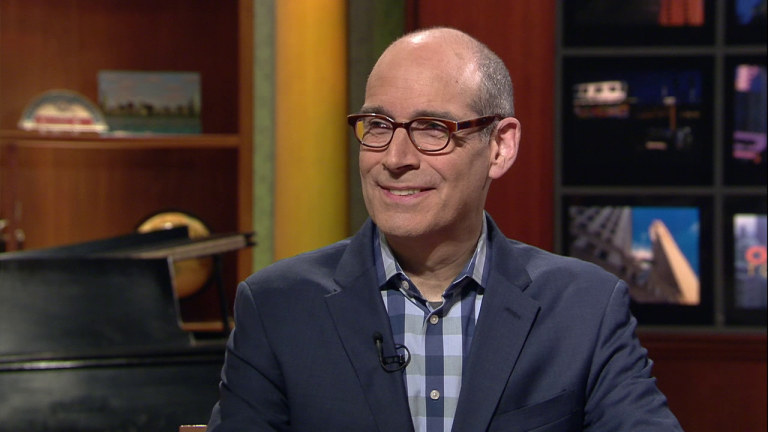 Ask Geoffrey: Why is there a statue of Richard J. Daley in Springfield?
Jan. 27: Chicago's most famous mayor might have a 50-foot Picasso in a plaza named for him, but a statue of Richard J. Daley resides in Springfield. Geoffrey Baer explains why Hizzoner is honored outside of Chicago in this week's edition of Ask Geoffrey.
---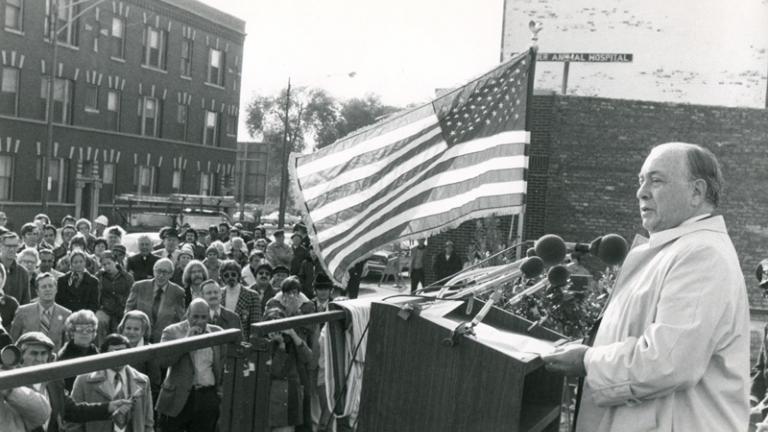 Richard J. Daley's Rise to Power
Feb. 22, 2011: Not many of us know the remarkable story of Richard J. Daley's rise to power. It's a tale of tremendous ambition and almost unbelievable good luck. We take a look back with John Callaway's story.
---