The video cannot be displayed.
Chicago's most famous mayor might have a 50-foot Picasso in a plaza named for him, but a statue of Richard J. Daley resides in Springfield. Geoffrey Baer explains why Hizzoner is honored outside of Chicago in this week's edition of Ask Geoffrey. He also answers viewer questions about the stunning facade of a red brick school in Logan Square and a slender south State Street building that has a lofty architectural pedigree.
Do you have a Chicago history question for Geoffrey? Ask it here.
---
Richard J. Daley was mayor for 20 plus years and yet while there is a Daley College and Daley Center, there is no statue of him in the city. I understand there is a statue in Springfield.
–Mike Monckton
Our viewer is right: There is no publicly-viewable statue of Richard J. Daley in Chicago but there is one of him in Springfield in the rotunda of the Illinois State Capitol. There's probably no one better remembered as the embodiment of Democratic Party power in Chicago than Daley, who served more than two decades as mayor, so it might surprise to some that before he was Chicago's Boss, he was elected as a Republican to the Illinois House of Representatives.
In 1936 the Republican candidate from Bridgeport, David Shanahan, was running for his 22nd term when he died just before the general election with his name still on the ballot. Daley ran for his seat on the Republican line, but he immediately switched sides upon taking office the following year.
Two years later he was elected to the Illinois State Senate, where he served for an additional eight years. During that time, he championed a bill to create a branch of the University of Illinois in Chicago. He also served as the State Revenue Director under Gov. Adlai Stevenson and as Cook County Clerk before being elected mayor in 1955.
After Daley died in 1976, State Rep. John Vitek, a native of Daley's Bridgeport neighborhood, began campaigning for a memorial in the State Capitol to the man he said "represented the voice of all the people of the city of Chicago and throughout the state." Three years later, Illinois lawmakers agreed and sculptor Peter Fagan was hired to do the work.
June 26, 1980: Click to see article from Chicago Tribune archives.
Daley's statue in the capitol was dedicated in 1981 and was placed alongside other famous Illinois state legislators, including Abraham Lincoln, Stephen A. Douglas, first African-American Illinois Sen. Adelbert Roberts, first woman Illinois legislator Lottie Halman O'Neill, and the man whose death opened the door to the Daley dynasty, David Shanahan.
So, why isn't there a statue of Mayor Daley in Chicago? For one thing, there aren't many statues of Chicago mayors in the city at all. In fact, there are only two – Carter Harrison in Union Park and Harold Washington outside the Washington Cultural Center.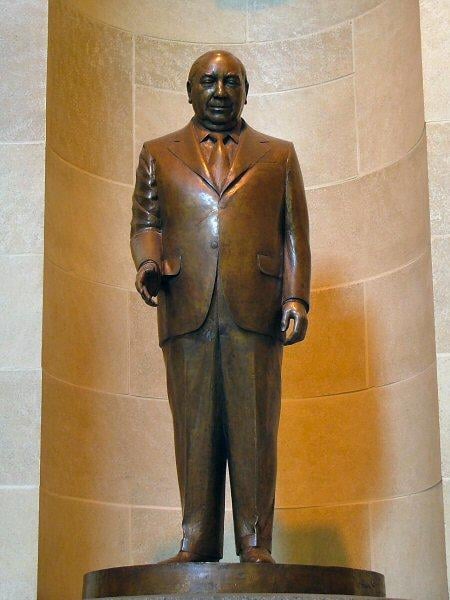 Richard J. Daley statue in Springfield Chicago Park District historian Julia Bachrach said that by the time Daley died, figurative sculptures were considered passé, and that most statues were created to honor historical figures associated with ethnic pride, like Johann Goethe, or national political figures like Abraham Lincoln.
That's not to say Chicago doesn't remember its past mayors in other ways.
Our viewer mentioned Richard J. Daley College in West Lawn, and of course, the iconic Richard J. Daley Center downtown, which was renamed to honor Daley just a few days after his death. (It was originally known as the Chicago Civic Center.) There is also the Daley Library on the UIC campus, a fitting tribute considering his work to create the school.
[Richard J. Daley's Life, Legacy at Heart of New Website]
Mayor Harold Washington is remembered with several Chicago institutions as well – the Harold Washington Library and Harold Washington College, both in the Loop. He also is the namesake of Harold Washington Playlot Park, Harold Washington Memorial Park, and the south open green of Washington Park (though the 1880 park is named after not Harold, but George Washington). 
We mentioned the statue of Carter Harrison in Union Park earlier. Harrison also joins Chicago mayors William Ogden, John Wentworth and Edward Kelly as the namesakes of Chicago parks.
And of course, mayors gave some of Chicago's most familiar streets their names – Ogden, Harrison, Wentworth and Anton Cermak.
---
Yates Elementary School on its Richmond Street facade had two maidens in red terra-cotta. Recently, wings were added to them. Are these wings replacing ones that were removed and if so, what happened to the original wings? And if not, why were they added now?
–Charlie B. Thorne, Logan Square
The lovely maidens our viewer is referring to are 5-foot-tall red terra-cotta angels gracing the western face of Richard Yates Elementary, a stunning red brick school in the Logan Square neighborhood that dates back to the days when the Chicago Public Schools were rapidly expanding to meet the demands of a growing city. But the wings on the angels aren't new additions – they were a part of the original design and were recreated as part of a loving restoration of the whole building in 2000.
(Bauer Latoza Studio)
Yates Elementary is definitely a showstopper, with arched windows and doorways, elaborate brickwork patterns, and lavish terra-cotta and limestone ornament, including those angels. Yates was designed by the Chicago Board of Education's head architect, William August Fiedler. He oversaw the design of a dozen schools that opened in 1896 including Yates. Many are of a similar design to Yates, with red brick walls and limestone bases.
The Board of Education crowed about the beauty of these schools in its annual report, saying "under the administration of the present architect, our buildings have become models in consonance with the grandeur of our city."
By 2000, much of Yates' grandeur had long faded. A century's worth of dirt made the school's intricate detailing hard to see, and while the angels' wings were never gone entirely, they were so battered and dirty that they virtually disappeared.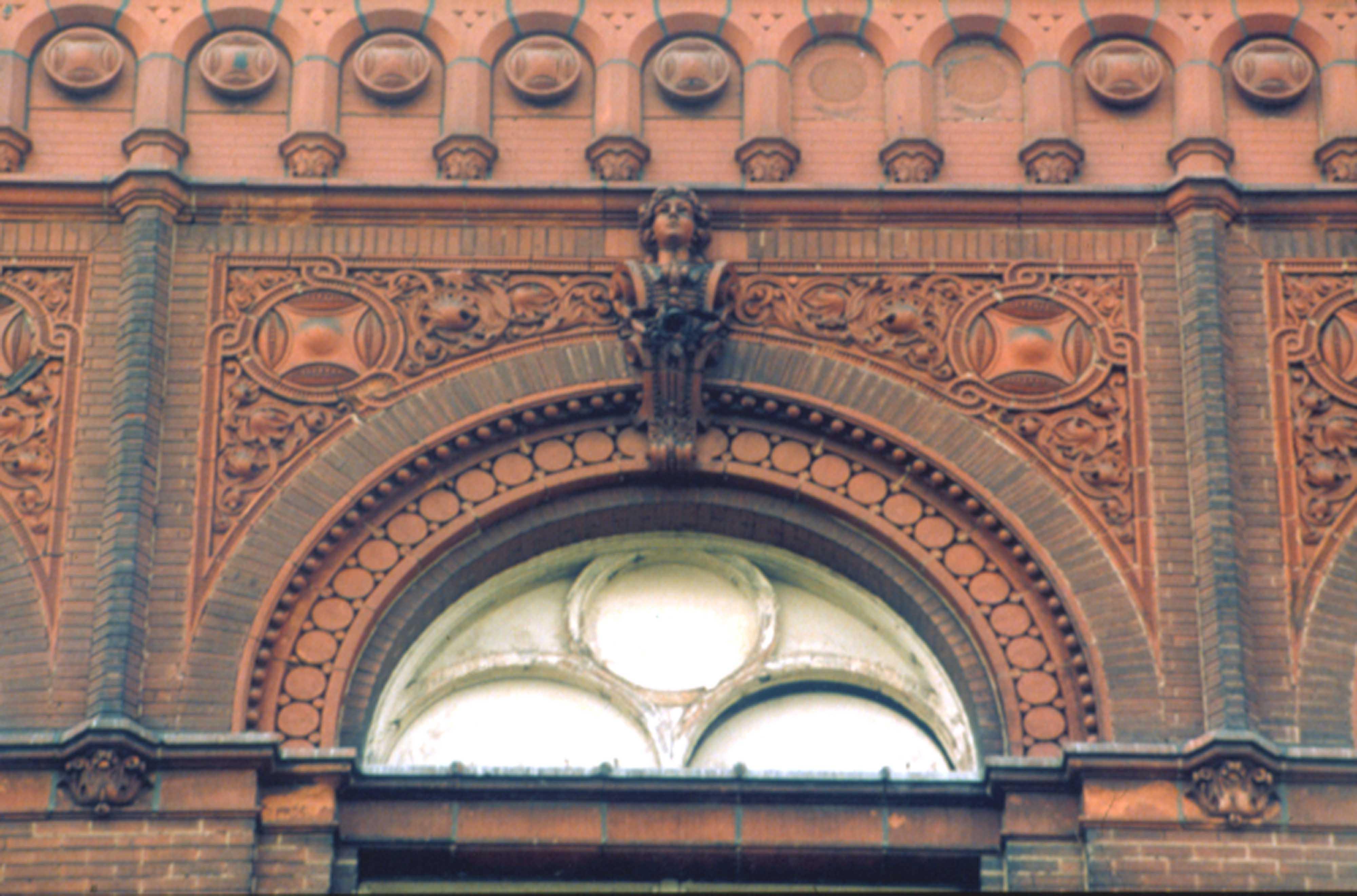 (Bauer Latoza Studio)
CPS commissioned the Bauer Latoza Studio to perform exterior restoration on the Yates building in 2000, including fixing those faded angels. The studio said that one of the angels was in good enough shape that it could be repaired and restored in place, but the other was so deteriorated that it had to be recreated entirely. It was removed in pieces from the building and used to create a new cast. Where pieces were too deteriorated, the intact angel was used as a reference. Today, the angels once again look ready to take flight.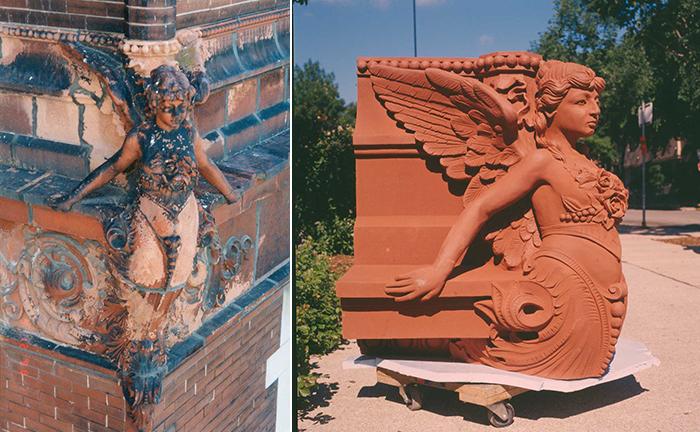 Left: Yates angel before restoration. Right: A new Yates angel. (Bauer Latoza Studio)
By the way, we found a lot of this information at a wonderful website highlighting historic Chicago public schools run in part by Chicago Park District historian Julia Bachrach.
---
There is a tall, narrow building located at 120 S. State St. What is its history? Also, near the top of the north wall, there is a painted sign for Ferris Wheel Restaurant. Where was this located and was there a special reason for this name?
–Madeline Bernat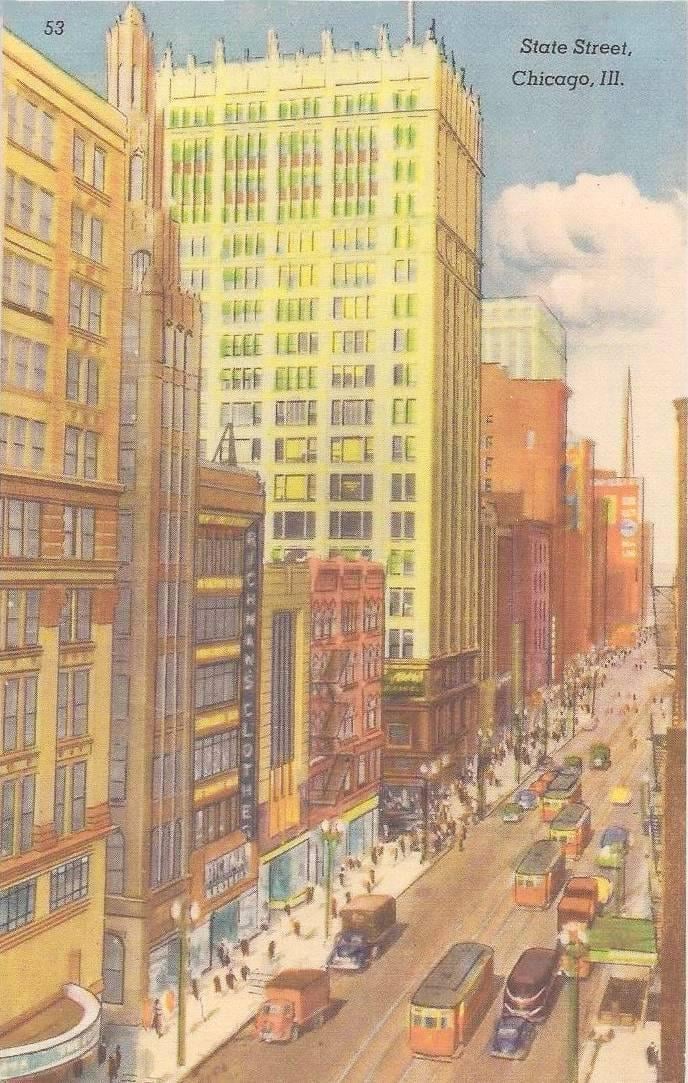 Tall and narrow is an understatement! The building our viewer is referring to is 10 stories tall and stands on a lot that's just 25-feet wide. That's the width of a typical Chicago single family home!
It's the Singer Building on State between Monroe and Adams completed in 1926. It was commissioned by New York's Singer Sewing Machine Company, which manufactured the first mass-produced sewing machines for use in the home. The growing company opened a number of offices in Chicago.
In the 1920s Singer decided to consolidate its Chicago operation into a single tower and hired the Chicago architecture firm of Mundie and Jensen to design it.
The only way to build such a tall tower on such a tiny lot was to support it with a slender metal frame instead of thick load-bearing masonry walls– and the architects Mundie and Jensen knew a thing or two about steel frame construction. Their firm had been founded by William LeBaron Jenney, who is credited with designing the world's first metal frame building, Chicago's Home Insurance Building, making Chicago the birthplace of the skyscraper.
The Singer Building has another hallmark of early Chicago skyscrapers: Huge, tall windows surrounded by ornate Gothic detailing by shiny white terra-cotta. This emphasizes the building's height and let in lots of air. The height was additionally emphasized with a slender rooftop tower that was later removed.
Singer at first occupied four floors of the building, with business offices, display space and a dressmaking school and took over more floors as time went on. The company sold the building in the 1970s, and it stood nearly empty until the late 1990s when noted restoration architect Bill Hasbrouck and his partners bought it to convert into live/work condominiums.
This restoration was one of the first conversions of a Loop office building into residential units, (maybe even the first)–way ahead of what later became a popular trend. The top floor residential unit includes the wonderful polygonal base of that long lost tower. Hasbrouck added a tiny balcony there.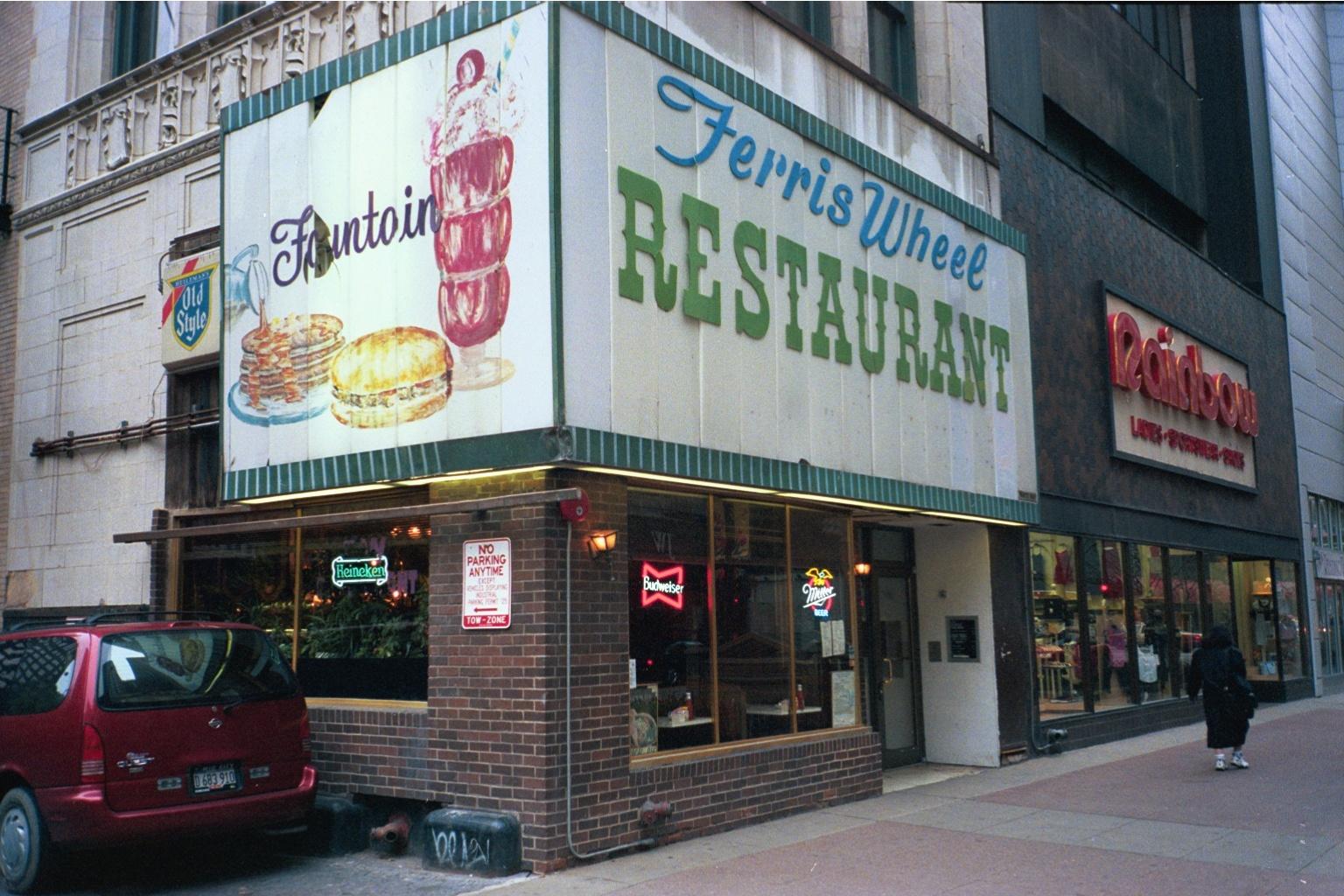 (Jim Rees)
Our viewer also mentioned the hand-painted sign on the north face of the building peeking over the top of its neighbor. The sign advertises the Ferris Wheel Restaurant, which was actually located on the first floor of the Singer Building for about 20 years. The Ferris Wheel was one of those classic Chicago diners owned by a Greek family. It closed in 2000.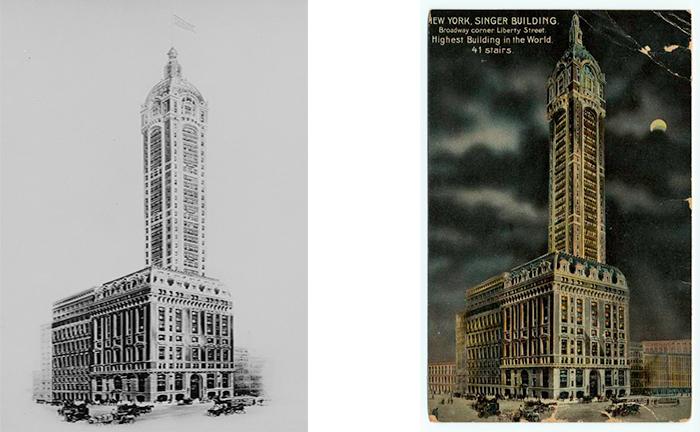 By the way, this Singer Building had a much more famous big brother in New York City built in 1908. New York's iconic Singer Building by architect Earnest Flagg featured a central tower that reached 47 stories high, and was briefly the tallest building in the world.
Sadly, that building didn't fare as well as its Midwestern sibling–it was demolished in 1968.
---
More Ask Geoffrey: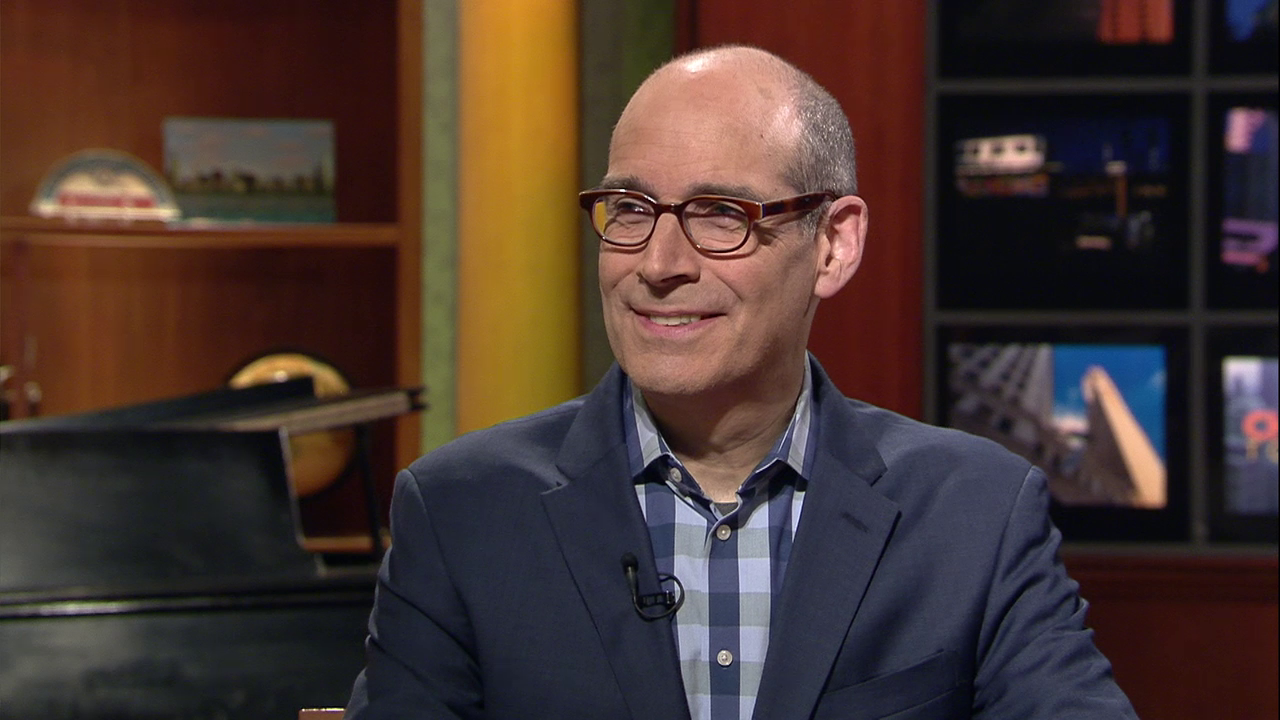 Did you know that you can dig through our Ask Geoffrey archives? Revisit your favorite episodes, discover new secrets about the city's past, and ask Geoffrey your own questions for possible exploration in upcoming episodes. Find it all right here.
Do you have a question for Geoffrey? Ask him.
---