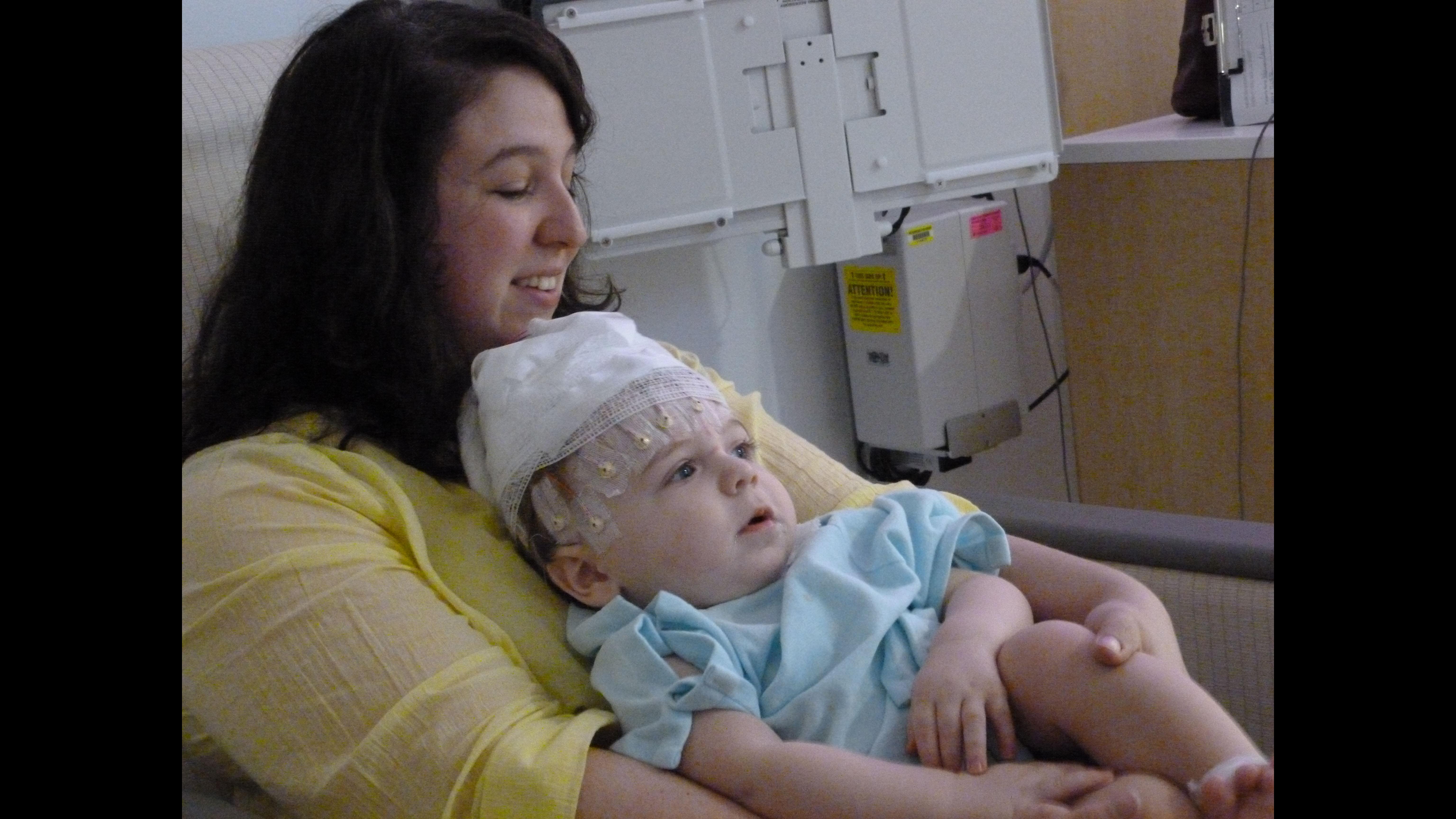 Ellen Wehrman and her son, Charlie, spend his first birthday preparing for an EEG. Wehrman, a former Loyola University Chicago student activities coordinator, will receive an award this week for raising awareness of infantile spasms, a rare disorder. (Courtesy Ellen Wehrman)
Terrified. That's how Ellen Wehrman and her husband, Andrew, felt when they were told their 9-month-old son, Charlie, would never walk or talk.
As a neurologist gave the dire prognosis, Charlie laughed and jumped in a hospital crib. Watching her son, Ellen Wehrman wondered, "What do you mean that kid isn't going to walk or talk?"
Less than three weeks earlier, Charlie, who Wehrman described as a "happy, bubbly baby," began jerking his arms up and down in what "looked like he was doing a zombie impression."
"His arms would come up and go stiff, his eyes would roll in the back of his head, and it happened over and over and over," said Wehrman. Charlie continued to do this for five minutes.
Concerned about their son, the Wehrmans went to the emergency room, where they were told not to worry about the incident because Charlie was otherwise happy and healthy.
Days later it happened again – but this time the Wehrmans decided to take a video of it. They showed the video to Charlie's pediatrician and then a neurologist who diagnosed Charlie with infantile spasms, specific seizures indicative of a rare, degenerative seizure disorder in infants and children.
"We were blown away," Wehrman said of hearing Charlie's diagnosis. "We were terrified. No one in my family has epilepsy and no one in Andy's family has epilepsy."
Charlie Wehrman (Courtesy of Ellen Wehrman)
Only 2,500 children are diagnosed with infantile spasms in the U.S. each year, according to the Child Neurology Foundation. The disorder is so uncommon that most pediatricians will only see one to two cases during their careers. 
Like many others who find themselves confronting an unusual or rare diagnosis, Wehrman did some research on the internet. The results she found were disheartening. "Some kids don't make it. Some kids don't develop past newborn stage," she said. "Some revert back to newborn stage."
Though frightened and uncertain about what lay ahead, Wehrman began writing about Charlie's condition on a blog that was initially started to share photos and family news with relatives.
At the time of Charlie's diagnosis in 2012, Wehrman said she didn't see any happy stories about infantile spasms. "We kept telling Charlie's story, hoping that it'd be a positive one."
The blog celebrates milestones – both big and small – and acknowledges setbacks or unexpected events, like spending Charlie's first birthday in the hospital. But even when writing about setbacks or challenges, Wehrman maintains a sense of hope that things will get better.
"To look at the long term is not helpful," Wehrman said. "We look at what we can do today, what we can do this week and make sure he's got everything he can to do the best of his ability and build on that success."
Fortunately, Charlie was able to "beat" infantile spasms rather quickly but has since developed another form of epilepsy and been diagnosed with autism, Wehrman said of her now 5-year-old son.
(Nate Knobel / knobelphotography.com)
"Academically, he's ahead of all the kids in his class. He's an incredible kid and he's doing really well," she said. "I'm proud of him and proud to be able to tell his story."
Wehrman's upbeat posts about Charlie's journey caught the attention of other mothers who discovered her blog after their children were diagnosed with infantile spasms. One of those mothers nominated Wehrman for the 2016 Infantile Spasms Hope Award which honors courageous people who use their experiences to spread awareness of the condition.
In her nomination letter, the mother said Wehrman's blog was "the only ray of light" she found while researching infantile spasms online and has "grown to depend" on Wehrman, who she considers a friend.
Wehrman said she's surprised and honored to be receiving the award. "There are lots of people doing great work in the IS community," she said.
Werhman, a former Loyola University Chicago student activities coordinator, will receive the award during Infantile Spasms Awareness Week, which begins Thursday and runs through Wednesday, Dec. 7.
Dr. Steven B.Coker, a pediatric neurologist at Central DuPage Hospital, will be recognized for his work treating children with infantile spasms when he also receives an Infantile Spasms Heroes Award as part of the week's events.
Follow Kristen Thometz on Twitter: @kristenthometz
---
Related stories:
Sept. 30: The rare psychiatric disorder increases the risk that a mother will harm herself or her newborn, according to a recent study. A local psychiatrist explains the seriousness of the illness and how it differs from the more commonly studied postpartum depression.
---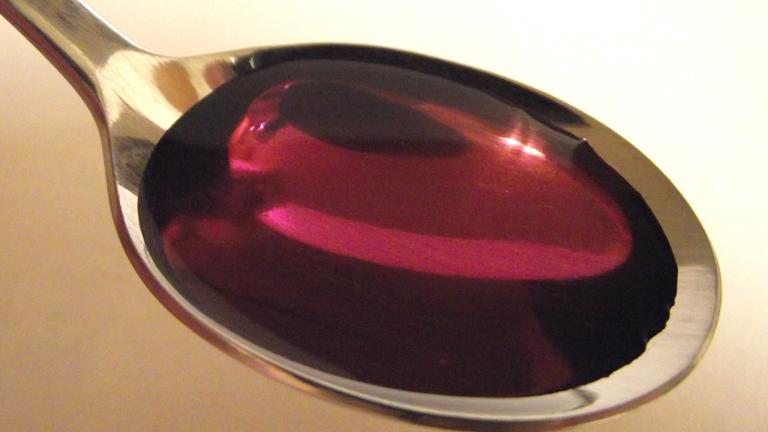 Pediatricians: Stop Giving Kids Codeine
Sept. 22: Children under the age of 18 should not be given codeine, says the American Academy of Pediatrics in a new report that cites life-threatening events and even deaths linked to the drug.
---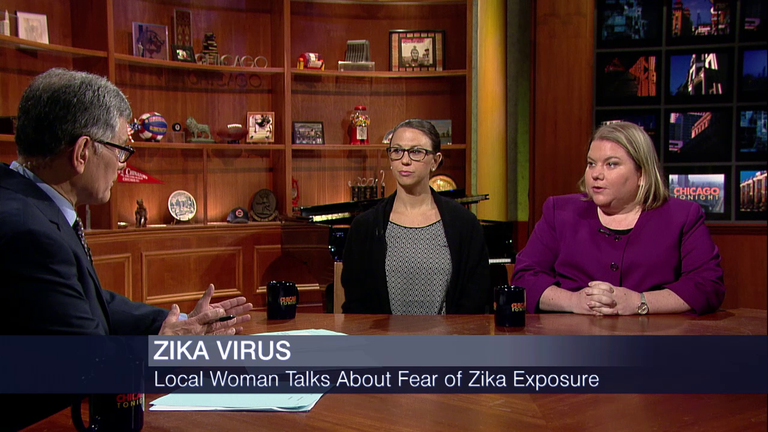 For Expectant Mother, Possible Exposure to Zika a Terrifying Ordeal
April 26: We talk with a local woman, pregnant with her first child, who has been dealing with the terrifying possibility that she and her unborn child may have been exposed to the virus.
---