Hundreds of airport workers on Tuesday took to the picket lines at O'Hare around terminals 2 and 3 to protest for higher wages and better work conditions. It was part of a national day of striking that included walkouts from fast food and other service employees. 
Workers at O'Hare will be back on the job Wednesday following the one-day walkout.
About 500 airport employees, including baggage handlers, handicap escorts, janitors and airplane cabin cleaners took to the picket lines. Many of them say they took the action despite intimidation tactics and threats from their employers. The workers say they make about $10 an hour and the work conditions are harmful, especially for cabin cleaners who say they use some toxic chemicals to clean airplane cabins. They are backed by the Service Employees International Union and say Tuesday's action is meant as a shot across the bow to their employers.
"We are here striking because the pay is too small for us to survive," said Rasheed Atolagbe-Aro, a cabin cleaner. "We're out here because we believe the power of the union will be more powerful than the employer."
"I'm living off the government," said cabin cleaner Kisha Rivera. "It's not something I'm proud to say because I'm actually working 40 hours. Why should I have to depend on the government when I'm working 40 hours and doing overtime?"
The employees all work for companies that are contracted out by the airlines. Those contractors include businesses called Scrub Inc., Prospect Inc. and Airserv.
We left messages at all of those companies and did not hear back.
Meanwhile, the SEIU says there have been preliminary discussions with the employers, even though the union doesn't formally represent these employees.
"These workers want to help contribute to making clean, quality air travel possible for all passengers, and companies need to do right by the frontline workers and invest in them," said SEIU National President Mary Kay Henry. "Many of the cabin cleaners used to work $20 an hour. They used to have healthcare, they used to have pensions. But now, the jobs have been subcontracted out and they pay poverty wages.
"I think it takes tremendous courage for these workers to come out and strike and say 'enough is enough,' we can do better," she said.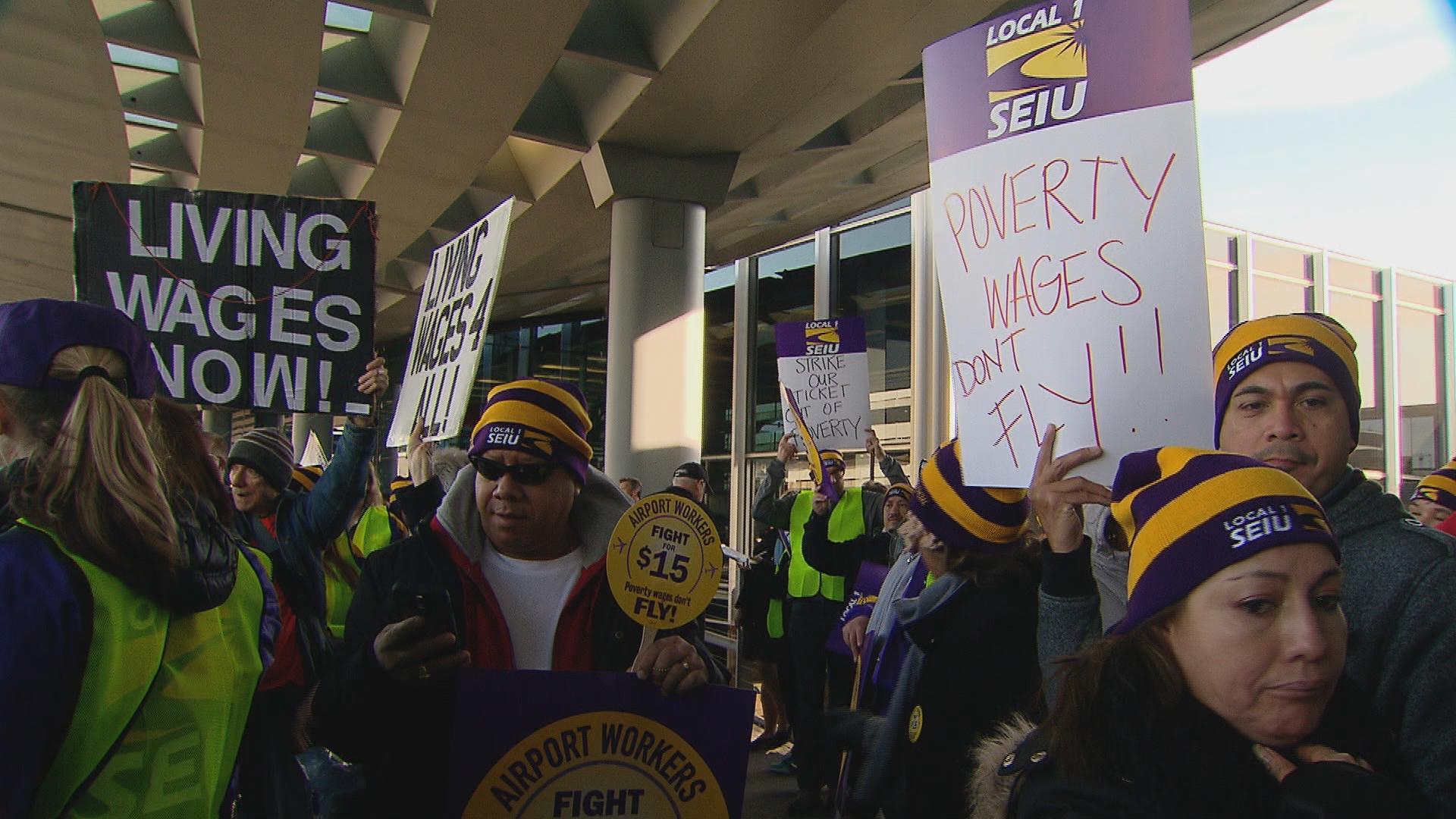 (Chicago Tonight)
Despite the activity, O'Hare reported no disruption Tuesday with regard to wait times and cancellations. Some city officials mused that a lot of the protesters were bused in by SEIU, so there's speculation that the amount of O'Hare employees that actually walked off the job was a lot smaller than anticipated. In terms of job conditions, the city's Department of Aviation deferred to those contractors aside from supplying this generic statement:
"The CDA remains committed to maintaining a work environment that is safe and healthy for employees and expects the same commitment from its contractors and partners."
There were, however, several aldermen that showed up in support and took the mic to be heard. The concede, though, that short of passing a citywide $15 minimum wage, there's not much they can do except put pressure on the city's aviation commissioner to, in turn, put pressure on the companies to pony up.
"It's gonna fall more on the commissioner of aviation, and it won't fall on the lines of an ordinance, it will be that she has to sit the airlines down at the table and ask them how they're going to treat their employees for the city's economic engine," said Ald. Anthony Napolitano, whose 41st Ward includes O'Hare.
City Council's progressive caucus has also tried to get a referendum on the election ballot to ask voters to separate the city's airports into an independent elected body. They think that perhaps that could lead to outcomes more favorable to their cause.
Follow Paris Schutz on Twitter: @paschutz
---
Related stories: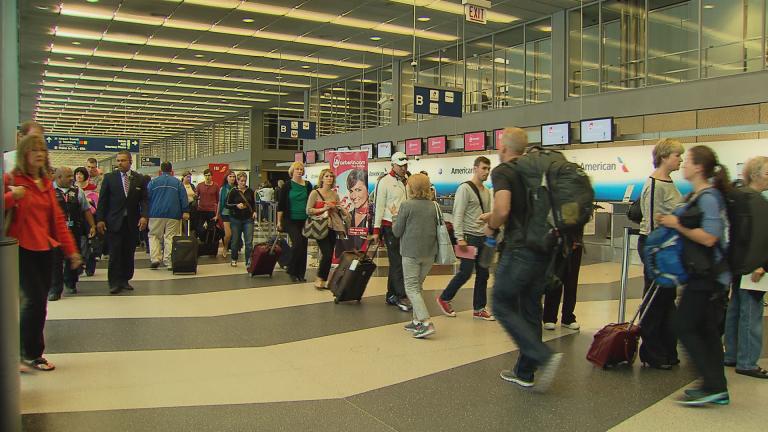 O'Hare Airport Workers to Strike After Thanksgiving
Nov. 21: Heading to O'Hare International Airport this week? You can breathe a sigh of relief: Airport workers announced Monday they won't walk off the job until Nov. 29.
---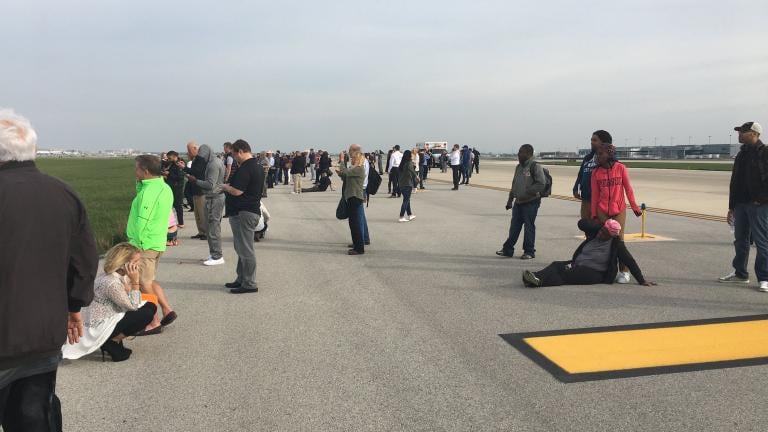 Plane Catches Fire During Takeoff at O'Hare Airport, Minor Injuries Reported
Oct. 28: About 20 people on board an American Airlines flight bound for Miami suffered minor injuries, fire officials said, after the plane caught fire Friday afternoon on a runway at O'Hare International Airport.
---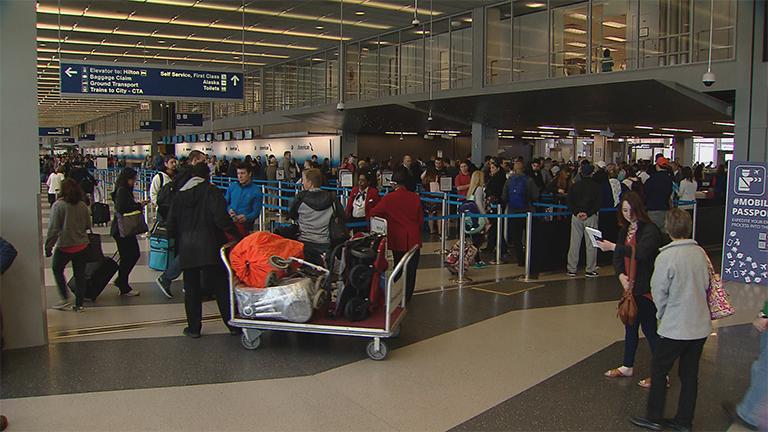 Long Lines, Missed Flights: Inspecting the TSA's Airport Crisis
May 23: Pack a book because those long, soul-crushing lines at O'Hare and Midway airports aren't going away any time soon. We look at what this means for the future of the TSA.
---