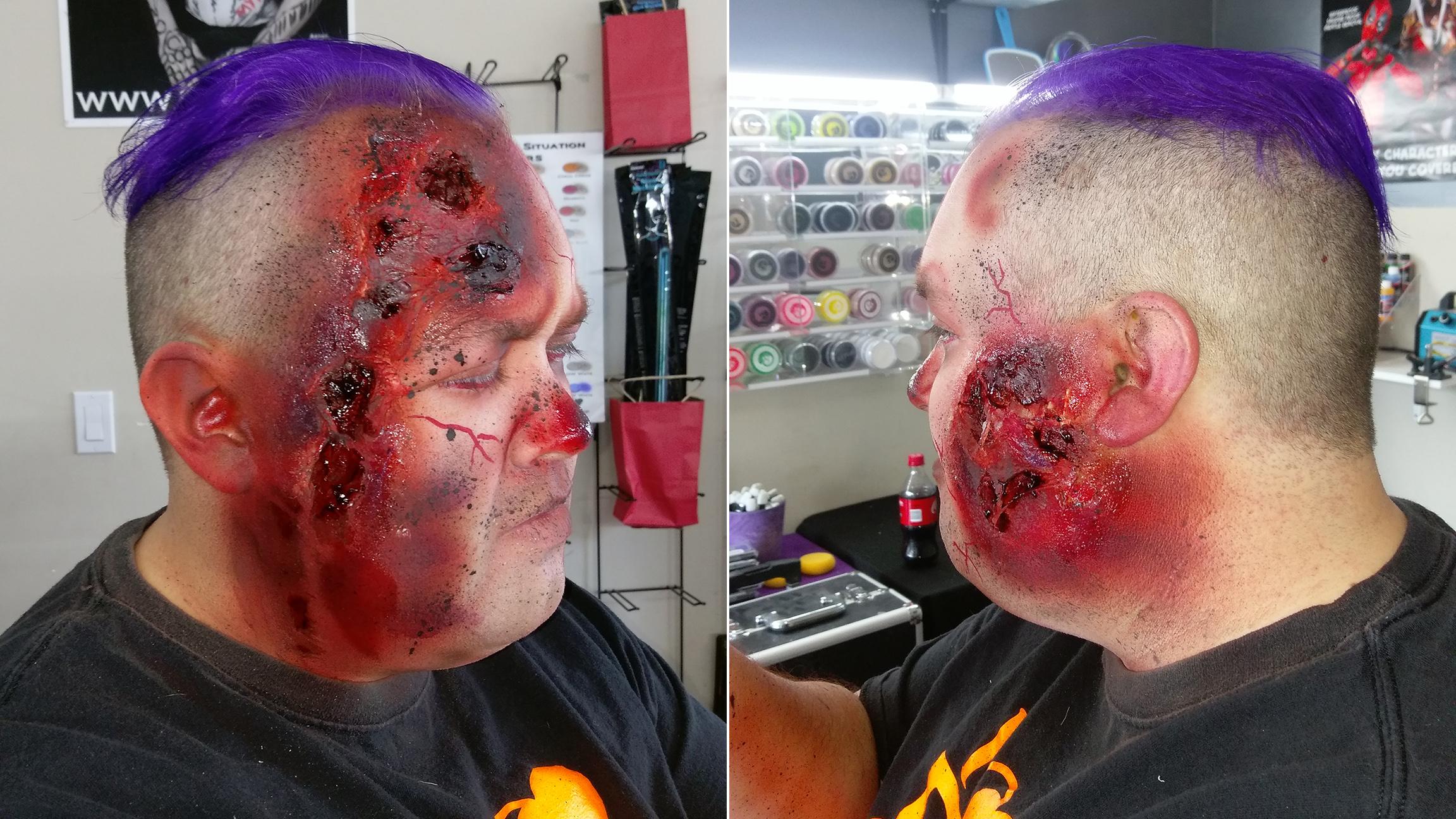 Store owner Mike Murray models makeup by artist Colleen Jones. (Erica Gunderson / Chicago Tonight)
Halloween weekend has descended upon Chicago Bodypaint and Cosplay, where the shop talk is probably nothing like you've ever had around the water cooler: How can you approximate the look of exposed subdermal fat layers in latex and paint? What's the best way to explain nipple covers to clients so they don't get them confused with tasseled pasties? Just how many different kinds of zombies are there, anyway? It can get a little weird – but for owner Mike Murray, weird is the goal.
Murray, a Florida native, came to Chicago by way of a job transfer late last year. A lifelong enthusiasm for scaring people with gruesome Halloween displays led him to an interest in special effects makeup, which he pursued first as a hobby and then as a side job. When he became disenchanted with his day job as an operations manager for a wireless company, Murray decided it was time to make a living out of painting the dead – and making the paint while he was at it.
While it's primarily a retail venture (Murray mixes his line of special effects makeup, I Love FX, in the back of the shop) the 10-month-old business also offers body painting services and temporary tattoos to the public in its Albany Park storefront, where anyone can be transformed into a rotting corpse, Disney villain, or comic book hero. And it's not just Halloween that calls for body painting – cosplayers, or people who dress up as fictional characters for fun, also frequent the shop in preparation for conventions and events with other cosplayers throughout the year.
Halloween is just one very busy weekend out of the year for makeup appointments, but it's still an important season for Murray since haunted houses make up a significant chunk of his makeup sales. According to Murray, a typical haunted house with dozens or even hundreds of painted characters will go through gallons of makeup every weekend. Murray says he's made middle-of-the-night runs to haunted house clients who had run low on fake blood or decomposing flesh palettes.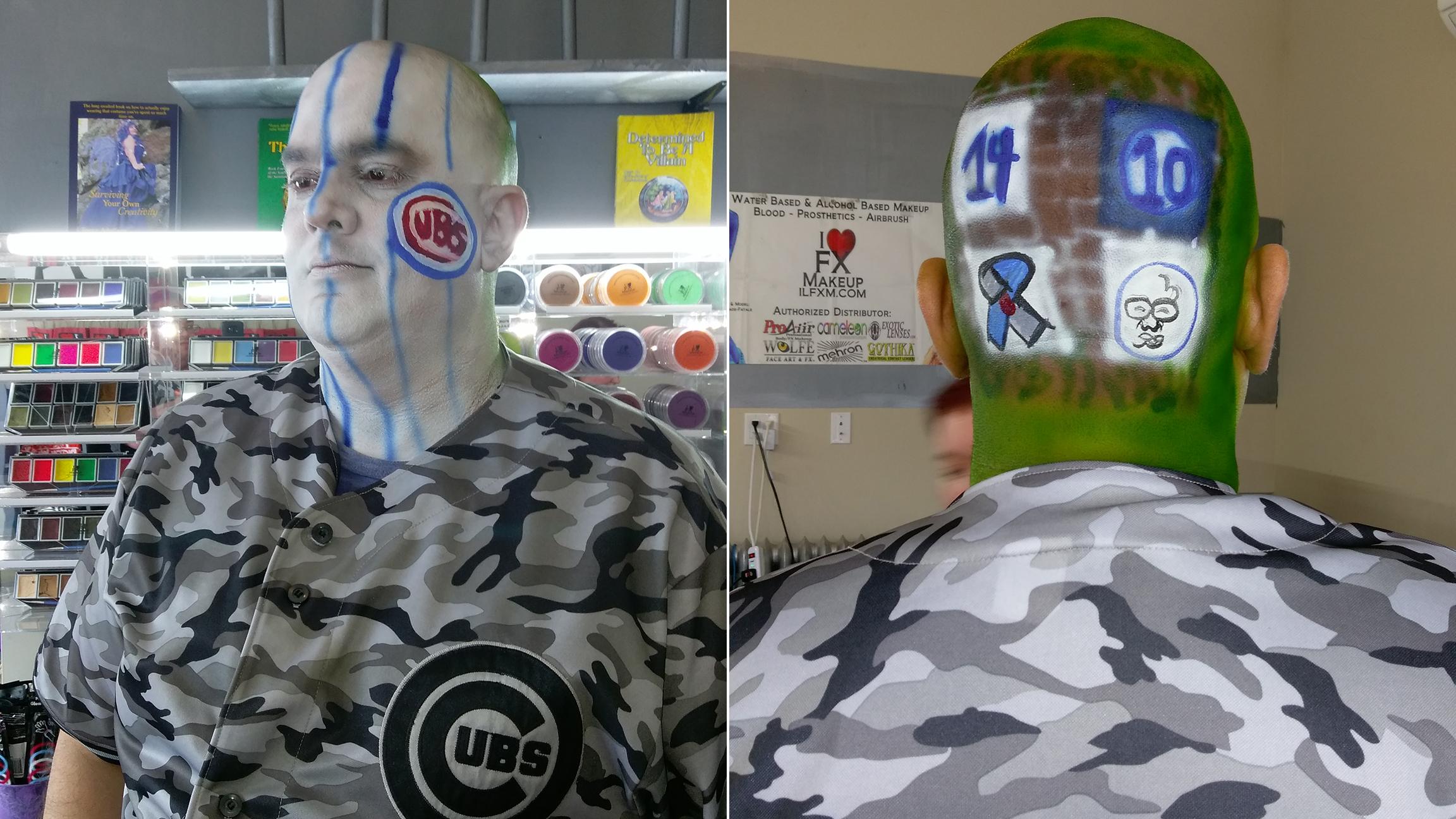 Russell Duffer shows off a Cubs-themed pinstripes-and-ivy paint job courtesy of makeup artist Colleen Jones. (Erica Gunderson / Chicago Tonight)
This is Chicago Cosplay's first Halloween offering body painting services, and per Murray, they're booked through the weekend and Halloween day with clients seeking an extra dose of fantasy for their Halloween celebrations – or in the case of Cubs super fan Russell Duffer, a different kind of fantasy. Duffer stopped by the shop on his way to Wrigleyville for Game 4 of the World Series to receive a Cubs-themed pinstripes-and-ivy paint job courtesy of makeup artist Colleen Jones.
Hey, on Halloween, even Cubs fans can indulge their wildest dreams.
---
Related stories: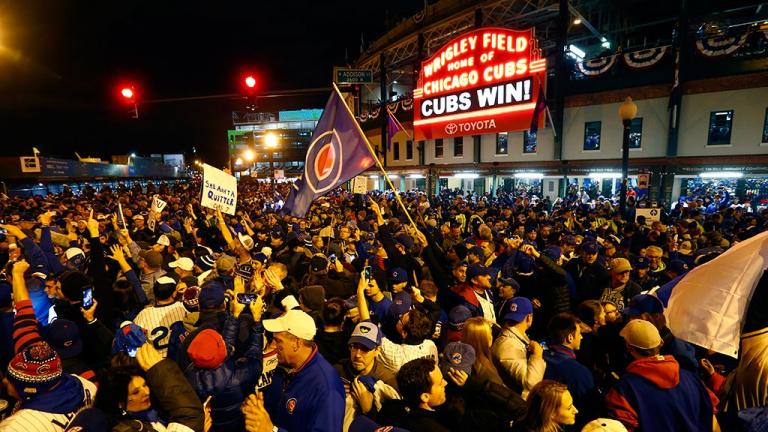 Chicago Cubs Win Game 5, Send World Series Back to Cleveland
Oct. 31: On the brink of elimination, the Chicago Cubs rally to beat the Cleveland Indians in Game 5 of the World Series.
---
Share Your Cubs Fan Photos With Us
Cubs fans, show us how you celebrate your amazing team! Whether you've got shots from Wrigley Field or your neighborhood bar, we'd like to see them.
---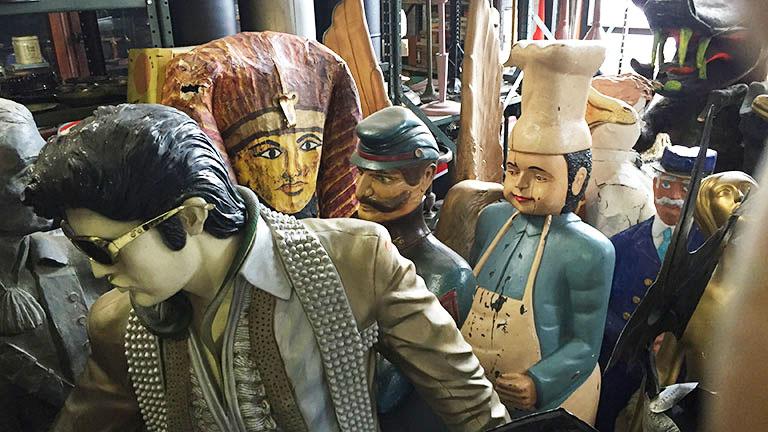 A Look Inside Chicago's Largest Prop House
March 29: A giant Bridgeport warehouse is home to the city's largest collection of vintage props for movies and TV. Jay Shefsky takes us behind the scenes.
---