At a public art performance in Chicago in 1970, a concrete Cadillac was created. A German artist and a team of assistants poured 32,000 pounds of concrete into a mold surrounding one non-functioning '57 Cadillac.
After 46 years the resulting sculpture was almost ready for the junkyard. But last week, after a few months in the shop, it was ready to roll off the assembly line once again.
TRANSCRIPT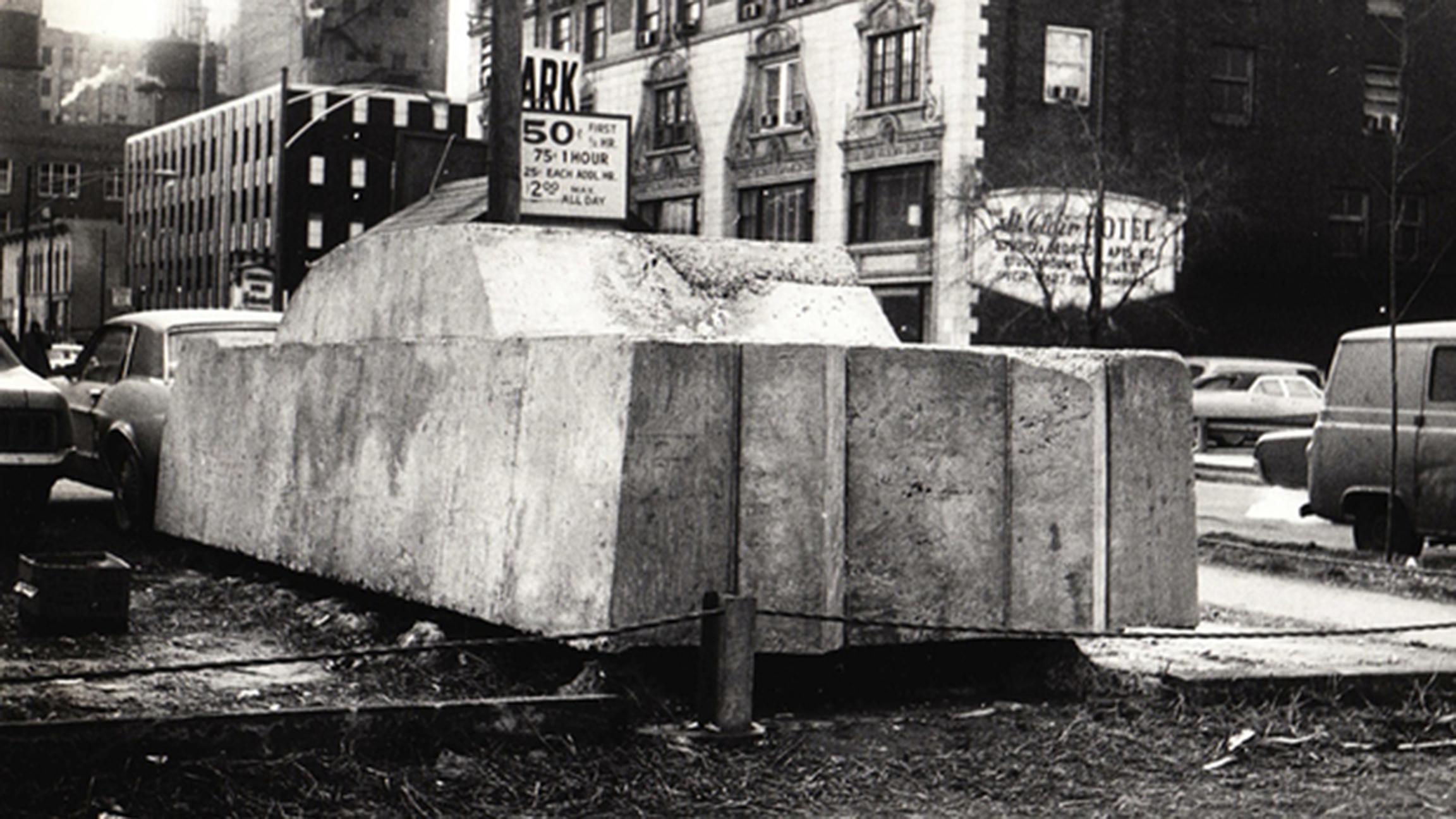 Eddie Arruza: What do you get when you mix 16 tons of concrete and an old Cadillac? Whatever you call it, it is not built for speed.
The University of Chicago and Museum of Contemporary Art Chicago have collaborated on an ambitious plan to restore this behemoth, called "Concrete Traffic," and take it on a brief road trip.
But who made it – and what was he thinking?
Lynne Warren, curator, MCA Chicago: This piece was created by an artist named Wolf Vostell, and he was a German artist associated with the Fluxus movement.
Christine Mehring, University of Chicago: This was the kind of art movement that was all based on performance, on happenings, on inserting art into everyday life, literally, like the sculpture that was made on the street on the parking lot, on Ontario Street originally. These performances and happenings were meant to kind of disrupt everyday life and make you think about the environment that you're in, especially about the urban environment.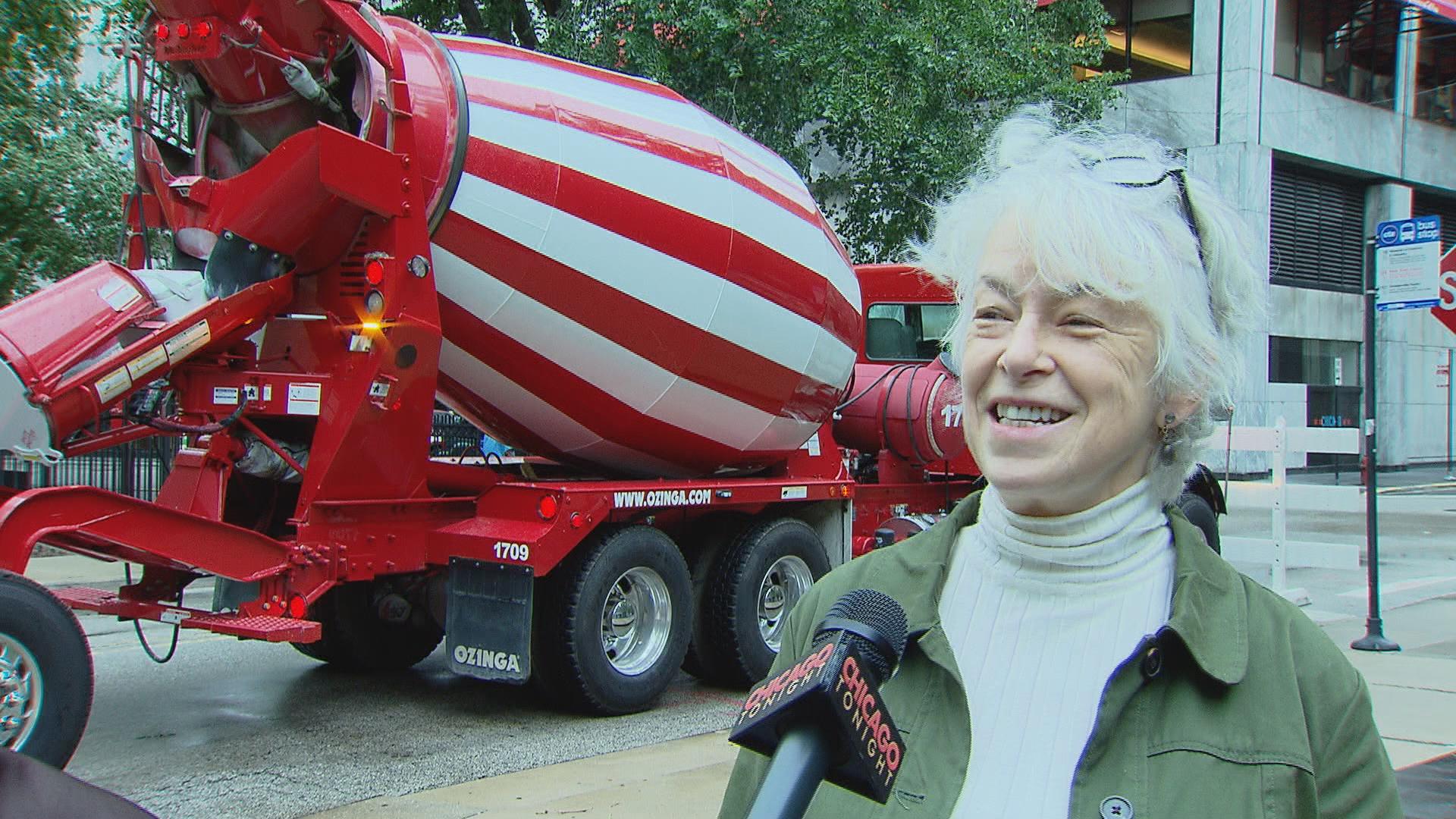 Lynne Warren
Warren: I think he thought "traffic jam!" and he wanted to really symbolize that idea of the American road being open and free, yet because of the size of the cars and the amount of traffic, people were stuck going nowhere.
Arruza: Months before its procession from the MCA back to the University of Chicago, we visited the concrete Caddy while it was under restoration at Methods and Materials, a Chicago art installer.
Anna Weiss-Pfau, conservator: The last time we measured it, it was around 32,000 pounds. It's fluctuated a little bit, slightly. I think it depends on the environment, the amount of moisture in the air, that kind of thing.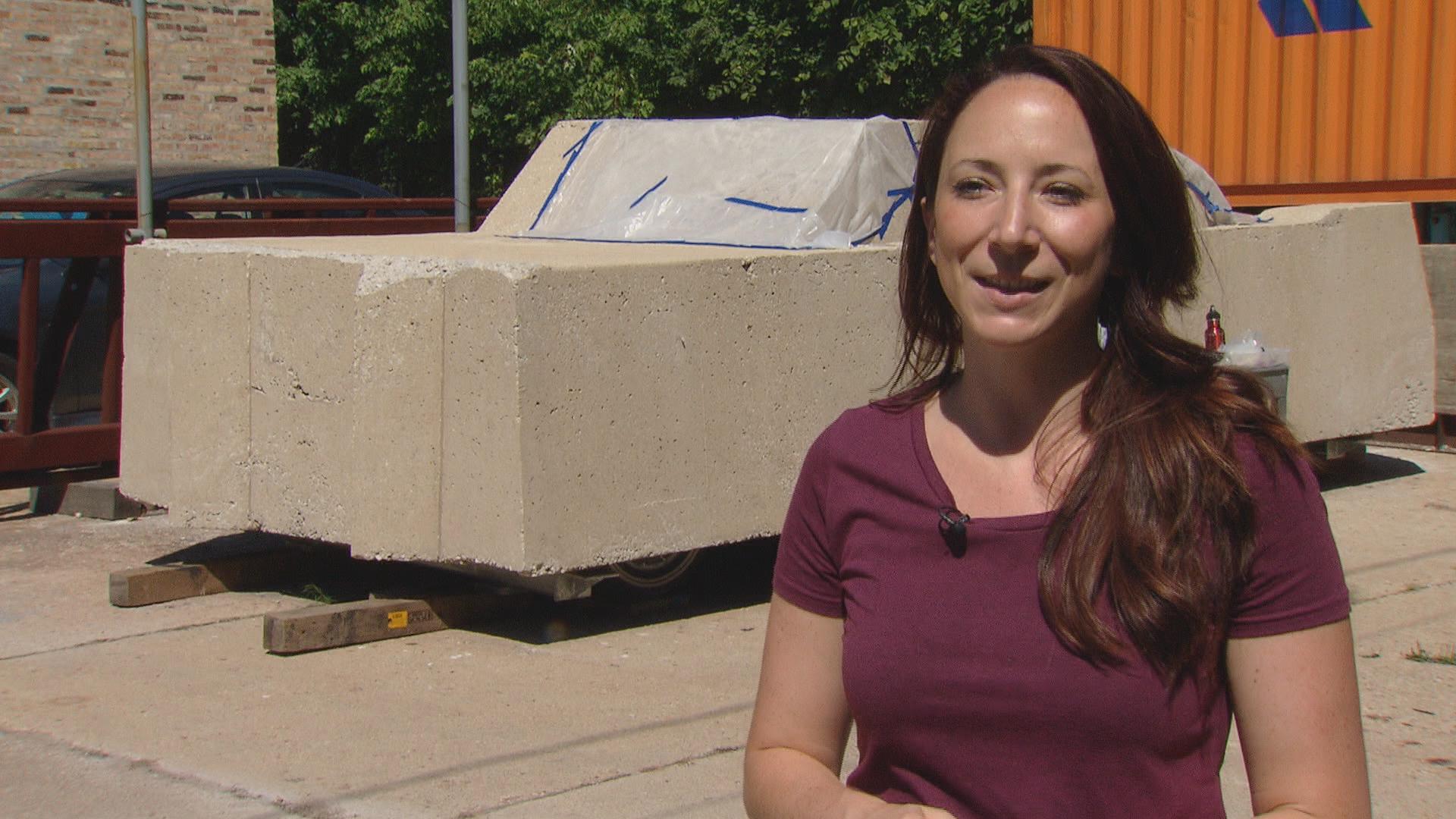 Anna Weiss-Pfau
Amanda Trienens, conservator: What was put on top was rebar like you would see in a concrete structure, steel mesh and then anywhere from 1 to 8 inches of concrete on top of that, so there is still a car underneath all of this concrete.
Arruza: Conservation specialist Amanda Trienens has restored concrete at the Guggenheim Museum in New York City and other Frank Lloyd Wright-designed buildings.
Trienens: In this case we're not structurally repairing the crack, what we're doing is we're creating a fill so that no rain or snow or freeze/thaw can get in there and do any further damage.
It was up there on sawhorses for a while, almost as it would be in a car mechanics shop. Car conservators were working underneath and I was working on the underside of the concrete.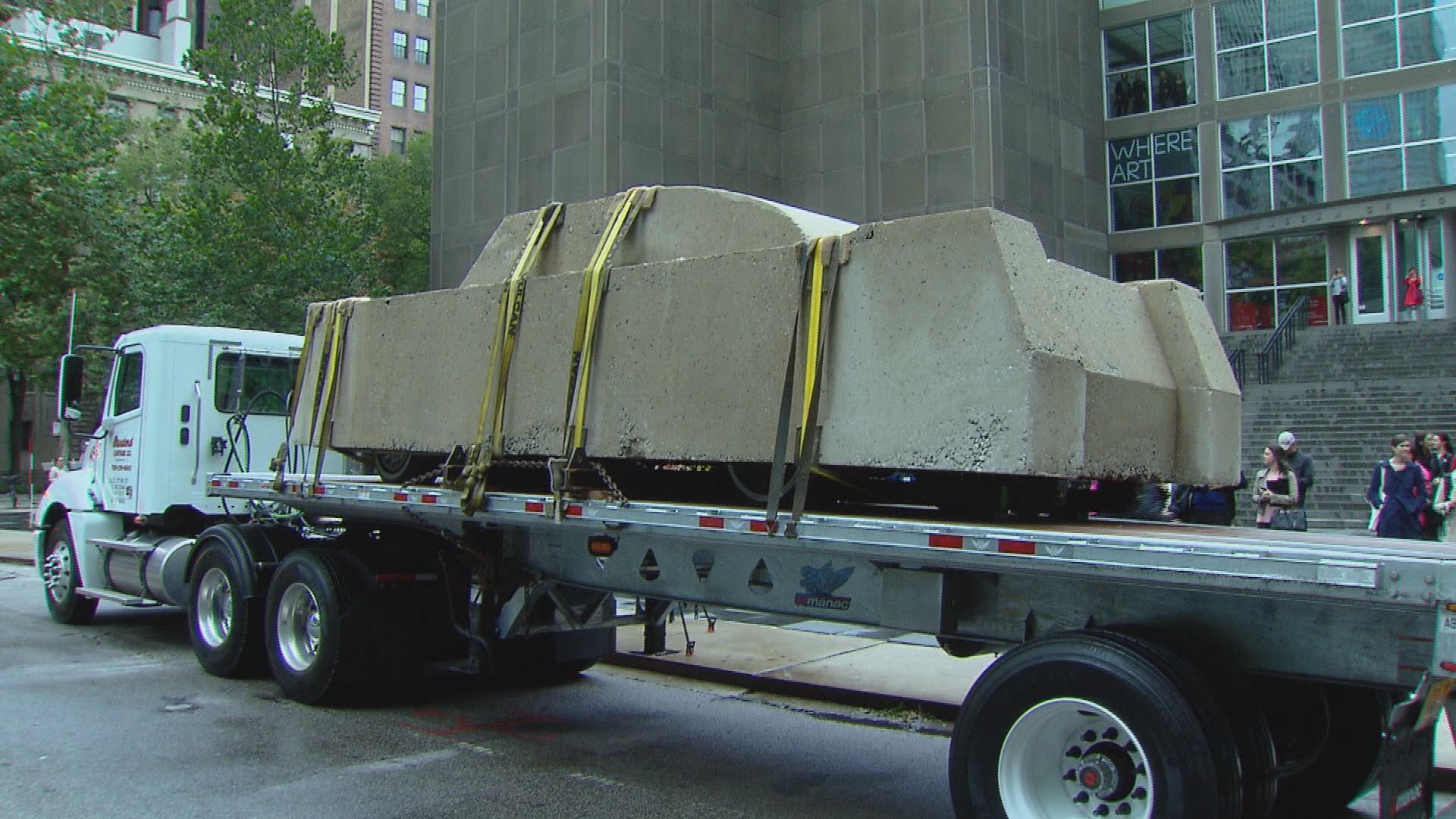 Arruza: After months of restoration, the vintage sculpture is going for a little joyride. It's destination ...?
Mehring: From early on I knew it had to be where a real car can be.
Warren: Now it's going back down to the University of Chicago campus in a parking garage, which is really very apropos.
Mehring: It couldn't go in the street because of the white wall tires and, you know, you wouldn't want to have snow plowing and salting happening right next to it.
Arruza: Yes, "Concrete Traffic" has arrived at its new and permanent home in the main parking garage at 55th and Ellis – where we're told there are plenty of other parking spots available.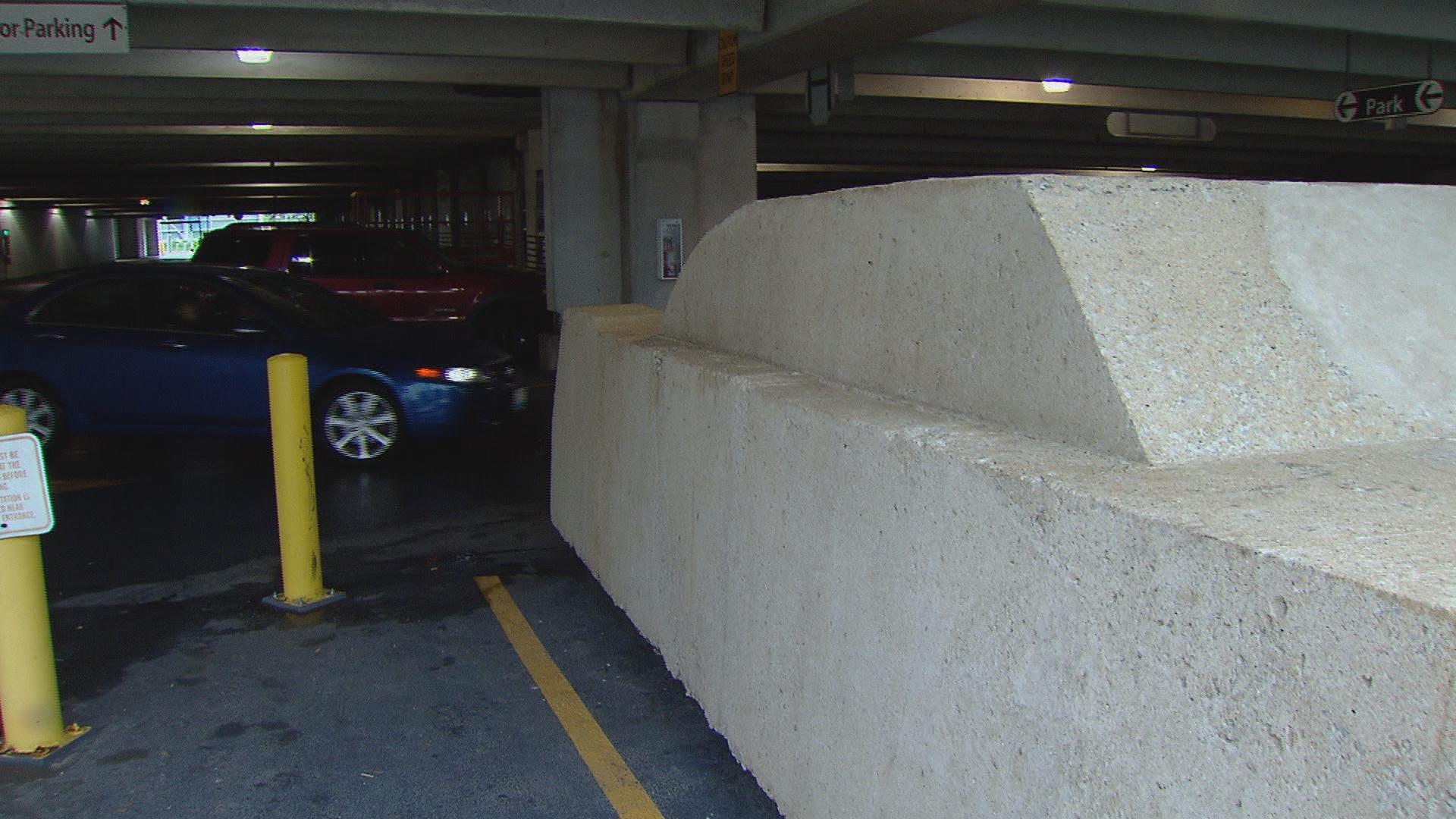 More on the story
"Concrete Traffic" is now in the garage just west of the new Jeanne Gang-designed dormitories on 55th Street.
The University of Chicago launches a year of Concrete Happenings and public programs around the newly reinstalled sculpture on Oct. 14, with an evening of screenings inside the Campus North Parking Garage (5255 S. Ellis Ave.). The Drive-In Happening includes experimental film and video works by artist Wolf Vostell from 6-8 p.m., with an introduction by professor Christine Mehring and research fellow Lisa Zaher.
For more details about Concrete Happenings, visit the University of Chicago website.
---
Related stories: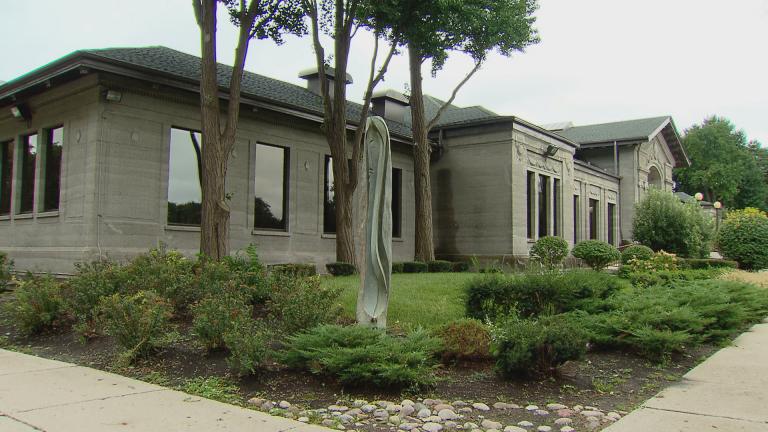 What's Ahead for Chicago's DuSable Museum of African American History
Oct. 5: With the recent opening of the National Museum of African American History and Culture, we get an update on Chicago's museum of African American history.
---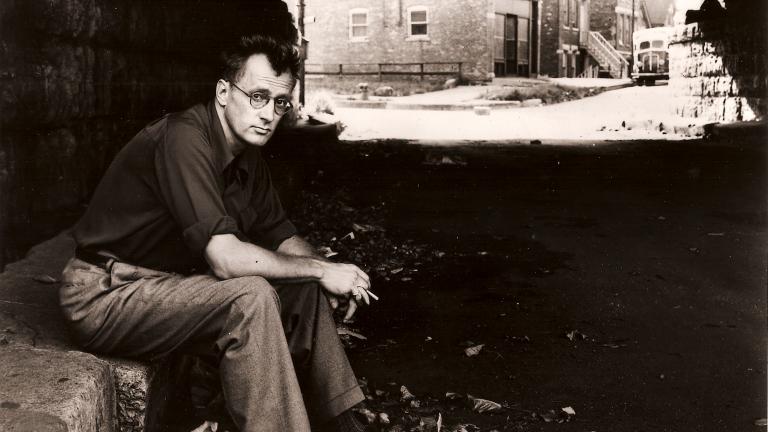 Chicago Journalist's 'Algren: A Life' Reveals New Details About Writer
Oct. 4: He was a literary giant who chronicled the seedy side of the city. We talk with the author of a new biography about Chicago writer Nelson Algren.
---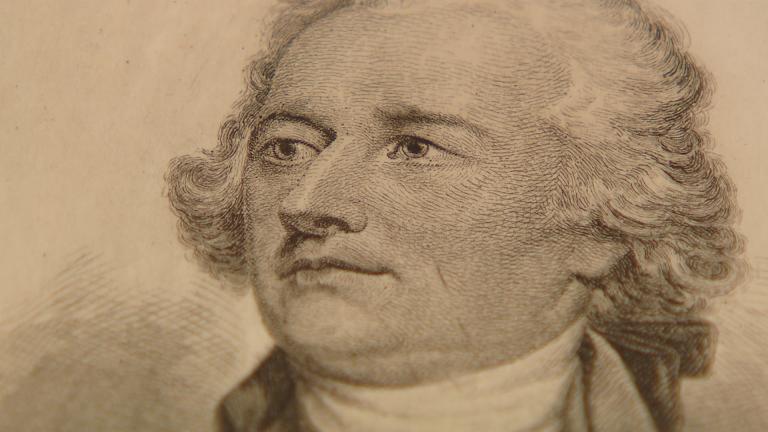 Library's Artifacts Offer Behind-the-Scenes Look at Alexander Hamilton
Sept. 27: The runaway hit musical "Hamilton" premieres Tuesday in Chicago, but the Founding Father has been well represented here for a long time. We show you some original artifacts pertaining to Alexander Hamilton.
---