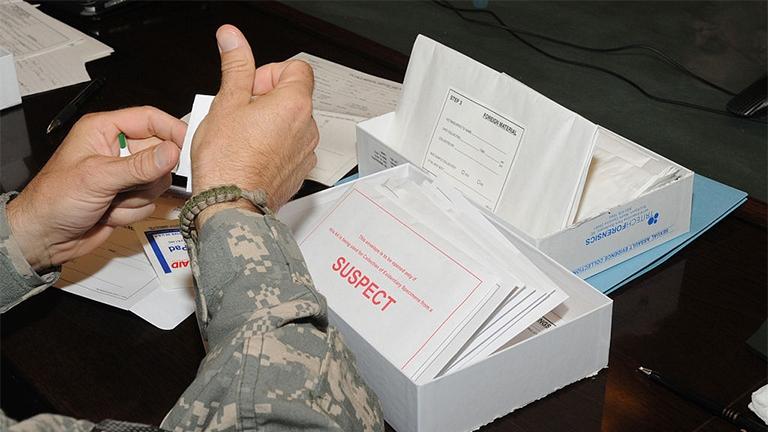 Medical professionals learn how to use the Sexual Assault Evidence Collection kit, which has several packets to collect evidence from a suspect and a patient of a sexual assault case. (Sgt. Rebecca Linder / Wikimedia Commons)
A yearlong review of the state's response to reports of sexual assault has resulted in a new law that aims to improve the process of investigation and offer better support for survivors.
A coalition of sexual assault advocates, law enforcement officials and politicians crafted the legislation, which includes mandates for training first responders and new rules aimed at clearing up the state's backlog of rape kits.
"Sexual assault is a devastating crime that is rarely reported to law enforcement," Illinois Attorney General Lisa Madigan said in a statement announcing the bill's passage.
During the 2015 fiscal year, more than 9,500 people called Illinois rape crisis center hotlines and nearly 9,000 received in-person services, according to a press release from the office of the Illinois Attorney General. Within that same time frame, more than 10,000 children were referred to child advocacy centers for sexual abuse. Yet only 5 to 20 percent of rapes are reported to law enforcement and even a smaller number of those are prosecuted, according to the press release.
Madigan, who helped craft the legislation, said the Joint Sexual Assault Working Group took a "comprehensive look at why and how our criminal justice system can better respond, investigate and support survivors."
The resulting legislation establishes policies for reporting and responding to sexual assault and sexual abuse cases, and mandates victim-centered training for law enforcement investigators, first responders and 911 operators, among other things.
"The training component is huge," said Polly Poskin, who was a member of the working group and serves as executive director of the Illinois Coalition Against Sexual Assault. "We'll be training first responders, especially law enforcement, on how to best respond to a person in crisis who has just been raped and is experiencing shock and at the very least is traumatized."
Training will include recognizing the symptoms of trauma, understanding the role of trauma in a victim's life and delivering services in a compassionate, sensitive and nonjudgmental manner.
Simply being aware of the "emotional state and immediate needs of the victim" will make the fact-finding and interviewing process easier and more successful, Poskin added.
Under the new rules, law enforcement will be required to complete a written report of all sexual assaults reported to them, regardless of where the incident occurred or who is reporting it. "It can come from a victim or it can come from a third party," said Poskin.
If a third party reports the incident, that person must have the victim's permission and provide law enforcement with his or her contact information. 
The law also drastically extends the amount time victims have to consent to the testing of their forensic evidence kit and sets protocols for the submission of evidence.
"Under current law, the victim has 14 days to release the kit [to be tested]. The new law expands it to five years," Poskin said. Victims who are minors at the time of the offense will have five years from their 18th birthday to consent to having their kits tested.
"What's key to that is it prohibits hospitals from destroying the kit after 14 days. Under current law, a hospital must hold the kit for 14 days," Poskin said, adding hospitals are legally permitted to destroy evidence after that time.
Under the new law, hospitals will not be required to keep evidence kits for five years. That will become the responsibility of law enforcement, according to Poskin.
"It is up to the hospital to notify the police that the kit is complete and it has to be picked up by law enforcement within five days," Poskin said. "They have five days to pick up the kit and 10 days to get it to the lab. That's a game changer because that should mitigate against the backlog of kits at the crime lab."
In an Aug. 12 press release announcing the new law, the governor's office said the law "removes barriers in the state procurement code to allow the state to hire analysts faster" and "directly addresses the decade-long rape kit backlog."
While the backlog will exist for some time, Poskin says, the new law provides more transparency for victims seeking information about the status of their kits.
"The victim has the right to know the status of their kit by asking a law enforcement officer," she said. "The law enforcement officer will have to follow up on that," and report back to the victim unless it would compromise an ongoing investigation.
Test400K Executive Director Deanne Benos called the new law, "an asset to the entire state and to victims everywhere."  However, she thinks the state could go even further. Earlier this month the national rape kit reform advocacy group launched the Just Track It campaign and issued a call to action requesting all governors to test every rape kit as a baseline—and ultimately, the ability to complete testing within 15-30 days--and implement a victim notification and rape kit tracking system.
"Illinois had a historic bill in 2010: It was the first state to require every rape kit be sent for testing. A couple of years later, victims are waiting 12-24 months for results from their kits," Benos said. "Illinois can be a national leader on this and commit to this pledge." 
The new law goes into effect Jan. 1, 2017 and includes deadlines for required training of law enforcement personnel.
Follow Kristen Thometz on Twitter: @kristenthometz
---
Related stories: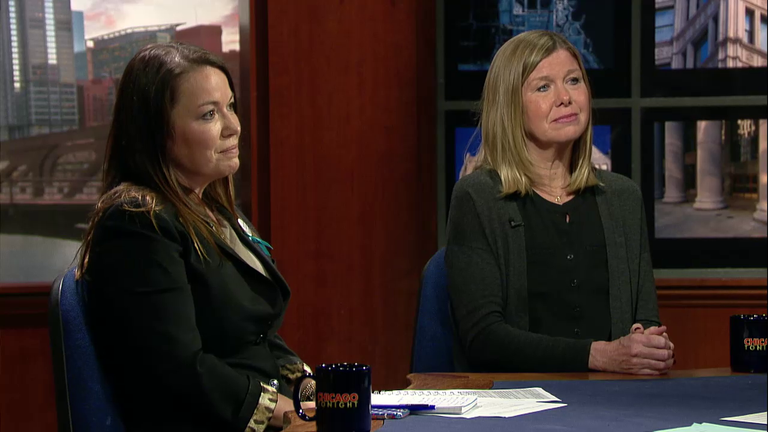 Backlog of Rape Cases, Rape Kits Can Lead to Long Wait for Justice
April 19: Delays in rape kit testing and strained law enforcement resources nationwide mean that victims of sexual assault may face long waits for their attackers to face prosecution. 
---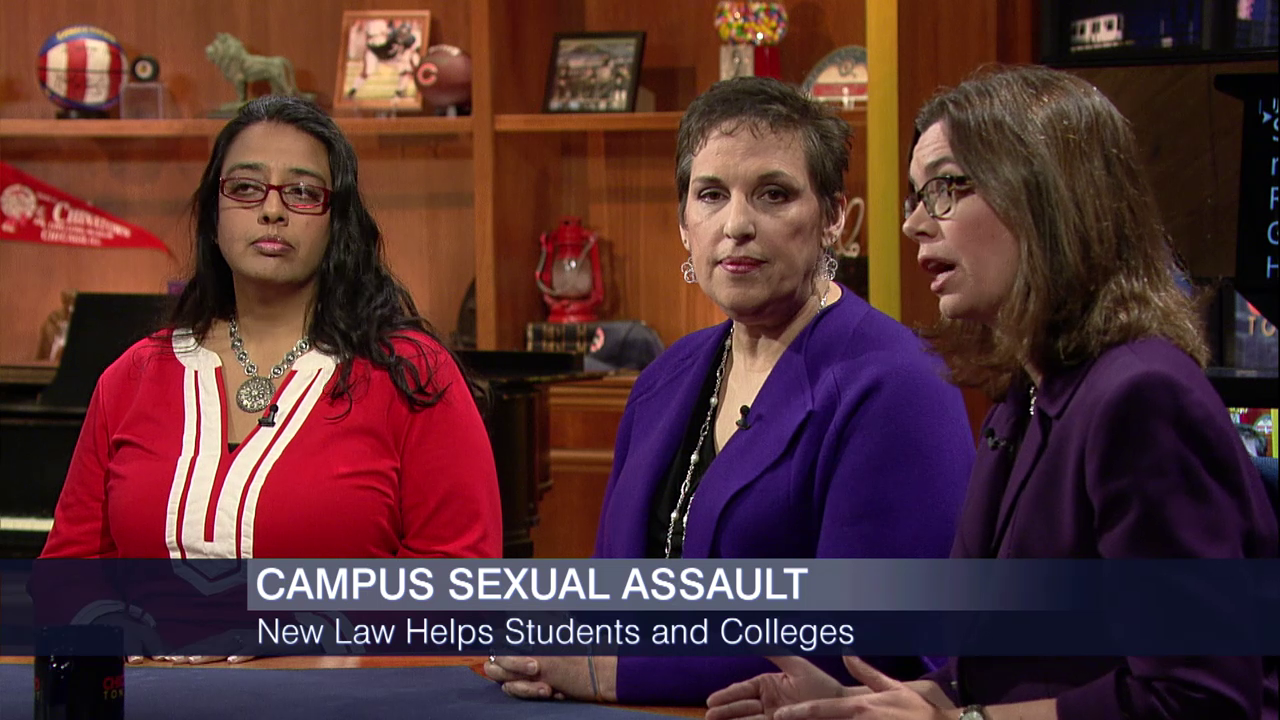 Addressing Sexual Assault on College Campuses
Oct. 8, 2015: The statistics are sobering. Twenty-six percent of women on college campuses report having been sexually assaulted, according to a new report. We discuss the report, the issue of sexual assaults on college campuses and the impact of a new Illinois law that requires higher education institutions to establish sexual violence policies and responses.
---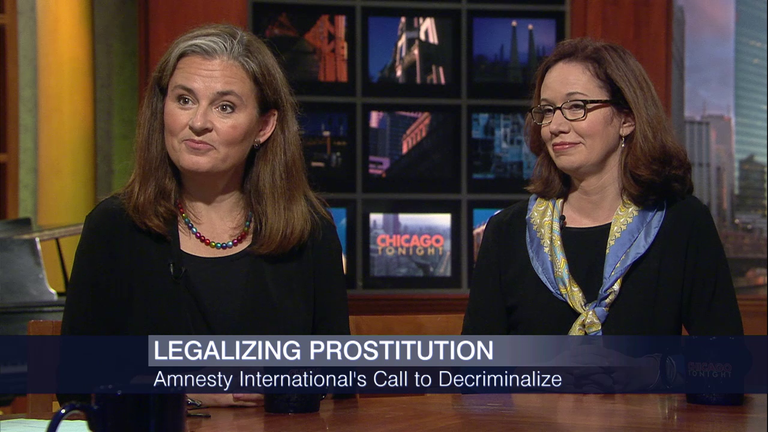 Human Rights Group Calls for Legalization of Prostitution
Sept. 1, 2015: Amnesty International is calling for the legalization of prostitution, a move some advocacy groups say is short-sighted. We'll hear from both sides.
---