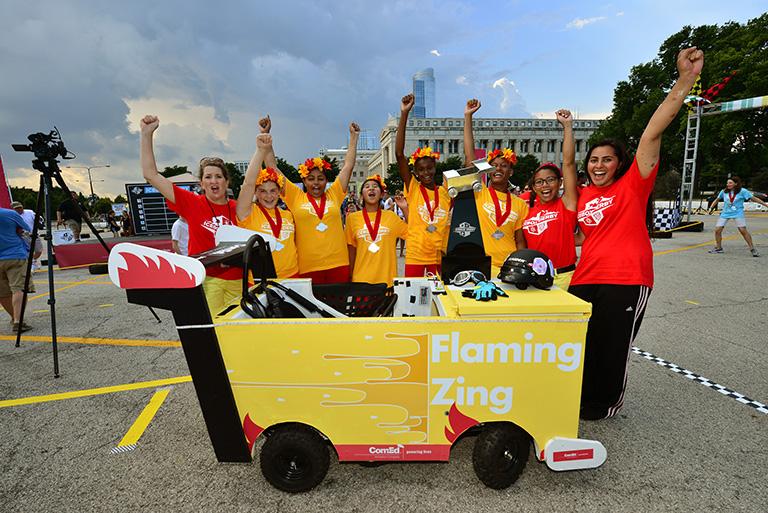 Team Flaming Zing celebrates its victory at ComEd's 2015 Icebox Derby Race Day in Chicago. The four-week education program encourages young women to pursue careers in STEM. (Courtesy of ComEd)
Dozens of local teen girls will team up this month for a unique learning experience in science, technology, engineering and math as they transform recycled refrigerator units into solar-powered race cars.
Six teams, each comprised of five girls from the greater Chicago area, will work to construct the electric racers as part of the Commonwealth Edison Company's annual Icebox Derby.
The program – now in its third year – seeks to boost interest in STEM among girls ages 13-18 by offering a firsthand educational opportunity, allowing them to work side-by-side on their projects with technical experts.
"For ComEd, technology and innovation are at the core of our business," ComEd President and CEO Anne Pramaggiore said in a press release. "As the energy industry continues to evolve, we are in need of a future workforce that is able to anticipate and solve the technical problems of today and the digital challenges of tomorrow. We are committed to creating opportunities like the Icebox Derby to offer hands-on experiences to young women in the STEM subjects.
"As an energy company, we also recognize the value of solar energy and its important role in the years to come. Incorporating renewable energy into Icebox Derby is just one of the ways ComEd is working to jumpstart solar in Illinois, and also train the workforce who will help us lead the way."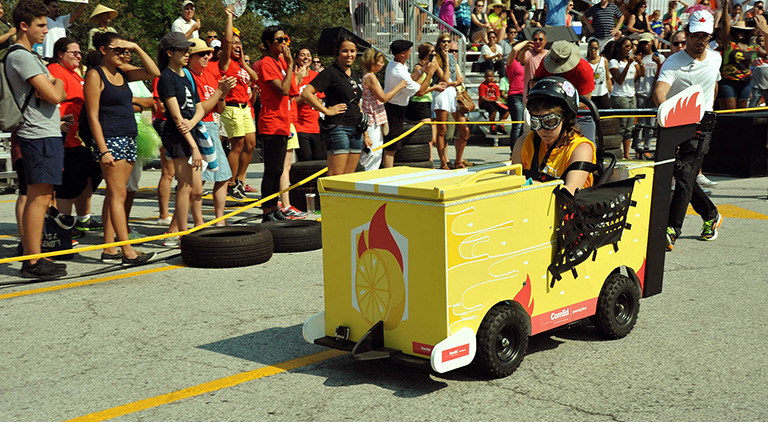 Mackenna Clayton of team Flaming Zing races at ComEd's 2015 Icebox Derby Race Day, a program encouraging young women to pursue careers in STEM. (Courtesy of ComEd)
The competitors will spend the coming weeks crafting their recycled race cars during multiple build sessions leading up to race day on Aug. 13, held in in the Field Museum's parking lot, where they'll have the chance to win the STEM Cup, scholarship money and other prizes.
Each participant will receive a scholarship for completing the program.
The vehicles must contain two 30-watt solar panels to power its LED headlights, car horn and a helmet capable of two-way communication. The cars will also utilize a solar charge control module to communicate between the panels and its solar components.
In addition to the technical experts, each team will also be guided by past Icebox Derby participants who have returned to serve as mentors.
"STEM means science, technology, engineering, and math, but to me, STEM is life," said Ty'Nya Larry, a 2015 derby participant now majoring in chemical engineering at the University of Illinois at Urbana-Champaign, in a video produced by ComEd.
"The technical side was very good. We learned things that were relatable to everyday life. But also the teambuilding was one of soft skills that I always needed, and I found myself using that a lot throughout my freshman year of college."
There could be as many as 2.4 million unfilled STEM jobs in the U.S. by 2018, according to the White House Office of Science and Technology Policy. Engaging more women and minorities in those positions could help cut that total drastically, as those groups make up 70 percent of all college students, but less than 45 percent of STEM degrees.
Women in STEM jobs also earn 33 percent more than those in non-STEM occupations and see a smaller wage gap relative to men, according to the OSTP.
For more information on the derby program, visit theiceboxderby.com.
---
Sign up for our morning newsletter to get all of our stories delivered to your mailbox each weekday.
---
Related stories: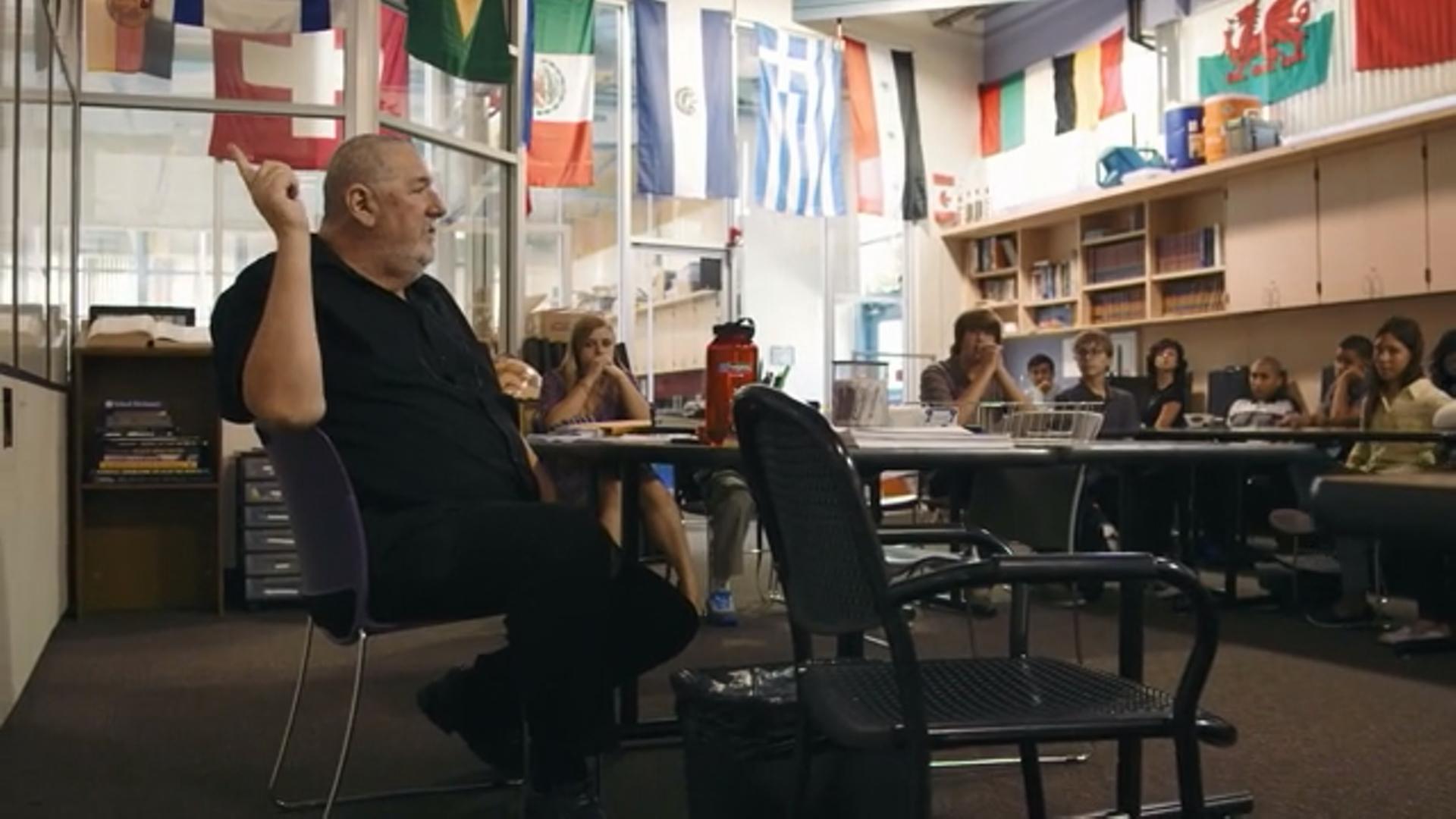 Exploring a School with No Classrooms
March 1: Imagine a high school where classrooms aren't divided by subject matter, and there aren't even class periods or bells – and teachers are told to teach however they want. That's the reality for a high school in California profiled in the documentary, "Most Likely to Succeed."
---