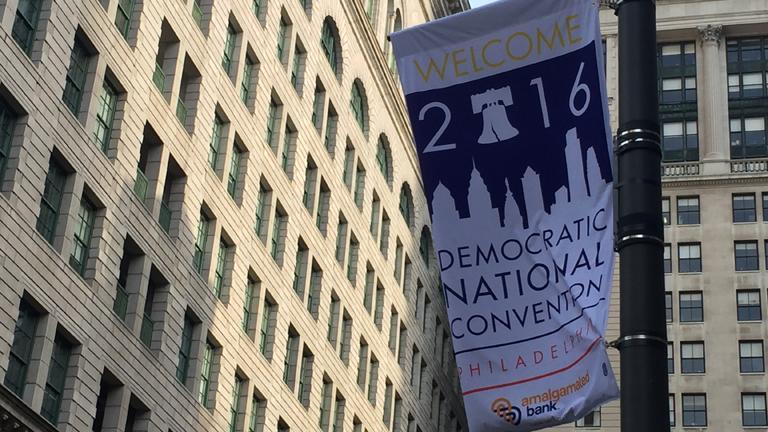 Philadelphia City Hall (Evan Garcia / Chicago Tonight)
Dozens of high-level Illinois Democratic officials are arriving Sunday in Philadelphia for the Democratic National Convention. It's a stark contrast to the delegation at the Republican National Convention, where hardly an elected official was to be found. Though the Illinois delegates may be united by party title, they represent a cross section of differing philosophies that in some cases are bitterly at odds with each other.
Leading the delegation is Illinois House Speaker Michael Madigan, who doubles as the state Democratic Party chairman. He'll host a series of breakfasts this week featuring keynote speakers from the delegation. Other elected officials expected to be in Philadelphia are state Senate President John Cullerton, Chicago Mayor Rahm Emanuel, Cook County Board President Toni Preckwinkle and U.S. Sen. Dick Durbin, all supporters and delegates of Hillary Clinton.
The more progressive wing of the party is represented as well, with former Emanuel challenger Jesus "Chuy" Garcia, state Rep. Will Guzzardi and Cook County Clerk David Orr here as delegates of Bernie Sanders.
Garcia told "Chicago Tonight" he believes the party will unify behind Clinton, despite the latest email leak showing how DNC bosses purportedly tried to undermined the Sanders campaign. He's called for national party chairman Debbie Wasserman Schultz to step down.
But the divisions among national are mirrored at the state level, as several delegates may become election foes in the near future. Garcia, City Treasurer Kurt Summers and Cook County Commissioner Bridget Gainer are all delegates and could be exploring a run for Chicago mayor in 2019, whether or not Emanuel runs for re-election. Cook County Sheriff Tom Dart, not expected to attend the DNC, has also said he is interested in exploring a run. 
Other officials like Durbin, state senators Kwame Raoul and Andy Manar are delegates and have been thought of as potential Democratic candidates to challenge Republican Gov. Bruce Rauner in 2018.
These story lines could form the undercurrent of the weeklong convention as the national party moves to unify behind Clinton as its presidential candidate. Potential candidates for future office could jockey for position or gain traction with power brokers at some of the fetes and events put on by lobbyists, national party officials, interest groups and corporations in Philadelphia this week.
Join "Chicago Tonight" for continued coverage of the Democratic National Convention all week.
Follow Paris Schutz on Twitter: @paschutz
---
Related stories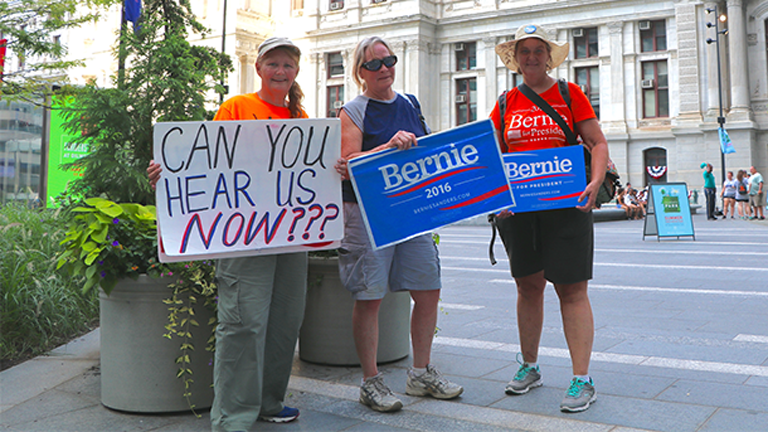 Bernie Sanders Supporters March Through Heat on Eve of DNC
July 24: A heat wave that struck Philadelphia on Sunday didn't keep Bernie Sanders supporters from marching the city's streets on the eve of the Democratic National Convention.
---