Remember the very musical von Trapp family from the 1965 classic starring Julie Andrews? Last summer, my daughter and I met a group you might call the Chicago von Trapps—five very talented siblings ages 8 to 13—with two younger ones coming up behind them. Together with their father they call themselves Cielito Lindo, which means "beautiful heaven."
The meeting was a chance encounter at the Square Roots Festival in Lincoln Square. As my daughter and I strolled along we saw four young boys busking among the vendors.  Our first thought: "How cute." But as we approached, it became clear there was real talent on display. And they all looked alike … could they be siblings?
"People have a hard time believing it's my sons. It's not a school or church," said Juan Lucero, the patriarch of the family. "The music that we play is mostly traditional, Mexican folk music. We'll veer a little bit out and do some folk music from other countries—kind of a variety of stuff." 
And they had just moved to Chicago! Lucero's wife Susy grew up in Chicago, went to Lane Tech, met Lucero and moved to his hometown of Albuquerque, New Mexico. Thirteen years later, the couple have seven kids – all but one born at home and all home-schooled, by the way – and Susy is homesick.
That's as far as I got last year, but Lucero and I stayed in touch. I saw videos on their website and was more convinced than ever that "Chicago Tonight" viewers would love to meet them. So a few weeks ago, cameraman Tom Siegel and I attended an outdoor performance of Cielito Lindo in Giddings Plaza, not far from their Lincoln Square home. And they sounded even better, tighter and more polished than I remembered from the year before. The four boys – Diego, Miguel, Antonio and Carlos – had been joined by their younger sister Lilia. And for one song, the two littlest Luceros, Maya and Mateo, made an appearance.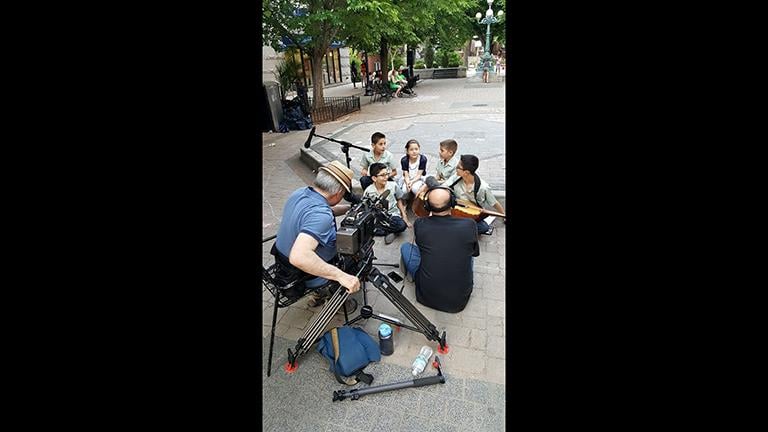 "Chicago Tonight" films young members of Cielito Lindo in Giddings Plaza. (Courtesy Cielito Lindo / Facebook)
During the several hours we all spent together that day, what surprised me wasn't their talent; I had already come to expect that. But they all seemed so relaxed. This appears to be a genuinely fun activity for both the kids and their parents. They had good reason to be stressed out: not only were they getting ready to perform in front of an audience, there was a TV crew on hand! Yet the kids were playful, the parents remarkably calm. When the performance started, everyone brought their best and still had fun. 
Lucero says that music has been fully integrated into the kids' lives from the beginning. They hear mom and dad sing, they join in, they play with the instruments and, over time, they learn to play them. They see dad and the older siblings perform, and eventually they join in. 
Video: Cielito Lindo performs the song "No Tortillas."
---
Music runs in the family. Lucero's father made a living as a musician and his grandfather as a music teacher in New Mexico. Now, Lucero's children are continuing that tradition with the family band, which Lucero says is both "fun" and "a lot of work." 
"It was started from the enjoyment of it, and then [the kids] picked up a little extra things up here and there," he said. "Before you know it, I said I think we're close where we could actually be performing with the talent we have in the family, and from that point on it's been pretty easy." 
Sounds like a beautiful heaven to me. 
---
Sign up for our morning newsletter to get all of our stories delivered to your mailbox each weekday.
---
Related 'Chicago Tonight' stories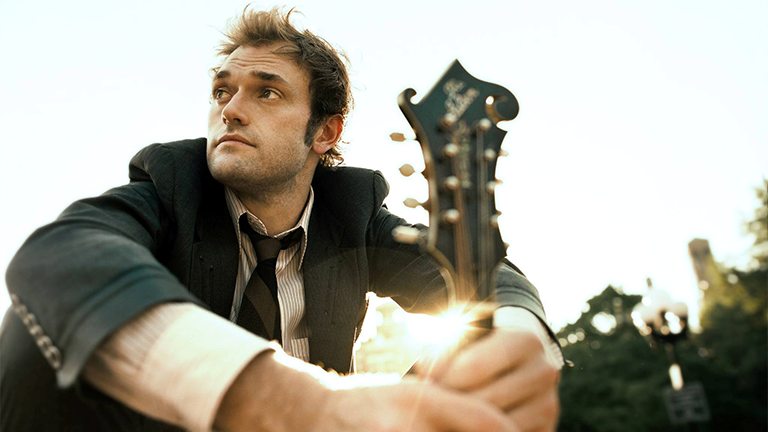 Chris Thile on Hosting 'A Prairie Home Companion,' Punch Brothers
June 9: After 40 years of tales from the fictional town of Lake Wobegon, Garrison Keillor is calling it quits. "Chicago Tonight" talks with Chris Thile about taking over as host of "A Prairie Home Companion," his bands and more. 
---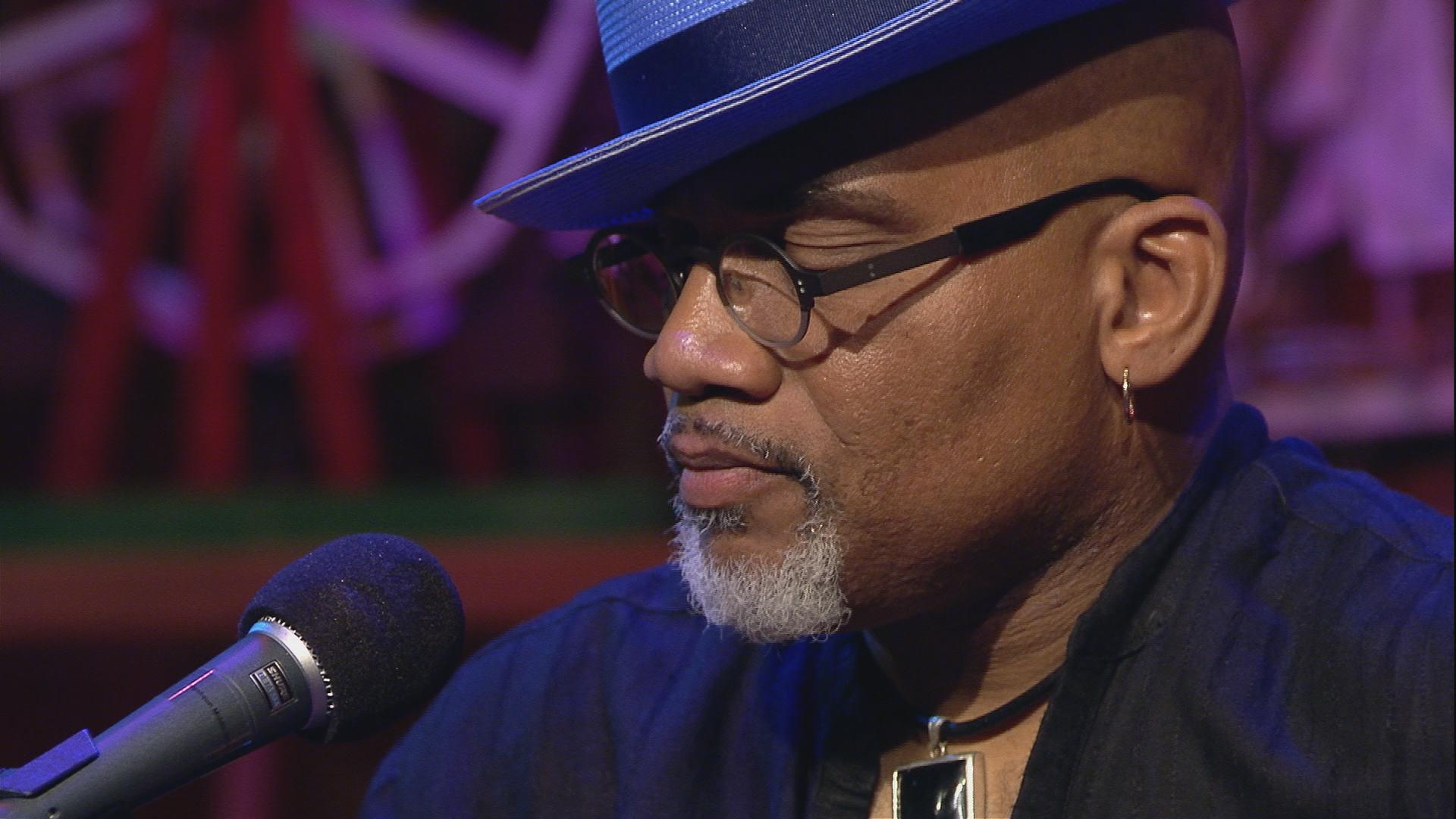 Alligator Records Has Been Rocking the House for 45 Years
June 8: The Chicago Blues Festival kicks off Friday with a tribute to Alligator Records. Founder Bruce Iglauer and musician Toronzo Cannon reflect on the significance of the music they love.
---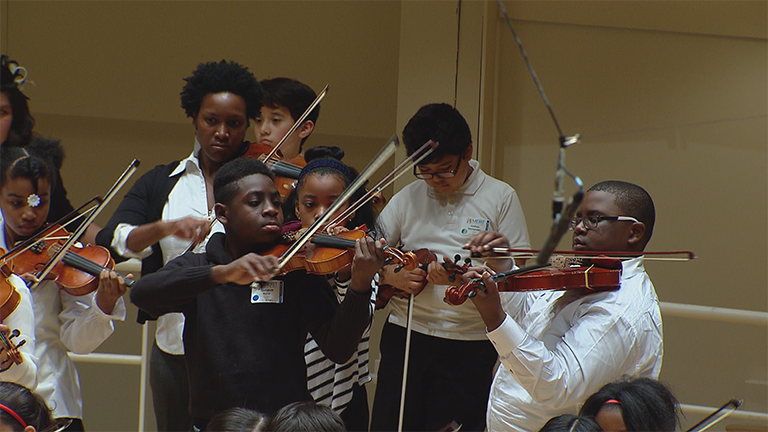 Making Music Together: A Look at Diversity in Orchestras
June 6: The Grant Park Music Festival opens in one week, making classical music accessible to anyone who's interested. But the makeup of orchestras across the country doesn't always reflect the makeup of surrounding communities.
---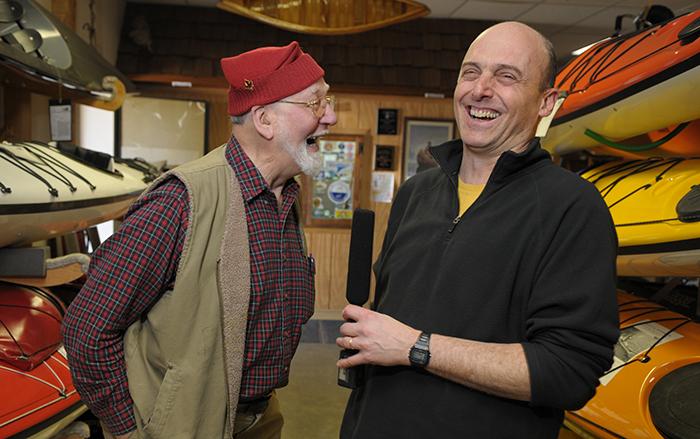 Find more of Jay's stories about Chicago people and places right here.
---