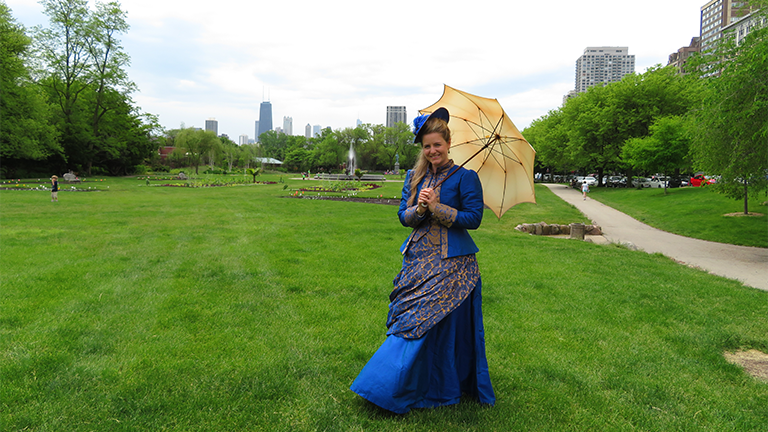 Sibylle Randoll poses for a picture in Lincoln Park during her visit to Chicago in May.
In 1880, a 26-year-old German leather manufacturer named Otto Dahl left his hometown of Barmen for America to hone his skills in the family business. His pursuit led him to Bozeman, Montana. Dahl documented the nearly two years he spent stateside in a diary.
His experiences traversing the country have been shared with generations of his kin. Now his great-great-granddaughter, Sibylle Randoll, will have an even more intimate relationship with those tales as she recreates the journey Dahl took 136 years ago.
Growing up, Randoll read her great-great-grandfather's stories about his time in America, and in 2012, she decided to revisit them. As she read, she had an epiphany: "He's seen the Niagara Falls, and I've seen them too. Maybe I can see all of the other places that he has been to on this trip," Randoll said.
"The first thing I did that Christmas was make the route. I noted down all of the cities that he mentioned and all of the places that he mentioned, and tried to find them if they still existed."
Below, see her route.
---
And so began Randoll's #Barmen2Bozeman campaign. "In Germany, [Bozeman] is a destination like, 'Where are you going?' People don't know of it because it's a small town," she said. "When we come over, we come to New York, Chicago, San Francisco and all of those places. Bozeman, Montana is not a destination, so I'm going to this place because he led me there."
Despite mapping her trip out in 2012, it would be several more years until she departed for America. "I finished studying, and then I started a job," she said. "It was just—one day I'll do this."
Last fall, Randoll realized she would be turning 26—the same age her great-great-grandfather was when he took his trip. "Then I just started planning it," she said, adding that she had been saving for the trip over the years.
Randoll's family members immediately embraced her decision to travel in her great-great-grandfather's footsteps. They even had an idea for her clothes.
"We're big fans of 'Downton Abbey.' And I think somehow that played a role in this because one day [my mother] comes up to me and says, 'Well you're recreating this 1880 journey, why don't you do it appropriately dressed?' And I said OK, so here I am with the dress," Randoll said.
Sibylle Randoll dons a custom-made 1880s style dress when she visits the same places her great-great-grandfather did.
The dress is a custom-made 1880s-style, full-length gown. Randoll, with the help of a specialist in historical costume making, designed the blue and gold silk dress and matching hat. In addition to an outfit reminiscent of the 1880s, Randoll totes an umbrella, fittingly, from her great-great-grandmother to complete the look.
The journey
Despite the many technological advances in transportation since 1880, Randoll traveled to America the same way her great-great-grandfather did—by sea. On May 4, Randoll, accompanied by her mother, boarded the Queen Mary 2 in her custom-made dress.
After the weeklong journey, Randoll arrived in New York City and set out for the destination that inspired this trip—Niagara Falls.
"I tried to sort of pause for a moment and think, 'Wow, I'm seeing Niagra Falls again and this is the point in the story when I decided to do this journey, and it's really important,'" she said.
Niagara Falls inspired Sibylle Randoll to set out on a journey recreating her great-great-grandfather's 1880-1882 trip to America.
But her arrival at the scenic waterfalls did not go unnoticed. Dressed in an authentic 1880s-style dress, she stood out from the crowd.
"When I went to Niagara Falls, I was like a living photo wall," she said. "It's a bizarre experience, but then again in this dress, I'm in a certain role."
Throughout her journey she's been asked by curious onlookers about her attire. "Most often it's people just wondering and asking what [I'm] doing. Or they ask, 'Who are you playing?'" she said. "Then I explain it to them, and then they're like, 'Oh, wow. That's a great idea.'"
Since the outfit attracts so much attention, Randoll only wears it at the "important parts" of her journey, which included a trip to Lincoln Park.
A visit to Chicago
In 1881 Otto Dahl, Sibylle Randoll's great-great-grandfather visited Lincoln Park. In late May, Randoll took a stroll through the park.
In late May, Randoll's journey brought her to Chicago, where her great-great-grandfather spent a visit in 1881—just 10 years after the Great Chicago Fire. 
"In Chicago, he mentioned he took a walk in the Lincoln Park. That's why I wore it on the day I went to Lincoln Park," she said.
During her walk, Randoll stumbled upon the Peggy Notebaert Nature Museum and a garden bed that has been in existence since 1870.
"I stood there and thought, 'Wow, maybe he's been here and he saw more or less the same garden bed, flower beds,'" she said. "It was very nice. I might not have gone to Lincoln Park [in] Chicago if I hadn't known about him going there. This [trip] leads me to places I might never have seen."
That same day Randoll tapped into her German roots with a trip to Lincoln Square.
"I went to the DANK Haus, which is the German cultural center," she said, adding she also took a German cooking class there. "I went around the area to visit this old pharmacy, a German pharmacy that's from 1875, and then to the Brauhaus and a couple of German bars."
No trip to the Windy City would be complete without visiting some of the city's most iconic tourist attractions.
"One day I just went downtown sightseeing," she said. "I went and saw Navy Pier and Cloud Gate—in normal clothes."
From Chicago, Randoll continued her journey west toward Bozeman. While Dahl spent nearly two years in America, Randoll will be in the country for close to six months.
"He worked in the U.S.," she said. "I can't do that, I'm on a tourist visa. I guess you could consider my working the blog."
The blog Explories (a mashup of the words exploring and stories) highlights her adventures in America and those of her great-great-grandfather's. Since she's writing in both English and German (and trying to enjoy her trip), her posts don't necessarily coincide with her location. For the most up-to-date information, Randoll suggests following her on Twitter. Randoll's journey wraps up Oct. 26 when she returns home to Stuttgart, Germany.  
Follow Kristen Thometz on Twitter: @kristenthometz
---
Sign up for our morning newsletter to get all of our stories delivered to your mailbox each weekday.
---
Related 'Chicago Tonight' stories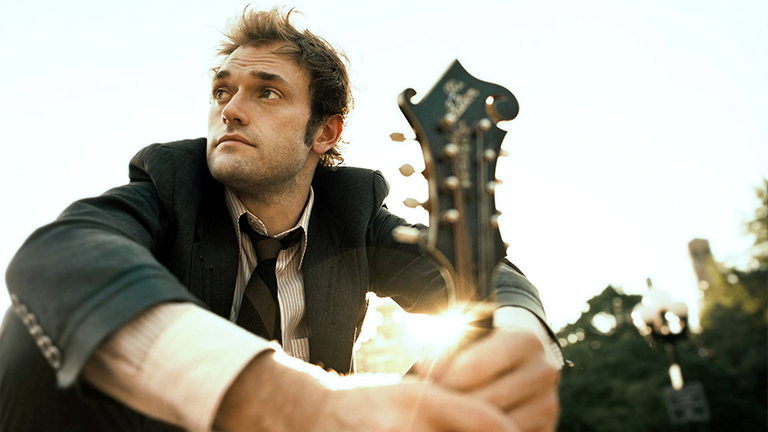 Chris Thile on Hosting 'A Prairie Home Companion,' Punch Brothers
June 9: After 40 years of tales from the fictional town of Lake Wobegon, Garrison Keillor is calling it quits. "Chicago Tonight" talks with Chris Thile about taking over as host of "A Prairie Home Companion," his bands and more. 
---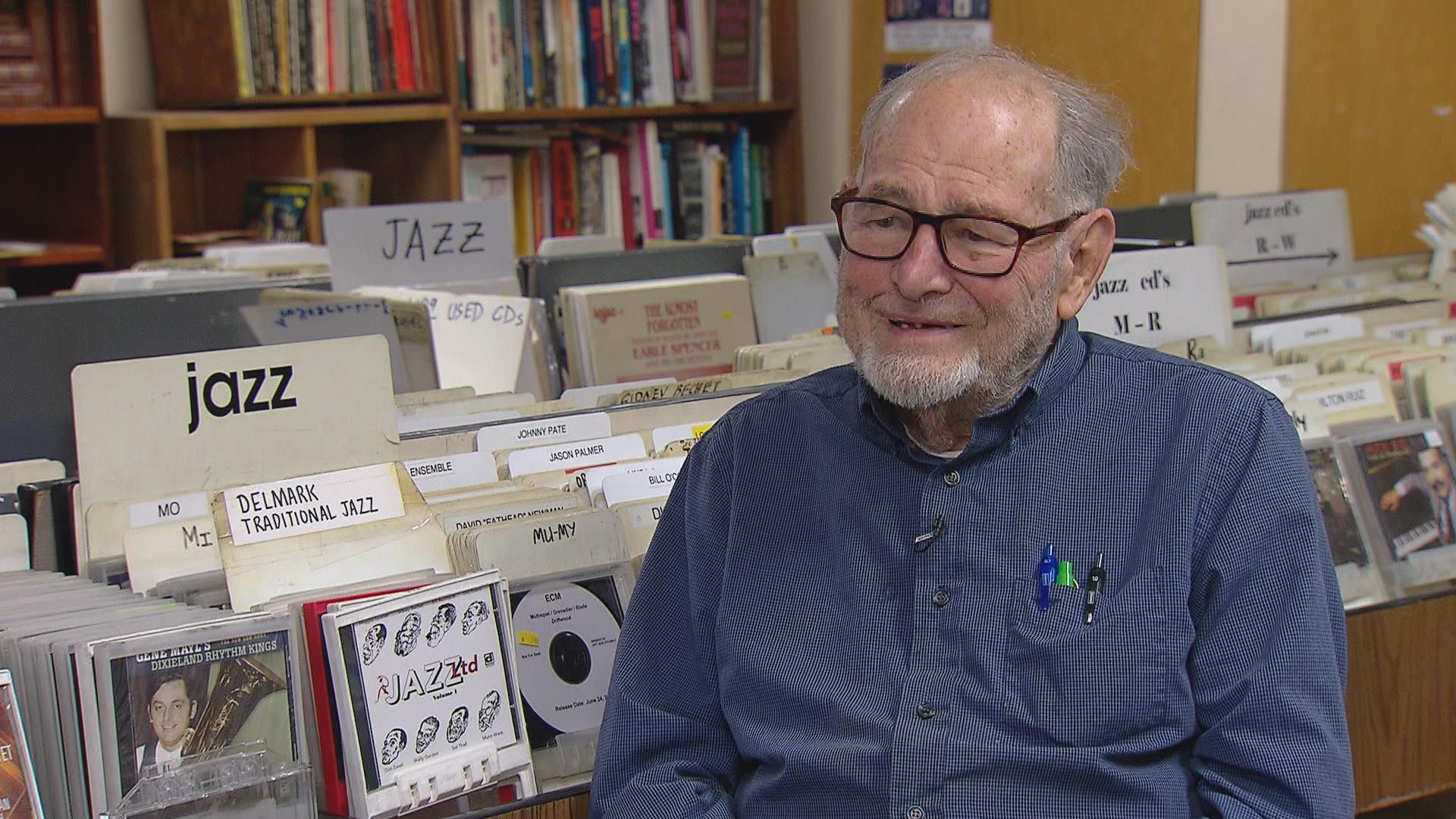 Delmark Records an Encore for Local Jazz, Blues Enthusiast Bob Koester
May 25: The legendary owner of a storied Chicago record store is back in business after a very brief retirement. 
---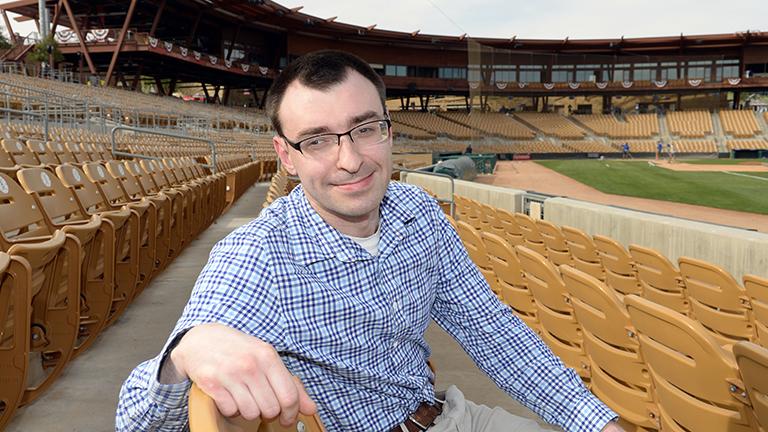 New White Sox Announcer Calling Games for His Childhood Team 
May 10: It's a dream job, no doubt about it. But Homewood native Jason Benetti works hard to keep his cool while calling games for the team he grew up rooting for.
---