On Monday, the nation's food industry is celebrating some of its most impressive luminaries with the annual James Beard Awards at the Lyric Opera House.
Among some of the city's best chefs is a Vietnam native whose journey from his homeland to being a Beard Award semi-finalist was long but fruitful.
Brandis Friedman has his story.
TRANSCRIPT
Brandis Friedman: In the photos, his name was Tam Truong Tran.
Ryan McCaskey: My mother was very young, probably 15, 16, 17 years old. She left a fake name and kind of left.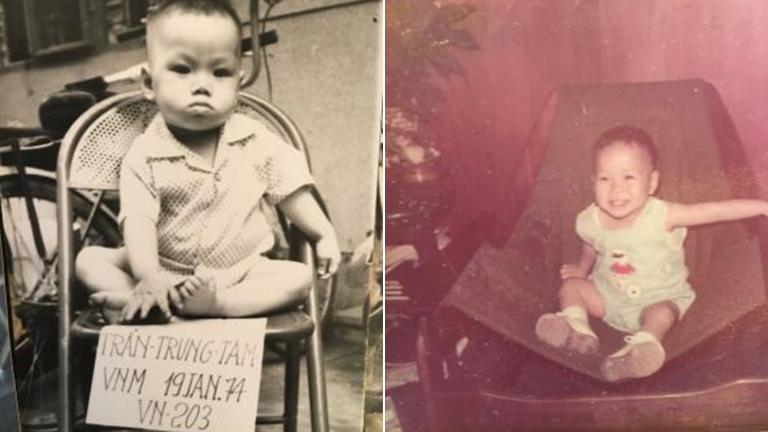 Friedman: It was 1975 in Saigon, the year the war in Vietnam ended. At the same time, a suburban Palatine couple had received these photos of Tam, as they anxiously awaited his adoption.
McCaskey: My parents specifically wanted a child that might not have a great chance. We don't want a kid that 100 people are in line for and everyone's clamoring to adopt.
Friedman: Today, Raymond and Judy McCaskey's son is Ryan McCaskey.
McCaskey: When my parents gave my name now – Ryan McCaskey – they kept Tam as my middle name as a reminder of where I come from.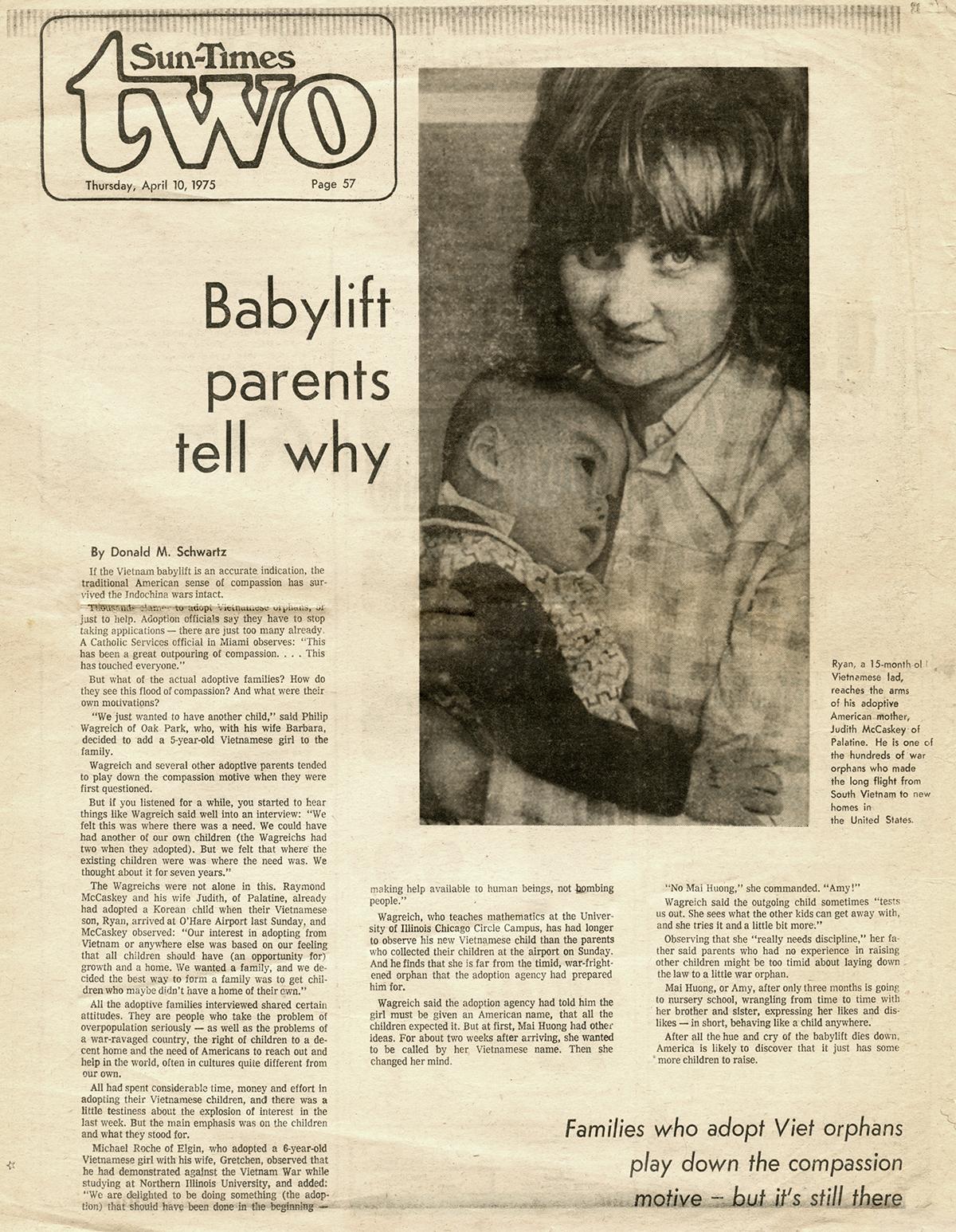 Click to read: April 10, 1975 article about McCaskey's adoption. Friedman: He arrived at O'Hare airport on April 5, 1975.
McCaskey:  As Vietnam was falling and the south going down basically, I was lucky to be on one of those planes. I think about it a lot of times, how life would've been if I hadn't gotten chosen or picked out to come here. The whole story is unbelieveable.
Friedman: The planes McCaskey refers to were part of Operation Babylift – a $2 million initiative to evacuate 3,000 Vietnamese orphans to new homes in the United States. McCaskey's adoption was already in the works, but it might not have happened. Had the adoption agency waited much later …
McCaskey: If they had even waited another week, who knows.
Video: Susan Soon-keum Cox of Holt International talks about the adoption process in Vietnam in the 1970s.
---
Friedman: Today, McCaskey knows his life is different because of Operation Babylift. It was his upbringing with his parents and grandparents in Palatine that instilled his love for food and cooking.
McCaskey:  I remember the smell of pot roast cooking in my grandparents' kitchen. And I would remember waking up and smelling French toast. I can remember every food I've ever tried. I can remember the place and point of the first time I ever had a carrot, or knew what mayonnaise was or discovered ramen noodles – or whatever it is. Every food memory I've had is stuck in there somewhere.
Friedman: His parents still have the newspaper clippings and baby pictures from 40-plus years ago to tell the story.
McCaskey: I love this picture just because I look stubborn, I look a little angry, I'm kind of over it. I don't want to pose any more for the camera … Looking into the future to where I'm at today, this is me now. It's cool because my sister was really, really, really excited that she was getting a baby brother. This picture, I believe, was actually taken by my grandparents. And this was literally a month after I'd been here. That kind of says it all. I'm a happy kid. I'm in a good place. I'm with a good family.
Friedman: Now at 42 years old, he's the chef and owner at Acadia restaurant in the South Loop. It holds two Michelin stars and has been a finalist for James Beard Awards in previous years.
McCaskey:  I don't even honestly care about winning. I just want to be nominated. It'd be cool to be five-time nominated, six-time nominated or whatever it is. I'm OK with that.
Friedman: Whether or not he wins awards, McCaskey thinks he's already won the lottery.
McCaskey: It puts things in perspective for me. I think, I talk about it a lot, I just feel lucky. It gives me the attitude of, I kind of have nothing to lose, because of what my life could've been. I honestly say to myself, I'm going to do best I can, and why not?
McCaskey's South Loop restaurant, Acadia, is open 5:30 – 9 p.m. Tuesday through Thursday, 5-11 p.m. Friday and Saturday, and 5-9 p.m. Sunday.
---
Related stories from "Chicago Tonight"
James Beard Awards Gala Pays Homage to Role of TV Dinner
April 28: Brandis Friedman takes a look at the inspiring dishes being served after next week's James Beard Awards – and how television is a main ingredient this year.
---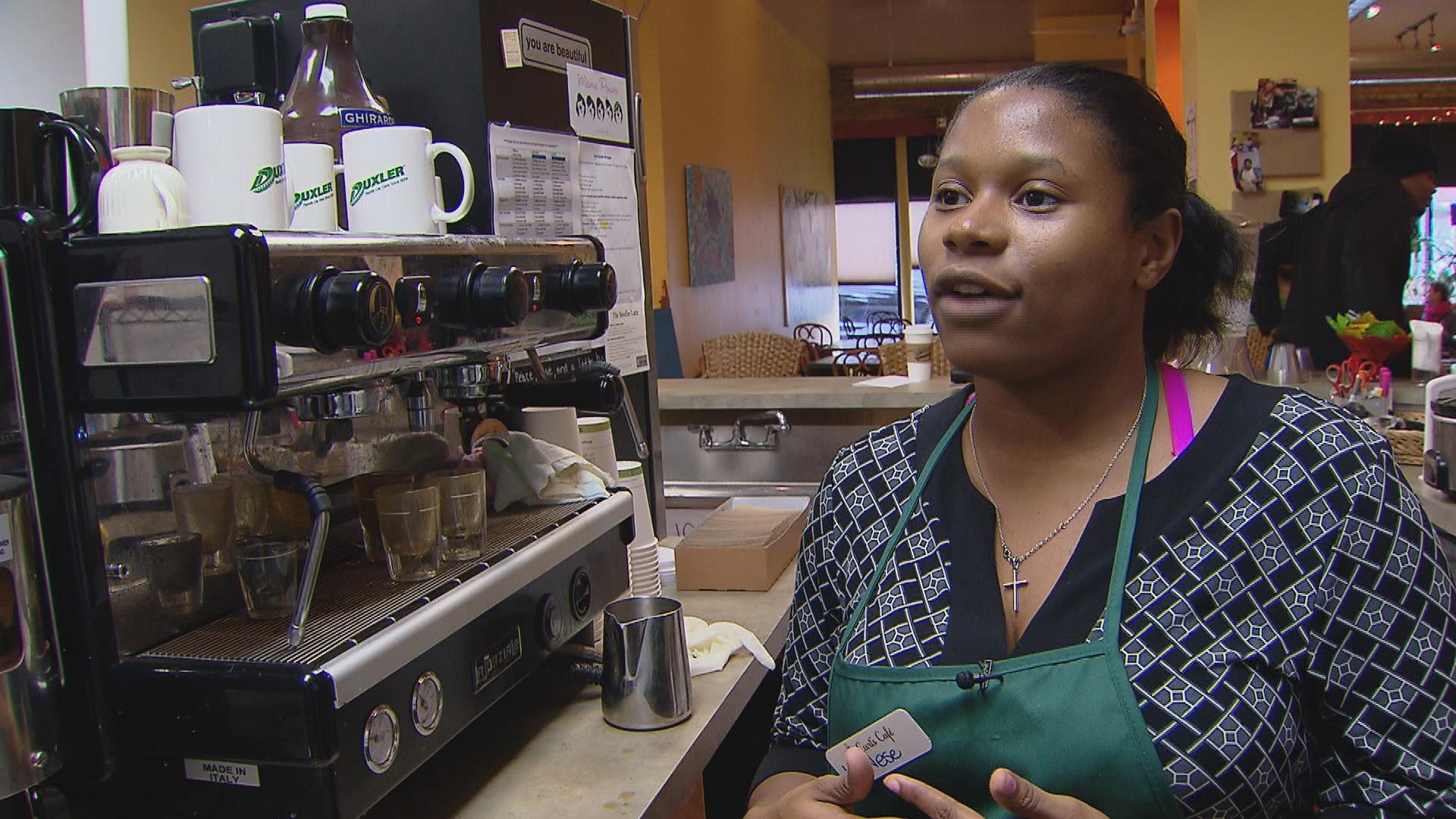 Curt's Café Serves Up Job Training, Food for Thought
March 30: Every discussion of crime, poverty or high incarceration rates points back – in part – to jobs. For the last three years an innovative restaurant job-training program in Evanston has been providing support and practical experience to young men and more recently, women. Jay Shefsky went to Curt's Cafe to learn more.
---