Vegetarians, beware: Baconfest Chicago is back this weekend, and it's bigger than ever.
The eighth annual celebration of all things bacon takes place Saturday and Sunday at the UIC Forum, where more than 150 Chicago chefs will prepare more than 8,000 pounds of bacon.
Some of the dishes you might see this year: bacon turon spring rolls, a maple bacon toffee milkshake and braised pork belly meatballs.
Co-founder Seth Zurer said that Baconfest actually took shape first as a musical. After his friends – festival co-founders Michael Griggs and a friend who now goes by Andre "vonBaconvitch" – saw a rock-and-roll puppet musical inspired by craft beer, the pair wanted to write an ode to bacon in the form of their own musical. But they got bored with that idea, Zurer said.
"I got a call at about 11:30 on a Saturday night. I was unemployed and lying in bed next to my pregnant wife, and my friends – my partners – said, 'I have an idea, it's Baconfest Chicago, the Burning Man of Bacon, what do you think?'" Zurer said.
The so-called "Burning Man of Bacon" started with 10 restaurants and 75 guests and has grown steadily each year. This year, Zurer said they expect about 4,500 bacon enthusiasts.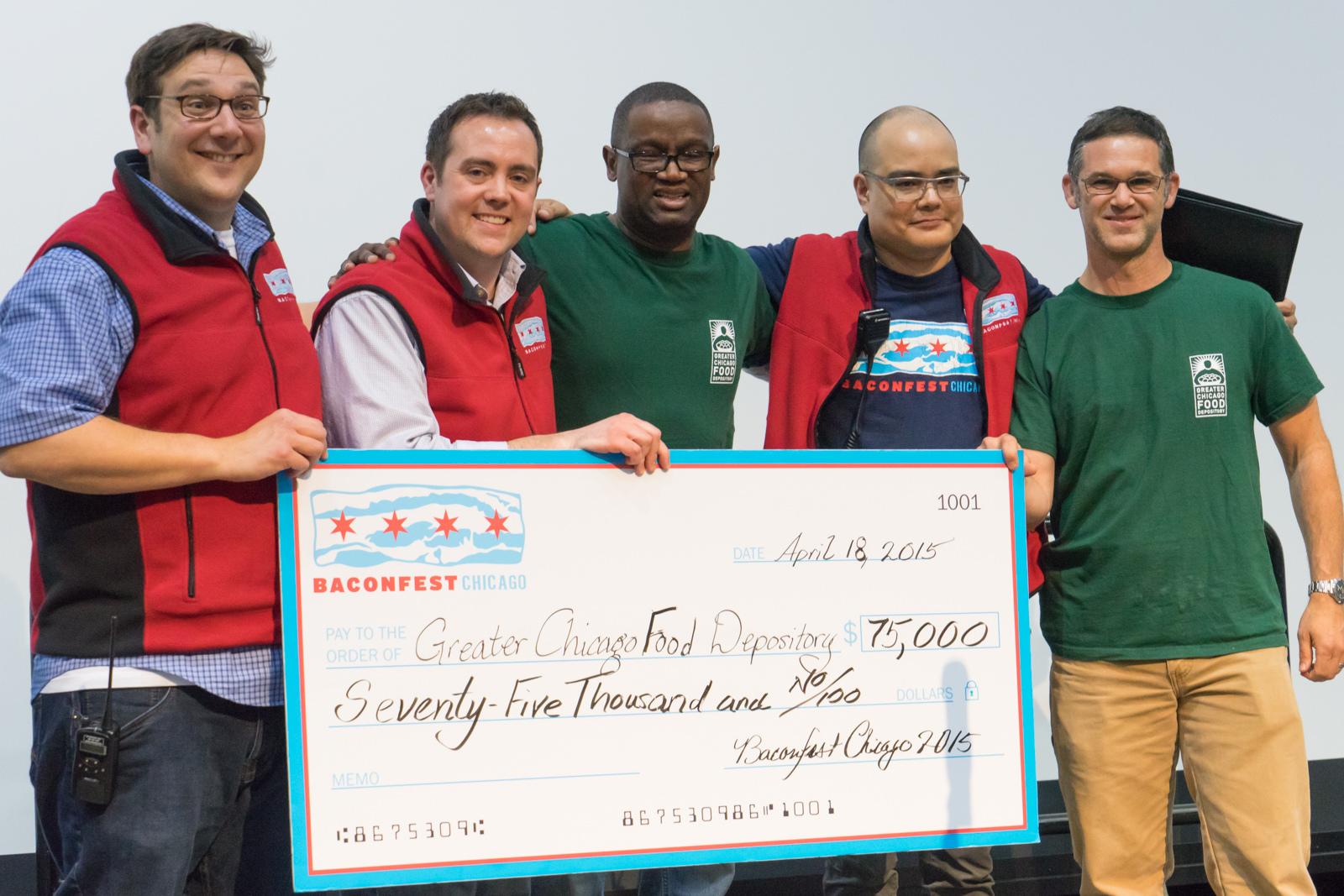 Seth Zurer, left, with his partners Michael Griggs and Andre "vonBaconvitch," donated $75,000 to the Greater Chicago Food Depository last year.
"It's a lot of fun. It's basically a walk-around tasting event," Zurer said. "People walk around with their tote bag, and everywhere they look, someone is trying to offer them something delicious to eat with bacon, or beer that goes great with bacon, or a cocktail that tastes delicious with bacon."
That means things like bacon cheddar cheesecake or bacon-garnished bloody marys – all the creations of local chefs.
And while guests may have to bring home the bacon in order to get tickets, which cost $100 for general admission and $200 for VIP treatment, you get unlimited access to all of those dishes.
So why bacon? Zurer got philosophical when we asked.
"The simple answer is that bacon is delicious. Everybody loves bacon. I think that bacon is something that people have a real visceral, emotional relationship with. It's a food that takes you back to happy mornings sitting around the breakfast table with your parents and family," Zurer said.
"It's a food that makes you feel good. So we've tapped into a deep well of emotional connection to bacon when we started with our event and we haven't noticed that emotional connection getting any less deep over the years."
But Zurer said he and his co-founders are aware that not everyone has the opportunity to feel that way about food. That's why they've donated over $300,000 to the Greater Chicago Food Depository since 2009, which Zurer says translates to nearly 1 million meals.
"It's important to us because in the restaurant world, chefs are accustomed to how they're going to put together these delightful dishes for the guests who are paying a lot for the privilege of eating," Zurer said.
"To have that happening at the same time in a city where there's millions of people who don't know where their next meal is coming from seems sort of scandalous – and if it's not scandalous it ought to be. We feel like it's part of our civic duty to give back."
Baconfest Chicago is Saturday, April 30 and Sunday, May 1 at UIC Forum, 725 W. Roosevelt Road. Tickets are still available and cost $100; or $200 for VIP. For a list of the sessions you can attend, visit their website and check out the menu.
---
Related stories from "Chicago Tonight"
Weekend Events: NFL Draft Town, Rum Festival, Cinco de Mayo Parade
Raise a glass to the NFL draft, bacon-infused dishes, rum cocktails and the Cinco de Mayo Parade in Little Village. 
---
Free Events at DuSable Museum Promote Diversity in Modern Music
Internationally renowned composer and percussionist Kahil El'Zabar, who has played alongside Dizzy Gillespie, Stevie Wonder and Paul Simon, joins a discussion about inclusion among modern composers of color. On Friday, he performs with Fulcrum Point New Music Project.
---