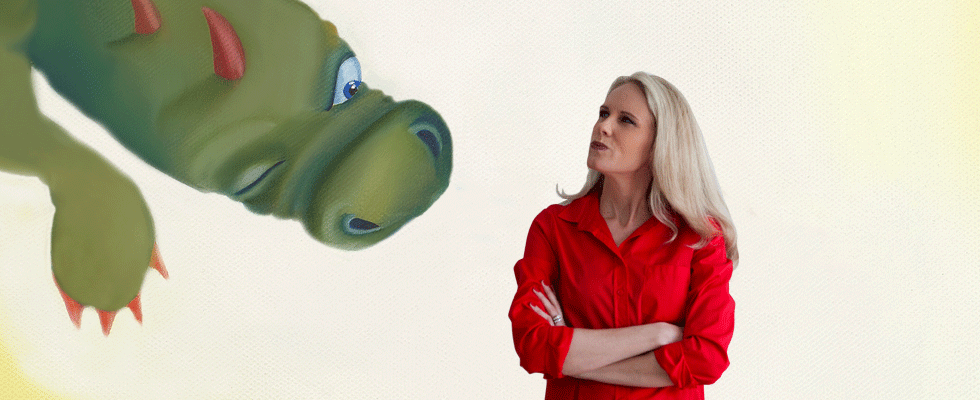 Pediatric occupational therapist Stacey Glorioso's book, "Joshua's Dragon," teaches children to overcome challenges in their lives through the story's main character Joshua. (Giggles Coos and Grins Photography- Manisha Gozum)
Pediatric occupational therapist and author Stacey Glorioso wants to teach children how to become dragon slayers. In her book, "Joshua's Dragon," the story's namesake character leads the way and shows how he defeats his dragon—overcoming his fear of loud noises.
Though it's not explicitly stated in the book, Joshua is assumed to have autism spectrum disorder.
"I didn't want it to be about autism. I wanted it to be about someone slaying one of his challenges—one of his dragons," Glorioso said of the book. "Although I'm using it to educate kids on disabilities, my main focus is how strong Joshua is and what he did and how he came up with a plan of attack to overcome his challenges."
The dragon Joshua faces could also relate to a child with a sensory integration disorder or cerebral palsy, Glorioso adds.
"When we do assemblies, we say that Joshua has autism and we say what autism is, and that one of the symptoms is Joshua doesn't like loud noises," she said.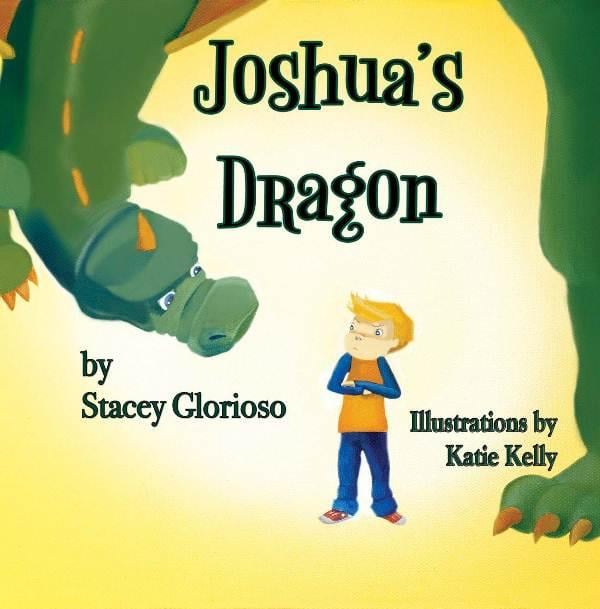 Stacey Glorioso's book, "Joshua's Dragon," tells how Joshua, a child who is presumed to have autism, overcomes his fear of loud noises.
You call the obstacles and challenges children with disabilities face dragons. Why?
Stacey Glorioso: I thought of a dragon slayer as a pretty brave person who constantly has to slay this big animal, this thing that's constantly trying to stop him from doing what he wants. It's an analogy I made up in my head a long time ago. Children with cerebral palsy, autism or even a learning disability have lots of challenges. Dragons are what I call them. 
Was Joshua based on anyone in particular?
Glorioso: Joshua is based on a combination of all my kids that I treat. Joshua was just a character and I wanted to pull in some traits I saw with all of my children with autism. Joshua isn't inspired by one particular person.
What inspired you to create "Joshua's Dragon"?
Glorioso: Throughout my career, I considered my [young patients] dragon slayers that were constantly at bat with their dragons. I was always so amazed at how much perseverance they had to keep going despite the immensity of the obstacles in their way. I wanted to take their messages and their life lessons and teach them to other children.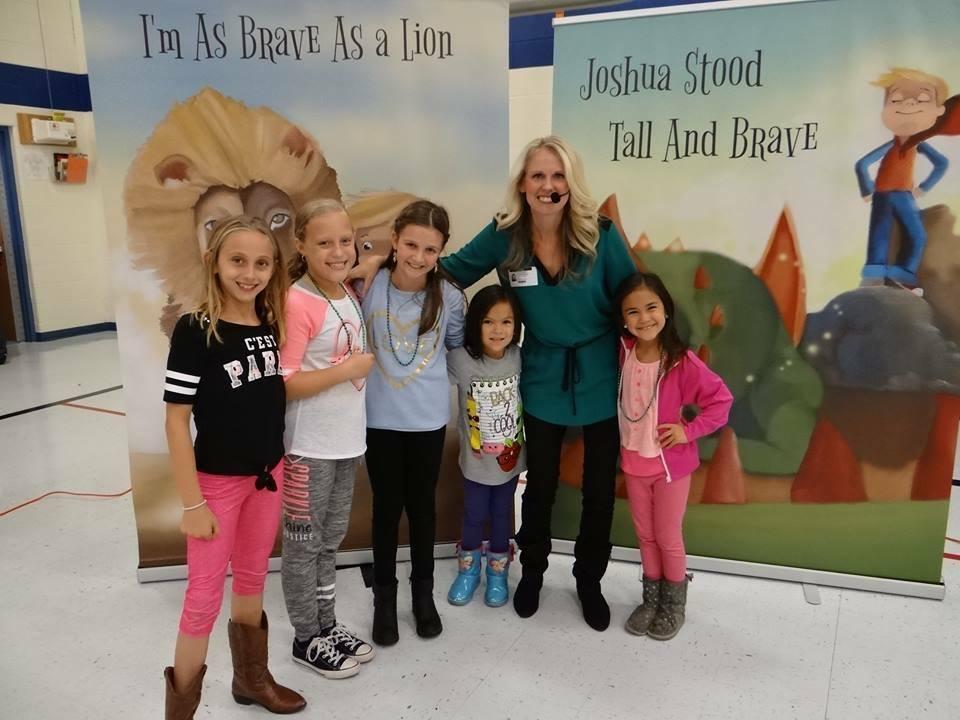 Stacey Glorioso with students at Freedom Elementary during a pep rally for "Joshua's Dragon."
When did you get the idea of using this analogy in a book?
Glorioso: Years ago, I set a goal for myself: I wanted to educate kids on disabilities. I always felt when I went into the school settings there wasn't a lot of understanding about children with disabilities. Students were empathetic, but they didn't have a clear understanding. I thought a book would be a good medium to get into the schools and do some education on this.
Now, I'm kind of using Joshua as a bridge to discussing disabilities and mainly to talk about how everyone has a dragon. No one is perfect. Joshua's dragon is that he's sensitive to loud noises, and mine might be something else, and we're not all that different from each other.
What are the assemblies of "Joshua's Dragon" like?
Glorioso: The assembly is more of a pep rally. I just wanted this to be something very memorable for every child. I didn't want it to be just an author visit where I come in and talk about the book.
We discuss and self-analyze ourselves and talk about what dragons we'd like to overcome this year. It's about problem-solving strategies and coming up with a plan of attack against our own personal dragon.
There are music videos, hundreds of different sound effects and bubbles that go over the children's heads. DJs come in with me and they hand out "Joshua's Dragon" stuff to the children. It's just loads of fun. At the same time, it's inspirational because we use real life children as examples of how they overcame obstacles or dragons in their lives.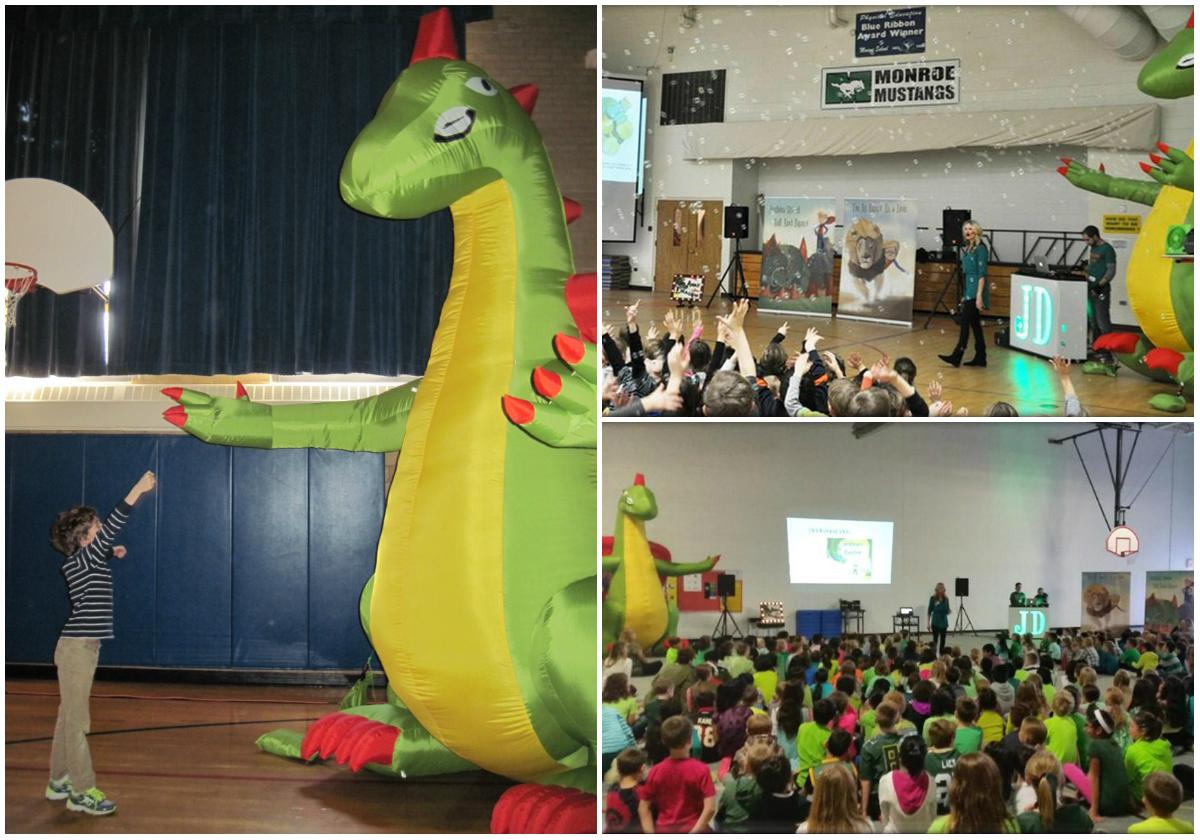 Photos from left clockwise: A student who has autism slays the dragon during an assembly for "Joshua's Dragon." (Courtesy of Manning Elementary). Stacey Glorioso leads an assembly. (Courtesy of Monroe Elementary). Students at Kinglsey Elementary learn to become dragon slayers. (Courtesy of Kinglsey Elementary)
Do you notice a difference in the students after the assemblies?
Glorioso: Huge difference. I would say the main difference is that they understand first of all what autism is. That's a big difference. Some say they know what it is, but when we're done they put a face to autism with Joshua. Children have a general understanding and an empathy for what he's going through. 
We talk about how important it is not to make fun of somebody else's dragon, and they understand everyone is equal because we all have dragons. That's a powerful statement when we're talking about children because there's a lot of bullying in school these days. When everyone admits to certain dragons, kids look around and see, "Wow, he has something going on too. And he's not any better than I am."
What do you hope people, in particular children, take away from the book?
Glorioso: What I would want kids to take away is that no matter what challenges or obstacles you face, you have the ability to overcome even life's biggest challenges. By seeing some of these kids and all of their obstacles and challenges that they were able to overcome, I hope kids take away that they can do that too. If Joshua's able to overcome all of his challenges then so can I.
Interview has been condensed and edited.
More information about "Joshua's Dragon," including information about assemblies and where to find the book can be found on the Joshua's Dragon website.
Follow Kristen Thometz on Twitter: @kristenthometz
---
Related 'Chicago Tonight' content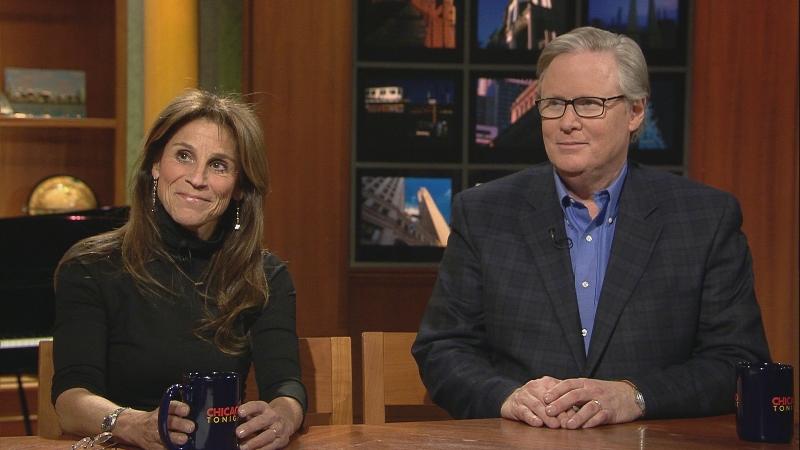 New Book 'In a Different Key' Tells the History, Politics of Autism
Feb. 8: According to the Centers for Disease Control, an estimated one in 68 American children has Autism Spectrum Disorder. A new book tells the story of some of those parents as it takes a look back at autism's dark history of institutionalization, questionable therapies and plain bad science. 
---
Aug. 26, 2014: Gardeners know the therapeutic benefits of tending to their flowers, vegetables and fruits. The Julie & Michael Tracey Family Foundation teamed up with organizations to create a therapeutic garden for people with autism. 
---