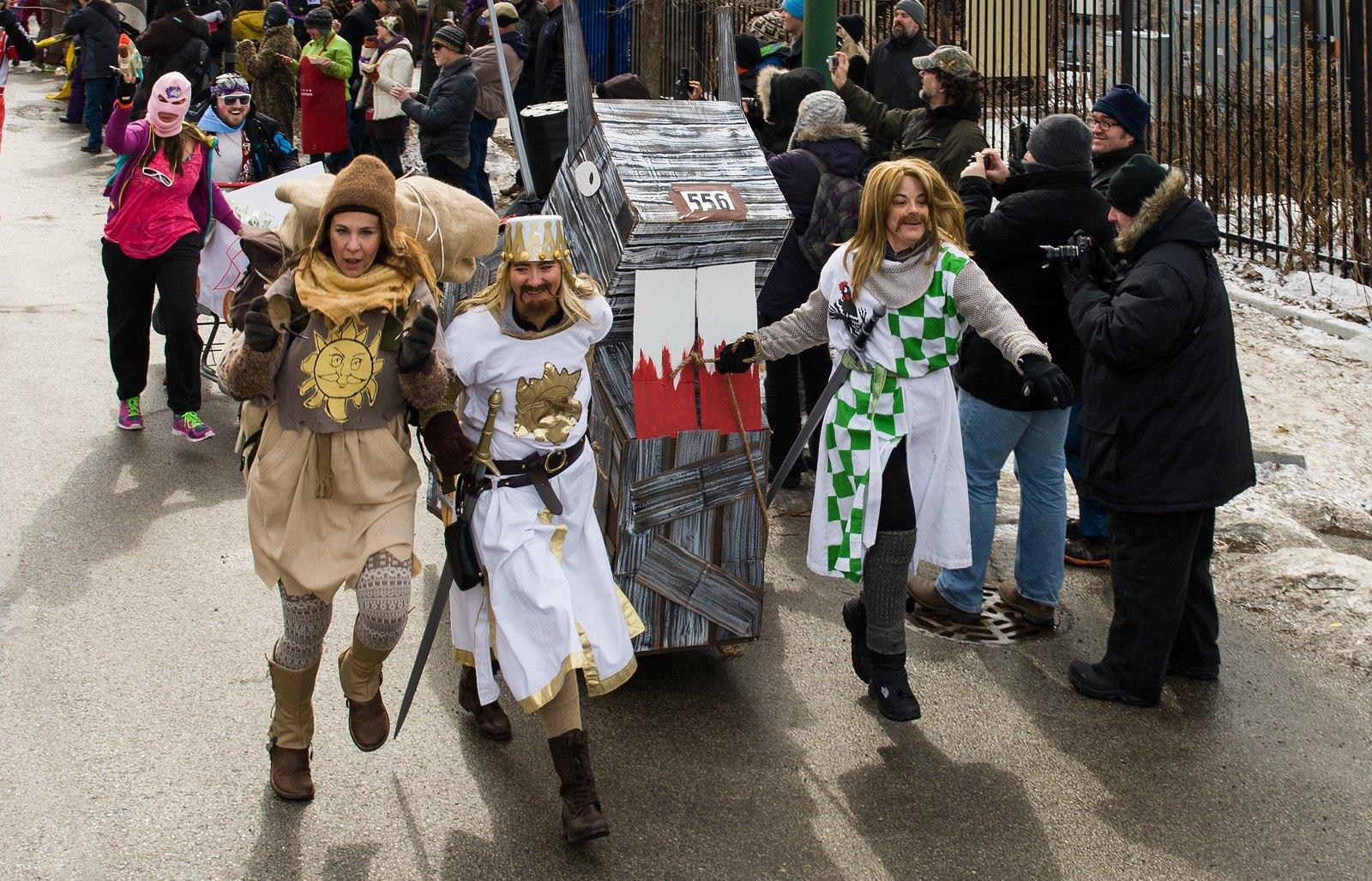 Participants in the Chiditarod race for charity dress in costumes like the ones pictured here, but one team took things too far last year. (Milosh Kosanovich)
The Chiditarod is one of a kind. It's a charitable race, costume contest and bar crawl all wrapped into one event.
Think of it as the boozy shopping-cart version of Alaska's famous dogsled race, the Iditarod, from which it takes not only its name but format, with a twist: Instead of dogs, four human racers pull a cart while a "musher" steers and pushes from behind. 
And like its more well-known counterpart, the Chiditarod has a series of checkpoints. But that's where similarities end. The required stops along the Chiditarod's 5-mile course through Wicker Park and Ukrainian Village are bars, not villages, where teams socialize, drink, play games and even (playfully) sabotage each other's carts.
But fun and games aside, the event serves an actual purpose: it's a benefit for the Greater Chicago Food Depository (GCFD).
Last year, 27,311 pounds of food and $38,732 were raised and donated to combat hunger and award grants to local nonprofits like Chicago Lights and Purple Asparagus, which educate the city's youth about better nutrition. To this point, the event website claims it's "probably the world's largest mobile food drive." 
This year, each of the 108 teams participating is required to donate at least 69 pounds of food. The minimum requirement increases each year along with the event's popularity.
Alarming costumes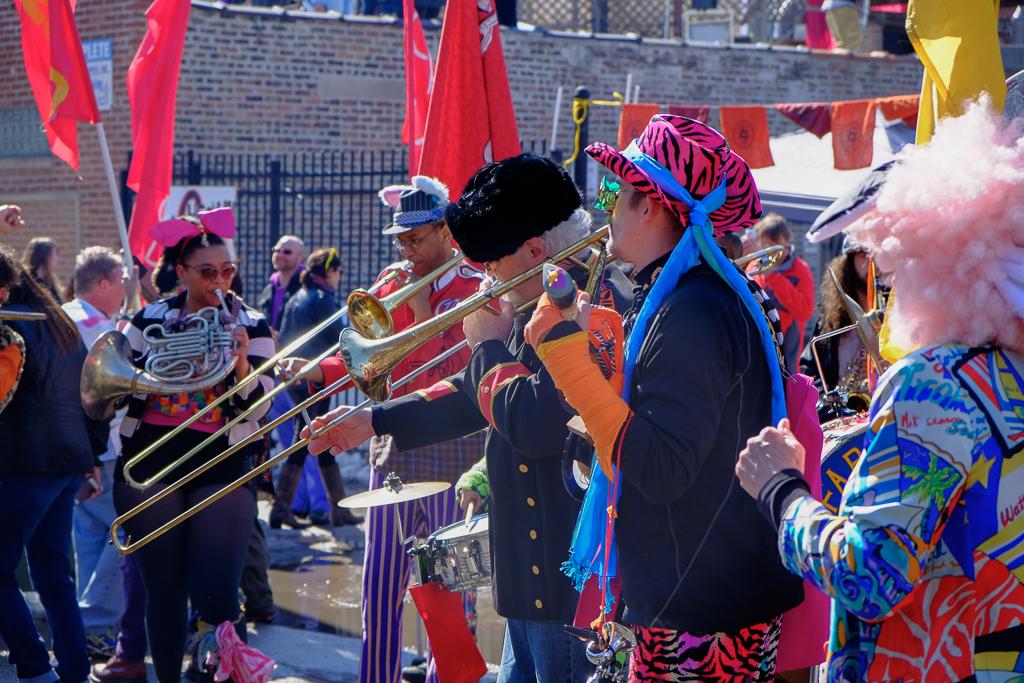 The performance art-inspired marching band Environmental Encroachment provides live music for the race every year. (Milosh Kosanovich)
Competitors often turn heads with elaborate themes, decorated carts and coordinated costumes. But not all attention is good attention. Last year, two Chiditarod racers were dressed in blackface. The offending members of "Team Too Soon" were dressed as Bill Cosby and a player from the Jackie Robinson West Little League team.
According to organizers, both racers were immediately asked to remove their makeup, but they declined. Volunteers even offered sanitary face wipes, which the team refused.
Stephanie Esposito, who handles press and community outreach for the entirely volunteer-driven event, said there was little they could do at that point.
"The team was disqualified," Esposito said. "We asked them to leave the race, but it's a public sidewalk and public bars."
A photo of the racer dressed as Bill Cosby sparked outrage online after it was tweeted by a shocked participant. Two days after the event, organizers released a statement apologizing for not responding more quickly to the incident.
"We very much discourage what they did," Esposito said. "Unfortunately, it really hurt our event and gave us a bad name. We're here to do good – not offend people in that way."
In preparation for this weekend's 11th annual Chiditarod race, Esposito says there will be "new policies and procedures in place" to insure this doesn't happen again.
Sharks, bake sales and hangovers
Dan Brown, a 47-year-old pinball technician who lives in the West Town neighborhood, has participated in eight of the past 10 Chiditarod races. As of Wednesday, his group was "about 40 percent done" constructing a 25-foot-long shark. In 2011, they built a Titanic replica that purposefully split apart halfway through the race.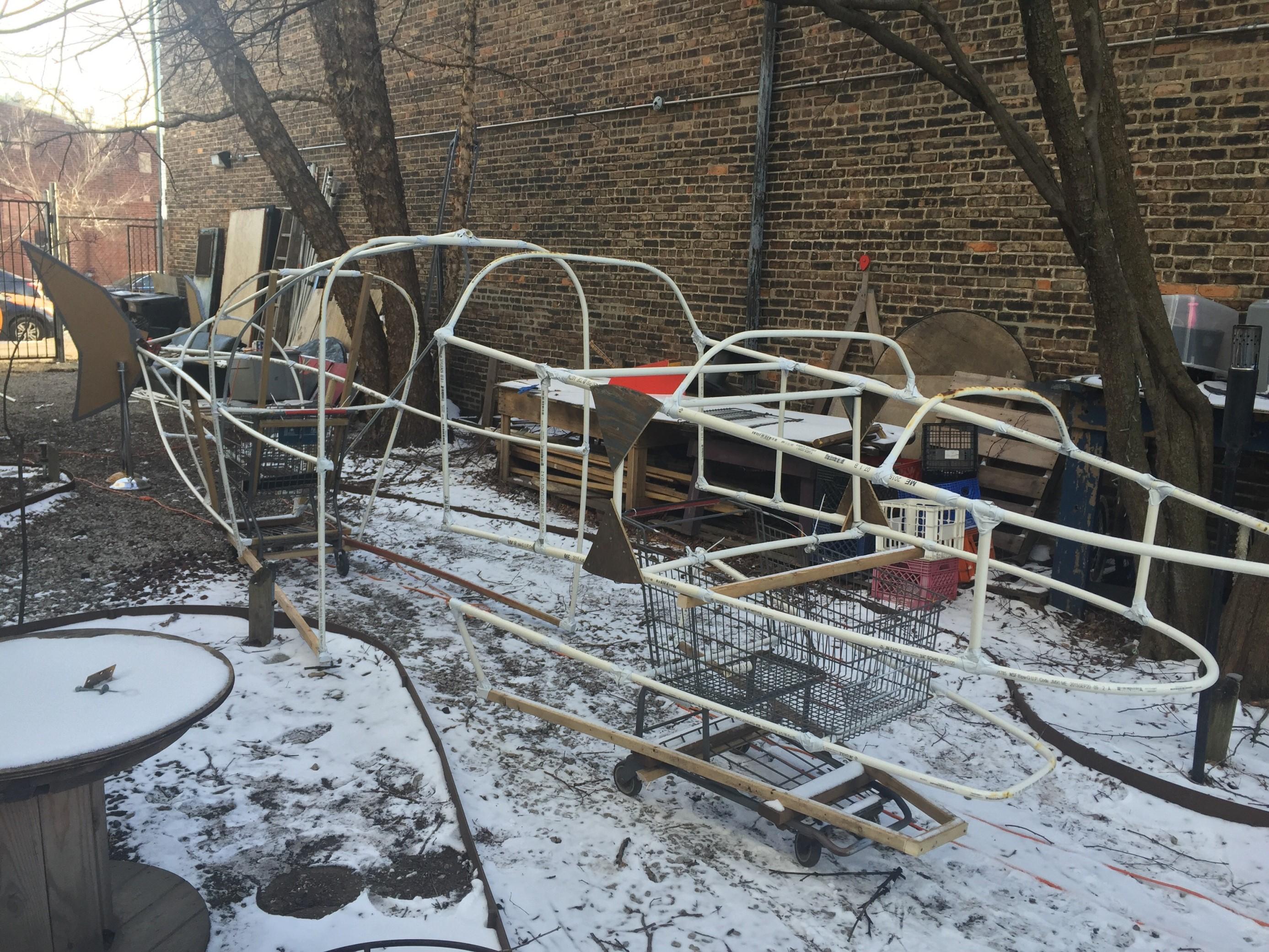 Dan Brown's shark cart as of Wednesday. Brown says his team, dubbed "Jawesome," may pull an all-nighter to finish the project before Saturday's race. (Dan Brown)
Building such elaborate vehicles takes planning – and caffeine. Brown says they may pull one or two all-nighters during the average two-week period it takes to construct and design a cart.
He calls the event "one of the most important days of the year" for him.
"It creates memories that go way beyond the amount of time, effort and money that everyone puts into it," Brown said. "We put a lot into it, but what does that matter when you've got something to think about for the rest of your days?"
The race attracts competitors of all stripes. Esposito said there's a group of long-distance runners that treat the race as a jumpstart to the marathon season. Their costumes are minimal and they sprint through the race, spending the minimal 25 minutes at each checkpoint before finishing first in about two and a half hours.
Then there are people like 32-year-old Melissa Rutherfoord, whose competitive spirit takes a more charitable form.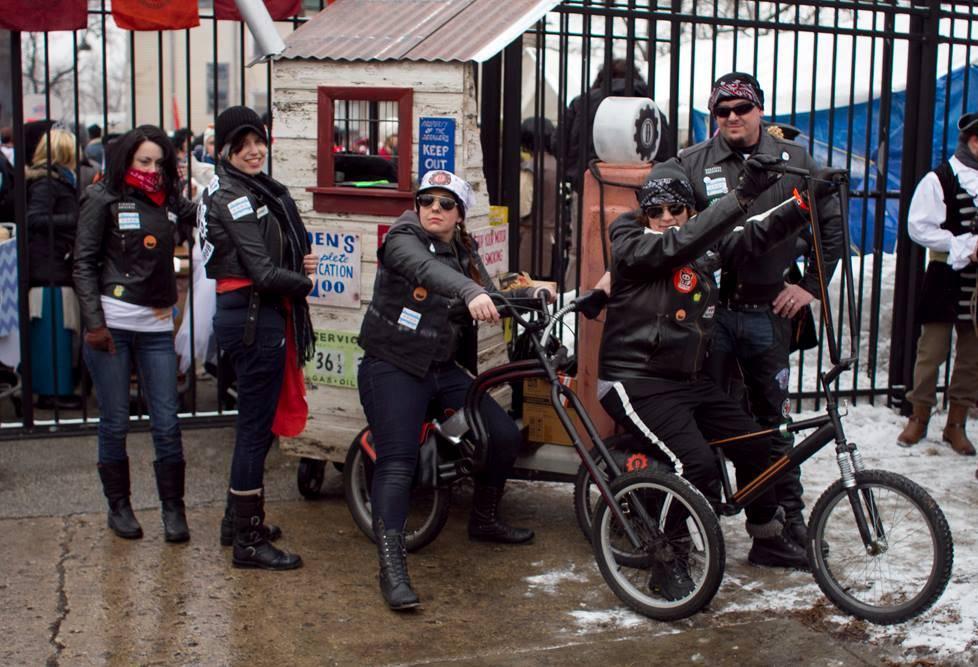 Melissa Rutherfoord, second from left, and her team "The Derailers" dressed as a bike gang last year. (Melissa Rutherfoord)
Her team, called "The Derailers," are retiring from this year's race after seven years of competition, but not without leaving a mark: Over the years, they've raised more than $28,000 for the event – more than any other group so far.
"We really went crazy and had fun with it," said Rutherfoord, who lives in Rogers park. "We did bake sales, silent auctions and sent letters to family and friends begging for money."
And there are those who come for the merriment.
Mitchell Brown, who's unrelated to Dan Brown but a member of his team, said the only injury he's sustained during his years of participation is "the occasional hangover."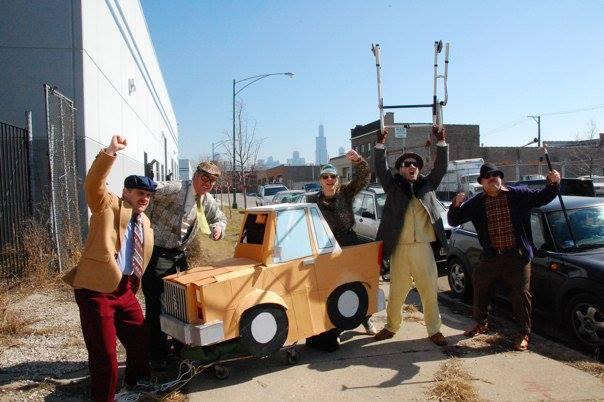 "The Sunday Drivers" stayed in character throughout the entire race in 2010. (Mitchell Brown)
An awards ceremony follows the race, offering a variety of prizes to teams. In 2010, Brown's group dressed as elderly men competing as "The Sunday Drivers."  Organizers singled them out for staying in character the entire time.
"We took pieces of Astro Turf to each bar," Brown said. "We'd throw them down on the ground and tell the youngsters to get off our lawn."
But even while racers slam down shot glasses between legs of the race, it's all for a good cause: each bar serving as a checkpoint donates a percentage of their race-day earnings to the GCFD.
Organizing chaos
Dan Brown, Mitchell Brown nor Rutherfoord saw the participants who chose to wear blackface last year. They agreed that carefully monitoring a semi-chaotic event involving thousands of people is no easy feat.
"There's so much visual stimuli," Rutherfoord said. "It's easy to miss something like that. I'll usually look at photos afterwards and say, 'Hey, I didn't know that was there!'"
But many did notice. Kathleen Ellis is one of the event's bike marshals: volunteers who make sure racers are safe and following the rules by riding along the route. The 41-year-old yoga instructor was notified of the offensive costumes via a bike marshal group text message. Almost immediately thereafter, she saw them at a checkpoint.
Ellis said when she asked one of the racers why he was wearing blackface, he said "They do it to us," and refused to remove the makeup.
"Their whole demeanor suggested they came well-prepared for a confrontation," Ellis said. "I got the impression this guy had some kind of 'black people are racist too' crusade going."
In the midst of the outrage over last year's incident, Chicago travel writer Audarshia Townsend tweeted a photo from Chiditarod 2013 showing a man wearing blackface. The team was apparently going for a "Rocky" theme and this participant went as Apollo Creed.
But Esposito says 2013 was a different story.
"He was totally fine with removing the makeup and immediately corrected the situation," Esposito said. "We didn't have problems with them. But last year's team was purposely trying to be offensive."
Things are a little different this year. "Team Too Soon" is banned from participating and organizers are determined to not let the problem repeat itself. Esposito said all participants send them their team name and the theme they're going with.
"We're extensively combing through these this year," she said. "We're also going to have volunteers doing costume checks as people enter the race."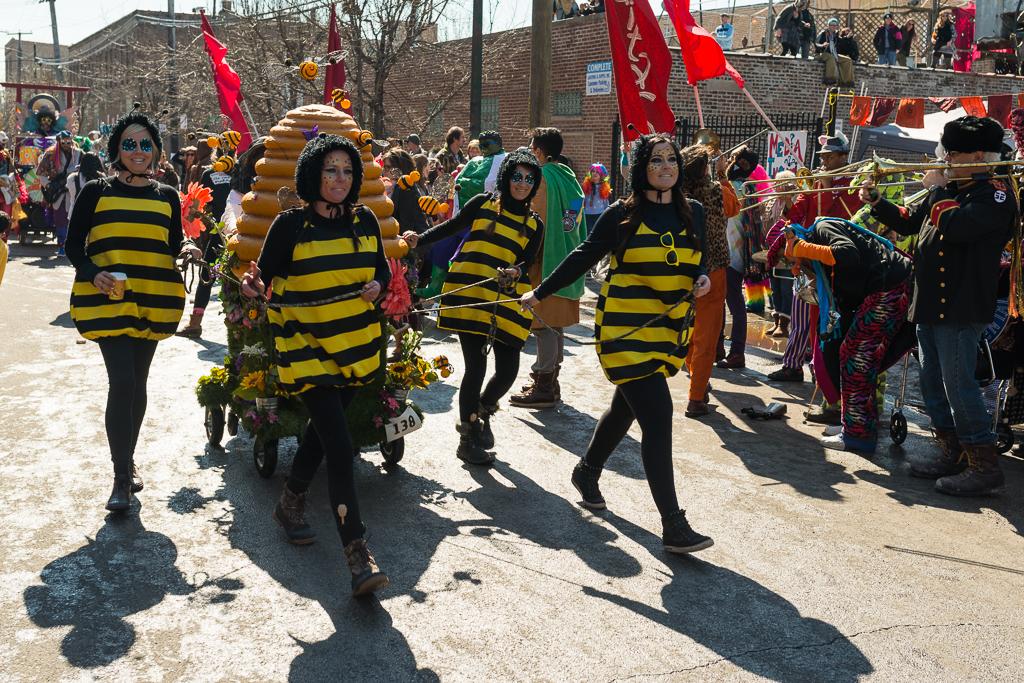 Esposito says the Chiditarod is "most likely the largest single-day food drive for the Greater Chicago Food Depository." (Milosh Kosanovich)
At least one member of each team must attend a pre-race orientation, which took place last week. Dan Brown says they were very clear about discouraging participants from dressing up like different cultures or races.
"They told us to think through our ideas," he said. "And ask friends what they think before we make any big judgment leap, and a poor one at that."
With so much negative attention drawn to last year's race, organizers appear to be focused this year on prevention. Ellis said a similar situation certainly won't happen on her watch as bike marshal this weekend.
"I'm not sleeping on this issue this year," she said. "I consider that kind of conduct to be abhorrent.
"I don't suppose these guys would ever consider doing that if they didn't think they had the cover of a crazy costumed event."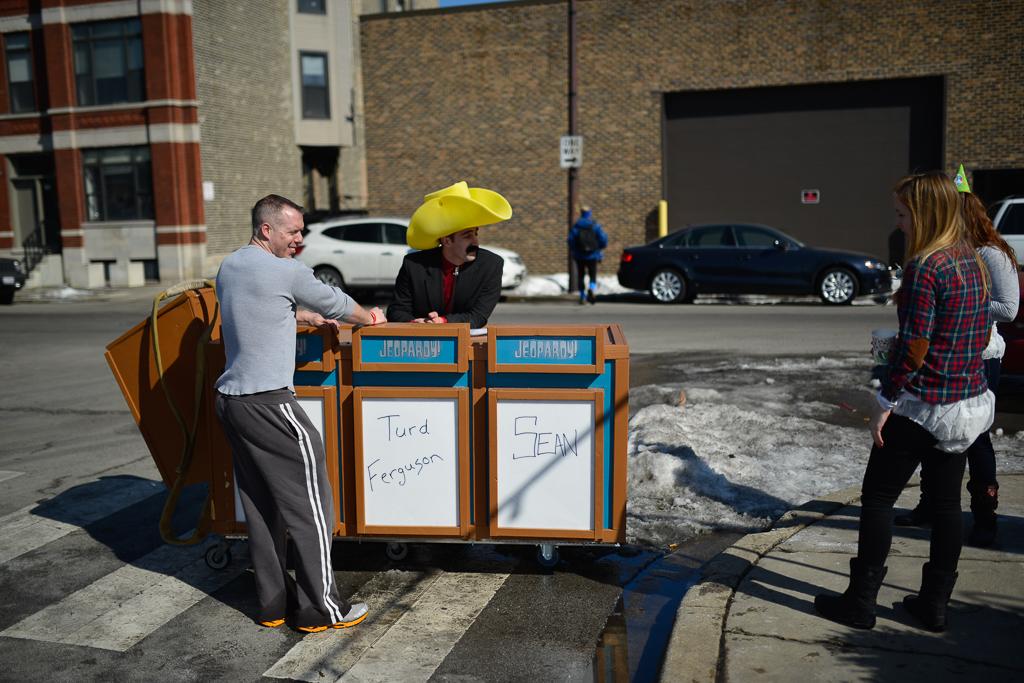 Some teams make pop culture references with their themes. This team is based off of Saturday Night Live's infamous celebrity Jeopardy sketch. (Milosh Kosanovich)
Spectate, donate
Costume controversies aside, the Chiditarod serves an important role during a crucial period. Charitable donations tend to wane after the holiday season, leaving a dearth of food this time of year. The tens of thousands of dollars and pounds of food the Chiditarod donates each March make a big difference.
Although registration is closed for this Saturday's race, spectators are encouraged to join the fun. The best place to watch is near the starting line, located at the corner of Wolcott avenue and Hubbard street, where the race will begin at 12:30 p.m. From there, onlookers can hang out at different checkpoints (most of them restricted to those 21 and older). And don't forget: this is a food drive! The GCFD will be at the event to receive donated food. Consider bringing something from the list of their "most needed items."
Follow Evan Garcia on Twitter: @EvanRGarcia
---
Related stories from 'Chicago Tonight'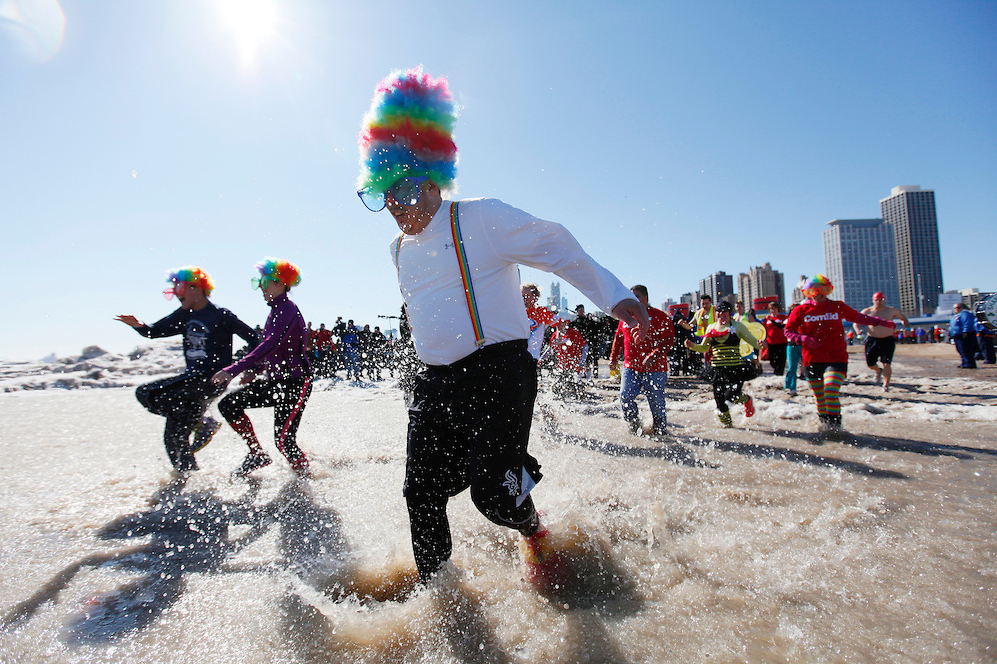 Polar Plunge This Weekend: Tell Your Alderman to Go Jump in the Lake
March 1: It's that time of year again, when brazen Chicagoans, some donning outrageous costumes, brave the icy waters of Lake Michigan for a good cause. The 16th annual Polar Plunge benefiting Special Olympics Chicago takes place on Sunday at North Avenue Beach.