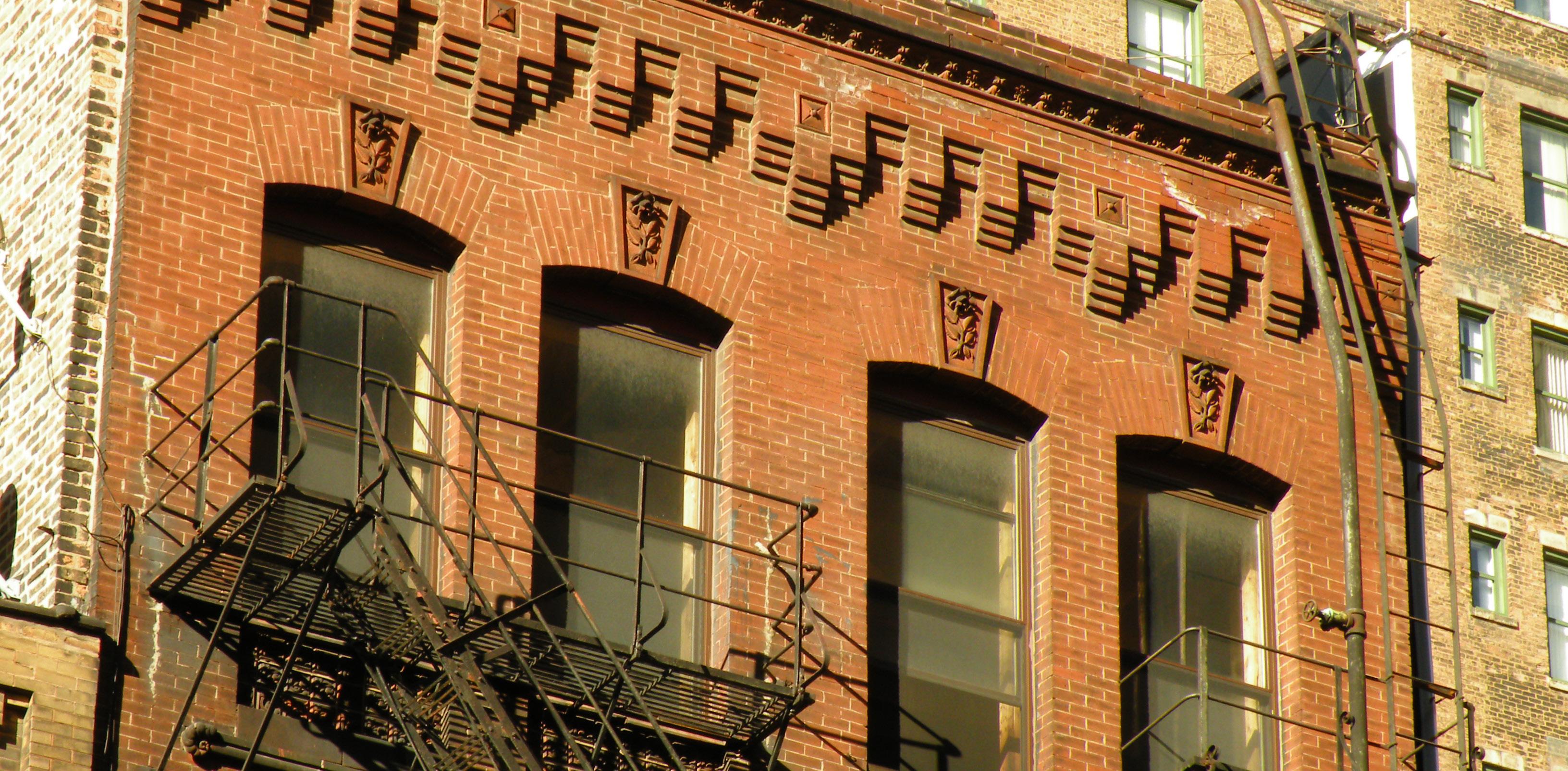 Coming in on this year's list is a strip of Clark Street that was once Chicago's original Chinatown. (Preservation Chicago)
Preservation Chicago has released its annual list of the most endangered buildings in Chicago, a list they usually call "the Chicago Seven" – but for the first time in 14 years, the organization has included an eighth structure.
Also included in the list is a group of geographically scattered retail buildings the organization would like to see preserved as a "thematic district" and a block of buildings that illustrate a seedier time in the Loop's history.
1. The James R. Thompson Center | 100 W. Randolph St. | Helmut Jahn, 1985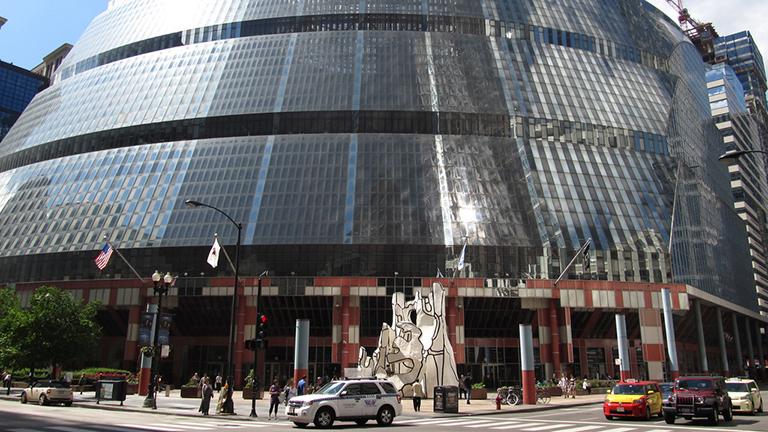 The Thompson Center's curvy glass façade drew praise and criticism when it was completed in 1985. In October 2015, Gov. Bruce Rauner put the block-long building up for sale. It houses State of Illinois offices and an extensive collection of art. (Photo: Flickr / Ken Lund)
---
2. McCormick Place Lakeside Center | 2301 S. Lake Shore Drive | C.F. Murphy Associates, 1971
The modernist steel-and-glass Lakeside Center was the second McCormick Place convention center built to replace the 1958 structure mostly lost to a 1967 fire and contains the Arie Crown Theater. Gene Summers and a very young Helmut Jahn worked on the design. Today, the Lakeside Center is used much less than the newer McCormick Place buildings across Lake Shore Drive. (Photo: TonyTheTiger at English Wikipedia)
---
3. Nellie A. Black building | 700 W. Fullerton Parkway | Pickney & Johnson, 1932
     Martha Wilson Pavilion | 701 W. Fullerton Parkway | Holabird & Roche, 1926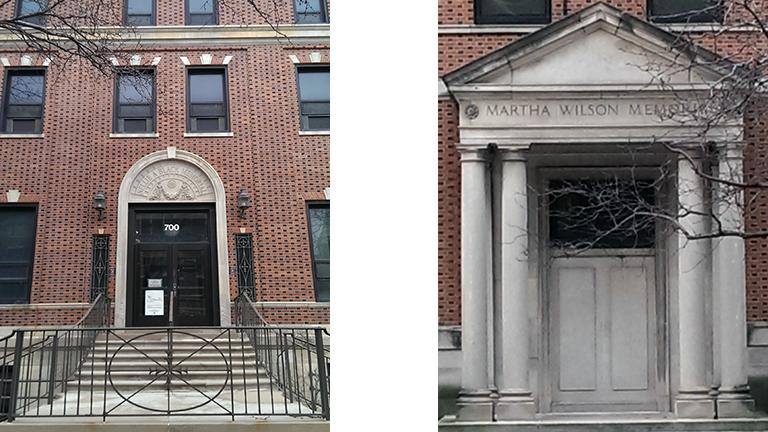 The Children's Memorial Hospital's 2012 move to Streeterville left these two Children's Memorial buildings, the Renaissance Revival Nellie A. Black Pavilion and the Classical Revival Martha Wilson Memorial Pavilion, unoccupied. The buildings were used for nurses' housing, offices, and patient rooms and face each other across Fullerton Avenue at Orchard Street. (Photos courtesy Preservation Chicago)
---
4. Washington Park National Bank | 63rd and Cottage Grove | Alfred Schwartz, 1924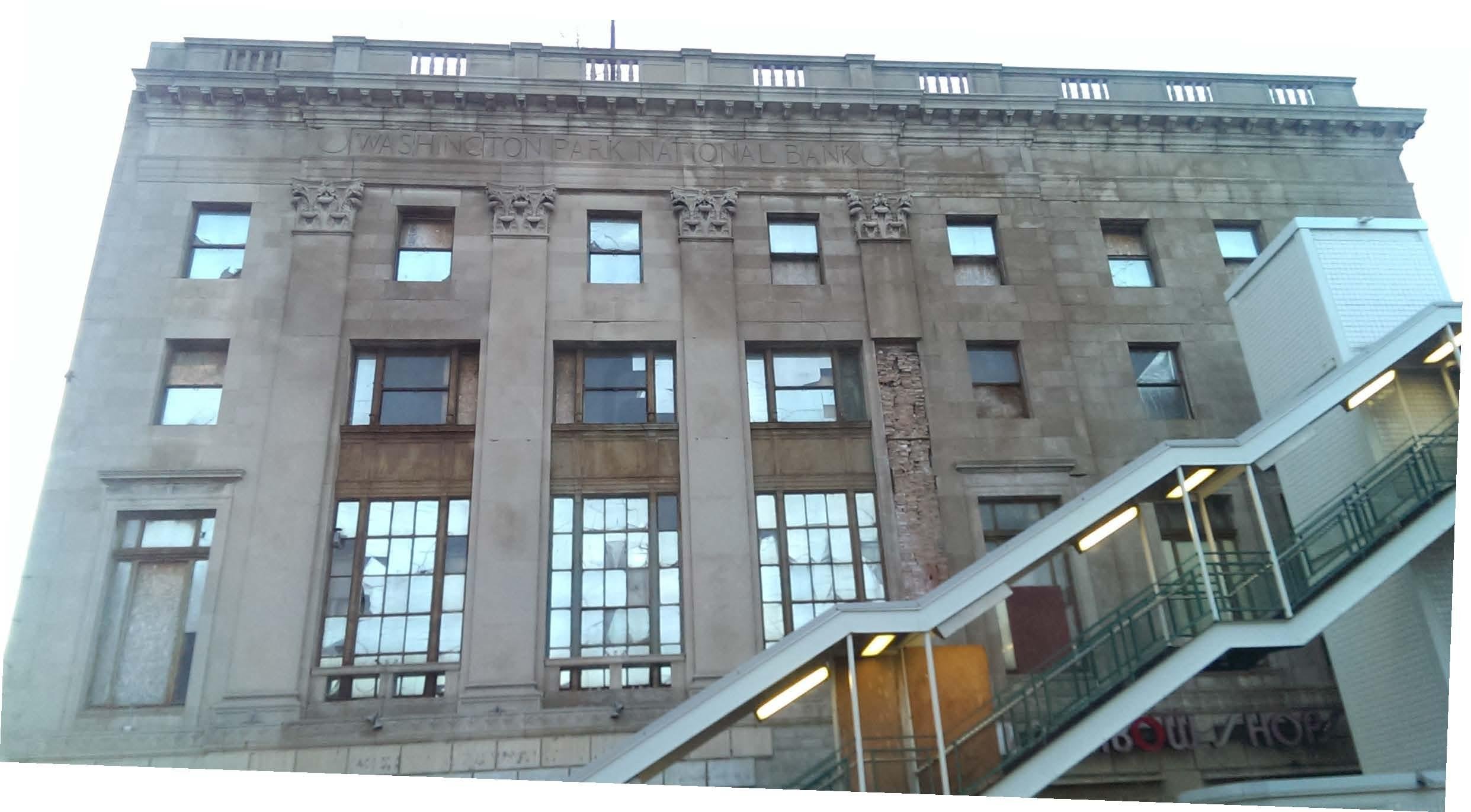 Near the former site of the famed Washington Park Racetrack, the Washington Park National Bank anchored a prominent intersection in the Woodlawn neighborhood, once a thriving entertainment and shopping district. It has been mothballed for years, but Preservation Chicago hopes to see its façade restored and the offices repurposed. (Photo courtesy Preservation Chicago)
---
5. Sears, Roebuck & Co stores | Milwaukee Ave/Cicero Ave/Irving Park Road | Western and 62nd (pictured) | 79th and Kenwood | Lawrence and Winchester | Nimmons & Fellows/various, 1927-1942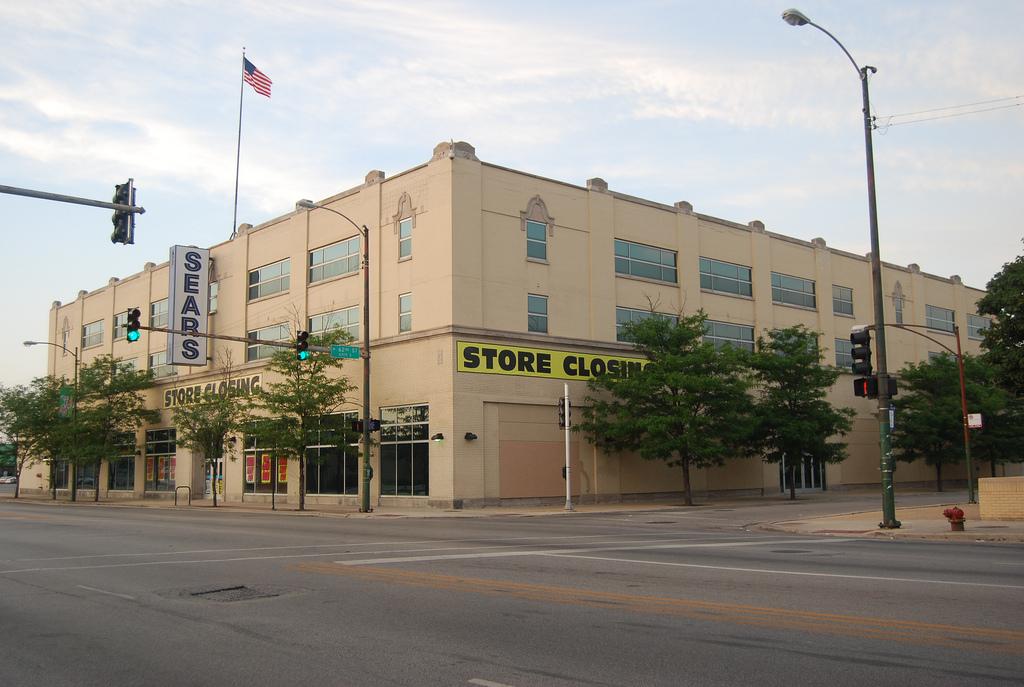 Sears, Roebuck & Co was instrumental to Chicago's retail and industrial history. Its stores anchored "bright lights" shopping districts throughout Chicago, but as the company has struggled, the stores have closed. Preservation Chicago hopes to preserve these four buildings as a "thematic district" illustrating retail history in Chicago. (Photo: Flickr / artistmac)
---
6. Old Chinatown / "Little Cheyenne" | West side of Clark Street between Van Buren and Congress | Multiple architects
The strip of Clark Street was once Chicago's original Chinatown before the Chinese population was moved to 22nd and Wentworth, and the buildings were the early work of some notable architects. The area was later nicknamed "Little Cheyenne" for its Wild-West-like lawlessness. (Photo courtesy Preservation Chicago)
---
7. LaSalle and Van Buren 'L' Station House | J.A.L. Waddell, 1897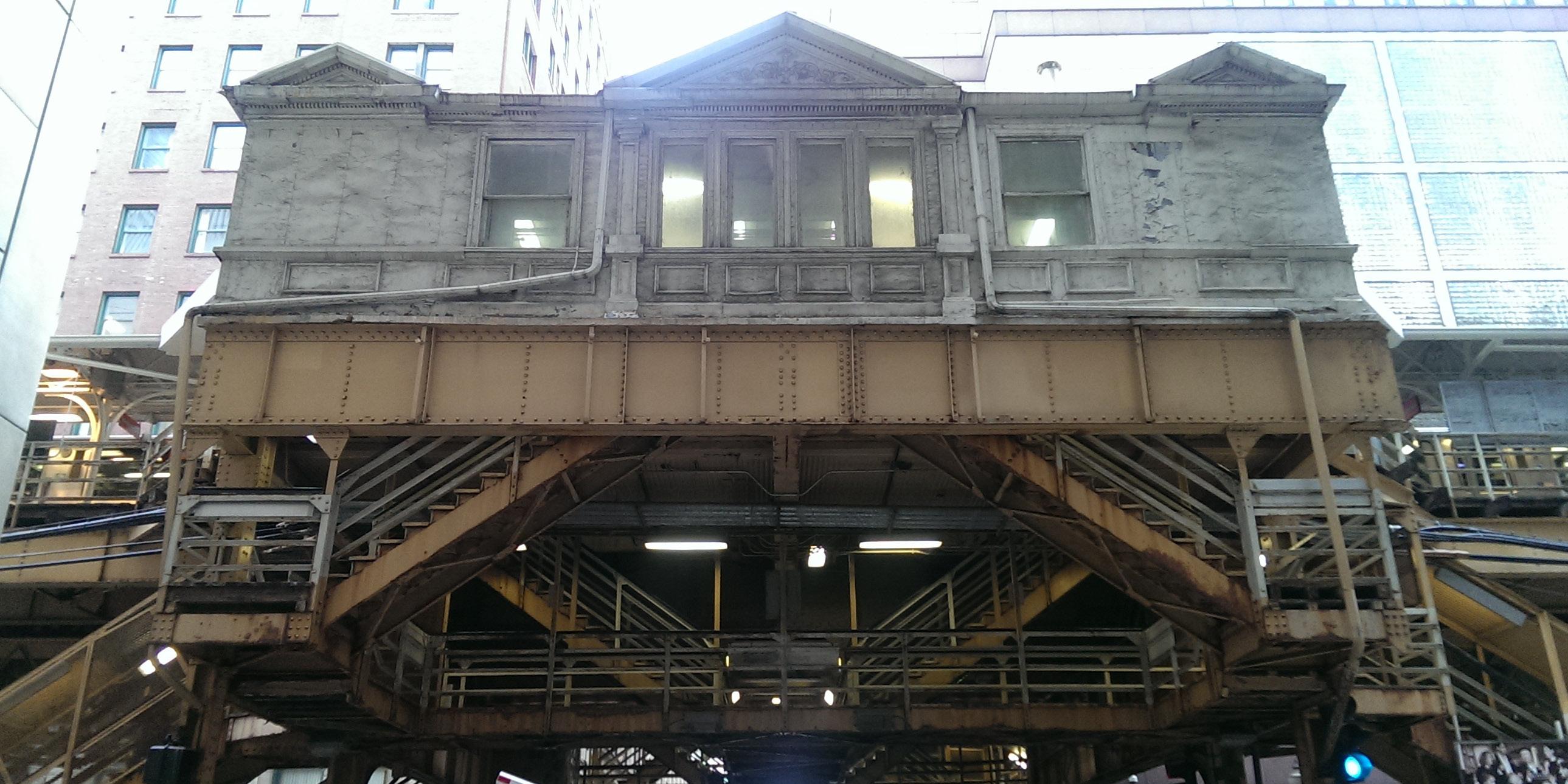 The Queen Anne 'L' station house is mostly in its original state and was designed by J. A. L. Waddell, the "Father of Modern Bridge Engineering". Waddell's bridge designs are still extant in Canada, Mexico, Russia, Japan, and New Zealand. (Photo courtesy Preservation Chicago)
---
8. St. Adalbert Catholic Church | 1636 W. 17th St. | Henry J. Schlacks, 1912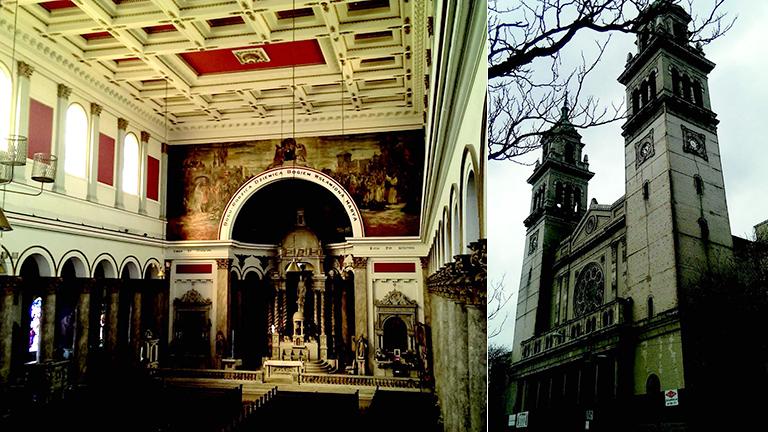 Among the historic churches that the Archdiocese of Chicago is threatening to close is the Renaissance Revival St. Adalbert's in Pilsen, a historically Polish church with two 185-foot towers and copper cupolas. (Photo courtesy Preservation Chicago)
---
Below, a map of the endangered buildings.
---