Illinois' 10th Congressional District covers parts of suburban Cook and Lake counties and includes all or parts of Beach Park, Buffalo Grove, Deerfield, Fox Lake, Grayslake, Highland Park, Lake Bluff, Lake Forest, Lindenhurst, Libertyville, Mundelein, North Chicago, Northbrook, Prospect Heights, Round Lake, Round Lake Beach, Vernon Hills, Waukegan, Wheeling and Zion.
On the ballot for the March primary are two Democratic candidates: former Congressman Brad Schneider and Highland Park Mayor Nancy Rotering. They are vying to challenge incumbent Republican Robert Dold in the November election.
Schneider has been endorsed by House Democratic leader Nancy Pelosi, who in a statement described him as "a relentless defender of women's rights and LGBT equality." He has also been endorsed by the Daily Herald, Secretary of State Jesse White, Illinois AFL-CIO and the Illinois Federation of Teachers among others.
"To me the number one issue is essentially always how do we get our economy growing from the middle out?" Schneider said. "How do we get the rising tide to truly lift all boats, not just those of the fortunate few? Our middle class is feeling squeezed, not just in the 10th but across the country. If small businesses and working families can feel confident in their future, feel confident in investing in buying a home or going to college – that's what drives our economy."
Rotering's most high-profile endorsement has come from U.S. Sen. Dick Durbin, who praised her for successfully defending Highland Park's assault weapons ban all the way up to the U.S. Supreme Court.
Durbin said in a statement that "while the Republican-led Congress refused to respond to the nation's gun violence, Nancy Rotering and her City of Highland Park showed real leadership."
She has also been endorsed by former Democratic Congressman Abner Mikva and former Senator Adlai Stevenson III who both initially endorsed Schneider. They switched their endorsements to Rotering after Schneider declared his opposition to the Iran nuclear deal.
"There's significant difficulty and a lack of comprehensive transportation planning and infrastructure investment," Rotering said. "Jobs are a huge issue in this district. There are a lot of corporate headquarters and if they leave – some of them have already sent jobs overseas – there are just some very real areas where jobs are critical and lacking, as well as broad range of jobs for people of various skills and education."
Biographies of the 10th Congressional District Candidates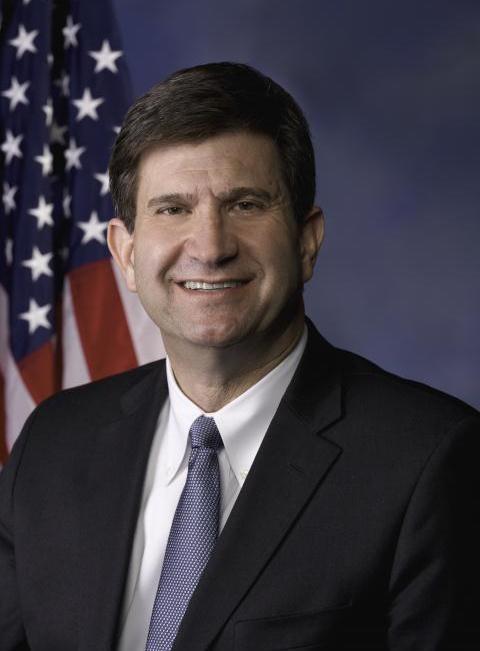 Brad Schneider
Schneider is aiming to return to Congress having represented the 10th Congressional District from 2012 to 2014. His election marked the first time in more than 30 years that a Democrat had won the seat. That election was the first using new Democrat-drawn maps and Schneider beat Republican Robert Dold by just one percentage point. However, in 2014 Dold won the seat back.
Prior to his election to Congress, Schneider worked as a management consultant helping family-owned businesses and also owned and managed a life insurance business.
Schneider earned a bachelor's degree in industrial engineering as well as an MBA from Northwestern University and lived in Israel for a year after completing his undergraduate studies, according to his website. He also served for four years as the chair of the Chicago Alliance of Latinos and Jews and is also a former board member of the American Jewish Committee in Chicago.
---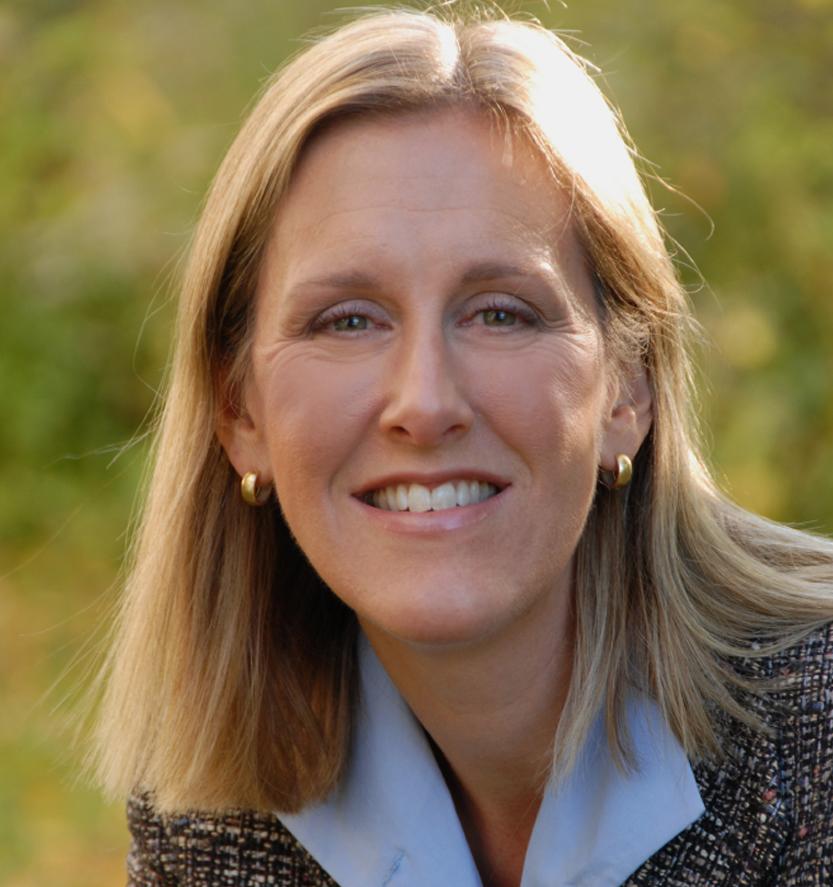 Nancy Rotering
Rotering has been Highland Park Mayor since 2011 and is challenging Schneider for the right to be the Democratic candidate in the November election.
Prior to her election as mayor, Rotering was a Highland Park City Councilman from 2009 to 2011. She earned a bachelor's degree in economics from Stanford University, an MBA at Northwestern University and a law degree at the University of Chicago. She worked as an attorney at General Motors Corp. before switching to work as a legislative aide for former Democratic State Representative Karen May in 2008.
---
Details about the District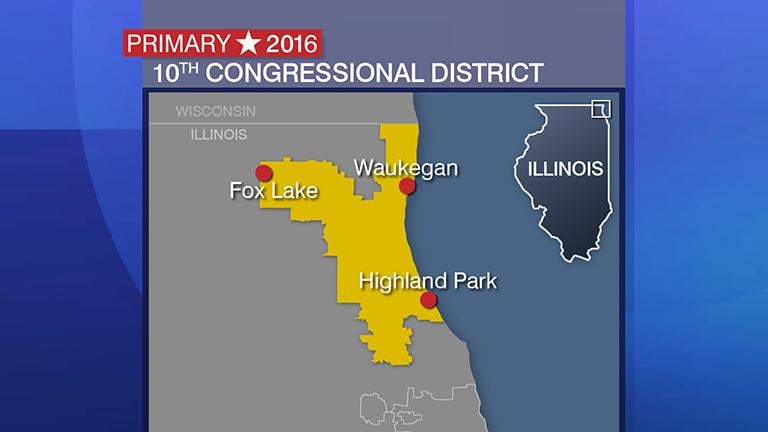 The 10th Congressional District is home to 711,698 residents. Of those residents, 549,483 identify as white, 46,338 identify as black or African-American and 165,373 identify as Hispanic or Latino. Below, see how residents identified themselves in a 2014 American Community Survey.
---
Of the population, 553,745 are estimated to be age 16 and over, with the unemployment rate estimated at 6.2 percent. The average income per household is $110,827, according to the U.S. Census Bureau. Below, see the income and benefits (in 2014 inflation-adjusted dollars) per household.
---
Related stories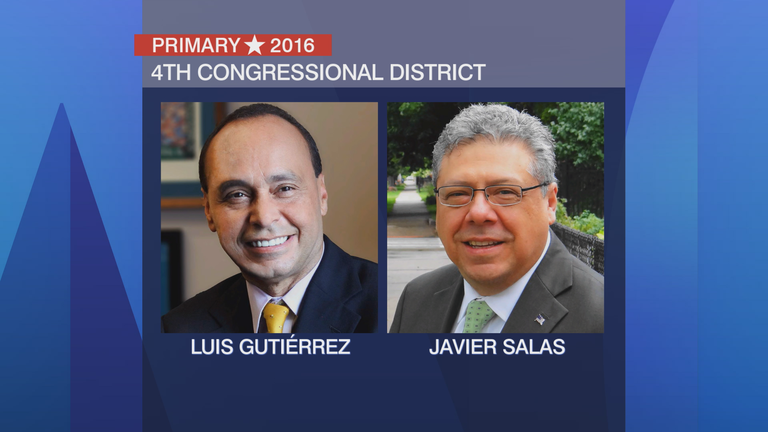 Illinois' 4th Congressional District Candidates
One of the most intriguing congressional districts in the country, Illinois' 4th Congressional District includes parts of Chicago's Logan Square neighborhood, Melrose Park, Brookfield, Cicero and Brighton Park. Joining "Chicago Tonight" to talk about his vision for the district is Javier Salas.
---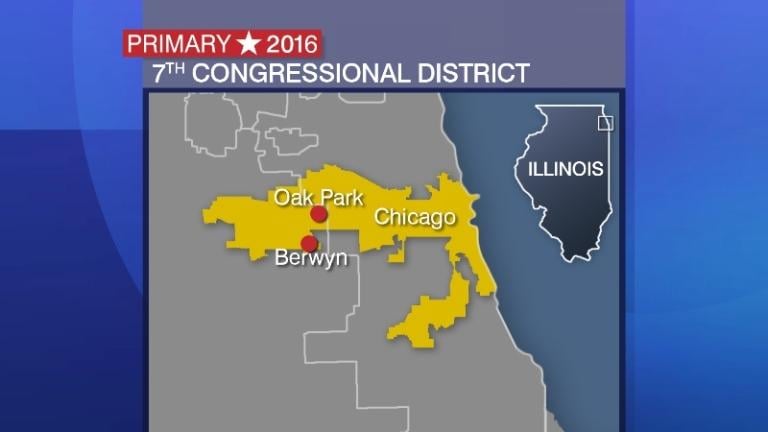 Illinois' 7th Congressional District Candidates
Illinois' 7th Congressional District is a sprawling district that incorporates downtown Chicago, the Near North Side and parts of the South and West Sides. On the ballot for the March primary are two Democratic candidates: incumbent Congressman Danny Davis and challenger Thomas Day. No Republican is on the ballot.
---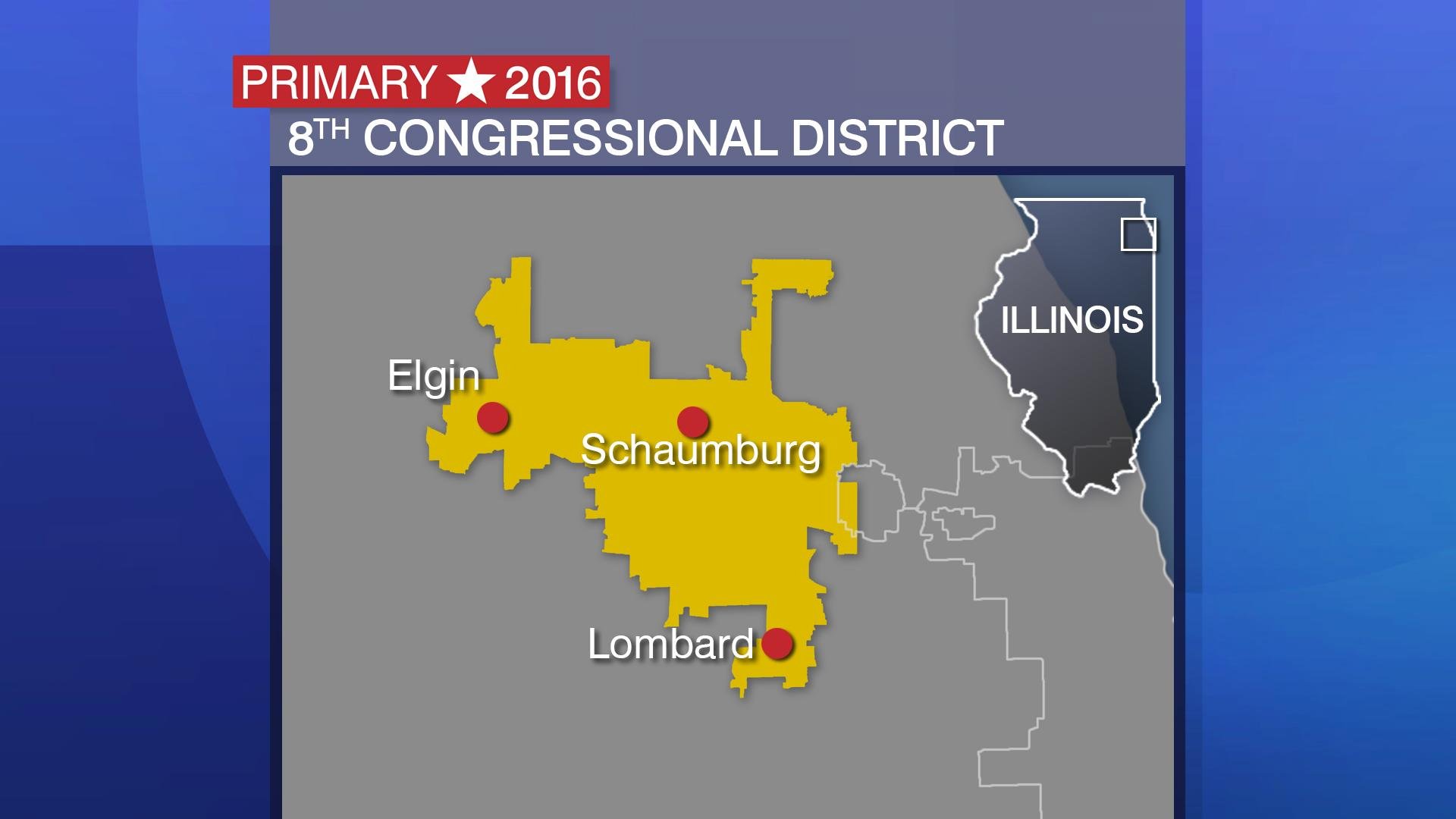 Illinois' 8th Congressional District Candidates
The latest in our 2016 election forums focuses on the 8th Congressional District where three candidates are vying to replace U.S. Rep. Tammy Duckworth.
---