Gov. Bruce Rauner on Wednesday laid out two options for state lawmakers in his second budget address that comes as an unprecedented eight-month stalemate has ensnarled efforts to approve his first fiscal plan.
Rauner told members of the General Assembly that they can either grant him the power to make billions of dollar in cuts himself or they can negotiate with him on a balanced budget that includes new revenue, cost-cutting and watered-down elements of his pro-business, anti-union "turnaround" agenda that the Democrat-controlled legislature opposes.
"To take this path, we don't have to enact every item of our Turnaround Agenda in their current forms, but we must pass real reforms this year," Rauner said.
The political battle over the "turnaround" agenda has stymied efforts to pass a state budget, causing social service programs to close, public universities to dip into their cash reserves, and low-income students to see crucial state scholarship dollars disappear.
Perhaps expecting more prolonged talks over the budget, Rauner called for state lawmakers to send him a stand-alone spending plan for early childhood and primary and secondary schools. Rauner says he wants that plan to increase funding for early childhood education by $75 million.
Below, highlights from our conversation with Amanda Vinicky on the governor's budget proposal and response from Democratic legislative leaders.
On the budget option that would grant Gov. Rauner authority to make billions in cuts
 "[Gov. Rauner is] asking for extraordinary authority to be able to go in, change state statute, make those changes," Vinicky said. "And Democrats, right off the bat, saying no way, no how. There are trust issues there, and further, they don't believe these cuts should happen. So, don't expect that a supermajority of democrats in the General Assembly are going to give the governor what he's looking for either way."
On the budget for the next fiscal year
"We didn't really get any clear answer [on next year's budget]. It wasn't as if you heard answers to what is going to happen with higher education," Vinicky said.
Vinicky said she spoke to a high-level administration official from the budget office who mentioned the budget for fiscal year 2017 could be adopted for fiscal year 2016.
"Really, this is uncharted waters, so nobody quite knows how to manage it, and that was a difficulty for the budget office."
Watch the video to hear our full discussion.
---
Below: Gov. Rauner delivers his budget address. You can also read his speech as prepared for delivery.
---
Related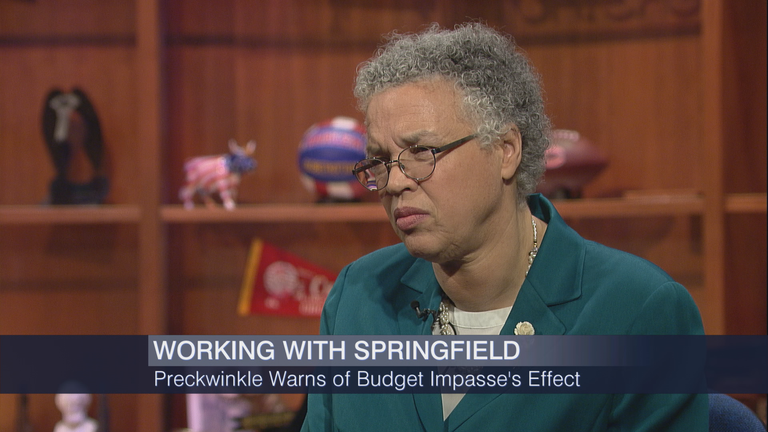 Toni Preckwinkle Warns of a Trickle-Down Budget Crisis in Cook County
Reaction to Gov. Bruce Rauner's second budget address from Cook County Board President Toni Preckwinkle, who says no state budget means layoffs are around the corner.
---