The video cannot be displayed.
Being labeled "the topless cellist" was a mixed blessing for one American artist of the avant-garde. Charlotte Moorman's occasional nudity in her performances attracted the curiosity of "The Tonight Show" and TV audiences. It also may have distracted from the pioneering work she brought to experimental art of the 1960s and '70s. 
A new exhibition at Northwestern University's Block Museum of Art looks at the bold life and legacy of this musician, performer and muse.
TRANSCRIPT
Phil Ponce: A beauty queen from Little Rock, Arkansas, Charlotte Moorman was also a classically trained cellist who performed with symphonies until she discovered the groundbreaking music of composer John Cage; the artistic experiments of her roommate, Yoko Ono; and the video art of the Korean-American artist Nam June Paik.
Lisa Corrin, Block Museum modern and contemporary art curator: Charlotte Moorman came to New York to study at Julliard. She found herself playing Brahms and her mind began to wander. And you might say that she had the good fortune of falling in with the wrong crowd or the right crowd, depending on how you look at it, by meeting John Cage, Nam June Paik and Yoko Ono, and the experimental work that all of these artists were doing at the time really captured her imagination. And she wanted to be an artist who performed the work of her own generation.
PP: She collaborated to create unusual instruments to play, including cellos made from bombs, ice and a so-called "human cello."
Not even a 1967 arrest for indecency by undercover police could shake Moorman's commitment to the avant-garde.
LC: She truly believed that composers like Cage and artists like Nam June Paik were the Michelangelos and Leonardos of her time, and so she wanted to do everything she could to support them by getting the word out about what she thought were their extraordinary achievements.
PP: Moorman was a co-conspirator in the artistic schemes of her peers.
In the video below, Moorman talks about the Living Sculpture project.
---
LC: Charlotte Moorman was definitely a talent magnet. She was also one of the greatest networkers of her generation and often served as the connective tissue between what experimental artists in the United States, particularly New York, were doing and what artists were doing abroad. So she and Paik performed in Australia, in Europe, in Japan, and along this path they collected friends and collaborators who she then in turn brought back to New York, and they performed in the avant-garde festivals.
PP: Moorman created 15 Avant-Garde Festivals in New York and brought the work to diverse locations including Shea Stadium and the Staten Island Ferry.
LC: Charlotte was also part of a generation of artists who wanted to take art out of concert halls and museums and put it in places where a very broad public would have the opportunity to intersect with what these artists were doing. So she would go on the Johnny Carson show, she would go on the Mike Douglas show, in fact she was absolutely fearless when it came to being on national television and even allowing people to make fun of her for outlandish things that she was doing.
PP: The exhibition is drawn from the Charlotte Moorman Archive at Northwestern – a massive collection of personal material from this pack-rat of a performance artist once called the "Joan of Arc of new music."
Below, Moorman performs "Variations on a Theme by St. Saens."
---
LC: You really come away with the sense of the dynamism, her ability to take a performance work and over her lifetime change it by adding to it, embellishing it, and ultimately even if the works were written for someone else, how she made them her own.
PP: Charlotte Moorman died of cancer in 1991 at the age of 57. The exhibition on her life and work is called "A Feast of Astonishments." It just opened at the Block Museum of Art on the campus of Northwestern University and runs through July 17. 
The Mary and Leigh Block Museum is free and open six days a week: 10 a.m.-5 p.m. Tuesday, Saturday and Sunday; 10 a.m.-8 p.m. Wednesday, Thursday and Friday. The museum is closed on Monday. For location and parking information, visit Block Museum's website.
---
Related: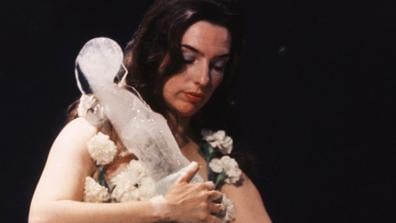 'Topless Cellist' Charlotte Moorman Focus of Major Exhibition at Northwestern
A show dedicated to the life of the barrier-breaking performance artist opens Saturday at Northwestern's Block Museum. 
---