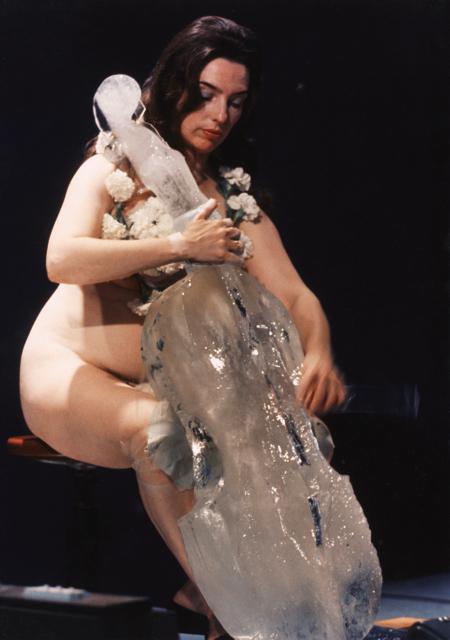 Charlotte Moorman performs Jim McWilliams's Ice Music for Sydney, Art Gallery of New South Wales, 1976. Photographer unknown. (Courtesy of Kaldor Public Art Projects)
Charlotte Moorman didn't mess around when playing the cello. The avant-garde artist often played topless, sometimes with TV's strapped to her breasts and, on one occasion, even suspended by helium balloons over the Sydney Opera House.
Now Moorman, who died in 1991 due to complications from breast cancer, is being recognized by Northwestern University's Block Museum via an exhibition dedicated to her life and work.
Throughout the 1960s and '70s, the Juilliard-trained musician and artist hung with the likes of Yoko Ono, the experimental musician John Cage and a slew of other artists engaged in New York's avant-garde scene.In 1963, she founded the Annual Avant-Garde Festival of New York – though it wasn't actually annual, the 15 resulting fests focused on experimental music, performance, kinetic art and video.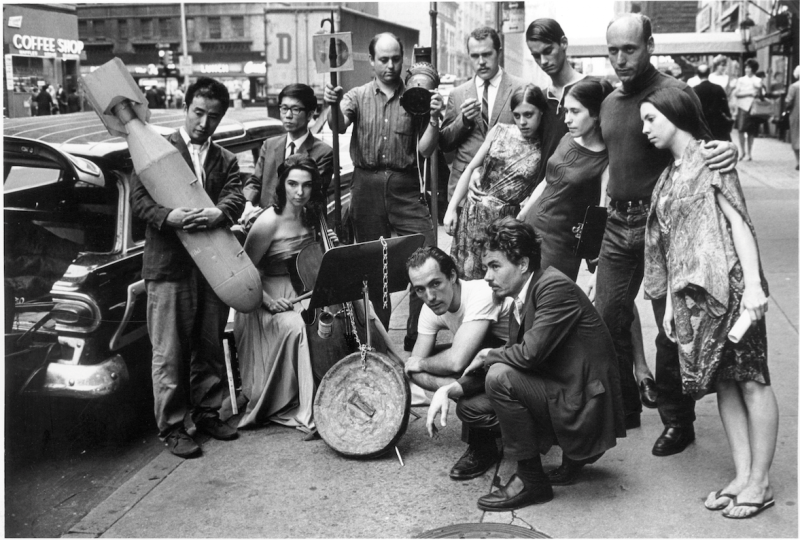 Publicity photograph for 3rd Annual New York Avant-Garde Festival, August 26, 1965. Left to right: Nam June Paik, Charlotte Moorman, Takehisa Kosugi, Gary Harris, Dick Higgins, Judith Kuemmerle, Kenneth King, Meredith Monk, Al Kurchin, Phoebe Neville. In front, kneeling, Philip Corner and James Tenney. (Photo, Peter Moore. Photograph © Barbara Moore/Licensed by VAGA, NY)
The festivals resulted in her collaboration with Korean-American multimedia artist Nam June Paik on a performance in 1967 which gained her notoriety as the "topless cellist." During that performance, Moorman played cello in the dark while wearing a bikini with blinking lights, later she performed topless and was arrested mid-performance by several police officers.   
Though she's been the subject of a documentary and biography, Moorman's work has largely gone under the radar in 20th century art history, in large part because she's remembered more as a muse and collaborator to the better known Paik, according to Block Museum modern and contemporary art curator Lisa Corrin.
"In light of her influence on contemporary performance and her role as an unequaled popularizer of the avant-garde it is long overdue for her to be appreciated as a seminal figure in her own right," Corrin said in a statement.   
Watch Charlotte Moorman perform with Nam June Paik's "TV cello"
---
The Block Museum show, "A Feast of Astonishments," presents a breadth of work from Moorman, including artwork, film clips, music scores, audio recordings, and documentary photographs – some of which come from the private collection of Yoko Ono, who was Moorman's roommate at one point.  
Saturday's opening will feature conversations and discussions from other avant-garde New York artists during that period, including multidisciplinary artist Carolee Schneemann, who was friends with Moorman. There will also be live performances of music by Cage, Paik and others.   
The Mary and Leigh Block Museum is free and open six days a week: 10 a.m.-5 p.m. Tuesday, Saturday and Sunday; 10 a.m.-8 p.m. Wednesday, Thursday and Friday. The museum is closed on Monday. For location and parking information, visit Block Museum's website.
---
We also spoke with Block Museum director Lisa Corrin to talk with her about how Northwestern acquired Moorman's work and exactly what sort of legacy the experimental artist leaves behind.
Chicago Tonight: Northwestern University Library acquired an archive of Charlotte Moorman's works in 2001. Now some 15 years later, we have this show. What took so long?
Lisa Corrin: Well, that's a very, very good question. And the answer is really quite simple. Charlotte's archive had thousands and thousands of objects and they included everything from artworks to her grocery receipts. She saved every answering machine message that was ever recorded on her telephone. She documented every aspect of her life including her surgery. She had pain diaries, valentines, letters, going back to her childhood. It takes many, many years to process that quantity of material and that diversity of material. It was the archive that documented everything she ever did, from her shopping receipts to her art to photographs of the 15 festivals she organized, it really documents all of her activities as an artist and as a curator and as a champion of experimental art.
CT: Moorman was really a New York-based artist. How did Northwestern come to acquire that body of work?
LC: What happened was, Northwestern has a very important John Cage archive. And a man named Russell Maylone was, at the time, a curator in special collections at Northwestern's library. He heard that the Charlotte Moorman archive was coming up for auction. And one of the things Charlotte Moorman is most famous for is her performances of John Cage's work. So Russell jumped on the opportunity to acquire this archive as a complement to the John Cage archives here at Northwestern. And when I arrived in 2012 to run the Block Museum, the university told me that it was creating an art circle to bring all the arts together in one area. And we talked about it at the Block and we really wanted to do an exhibition in which we could focus on an artist whose own work incorporated many art forms. And at the same time, I heard that the Charlotte Moorman archives were here and I was like, "Oh my gosh, this is the perfect match."
CT: Moorman was a longtime friend of Yoko Ono – some of the pieces in this exhibition came from Ono's private collection, is that right?
LC: Yes, Yoko Ono was a very close friend of Charlotte Moorman. They became friends after Yoko Ono did a performance at Carnegie Hall, her famous performance work "Cut Piece." Yoko Ono helped Charlotte financially from time to time. In fact, when Charlotte's archive got so big she couldn't live with it anymore – because she living inside the archive [of her works] for a long time – Yoko Ono gave her financial support so she could rent a second space because the archive was clearly going to be one of the most important repositories for the history of experimental art of the 60s, 70s and 80s in existence. Yoko Ono has lent to the exhibition a number of her own works but also a film that she shot of Charlotte performing "Cut Piece," the very work that Charlotte had admired that Ono had done so many years earlier.
CT: You've said that Moorman's work often gets overlooked. Was she deliberately written out of the avant garde movement or why is it that the average person hasn't heard her name?
LC: Well that is, of course, the question. There are a lot of reasons. One is that, the writing of history always favors the single author and the person whose work is the easiest to categorize. Charlotte didn't fit any category. Also, a lot of the performances she did were viewed at the time as her doing somebody else's work. But in fact, she brought tremendous agency to what she did.  
CT: Though Moorman's work wasn't outwardly or directly connected to the feminist art movement during the 1960s and 70s, was there any kind of statement Moorman was making at that time about nudity and the female body?
LC: Carolee Schneemann, one of Charlotte's best friends and one of the mothers of feminist art, would tell you, as she told me – Perhaps the most feminist gesture of all was the way Charlotte created a sense of community and her deep belief that art was for everyone. And for Carolee, that was really a feminist politic. But it's true that feminist artists sometimes dismissed Charlotte as a narcissist. They thought also she was letting herself be used by male artists. But nothing could be farther from the truth. Charlotte knew what she was doing, she had complete control over the use of her body and she saw her body as a material that could be used for forms of expression whether it was clothed or unclothed. In fact, in one case, she talks about her nudity as "the costume." Charlotte was fearless about putting this raw material of her body at the disposal of art, but also, deploying it to make art herself. In the way that some artists use canvas and a brush, she used her nudity.
This interview has been condensed and edited.
---