For almost a year Gov. Bruce Rauner and one of the state's largest unions have unsuccessfully tried hammering out a new contract for nearly 40,000 public employees. Tensions escalated Friday when Rauner accused the American Federation of State, County and Municipal Employees (AFSCME) of bargaining in bad faith.
Rauner is now asking the state's Labor Relations Board to determine whether negotiations have hit an impasse. If the board says yes, the AFSCME will be forced to decide if it will accept Rauner's last, best offer or go on strike – something the union has never done before.
Joining us to discuss the matter are Anders Lindall, public affairs director for AFSCME Council 31; and John Tillman, CEO of the Illinois Policy Institute.
"We've been meeting with the Rauner administration and they've been sticking to some very extreme demands," said Lindall. "It's a similar dynamic as we've seen in the state budget talks – or lack of talks – in that Rauner has made extreme demands and said he's not going to talk unless he gets his way."
Tillman says that the question of whether an impasse has been reached is clear.
"It appears to me that it certainly has," he said. "I think what's interesting is that Anders used the term 'extreme.' Let's talk about what is extreme: The last comment made by one of the union negotiators was 'I have nothing further to say and I have no interest in hearing what more you might have to say. Take that back to your principals.' But let's remember who the principals are in this negotiation. It's not actually the governor versus the union, it's the union – and the union leaders – versus the governor representing the taxpayers."
Watch the video to hear our full discussion.
Negotiation breakdown
The state touts "significant concessions" in a document provided by Rauner's office that summarizes proposals it has withdrawn, modfied or agreed to during negotiations with AFSCME, whose proposals are described as "unaffordable and unrealistic."
"AFSCME's proposed contract would cost the state over $3 billion over the four-year term of the contract," the document states.
"Negotiations have been robust, totaling 67 days of meetings, 24 formal negotiating sessions, and over 300 different proposals," Rauner wrote in a letter to state employees dated Jan. 15.
He goes on to contrast the negotiation process between the state and AFSCME with that of the state and other unions representing state employees, all done against a backdrop of "challenging financial circumstances."
"We reached agreements with 17 different bargaining units represented by tough, but fair, negotiators from labor unions that have long histories as vigorous advocates for their members," he wrote. "The Teamsters, SEIU, the Laborer's International Union, and the International Union of Operating Engineers are among the unions with which we have reached agreements."
"From one bargaining unit after another, the response was uplifting," the letter goes on to say. "Many of these negotiations took a matter of days, not months. ... AFSCME's response and the tone of their negotiations, however, were very different from the start.
"Last Friday when negotiations broke down, the very last words from AFSCME's chief negotiator were, 'I have nothing else to say and am not interested in hearing what you have to say at this point – carry that message back to your principals.'
"I hear that message loud and clear and take those words to heart. AFSCME has no intention of ever reaching a deal at the table," Rauner wrote. "Our efforts at responding to AFSCME's concerns and producing thoughtful proposals were rejected. We are no closer today than we were 12 months ago. Taxpayers will not be served by further sessions."
AFSCME responds
Roberta Lynch, AFSCME Council 31 Executive Director, issued a response to Rauner's actions. It reads, in part:
"AFSCME and the public-service workers we represent have worked hard to reach a fair agreement with the Rauner Administration, and we're prepared to continue to do so. We reject the claim that the bargaining process is at an impasse.
"Rauner's demands would force workers and their families pay double to keep their health care—making the Illinois state health plan the nation's worst for any state workforce—while getting zero wage increase for four years. Instead of fairly compensating all workers, he wants to base bonuses on unknown criteria open to political favoritism. And the governor wants to wipe out protections against irresponsible privatization of public services. These are just some of more than 200 extreme demands the administration has made during this process."
---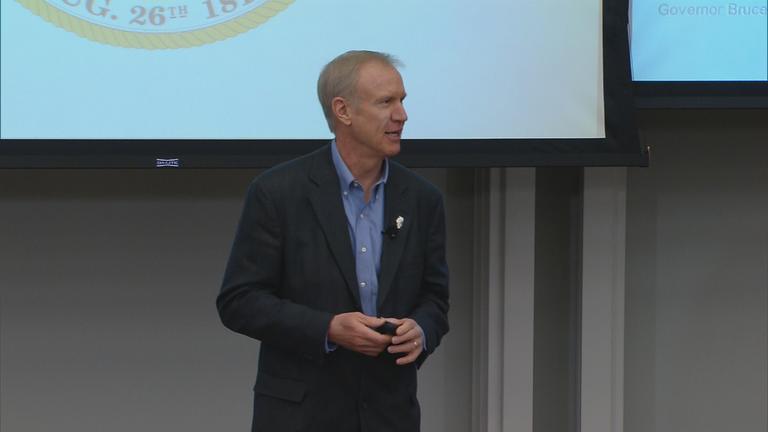 Rauner Addresses State Budget Challenges
January 2015: The state's largest public employee union, AFSCME, has a contract of tens of thousands of state workers that expires in June – the two sides have yet to sit down to negotiate a new one, according to the union.
---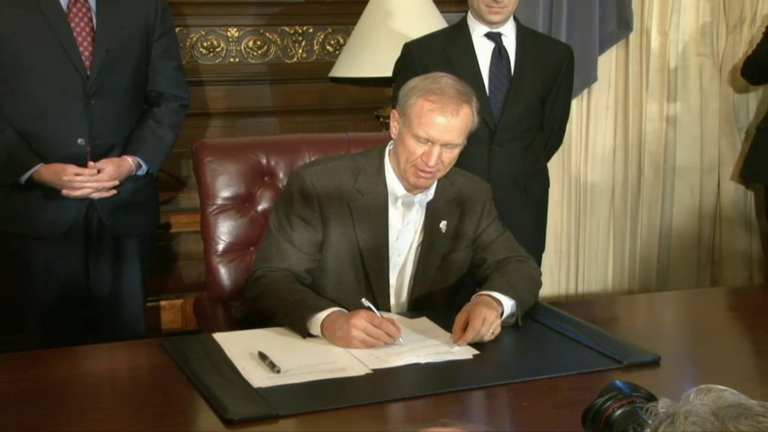 Analyzing Rauner's Executive Order Aimed at Unions
February 2015: The governor issued an executive order absolving state workers who don't want to be union members from paying so-called "fair share" fees. Is this the first step toward Illinois becoming a so-called "right-to-work state?"
---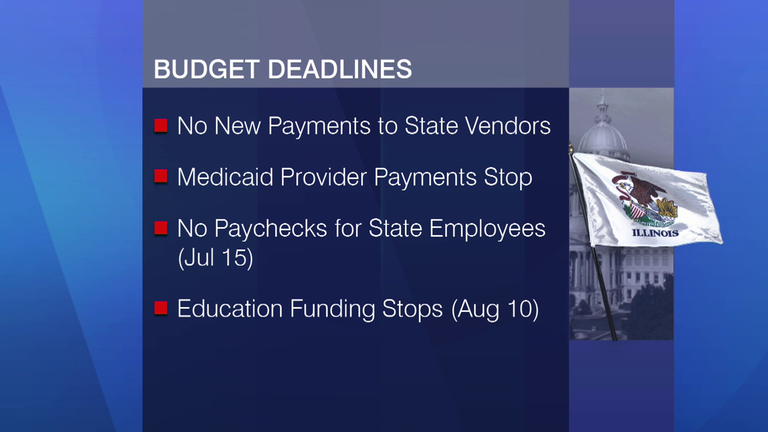 What Happens if a Budget Isn't Passed?
June 2015: The state's largest employee union, AFSCME, which represents prison workers, health care workers, and others says it is far apart on a new contract with the governor. 
---