The video cannot be displayed.
In April, the Art Institute of Chicago announced the largest gift in its history: 44 works created over the past 60-plus years, valued in excess of $400 million.
Yesterday in the Modern Wing, this bounty of Andy Warhols, Jasper Johns and other artworks was unveiled to the public. "Chicago Tonight" visited during the installation of the "New Contemporary" galleries and found a collection that has grown by leaps and bounds.
TRANSCRIPT
Phil Ponce: The Art Institute has gone from having one Andy Warhol–to 10.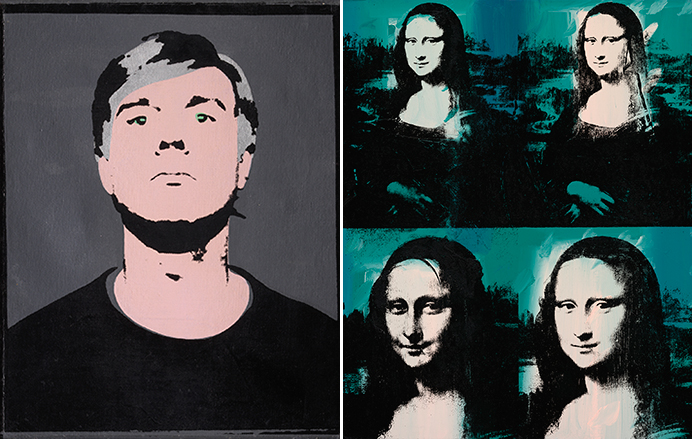 Left: Andy Warhol. Self-Portrait, 1964. Right: Andy Warhol. Mona Lisa Four Times, 1978. (The Art Institute of Chicago, Gift of Edlis/Neeson Collection. © 2015)
They've added to their holdings of modern European master Gerhard Richter.
And they have further fortified their collection of contemporary work with Jeff Koons' creations, Cindy Sherman photographs and an iconic "Target" painting from 1961, one of three Jasper Johns canvases new to the museum.
The Modern Wing is more modern than ever, thanks to a pair of Chicago philanthropists.
James Rondeau, Art Institute of Chicago: This gift from Stefan Edlis and Gail Neeson to Chicagoans of 44 works of art made between 1954 and about 2010 is the single most transformative gift that we've ever received in the arena of modern and contemporary art.
These are works of art that bear repeat visits over years, over generations.
PP: The selection of pop art, its predecessors and its descendants came from the private collection of benefactors Stefan Edlis and Gail Neeson.
JR: Stefan Edlis and Gail Neeson are quite simply, the most distinguished and accomplished collectors of contemporary art in the city today. They've been great supporters of our museum over many years in a wide range of areas from ancient to modern, but the conversations around this gift really coalesced in the last year and a half. Stefan and Gail were extraordinarily generous not only in being open to the possibility of a gift but leaving the selection process of the particular works of art entirely up to the museum.
So between the director, Stefan and myself there was a little bit of horse-trading but as you go through the collection you'll see that there are such extraordinarily iconic masterpieces that the selection was truly self-evident from the beginning.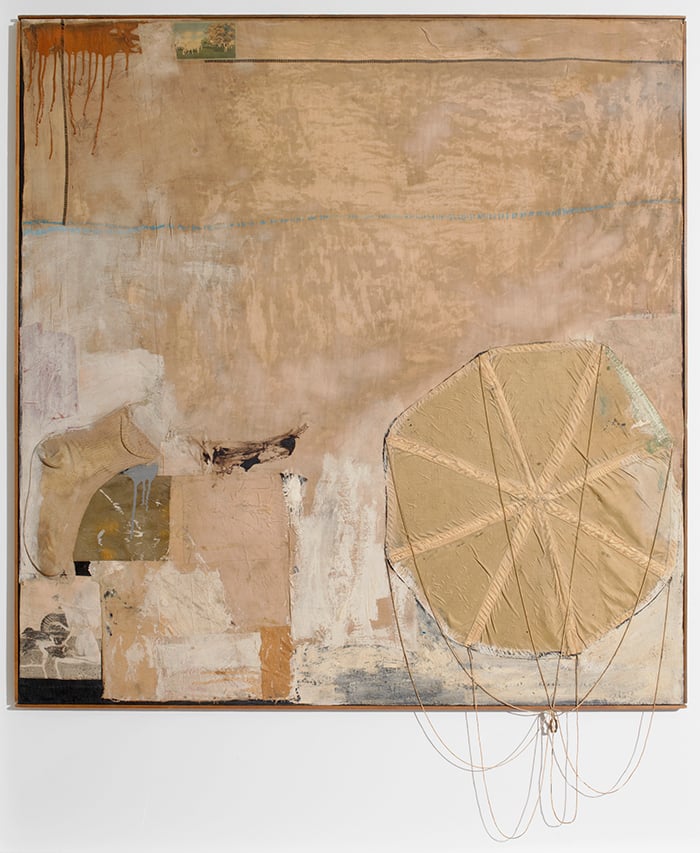 Robert Rauschenberg. Untitled, circa 1955. (The Art Institute of Chicago, Gift of Edlis/Neeson Collection)
PP: The Art Institute agreed to display the artworks as a group for a 25-year period, and then mix the works with other museum pieces for an additional 25 years. But the agreement also allows for flexibility.
JR: The terms of the gift allow for rotation of works of art based on conservation needs, so after a certain amount of time the 12 photographs–six works by Cindy Sherman, six by Richard Prince–will have to rest because of their exposure to light levels. Loan is encouraged so the "combine" behind me will very soon travel to a Robert Rauschenberg retrospective. There can be no major Andy Warhol show without significant loans from the Edlis/Neeson collection–again which they encourage–so there will be somewhat of an elastic presentation over the years as works rotate for conservation, works travel. We may even loan at some point a presentation in another part of our building.
PP: Andy Warhol's Elizabeth Taylor silkscreen will also leave the museum for a spell–the previous owners would like to spend more time with this recent acquisition.
Beyond the marquee names of the 1950s and '60s, works include a painting by John Currin, an ominous cabinet from Damien Hirst and a sculpture by Charles Ray.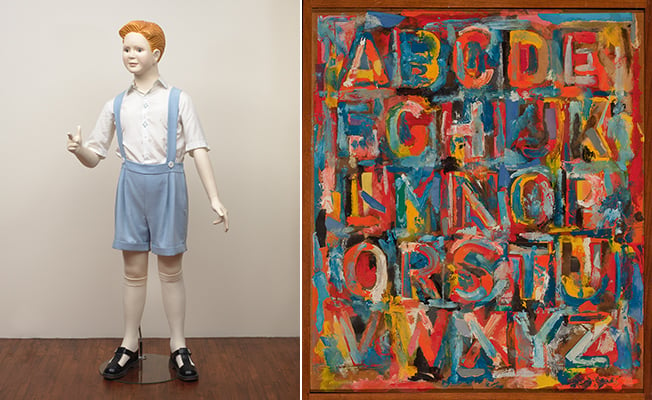 Left: Charles Ray. Boy, 1992. Right: Jasper Johns. Alphabet, 1959. (The Art Institute of Chicago, Gift of Edlis/Neeson Collection.)
And if these appear shocking at a museum perhaps best known for impressionist paintings, remember: The impressionists themselves were once the new kids on the auction block.
JR: The Art Institute is a museum that displays everything from the Bronze Age up to the present moment, but of course all great art, even those made in ancient times, was once contemporary, and we're a museum that has recognized that fact since our founding in the 1890s. This museum was collecting the impressionists and the post impressionists when they were still alive.
PP: The Art Institute sees their latest creative coup as a win for more than just the museum.
JR: We believe that everything we do here is informed by a mission of public service, so these are works that are not meant to be just amassed for the sake of amassing, we're here to advance access to works of art, access to scholarship and the enjoyment by the general public so absolutely this is a gift to the city to the nation to the world but we regard almost everything that we hold in this museum in those same exact terms, Stefan and Gail have just brought it to a whole new level of excellence.
"The New Contemporary" galleries opened at the Art Institute of Chicago on Dec. 13.
---
Related stories: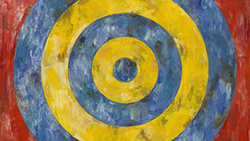 Highlights of Edlis and Neeson's $400M Gift to Art Institute of Chicago
James Rondeau, the Art Institute's head curator of contemporary art, highlights pieces donated to the museum by Chicago art collectors Stefan Edlis and Gael Neeson –  an estimated $400 million gift of iconic contemporary artwork. 
---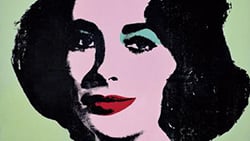 Why $400M Worth of Contemporary Art Didn't End Up at the MCA
This weekend, the Art Institute of Chicago unveils a massive gift of 44 iconic contemporary works in its Modern Wing. Here's how the museum landed those pieces. 
---
The Art Institute of Chicago announced a historic gift -- 42 works of pop and contemporary art have been given to the museum. We speak with museum President Douglas Druick about this unprecedented windfall of art.