The video cannot be displayed.
Mayor Rahm Emanuel's speech on Wednesday morning addressed police accountability, justice and changes needed to police culture at large.
The embattled mayor has struggled to stay ahead of the fallout from the shooting that led to the firing of the city's top cop and a U.S. Justice Department probe of the police department. And while many aldermen applauded the mayor for today's speech, some protesters appeared unimpressed as they took to the streets Downtown.
Just how effective was the mayor's address and what lingering questions remain? Joining us to answer those questions and more are "Chicago Tonight's" Carol Marin and Paris Schutz.
Below, highlights from our discussion.
On what exactly the mayor was apologizing for
Carol Marin: He was apologizing for acting too late, for not getting it soon enough, for not measuring up with half measures, and so he was doing a mea culpa—the likes of which you don't hear from a mayor: a Daley or an Emanuel in City Council. So that made it unusual today.
On the lack of specifics in the speech and emotional tone of the mayor who choked up a couple of times during his speech
CM: Not everyone bought it. Not everybody felt it was sincere. Some people did. Some people didn't but what really needed to put some flesh on these bones was a kind of process answer. Why has it taken Rahm Emanuel five years of being mayor to finally reverse policies of two mayors Daley with regard to releasing incident reports on police issues and brutality? I mean let's go back to Jon Burge—decades ago in police torture. There is a lot that is unanswered in what his thinking was and why now.
Paris Schutz: At press conferences in the past, if anyone asked him about the Independent Police Review Authority or the process of disciplining cops, he would ignore those questions and move on. It was just not an issue for him, which is why a lot of people are skeptical now that he's made it such a crusade.
On if this could be a turning point for the Chicago Police Department
PS: If you listen to the mayor and if you listen to City Council, it's going to have to be. They say they're serious now. The mayor keeps mentioning this task force, although there was a report done by a former federal prosecutor, Ron Safer at the behest of the city that made a lot of recommendations on reforming IPRA, on reforming police discipline. Those weren't put into place, so again there's still a lot of skepticism from protesters, from the community that this really is going to be the turning point. But Phil, it's really going to have to be.
---
Mayor addresses City Council
With his approval rating at an all-time low and protesters chanting outside the City Council chambers, Mayor Rahm Emanuel delivered a rare special address to apologize for the fatal police shooting of Laquan McDonald.
"I take responsibility for what happened because it happened on my watch," Emanuel said before a City Council chamber packed with an unprecedented number of news cameras. "If we're going to fix it, it's my responsibility with you. If we're going to begin the healing process, the first step in that journey is my step. And, I'm sorry."

"No officer should be allowed to behave as if they are above the law just because they are responsible for upholding the law."
–Mayor Emanuel
---
The atmosphere outside Council chambers was tense, as dozens of protesters engaged in chants and shouts like "16 shots and a cover up!" in reference to the shooting death of Laquan McDonald at the hands of police Officer Jason Van Dyke and the subsequent fallout. They say they were not impressed by the apology, and that it is too little, too late.
Protestors outside council chambers: "16 shots and a cover up!" #chicagotonight pic.twitter.com/S4rFHqhu9h

— Paris Schutz (@paschutz) December 9, 2015
---
"The reason you see anger in this room right now is because we haven't seen anything," said Jeffrey Coleman, whose brother was Tasered by cops and later died in police custody in an incident caught on camera in 2012. That video was released to the public earlier this week. "People keep talking about a bunch of things, but we don't see anything happen."
The mayor's wide ranging speech rehashed themes he's spoken on in recent days, including what he believes to be a "code of silence" that exists within the police department.
"As we move forward, I am looking for a new leader of the Chicago Police Department to address the problems at the very heart of the policing profession," Emanuel said
Watch the mayor's speech below or read the speech here.
---
"This problem is sometimes referred to as the Thin Blue Line. Other times it is referred to as the code of silence. It is the tendency to ignore, deny or in some cases cover-up the bad actions of a colleague or colleagues. No officer should be allowed to behave as if they are above the law just because they are responsible for upholding the law.
"Permitting and protecting even the smallest acts of abuse by a tiny fraction of our officers leads to a culture where extreme acts of abuse are more likely, just like what happened to Laquan McDonald. We all have grieved over young lives lost again and again to senseless violence in our city," he added. "Now more than ever we need good and effective policing. But we cannot have effective policing if we turn a blind eye to the extreme misconduct we saw at its worst in the tragic case of Laquan McDonald. We cannot ask citizens in crime-ravaged neighborhoods to break the code of silence if we continue to allow a code of silence to exist within our own police department. And we cannot ask young men to respect officers if officers do not respect them in kind. Respect must be earned and it is a two-way street."
The speech received a standing ovation from aldermen, most of whom are taking a wait and see approach before determining whether to jump ship or to continue to support his initiatives in such large numbers.
"The proof is going to be in the pudding," said Alderman Leslie Hairston (5th Ward). "You've got to see what actual steps are made."
"I'm optimistic the mayor will take this opportunity to implement the reforms," said Alderman Howard Brookins (21st Ward). "If not, the public will continue to be skeptical and cynical."
Some community leaders, however are skeptical of the role aldermen played in the Laquan McDonald issue, and why more of them didn't speak up and demand the release of the video.
"They co-sign these payouts to police shooting victims without knowing the details of why we pay all these millions," said Bishop Larry Trotter of the Sweet Holy Spirit Church. "We elect you to be accountable. We're going to have to run people in all 50 wards."
Meanwhile, hundreds of protesters circled around the outside of City Hall, staging sit-ins in busy intersections like Washington and Clark before marching along Michigan Avenue into the Gold Coast. Chants like "Justice for Laquan! Justice for Ronnieman!" were heard as people carried signs imploring Mayor Emanuel to resign. The protests were largely peaceful, although a few minor scuffles that broke out.
---
More from "Chicago Tonight"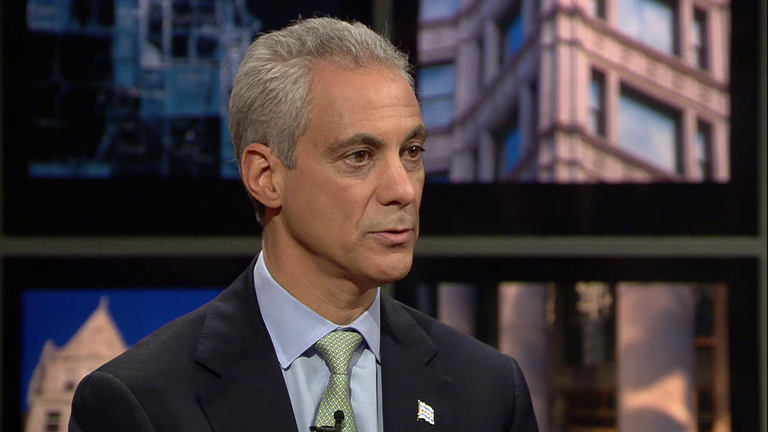 Mayor Emanuel on Police Reform, Accountability
The Chicago Police Department is the subject of national scrutiny following the shooting deaths of two African-American males at the hands of police officers. Mayor Emanuel joins us for a one-on-one discussion about police reform and calls for his resignation.