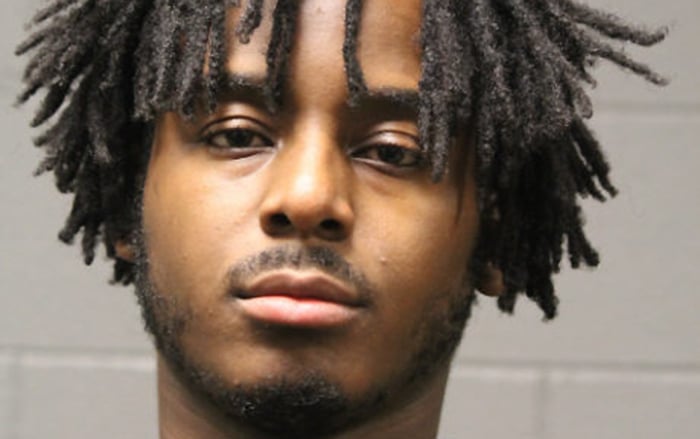 Malcolm London mugshot (Chicago Police Department)
All charges were dropped Wednesday against activist poet Malcolm London, who was arrested Tuesday evening after participating in protests over the killing of Laquan McDonald, a 17-year-old African-American shot by a white police officer in October 2014.
London, a 22-year-old Chicago-based slam poet who has performed on Ted Talks and also co-chairs the Chicago chapter of the Black Youth Project 100, was arrested just before 7:30 p.m. after striking an officer at the 100 Block of East Balbo Avenue, according to a Chicago Police Department news release. 
Following his arrest, supporters took to Twitter, demanding his release and implying London had been targeted by police.  
---
The atmosphere at bond court was tense Wednesday afternoon, with presiding Judge Peggy Chiampas warning the courtroom – many of them there to protest London's arrest – that any talking or shows of solidarity could result in their arrest.
"Let me make myself very clear," she said. "I will not tolerate any talking in this courtroom. As long as everybody in this courtroom acts respectfully … then there's not going to be a problem."
[Demonstrators Call for Justice in Shooting Death of Laquan McDonald]
Tenny Johnson, who was at the protest with London, said he thought activists were deliberately targeted by police.
Johnson, 28, said protesters were getting ready to disperse when someone threw a smoke bomb into the crowd.
"Ten seconds later, you hear people screaming, 'They're grabbing Malcolm, they're grabbing Malcolm.' He didn't do anything, he didn't assault a police officer, which is what he's charged with."
"It was fabricated, it was made up," he continued. "The only violence that was committed was by police."
Following London's release, the group there to support him began to march to 41st and Pulaski, where Laquan McDonald was killed, DNAinfo.com reported.
Meanwhile, the hashtag #FreeMalcomLondon was trending on Twitter.