Gov. Bruce Rauner announced Monday that Illinois is temporarily closing its border to the settlement of Syrian refugees in the wake of the attacks in Paris last Friday and news reports that a Syrian passport was found at the scene of one of the attacks. But does everyone agree with the move, and do governors have the authority to halt the program?
Most refugee organizations and legal scholars we spoke with believe the answer is no. Under federal law, the governor doesn't have the authority to turn away refugees that have been approved for resettlement by the U.S. Department of State. But Rauner's legal team says they believe they are on solid legal standing, sharing with "Chicago Tonight" a federal law that they interpret to mean they do have that authority.
Rauner issued the following statement:
"Our nation and our state have a shared history of providing safe haven for those displaced by conflict, but the news surrounding the Paris terror attacks reminds us of the all-too-real security threats facing America. We must find a way to balance our tradition as a state welcoming of refugees while ensuring the safety and security of our citizens. Therefore, the state of Illinois will temporarily suspend accepting new Syrian refugees and consider all of our legal options pending a full review of our country's acceptance and security processes by the U.S. Department of Homeland Security."
Illinois joins 21 other states whose governors have made similar proclamations, according to the Associated Press.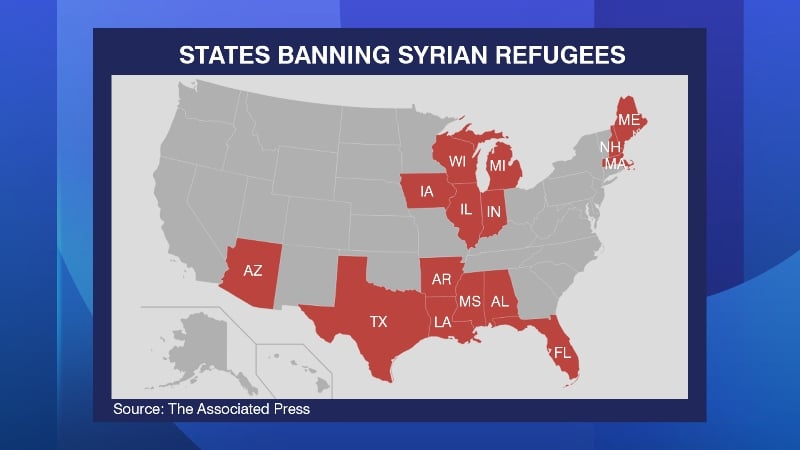 U.S. Sen. Mark Kirk commended the governor's decision today, saying:
"The Director of National Intelligence James Clapper and FBI Director James Comey have cautioned that terrorist infiltration of Syrian refugees is possible based on our limited ability screen all Syrian refugees. No refugee related to the Syrian crisis should be admitted to the United States unless the Administration can guarantee, with 100 percent assurance, that they are not members, supporters, or sympathizers of ISIS."
But U.S. State Department officials today said resettlements would continue, and President Obama said such bans are a "betrayal of our values."
"We do not close our hearts to these victims of such violence, and somehow start equating the issue of refugees with the issue of terrorism," Obama said.
"We feel very strongly that we have a process in place that allows for the safe resettlement of Syrian refugees, and we stand by that process," said U.S. State Department deputy spokesman Mark Toner. "It's rigorous, it's effective and allows the most vulnerable victims in Syria the chance for a new life."
Chicago Mayor Rahm Emanuel pivoted a bit away from the issue when asked Monday if he agreed with Rauner's move.
"The U.S. government is reviewing everyone and all their papers. That's a year away from the present moment," he said. "Security and our values go  hand in hand. The U.S. government is in a vetting process, but our values remind ourselves that we are an open and welcoming society."
The governor can technically hold state budget support that would normally go to resettlement agencies. But because of the state budget impasse, that money is not being paid now anyway. The resettlement agencies "Chicago Tonight" talked to said they would continue resettling Syrians in Illinois unless there was some law enforcement action taken against them. We're told that a new family is slated to arrive Dec. 3.
Suzanne Sahloul, who runs The Syrian Community Network, says there are an estimated 21 families in Illinois that have come in the last two years as a result of the current war in Syria – 16 in Chicago. Sahloul says the vetting process takes typically a year and a half, and explained to "Chicago Tonight" a little more about what it entailed.
"Cultural competency trainings, they do language, health screenings," said Sahloul. "Refugees are traditionally interviewed five to six times about their background. So it's a very intensive process. It's disappointing to say the least that we are thinking like this and pushing refugees out."
The U.S. has resettled about 1,800 Syrians since the start of the conflict. The president has called for that number to go as high as 10,000, U.S. Sen. Dick Durbin said he supported allowing 100,000 and U.S. Rep Tammy Duckworth said she would support 200,000.
The current challenge to the resettlement process could wind up in the courts since the legalities aren't entirely agreed upon.
---
Related: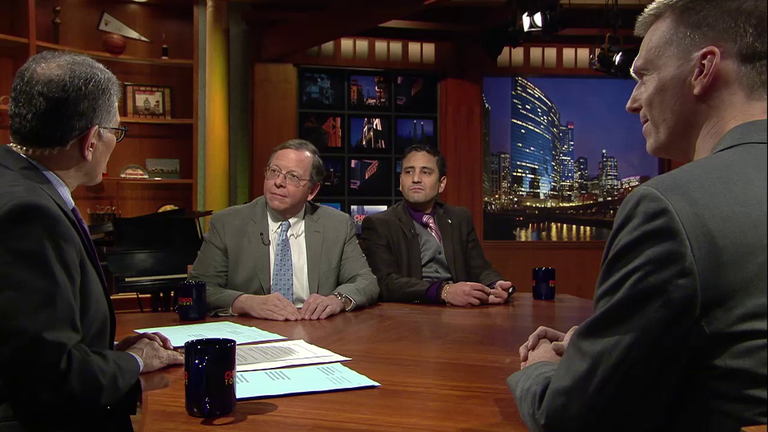 Paris Terrorist Attacks Cause Worldwide Security Concerns About ISIS
A manhunt is underway in Europe for the suspects behind Friday's coordinated terrorist attacks in Paris. We discuss the attacks and their aftermath with a panel of experts.