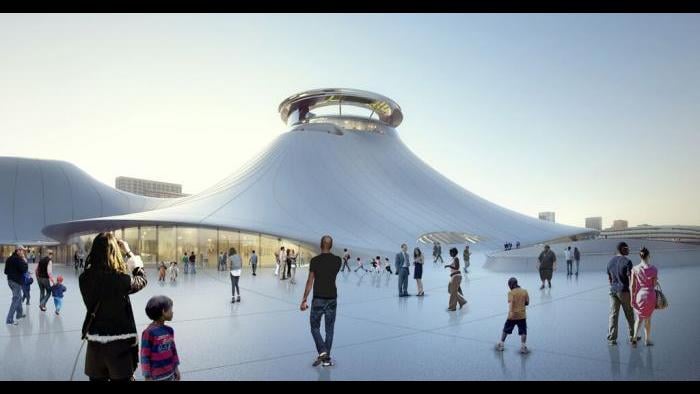 Rendering of the public plaza for the Lucas Museum (Courtesy of the Lucas Museum of Narrative Art)
A group challenging the legality of a private museum from film mogul George Lucas has until December to make its case, with a final court date set for February, a federal judge said Tuesday.
The lawsuit, brought by the preservation nonprofit Friends of the Parks, has questioned the Chicago Park District's right to lease lakefront land to the Lucas Museum of Narrative Art, a public museum proposed by the "Star Wars" filmmaker.
The lawsuit's big claim hinges on Illinois' public trust doctrine, which states that certain resources – such as land along Lake Michigan – should be protected for public use.
The proposed museum would be sandwiched between the Field Museum and Soldier Field along the lakefront and would lease that property from the Park District for $10 over the next 99 years.
Lawyers for the city of Chicago have argued that the lease agreement doesn't violate the public trust doctrine and have asked that the case be dismissed. At Tuesday's court hearing, Judge John Darrah gave Friends of the Park a three-week extension to respond to the city's motion to dismiss the case.
Darrah also set a new court date of Feb. 4 to ultimately decide the museum's fate.  
Following the proceedings, Friends of the Parks lawyer Thomas Geoghegan said the lease agreement between the city and the museum inherently tramples on that public trust doctrine.
"The case law's very clear. Just because [the city] is able to articulate something they call a public purpose, it doesn't give them a blank check to dispose of public trust property in any way they like," Geoghegan said.  
He went on to say that the Park District agreement with the museum actually extends three successive 99 leases at $10, meaning that the Lucas Museum could maintain the lakeshore property for up to 297 years.
"By the time the lease is up, there may be no city of Chicago left," Geoghegan said.
This is the first slowdown for the museum, which quickly passed both zoning challenges and a City Council hearing on Oct. 28. Construction on the 300,000-square-foot futuristic building had been projected to begin as early as spring.
Darrah emphasized Tuesday that an order is currently in place preventing any groundbreaking on the lakefront land in question until the lawsuit is resolved.