A young visitor learns about recycling at the Nature Museum's "Peanuts ... Naturally" exhibit. (Sean Keenehan)
For half a century, "Peanuts" creator Charles M. Schulz (1922-2000) entertained and educated the masses with didactic characters that fans came to know as real people—with real causes. From pollution to recycling, the "Peanuts ... Naturally" exhibit at Chicago's Peggy Notebaert Nature Museum embraces Schulz' forward-thinking ability to whimsically confront serious, global issues through the hearts of children and adults alike.
"When the head of the museum experience team was talking about a 'Peanuts' exhibit, I couldn't get my head around it—I just kept thinking of my favorite characters," said Nature Museum President and CEO Deborah Lahey. "But then when it came in, the piece I forgot was that Charles M. Schulz was quite an environmentalist."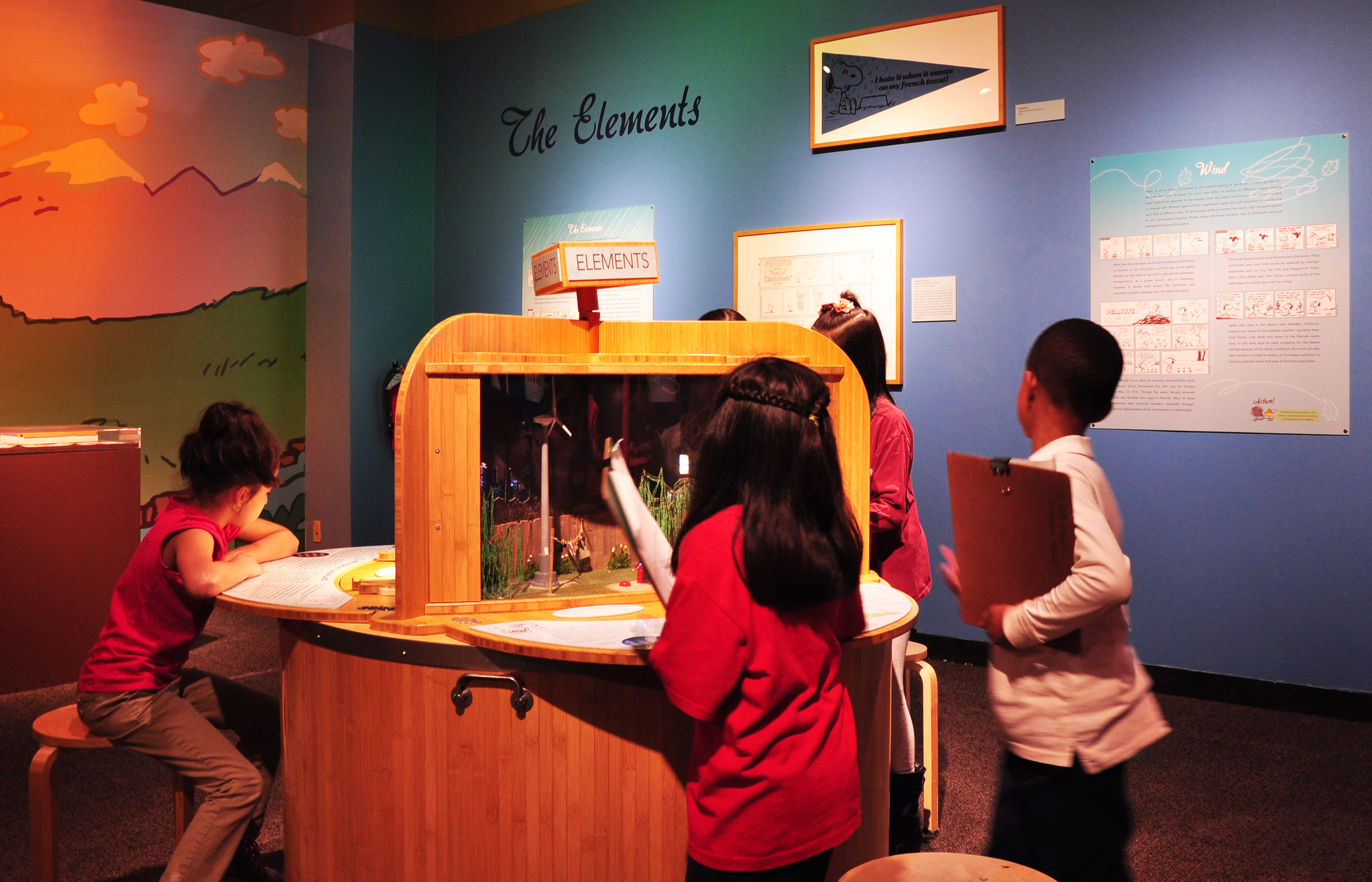 Children learn about wind and other elements at the "Peanuts ... Naturally" exhibit. (Sean Keenehan) Occupying approximately 5,000 square feet on the museum's second level, the "Peanuts ... Naturally" exhibit features environmentally-themed "Peanuts" comic strip panels paired with memorabilia and interactive kiosks—all arranged according to scientific topics that Schulz addressed. For a relatively small amount of space, the exhibit showcases an overall depth of Schulz' environmental knowledge.
"The environmental theme was part of the reason to bring the exhibit into the museum, but it's really partly because the exhibit talks about all of the different elements," Lahey explained. "It talks about the solar system, it talks about gardening, it talks about birding, weather elements, trees and then into the environmental aspects."
Visitors are greeted at the exhibit's entrance by large, "Peanuts" selfie cutouts and led straight past Snoopy's doghouse into an area called "the universe," where strips on the topics of the solar system, the sun and eclipses are presented. Another section features a hands-on recycling station that offers correct procedures for what items to recycle where. According to Lahey, one of the most popular interactive activites is a lifelike urban gardening box that demonstrates how to plant and harvest vegetables.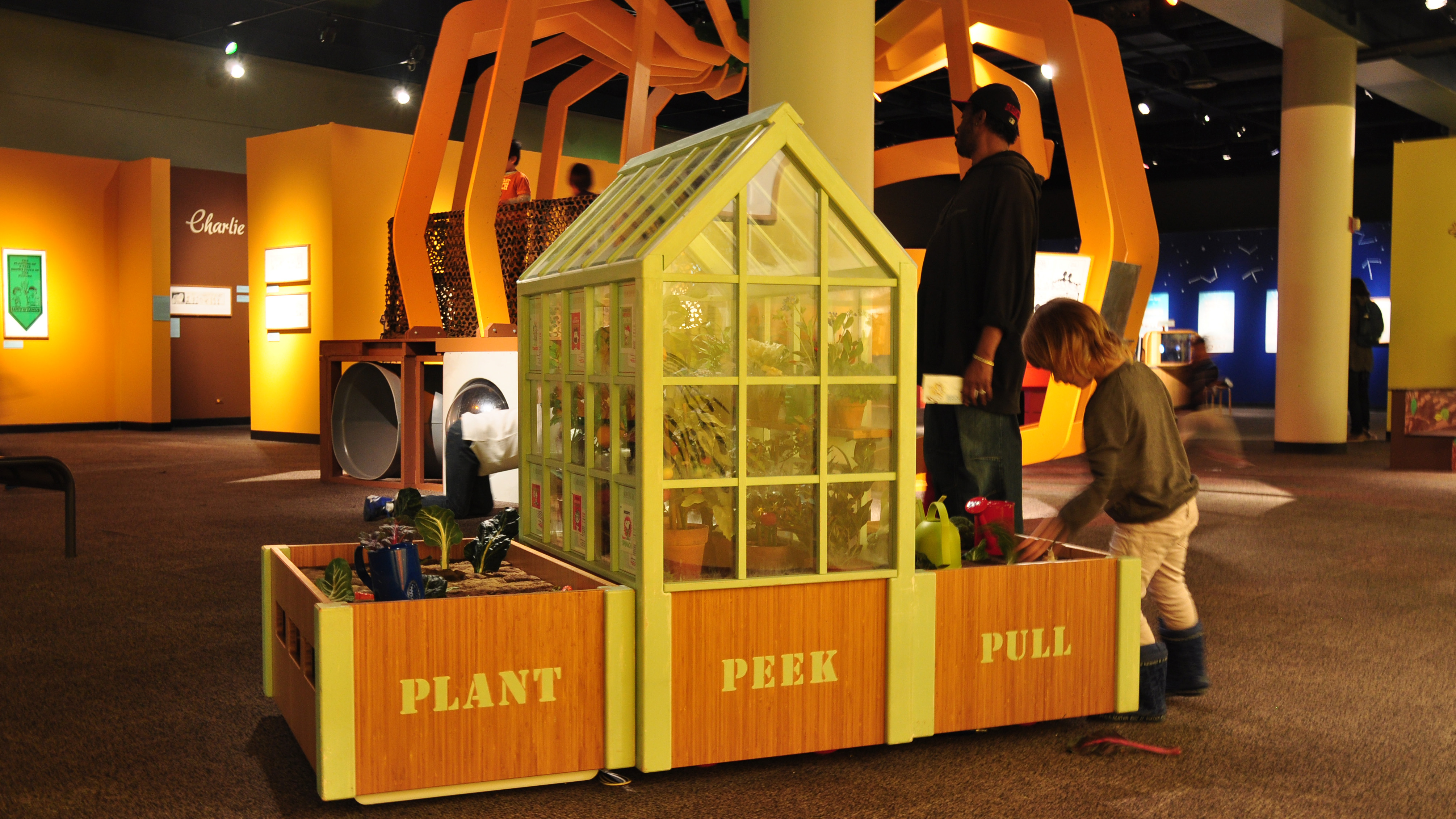 A child tends to the crops in a "Peanuts ... Naturally" gardening activity. (Sean Keenehan)
Part of the appeal of the "Peanuts" was Schulz' utilization of children to tell adult stories at a level that was easily understood. And while many people may associate the "Peanuts" to their own childhood, Lahey said that the exhibit, like the museum's programming itself, is geared toward the young and the old.
"This exhibit really is for both children and adults and, even when we do our own exhibits, we try to find that storytelling for adults and for kids," Lahey said. "The 'Peanuts' storytelling is through these iconic children. They don't age, they look great, and they have these personalities that you can probably find in your own family. Hopefully adults will take a moment to pause and think about what these kids are saying."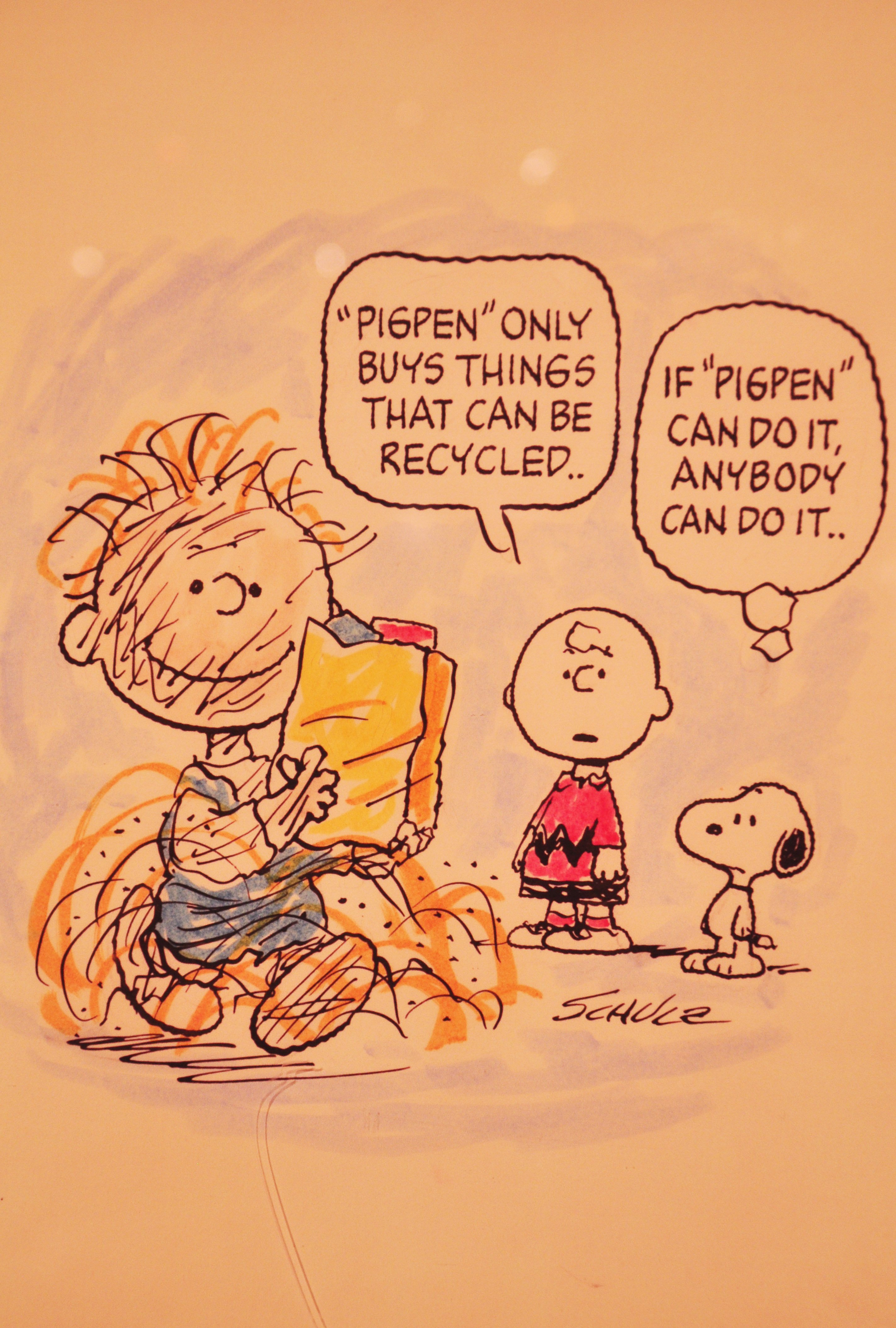 A "Peanuts" poster features Pigpen's clean approach to recycling. (Sean Keenehan) With messages on framed banners, pennants and posters that include phrases like "pounce on pollution," "bend a little, pick up a lot" and "I believe in conserving energy," the "Peanuts" gang often says a lot with very few words—and in the case of Charlie Brown's pet beagle Snoopy—no words at all.
"You don't need a lot of words to get a message across, which is another beautiful thing about a lot of these panels," Lahey said. "They're not heavy in dialogue, they're very simple and clean, and you get to the point—not a lot of frill."
A "Charlie Brown and the EPA" section includes a screening of a 1978 "Peanuts" animation special titled "Charlie Brown Clears the Air." Produced in collaboration with the Environmental Protection Agency and the American Lung Association, the animation announces air pollution dangers associated with burning leaves, motor vehicle emissions and other causes.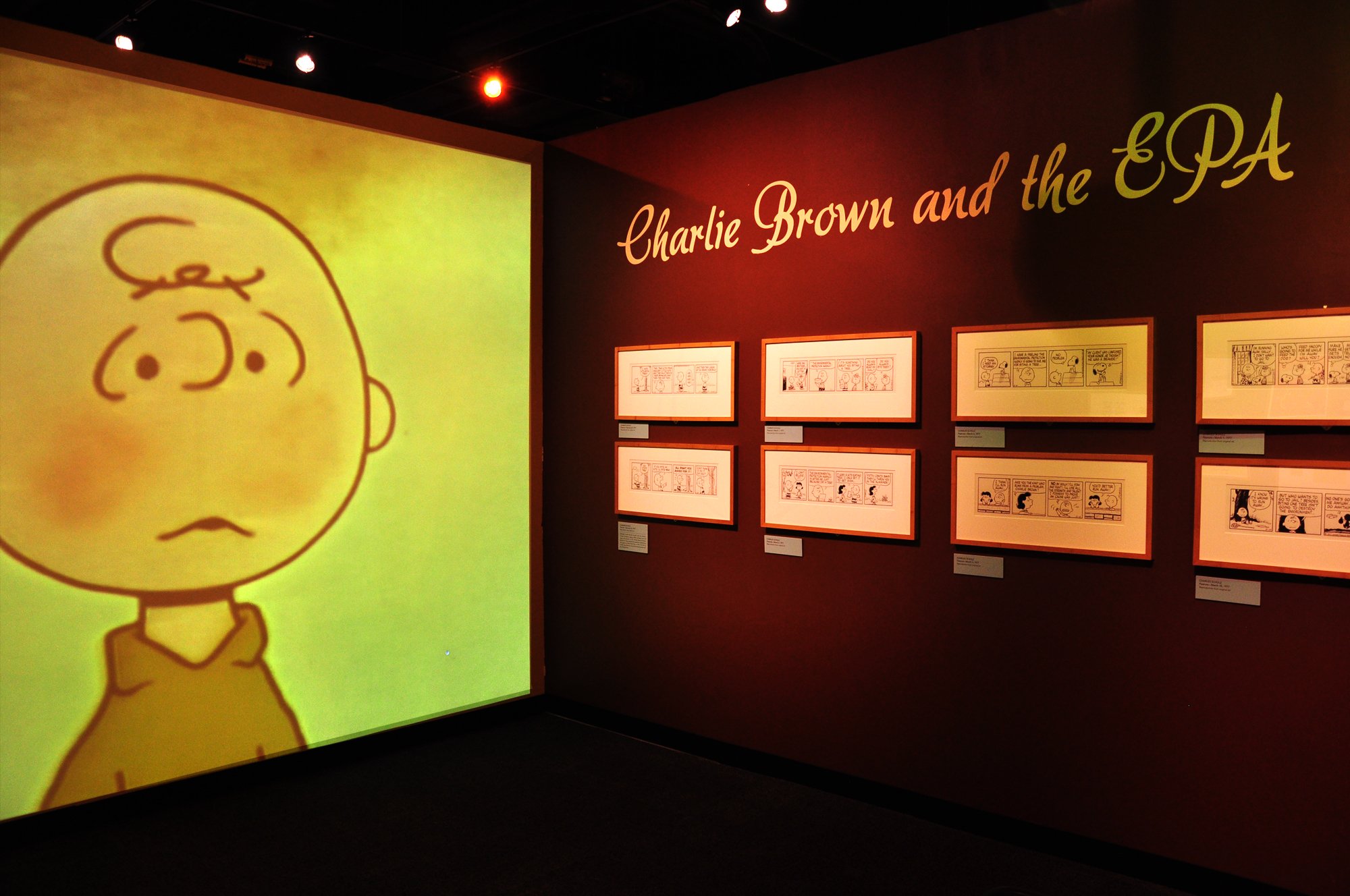 The museum's exhibit features a screening of the animation "Charlie Brown Clears the Air." (Sean Keenehan)
The travelling exhibit is on loan from the Charles M. Schulz Museum in Santa Rosa, California. In order to supplement the exhibit's scientific themes, the Nature Museum dug into its own collections to add to displays like "the great pumpkin," which houses melon and squash plants from the museum's botanical collections; and "Woodstock's nest," which features real nest specimens from the museum's bird collections.
Complete with a "name that bird" activity related to Woodstock's bird classification and its close proximity to the museum's permanent "Birds of Chicago" exhibit, the "birds" section of the "Peanuts ... Naturally" exhibit demonstrates the consistency between the exhibit's themes and the Nature Museum's focus on coexistence of humans and wildlife in the city.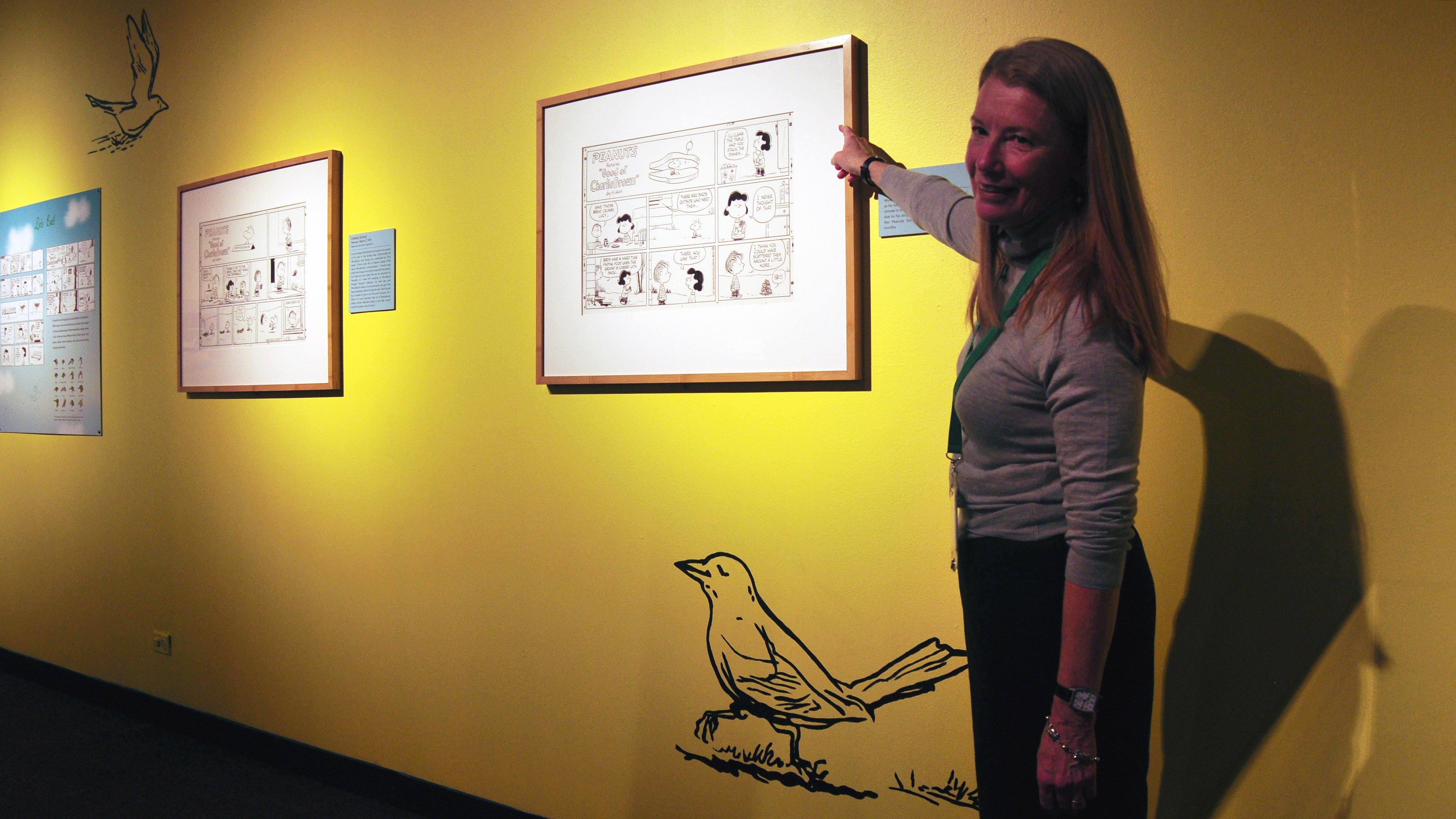 Nature Museum President and CEO Deborah Lahey in the "Birds" section of the "Peanuts ... Naturally" exhibit (Sean Keenehan) "We have taxidermied and study skins of birds in our collections next door and on the other side of this is our Wilderness Walk area, so this exhibit really compliments the rest of the museum," Lahey explained. "Even on our grounds—we have about a third of a mile of what we call nature trails—so there's a lot of birds, a lot of wildlife that could be, literally, right outside our front door. So you learn a lot from all of these things and I think people forget how much wildlife there is in the city and how close they are to nature. This is a fun way to get reminded of that."
With the new 3D "Peanuts Movie" set to be released in theaters nationwide Friday, Nov. 6, and "A Charlie Brown Christmas" (1965) ready to celebrate its 50th anniversary this holiday season, the timing of the "Peanuts ... Naturally" exhibit could not be any better. Considering the organic nature of Schulz' work itself and his sincere messages to take care of the planet and each other, it seems that the "Peanuts" will remain relevant with timeless sentiments that never go out of style.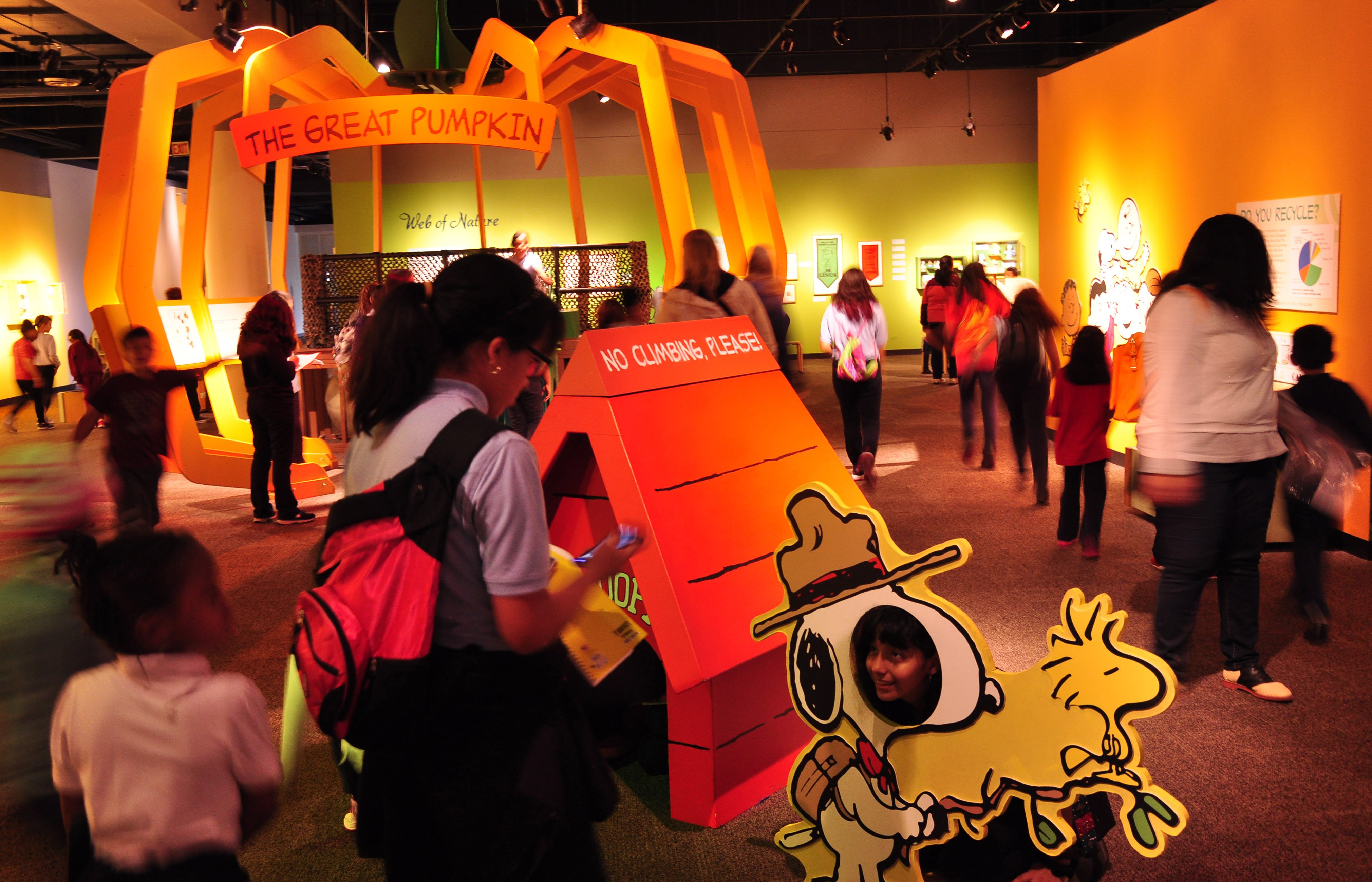 The "Peanuts ... Naturally" exhibit is on display at the Nature Museum through Jan. 3. (Sean Keenehan)
The "Peanuts ... Naturally" exhibit is on display at the Peggy Notebaert Nature Museum through Jan. 3, 2016. Exhibit admission is included with the cost of general museum admission.
---