From a dilapidated, dangerous detention facility where abuse of inmates was rampant, to a modern rehabilitation center where juvenile delinquents go to school, learn yoga and get mental help.
It got so bad at the Cook County juvenile detention center that the federal courts had to step in and run it. Today, county officials are celebrating the end of that era.
Paris Schutz got an exclusive look inside to find out how it happened.
---
TRANSCRIPT
Paris Schutz: It's not often there's a celebration at an incarceration facility. But today, county and corrections officials have come together to mark a new beginning at the historically troubled Juvenile Temporary Detention Center.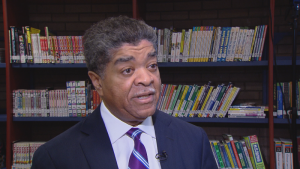 Cook County Chief Judge Tim Evans Tim Evans, Cook County Chief Judge: These are our kids, so this is a great day to celebrate a new opportunity for them – a second chance.
PS: It's also a second chance for the facility itself. In 1999, a lawsuit forced a federal judge to appoint a monitor to oversee reform. Today marks the end of that oversight. Cook County Chief Judge Tim Evans is now in charge and says it has undergone a change in philosophy.
TE: Children aren't little adults. They are not mature enough to make decisions that are sometimes thrust upon them. They have impulses that can't be nurtured by maturity, so the difference is, now, their welfare is uppermost in everybody's mind.
PS: Evans hired Leonard Dixon, who held similar posts in Detroit and Miami, to be the JTDC's director. He says there were still safety problems when he arrived.
Cook County Juvenile Detention Center Superintendent Leonard Dixon Leonard Dixon, Cook County Juvenile Detention Center Superintendent: Our thing is to have some normalcy when they come here. Yeah, it's a detention center, but the issue is about the humane manner in which we treat kids.
PS: The residents at the JTDC are awaiting trial, charged with a range of offenses from carjacking to murder. But they are subject to more than discipline. There is full Chicago Public School curriculum, and 47 programs that run the gamut from arts to physical education. Is this the first time they've been exposed to things like music, art, writing, yoga?
LD: There's no question about that because they've been out in the streets running.
PS: Dixon says his philosophy is to change the underlying behavior of troubled youth. Many who enter are full of anger and lack self-control. Sixty percent of them are diagnosed with mental illness.
LD: What we do is make sure we put some things in them so that they will think about what they do when they come back out. I think people have this idea that you're gonna fix them. No, we don't fix. What we do is provide information, we work on some of their problems. 
PS: It's a far cry from the disastrous situation of the late '90s and early 2000s, according to Jennifer Vollen-Katz of the prison reform group the John Howard Association.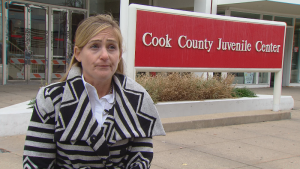 John Howard Association Executive Director Jennifer Vollen-Katz Jennifer Vollen-Katz, Executive Director of the John Howard Association: The conditions were unsafe, they were unsanitary. There were reports of extreme violence, accounts of staff kind of getting youths to fight with each other as a sport, as a form of entertainment.
PS: Children now get full mental health treatment, and they are confined to their rooms for disorderly behavior, but with regular attention from a social worker. A budget of $53 million, largely from county coffers, funds 688 employees to treat a population of 318 residents. The juvenile offenders are here for an average of three weeks. But there are some 16- and 17-year-olds charged with serious felonies that, in some instances, stay longer than a year awaiting trial.
One 17-year-old, who has asked to remain anonymous, says she's been in custody for a year and a half, and that she's discovered a lot of things about herself in that time.
17-year-old: I've learned how to control myself, my anger. I've learned how to be around others without a problem. Because I'm an only child, I'm not used to being around a lot of people.
PS: Vollen-Katz commends the detention center for reforming to the point of no longer needing federal oversight, but says the county shouldn't rest on its laurels.
JV: There should be regular involvement from outside observers to ensure that the conditions are safe, that programmatically youth are getting enriched and treated, and that we are at least meeting the constitutionally minimum standards, if not doing better, to take care of our kids.
PS: Cook County Board President Toni Preckwinkle has in the past called for the eventual closure of the center and the placement of alleged youth offenders into smaller community homes. But Judge Evans says it is needed, especially now that it has a second chance as a place of rehabilitation.
For Chicago Tonight, this is Paris Schutz.