After weeks of public debate, rallies and demonstrations, the Chicago Board of Education today approved two new charter schools out of 13 that applied.
As to why only two schools were approved, CEO Forrest Claypool gave a number of reasons, ranging from concerns about whether the school had a demonstrated track record for implementing a particular type of learning model to funding concerns.
The board approved KIPP Academy number 5, in the city's Humboldt Park neighborhood. Board members also approved the expansion of an existing school, KIPP Create in the Austin Park neighborhood.
The third school approved is Noble campus #17, in the city's Brighton Park neighborhood. A number of advocates there have demonstrated plenty of opposition to that particular school, saying it would take resources from the seven or nine high schools already in the area.
But Claypool says those schools are part of the very reason the district is recommending these charters.
"There's considerable community demand for high-quality options," Claypool said. "A majority of high schools on the Southwest Side are overcrowded or above ideal capacity."
Community tension
High school students protest at the CPS board meeting.
This morning, parents of charter schools students were demonstrating outside of CPS headquarters showing their support for their schools, but they were interrupted by a few hundred high school students, specifically from Jones College Prep, Walter Payton and Whitney Young, all selective enrollment high schools.
Those students say the district has been misallocating funds that should be going to district-run schools.
"On the West Side alone there are three charter schools in the same building that have a total enrollment of about 120, with 13 first year freshmen" said Ave Rivera, a senior at Whitney Young High School. "That is unacceptable, because the funds that are going [toward] that school are depriving the funds from the local neighborhood schools."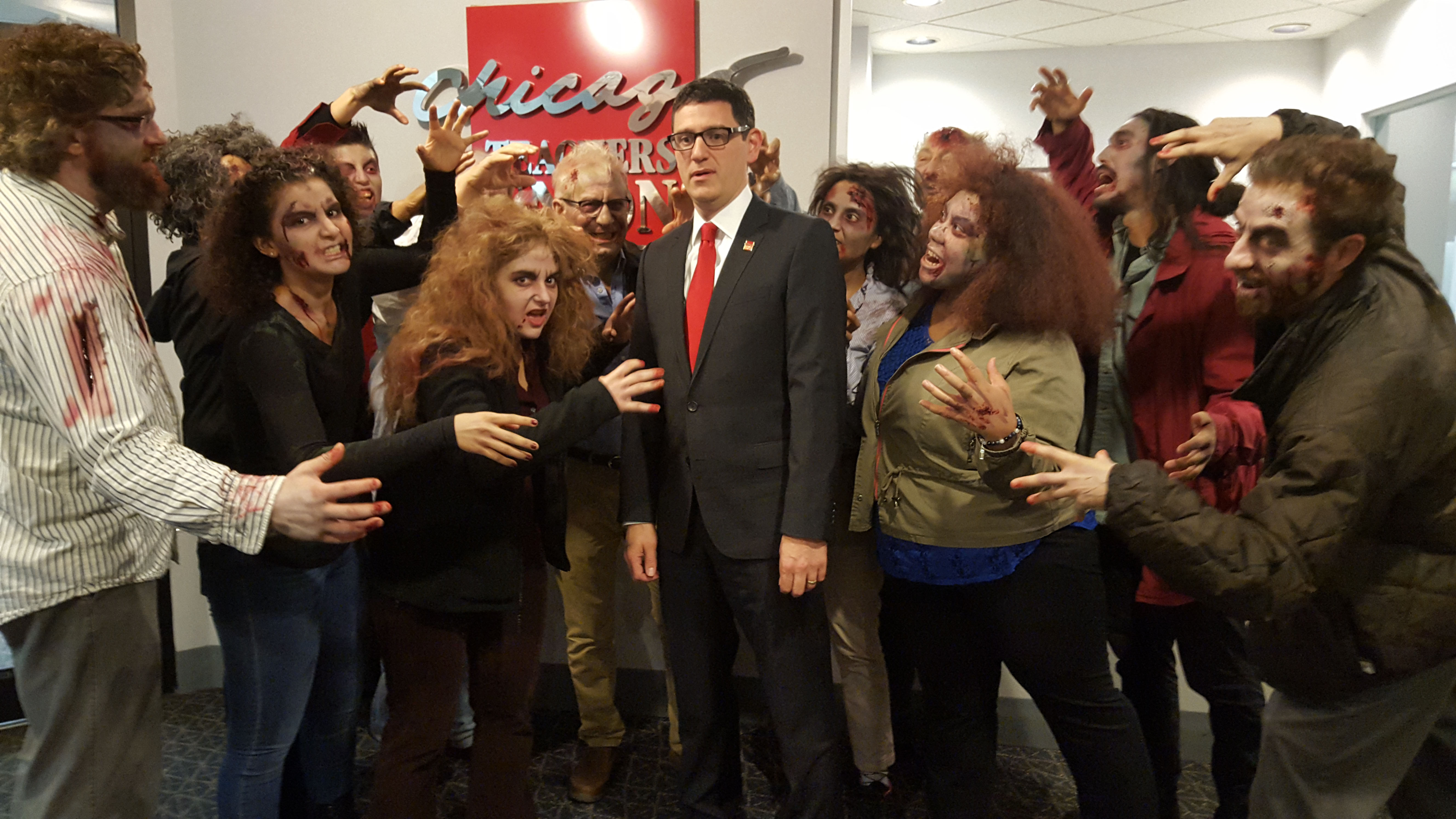 A "zombie board" shows up at the CPS board meeting.
"We think it's outrageous that the board should be proposing to cut a half a billion dollars, lay off 5,000 teachers, cutting services to special education, cutting elementary school sports" said Jesse Sharkey of the Chicago Teachers Union. "They're going to do that at the same time they're going to be handing over more money in new schools to the charter operators."
New standards
Earlier this week, the district announced plans to implement a new charter school standards policy.
The district says these new standards will hold charters to the same academic standards as district-run schools and allow the district to move more quickly to fix or close poor-performing schools.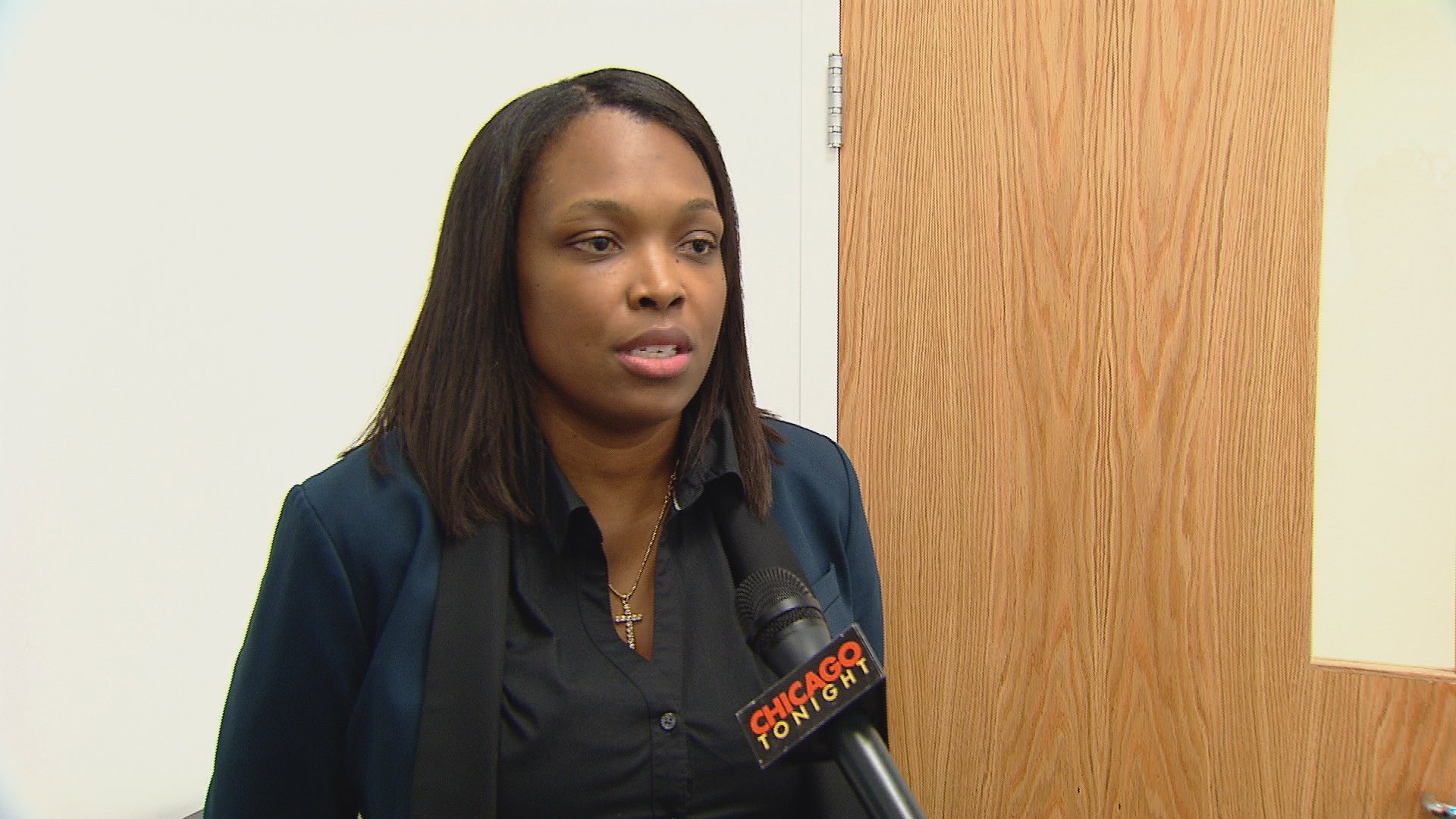 Janice Jackson "I think that we heard loud and clear from parents, principals, teachers that there wasn't the same level of accountability between charter and district schools," said Janice Jackson, CPS Chief Education Officer. "So this is our attempt to codify that and state it clearly, so that everyone knows that this administration is very serious about making sure that all schools are held accountable."
Under this new policy, 10 charters would immediately be placed on an academic warning list, which means any school on this list will be required to submit a written plan of improvement.
The district will recommend that the board revoke the charter of any school that does not improve in one year.
And charters are placed on this list if they're rated as a level three school, have a two-year average rating of 2.5 or lower or if they have a level two rating for three consecutive years.
"We don't think it's smart to replace low-performing schools without an option about where they're going to go," said Andrew Broy of the Illinois Network of Charter Schools. "You can't just close a school, you've got to think about where the students will go if you close a school. And if the answer is, close a school in Altgeld Gardens, and the solution is, go to Fenger, I'm not sure that's what families want. So we have to be aware of that."
Also, Broy says that if a charter school is not renewed or if a charter is revoked, that operator can still appeal to the State Charter School Commission the same way they can when a new charter is denied.
So far, that's only happened twice for new charters in Chicago.
---
Related: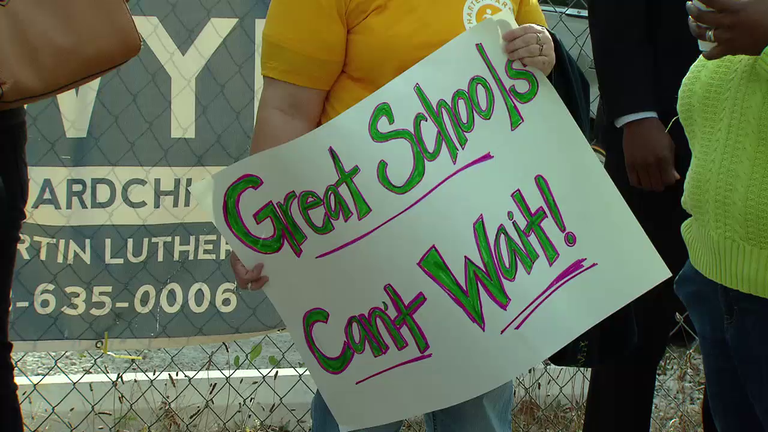 Tug-of-War Over Charter Schools Intensifies
The Chicago Board of Education will vote next week on whether to approve applications for two new charter schools, but a group of Chicago aldermen have signed a resolution calling for a moratorium on the schools, while some parents say they have the right to choose which schools their children attend. Hear from all sides of the issue.