The Green Day musical American Idiot makes its Chicago premiere Friday with a production from Wicker Park-based company The Hypocrites.
Though the musical – which opened on Broadway in 2010 – has come through Chicago twice before on both Equity and non-Equity national tours, the Hypocrites' show marks the first time the show will have been locally-produced.
Previous Chicago tours of the musical, which features songs from Billie Joe Armstrong's homonymous Green Day album, saw stagings in the Oriental and Cadillac Palace theaters – large prosceniums that more closely mirror the St. James Theatre where American Idiot had its Broadway debut.
Not so for Hypocrite's director Steven Wilson, who will be dealing with a smaller, intimate staging and – yes – actors who double as musicians.
"The desire on our part is not to just repeat," said Wilson, an original Hypocrites member who recently returned to the company after earning his MFA in directing from the University of Texas at Austin.
"I'm trying to empower some of the female characters, make them stronger," he said. "This play for me – I'm trying to not make it about three white boys. This is a show about a five-person band."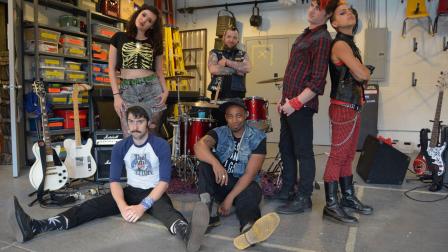 Cast, Hypocrites American Idiot (Photo / John Taflan) This is no small task given the musical's premise revolves around three young men doing drugs and searching for meaning, post-9/11.
The musical's an atypical choice for the company, which tends toward alternative stagings of classical theater (see All Our Tragic, The Mikado). Since his return to The Hypocrites, Wilson said he's pushed the company towards diversifying its casting with regard to actors of gender and sexuality. In Hypocrites' American Idiot, transgender performer Malic White plays St. Jimmy, the role Billy Joe Armstrong took on during his short Broadway stint in the show.
"It'll be the most diverse cast The Hypocrites has ever had and I'm really proud of it," said Wilson. "This conversation's happening nationally and we need to be a part of it. Unfortunately in theater, in Chicago, the word 'diversity' has been tethered to race. Hypocrites would like to be able to push that forward."
The show begins previews Aug. 28 and runs through Oct. 25 at the Den Theatre's Heath Main Stage, 1329 N. Milwaukee Ave. Tickets: $28-$36.