It was said that the Vietnam War was the first "television war." Indeed, never before had the American homefront been exposed to a regular and often horrifying stream of images from the front lines.
Newspapers and magazines also published photographs unlike any that had been made public during previous wars. And it took courageous cameramen alongside equally courageous soldiers to capture those images and films.
Many of those cameramen were also enlisted soldiers and their work not only captured much of the essential history of that war but now forms part of an exhibit called "Faces of War: Documenting the Vietnam War from the Front Lines" at Chicago's Pritzker Military Museum and Library.

I really would like the audience that looks at our footage [to] think about the man that was behind the lens.
–Ted Acheson
---
"We worked directly for the chief of staff for the army, and a four-star general, and that's where our orders came from," explained Bill San Hamel, a veteran of the Vietnam War who was a captain in the U.S. Army. Among his duties he served as Pictorial Unit Commander and Motion Picture Director for the Department of the Army Special Photographic Office (DASPO). "They wanted us to document the war, and that was one of our primary missions: get as much combat as we could. We also did training films. Periodically, they would give us a script that we would shoot to."
"I really would like the audience that looks at our footage or our still photographs [to] have an idea and think about it, and look at those pictures and think about the man that was behind the lens," said Ted Acheson, a Vietnam veteran and a former motion picture cameraman with DASPO. "What did that guy have to go through to accomplish that and get that photograph?"
Acheson was named Cinematographer of the Year in 1969 by the Department of Defense and the National Press Photographers Association. His work in Vietnam appeared frequently on nightly newscasts in the U.S. He is also a recipient of the Purple Heart after being wounded in a May 1968 firefight. 
Robert C. Lafoon also was with the Department of the Army Special Photo Office. Many of the Vietnam combat photographs you see in publications and on the History Channel were probably taken by him, including this photo taken in February 1966. Lafoon won the Communications-Electronics Command Awards (CECOM) for the photo.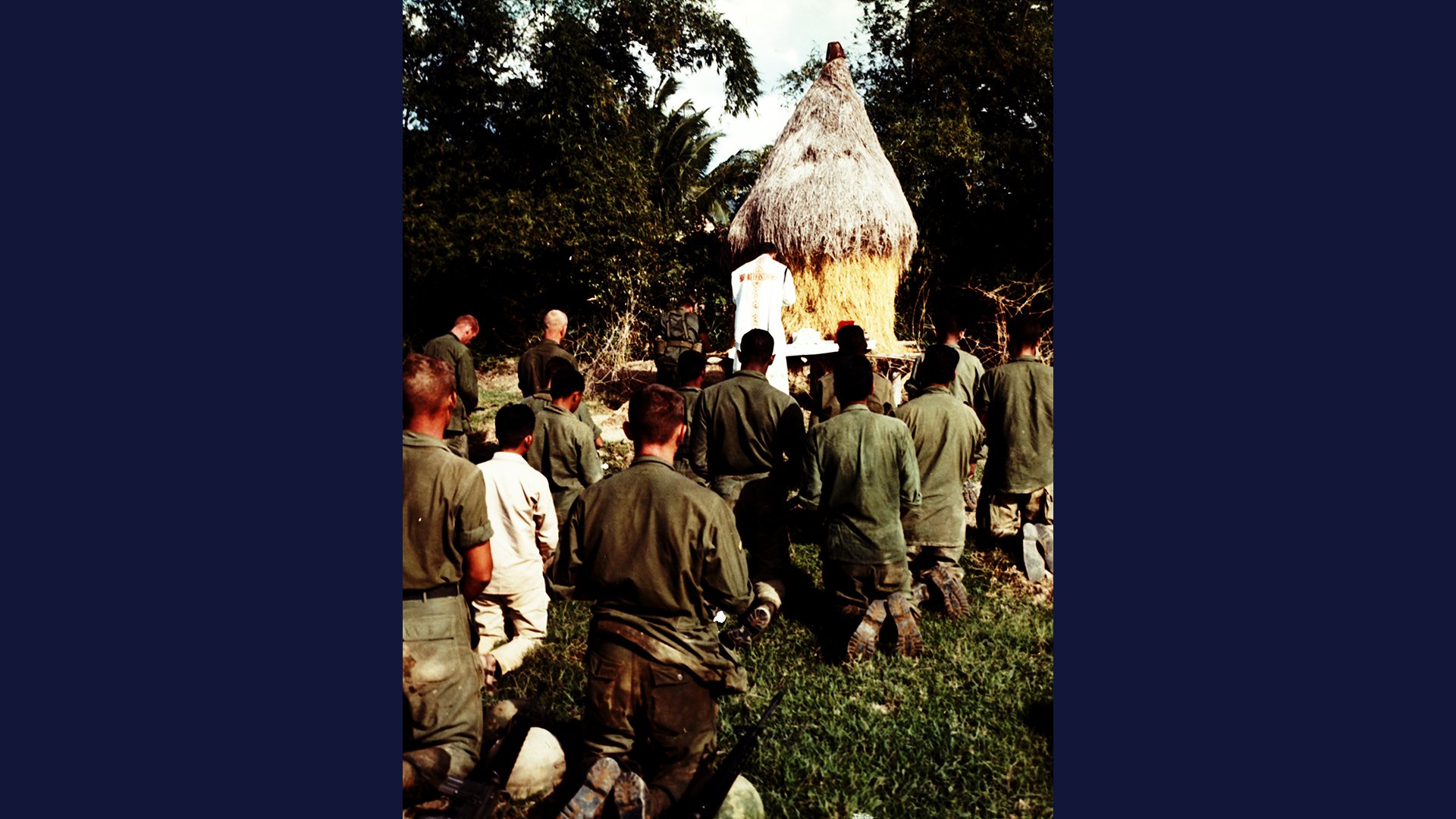 "It's the 101st Airborne in Operation Van Buren, up around Tuy Hòa," Lafoon said about the image. "We had been helping all day long and they flew the chaplain in and he conducted a mass for the day–a couple masses–and that's pretty much it."
We're pleased to welcome the three veterans and cameramen to "Chicago Tonight."
---
About 'Faces of War'
In addition to rarely seen photos and film from Vietnam, the exhibition features original cameras, equipment and other artifacts, and an audio tour with commentary by DASPO veterans. The museum website notes:
Armed with their cameras, sound equipment, and light weaponry, the elite photographers and cameramen of DASPO captured, in stark detail, the true horrors and humanity of the Vietnam War. Deploying to the front lines aboard Hueys and Air Force C-130s, these special operations teams operated with unlimited access—producing some of the most iconic and important images from the conflict.
Visiting the exhibition
"Faces of War" will be on display through May.
The museum is open 10 a.m.-6 p.m. Tuesday through Thursday; 10 a.m.-4 p.m. Friday and Saturday.
Admission is $5; and free for members and active military. 
Tours take place daily at 11 a.m.
---