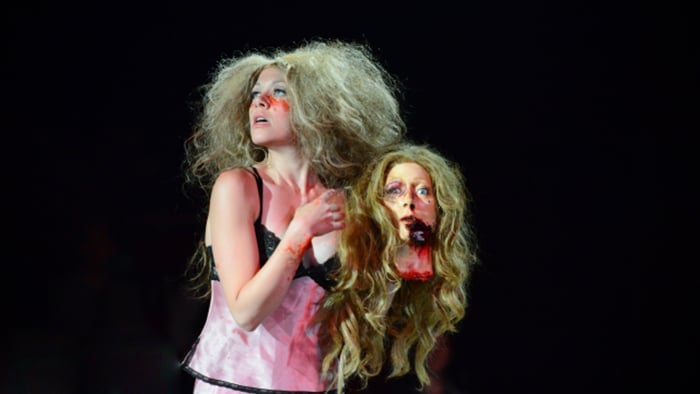 The Hypocrites "All Our Tragic" (Evan Hanover)
The math was good for "The Hypocrites" at Monday's Jeff Awards: the company's 12-hour play took home a whopping six awards. 
"All Our Tragic," The Hypocrites' salute to all things Greek tragedy, walked away with six "Jeffs" at the Joseph Jefferson Awards–a committee-driven awards ceremony that basically amounts to the local Tonys. The awards honored best ensemble, best midsize play, and best director, among others. 
The play, adapted and directed by Hypocrites founding artistic director Sean Graney, premiered in August 2014 and was subsequently remounted this summer. The colossal production condensed 32 Greek tragedies into one massive 12-hour production (complete with meal breaks). At the time it first opened, Chicago Tribune theater critic Chris Jones wrote, "'All Our Tragic' is, in totem, a watershed moment for off-Loop theater. By whatever alchemy, it serves the greatest collection of stories ever written — adds to them, modernizes them, makes them feel fresh, forces you to see them both strange and familiar."
The day following the awards ceremony, Graney said he felt floored. 
"It's just so flattering. It was great to be considered at all, this being our first time being eligible for Equity Jeffs. And it was really just amazing and overwhelming to get almost every one we were nominated for," Graney said Tuesday. 
The Hypocrites director said he's considering a new epic play, potentially drawing from Norse sagas and the Nibelungenlied — material dramatized most famously via Richard Wagner's "Ring Cycle" operas.
He also let on as to plans for another previously unannounced Hypocrites play he's adapting and directing in spring — a Faustian-inspired play not so epic in terms of run time. 
"It's going to be this really low-fi version of Faust we've been working on. No set, no costumes, just six actors telling the story of Faust, the [Christopher] Marlowe story," he said. 
Ultimately, Graney said, Chicagoans embraced "All Our Tragic" because of the nature of the city's theater scene. 
"I really think Chicago is a great theater community and great theater town and I'm not sure that the play would have been as successful in any other city," he said. 
Other notable Jeff nods went to Paramount Theatre's "Les Miserables," which netted four awards; and Lookinglass Theatre's "Moby Dick," with five awards.
The Jeff award for best new work was split between Gift Theatre's "Antarctica" and American Theater Company's "The Project(s)," the final production from that company's longtime artistic director PJ Paparelli, who died in May.