The number of single-parent households has tripled since 1960 and it's a particular problem in African-American households, where 75 percent of the children are now born without a father. Grammy and Academy award-winning hip-hop artist Che "Rhymefest" Smith, a native of Chicago's South Side, embraces this subject in a new documentary titled "In My Father's House," which chronicles his reconciliation with the father who abandoned him as a child.
The documentary, produced by Break Thru Films, made its world premiere at the 2015 Tribeca Film Festival in April and will hit AMC movie theaters nationwide on Oct. 9.
Rhymefest joined us to discuss his new film. Below, some highlights from our discussion.
On what made Rhymefest decide to purchase his father's childhood home and pursue the journey to find his father:
I felt as though I never had memories in that home and I could give my children the inheritance that I deserved, that I never had. But when I got into that home, it didn't feel comfortable. It had an energy to it that was unfamiliar and the only one that could make it right was the father, who I never knew. And that's what led me on my search to find my father.
On what it was like meeting his father for the first time:
When I met my father as an adult he had been homeless for over 25 years and I was stumped. Here you think someone abandoned you, but they fell in a hole. And now it's up to you to either let him lay in the hole or help them out of the hole. I'm glad that things turned out the way they did.
On the decision to document this personal experience:
I document through audio, but my artistry is based in vulnerability. This story, hopefully can be a story that empowers some other young person on the South or West Side of Chicago, or around the world. Ultimately it's about forgiveness. We have to learn as children to forgive, parents have to learn to forgive, brothers and sisters need to learn to forgive. And I think that this story is about love and forgiveness, more than anything, no matter what color, no matter what kind of family. And I had to forgive before I even went on the journey. You can't go on a journey and then say I'll forgive when I get there, when you never know what you're going to find.
On his current relationship with his father:
I have a wonderful relationship with my father. It's normalized and I know who I am now. As a man in his mid-30s, I was incomplete. And I think that a lot of grown men and a lot of grown women are incomplete because they don't know where they come from. It's not about having a great relationship with your parents, it's about understanding your parents' journey to understanding where you have to go.
On what he would like people to take away from the film:
Your past does not dictate your future. Your present determines what happens tomorrow. So we have to let go of a lot of things that have hurt us in our past, not hold that against anybody, and move forward. Learn to forgive and learn to be who you want to be and not always who you were taught to be.
Interview highlights represent a condensed version of our conversation with Che "Rhymefest" Smith. Watch the video to see the full discussion.
---
Below, a synopsis of "In My Father's House," taken from the film's website.
Set against the crumbling landscape of Chicago's battered south side, "In My Father's House" is a yearlong journey from homelessness and alcoholism to self-discovery and redemption as Grammy-winning rapper Che "Rhymefest" Smith reunites with his homeless father in a quest to reclaim his neighborhood and discover his true self as a father and son.
Che, a co-writer on the Academy Award-winning and Golden Globe-winning original song "Glory" from the 2014 motion picture "Selma" (Best Picture Oscar nominee), is also know for his insightful anthems "Jesus Walks" and "Bullet" and has long found inspiration in issues facing the African-American community, including the growing crisis of fatherlessness and gang violence.
Himself a child of a broken home, Che hasn't seen his father, Brian, in over 25 years, and presumes him dead. But after buying his father's childhood home, Che sets out to find him, and learns that he is now a homeless alcoholic living only several blocks away. Determined to rehabilitate him - and forge a new legacy for his own young family - Che soon realizes Brian may not be ready to take on the responsibilities asked of him.
Watch the trailer for "In My Father's House" below:
---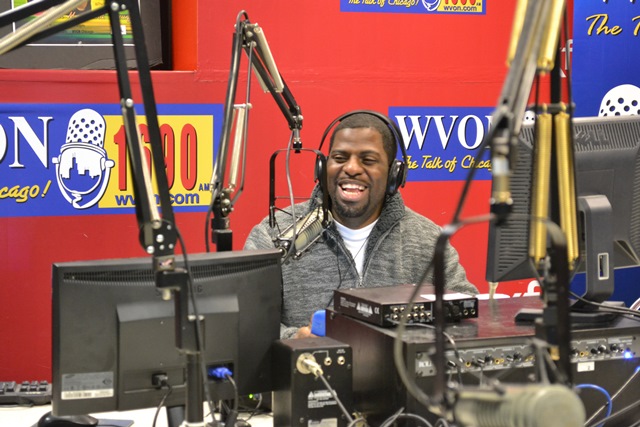 Rhymefest joined "Chicago Tonight" last year to discuss his weekly radio talk show on Chicago's WVON 1690AM. Revisit our discussion.