There's been a lot of buzz about an impending property tax increase in Chicago to start meeting the city's worsening fiscal crisis. On Tuesday, the mayor unveiled just how substantial the tax hike will be: $588 million (that figure includes a separate tax levy for schools). It's part of his 2016 budget proposal which contains additional fees and taxes to generate revenue, including a first-ever garbage pickup fee.
Joining us for his first extended interview since proposing his so-called "last resort" budget is Mayor Rahm Emanuel.
Among our questions for the mayor are several shared with us by readers who are concerned about the city's finances, but we'll also ask the mayor about a developing story involving the Chicago Tribune.
The Tribune announced Thursday that it is suing Mayor Emanuel over the use of private email. In a news story posted on its website, the Tribune states that the lawsuit filed alleges "that Mayor Rahm Emanuel violated state open records laws by refusing to release communications about city business conducted through private emails and text messages."
While the mayor told "Chicago Tonight" he has not seen the Tribune lawsuit, he said his administration complies with the Freedom of Information Act requirements.
"As a preference, I prefer to be on the phone so I can use all of my colorful and very precise and persuasive language, but I have a practice that my political and personal stays on my private email and city business is on the government, and that's the way I operate," Emanuel said. "We have a policy that if people have anything like I do, two accounts, you keep the work and kind of political stuff separate."
'Last resort' budget
In his budget address, the mayor called his proposed 2016 budget a "last resort" to remedy the financial mess he inherited.
"It meets our obligations on a number of fronts, and again: I didn't create these challenges. I'm here to fix these challenges," Emanuel said. "Structural deficits with gimmicks, pensions that were not being paid to the level that they need to pay; those were things we inherited and we are fixing. We're making tough choices and doing it in a way that I think is fair and equitable to all of the people of Chicago." 
To keep his proposed property tax increase fair, the mayor is calling for an expansion of the homeowner's exemption so that properties valued at $250,000 or less would be spared from the tax hike. This would require approval by Springfield, which may be asking a lot as the legislature is mired in its own budget crisis.
"A homeowner's exemption has never been controversial," Emanuel said. "The only reason you would say [that is asking] a lot is because Springfield is broken. Springfield has basically become a mirror image of Washington."
With that said, Emanuel isn't waiting for Springfield's assistance.
"I'm not relying on Springfield for anything. We in Chicago City Council, we are doing the hard work of righting our financial ship. We will pass a budget," he said. "If we did what Springfield's doing, we'd have this whole budget crisis -- or 'challenge' rather -- go on for months rather than meet our obligations. We're actually going to meet our obligation.  I think that's not a lot, but that's the heavy lifting that I'm proud the aldermen are doing."
Other potential revenue sources
While Emanuel outlined several fees and taxes as possible sources of revenue in his budget, "Chicago Tonight" viewers had a few proposals of their own. One suggested the mayor consider a progressive city income tax similar to that of New York City rather than a property tax increase.
"You'd have to go change the law in Springfield. Now, if you think doubling the homeowner's exemption is a lot for Springfield, creating a new city-wide income tax … and truth is, the bill is due today," he said. "I can't wait for Springfield to change the law, create a progressive income tax, even though the constitution's clear that a state income tax has to be flat."
Another viewer asked the mayor why he won't consider a financial tax on La Salle Street, which could generate billions in revenue.
"Thirty percent of the future's market in the world is right here; billions of dollars of economic activity and jobs, and the worst thing—given that it used to be a floor—today it's all done electronically. It doesn't have to be here. They could easily move, and I don't want to see those jobs and the economic opportunity and the economic growth from that to leave," Emanuel said, adding that enacting that type of tax would require changes in legislation either by Springfield or Washington. 
Recent 'Chicago Tonight' stories on mayor's budget proposal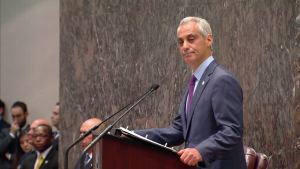 Emanuel's Budget Includes Property Tax Hike, Ride-Sharing Fees
On Tuesday, the mayor unveiled his proposed 2016 budget, which includes a $543 million property tax increase that would be phased in over four years. Without a property tax increase to fund the city's police and fire pensions, Emanuel said drastic cuts would be made to citywide services, including laying off thousands of police and firefighters. Fees on ride-sharing services, taxis and garbage collection are also included in the budget proposal.
---
What Questions Do You Have for Mayor Emanuel?
Readers submitted dozens of questions for the mayor on our website and on Facebook and Twitter, asking about topics such as TIF and pension reform to the legalization of marijuana and casinos; why CPS does not file for bankruptcy; whether the city should raise the gasoline tax or support a financial transaction tax; to whether Emanuel has presidential aspirations. We thank everyone for their questions and look forward to using a selection during our discussion with him.
---
Chicago Aldermen React to Mayor's Budget Proposal
After being called on by Mayor Rahm Emanuel to step up to the challenge and approve his "last resort" budget, "Chicago Tonight" asked a panel of aldermen for their reactions. We heard from Ald. Jason Ervin (28th Ward), Ald. Ricardo Muñoz (22nd Ward), Ald. Patrick J. O'Connor (40th Ward) and Ald. Carlos Ramirez-Rosa (35th Ward).
---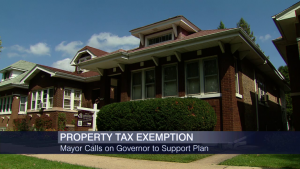 Emanuel Property Tax Hike to Spare Low, Middle-Income Homeowners
Ahead of the mayor's budget announcement, news broke about his plan to shield low- and middle-income homeowners from a potential massive property tax increase. It was reported (and subsequently confirmed in Emanuel's budget address) that homeowners who live in properties worth $250,000 or less would be exempt from paying any additional property taxes.
---