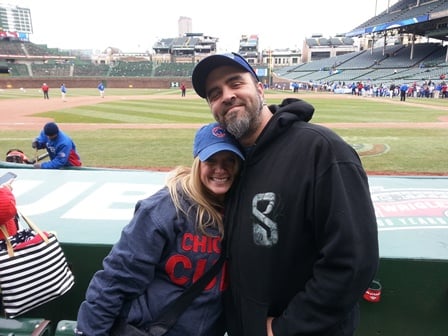 Mattefs and wife Amy at Wrigley Field, opening weekend 2014. From Fergie to Ozzy, Chicago-native Tim "Grape" Mattefs has traveled the world and seen it all in 15 years as a touring live concert technician. But the lifelong Chicago Cubs fan has never seen or worked a live performance at Wrigley Field, until now. In the midst of a massive world tour working with Australian rock and roll giants AC/DC, Mattefs will take the field of the "friendly confines" on Tuesday for a sold-out rock show of the ages.
"It's pretty awesome. I've done gigs all over the world and I've done gigs in certain places that are iconic to other people, like one of the last shows at Candlestick Park in San Francisco before they tore it down," Mattefs said. "This one is unique because Wrigley is home and it's a place that I grew up going to watch baseball games — and I've never actually been to a concert there. And to be able to walk in and do a show there is pretty special to me."
Lifelong Cubs fan
Originally from Des Plaines, Mattefs spent a great deal of his childhood playing sports and watching America's favorite pastime on the North Side. 
"I've been a Cubs fan my whole life. I used to go to Wrigley when I was a kid all the time, back in the '70s when they were horrible," Mattefs said. "Just going to Wrigley was an experience all in its own because it's such an iconic landmark building. But you don't really think about that when you're a kid. And then you become an adult and you realize how much history there is."
Mattefs spoke of his fondness for former Cubs slugger Dave Kingman, an often overlooked Cub who played on the team from 1978-'80. Kingman, like the late Cubs hero Ron Santo, wore the number 10 on his Cubs uniform. After the Cubs retired Santo's number 10 in 2003, it seems that fans sporting Kingman jerseys have become few and far between.
"When I was a kid growing up Dave Kingman was to me what Sammy Sosa probably was to a lot of the kids growing up in the '90s," Mattefs said. "Kingman was only here for a few years, but to me he was a big deal."
Kingman was a big deal in his short time with the Cubs – and a huge hitter. In 1979, Kingman batted .288, scored 97 runs and led Major League Baseball with 48 home runs, three of which came in the Cubs famous 23-22 loss to the Philadelphia Phillies in extra innings.
Watch one of Kingman's home runs below from the 1979 game, one of the longest ever hit at Wrigley, below:
---
Career in music
Mattefs began studying the violin at age six and would pursue a full-time career in the music industry as a young adult, writing, recording, performing and touring as a bass guitar player with several independent bands in the Chicago area.
In 2000, Mattefs was offered an opportunity work as a bass guitar technician on a small club tour for a band that had recently signed a recording contract. Frustrated with the trials and tribulations of being a musician in the fickle music industry, Mattefs struggled with putting aside his accomplished career as a performer to work behind the scenes for other musicians.
"I still wanted to play and I wanted to be in the [music] business, period. No matter what it took," Mattefs explained. "It was that little window that said 'try this.' I figured if I'm not going to be a rock star, I'll at least hang out with them."
Mattefs found his true calling on the road and launched into a new subculture of an industry that he had devoted his entire life to. Touring in a van and trailer soon grew to tour buses, semi-trailers and airplanes, as performances grew from clubs, to mid-sized venues, arenas, stadiums and global festivals.
His clients grew larger as well, as Mattefs would work with a vast array of artists that include Rob Zombie, Fergie from the Black Eyed Peas and heavy metal legend Ozzy Osbourne to name a few.
On the road, again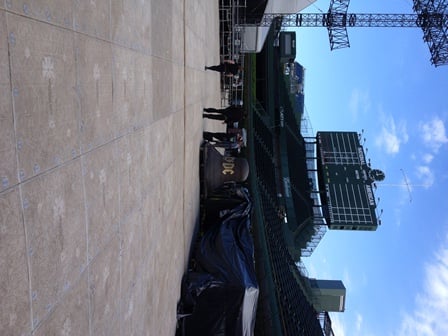 From 2011-14, Mattefs travelled to 141 cities in 27 countries worldwide as a multiple instrument technician with Cirque Du Soleil's Michael Jackson: The Immortal World Tour. When the three-year tour wrapped up at the end of last year, Mattefs was approached about working as a bass technician for AC/DC.
A month later, Mattefs shipped out to Los Angeles in mid-January to join AC/DC for two months of tour rehearsals, with an opening performance at the 57th annual Grammy Awards along the way in February. The European leg of AC/DC's Rock or Bust world tour kicked off last May and getting acquainted with the band members and crew has been a smooth process for Mattefs.
"Everyone has been amazing. They're all down to earth and normal guys. They just happen to be one of the most iconic rock and roll bands in history. They wrote a lot of really great songs and they made a long career out of it," Mattefs explained. "This is huge, it's the biggest thing I've ever done and it's one of the biggest tours out there right now. For an iconic band to be around for as many years as they have, it's not really like anything else, because a lot of bands that you see nowadays are out there with tracks and backing tracks and it's not really even a band playing – they're playing to the tape. But now, working with these guys, it's just rock and roll – it's two guitar players, a bass player, a drummer and a singer doing what they've been doing for years."
Although Mattefs' primary responsibility is to work as a technician for AC/DC bassist Cliff Williams, Mattefs also participates in all of the grunt work that's involved in setting up and tearing down the monstrous stage and equipment rigs for every date on the tour. Ideally, load-in and setup is a two-day process, yet the timeframe for certain shows allows for only one day.
"My day that's split up into two days can become a really long one day," Mattefs said. "I've probably lost at least 10 pounds on this tour."
AC/DC is travelling with three sets of steel that act as the framework for the band's heavy duty stage, which includes a second "B" stage and a stage on top of the stage that's known as the "chicken run." The crew is also responsible for running line checks and sound-checking the band's equipment before shows. When the band takes the stage it's all hands on deck and when the performance is over, Mattefs and the crew begin breaking everything down immediately.
"It's like a rocket ship taking off," Mattefs explained. "Everybody, with all of their stagehands, packs up all of the gear and puts it back into the trucks. And as soon as we're done with all of the trucks, we close them up, get on the bus, go onto the next city and do it all over again."
Staying grounded
The idea of touring with famous rock stars may sound glamorous, but being on the road away from home can be a challenging and lonely world. Mattefs stressed the importance of staying well-grounded and keeping in touch with family and loved ones.
"You're kind of living in your own world, this alternate reality and you miss a lot of things — you miss birthdays, you miss holidays, you miss being around the people that you love and the people that love you. But you can always communicate, no matter where you are in the world, whether it's a different time zone or a different country," Mattefs said. "The best part is being able to travel the world and get paid to do it. Sometimes you're able to see things while you're in different countries. Sometimes you have a day off, sometimes you don't, so it all depends. It may end up being a while, you can go to Japan five times and never actually see anything. But those few times that you do, you're able to see things that you probably never would have been able to see if you hadn't chosen this career path."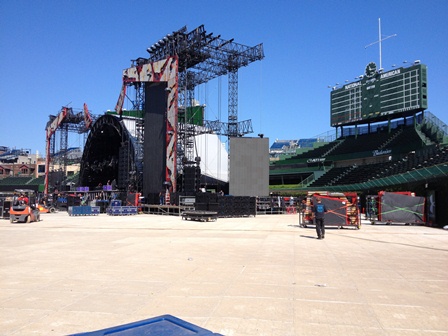 AC/DC finishes up the North American leg of its Rock or Bust tour at the end of September and then resumes in November with shows in Australia and New Zealand before the tour concludes in December. Mattefs is uncertain whether the tour will be extended into 2016, but, as the Cubs are making a push toward their first post-season appearance since 2008, Mattefs is optimistic about seeing the Cubs play while he has some time off in October.
"We're going to probably be in the playoffs," Mattefs said. "Whether we go to the World Series or not, I don't know, but it's been an exciting, amazing season with a bunch of rookies that have made a big difference in the games. Even the guys who have been here a couple of years, like Anthony Rizzo and Starlin Castro, are pretty young. It's fun to watch, it's fun to be around, it's just exciting."
Watch closely and you will see Mattefs in AC/DC's "'Rock the Blues Away' (Behind the Scenes)" music video: