Emily Graslie may just have the coolest job in the world. Hired as the Field Museum's first Chief Curiosity Correspondent, Graslie gives viewers on her popular YouTube channel The Brain Scoop a look at the wide variety of scientific research and just generally cool stuff that goes on behind the scenes at one of the world's great natural history museums.
"I'm essentially an in-house journalist at the Field Museum," Graslie explained. "We use a variety of new media, social media and digital storytelling to talk about the science that happens at the museum and the use of the collections there that aren't on display."
But Graslie's curiosity about science wasn't developed at an early age. Before working at the museum, she studied art at the University of Montana.
"I wasn't anybody who ever really thought that science was a thing for me," she said. "It wasn't until I was about a semester away from graduating with an art degree that I went into a natural history collection and realized that science is interactive, it's hands-on, it can be messy, and it can be creative."
Watch the video to hear the full conversation with Graslie on Chicago Tonight, including her efforts at popularizing science, what it's like to go on expedition to the Amazon and how her social media followers helped her create the first new diorama at the Field in more than 80 years. 
Emily Graslie at work on Project Hyena Diorama. (Courtesy of the Field Museum)
'Best Celebrity Nerd'
When The Brain Scoop debuted in January 2013, Graslie was living in Montana and volunteering as a curatorial assistant at the University of Montana Zoological Museum, where she was also filming and producing the shows. After receiving an offer to work for the Field Museum, Graslie took her show on the road and debuted in Chicago in August 2013.
Graslie's YouTube channel and Field Museum video blog immediately made an impact in the Windy City, earning her such accolades as "Best Celebrity Nerd of 2014" by Chicago Magazine, a spot on the Top Twenty in their 20's for 2014 in Crain's Chicago Business, and  #15 in The Top 30 Young People in Digital Media in The Guardian.
Watch an episode of the Brain Scoop's "Amazon Adventure" series below:
Tackling the theme of gender equality, in an episode titled Where My Ladies At?, Graslie made national headlines when she confronted the idea of sexism in the male-dominated field of science, and said that the only part of her job that she does not look forward to is "the frustratingly negative and sexist comments that I have to sift through in my various inboxes on a daily basis." The episode has been viewed over 900,000 times.
Watch the Where My Ladies At? episode below:
---
Project Hyena, Evolution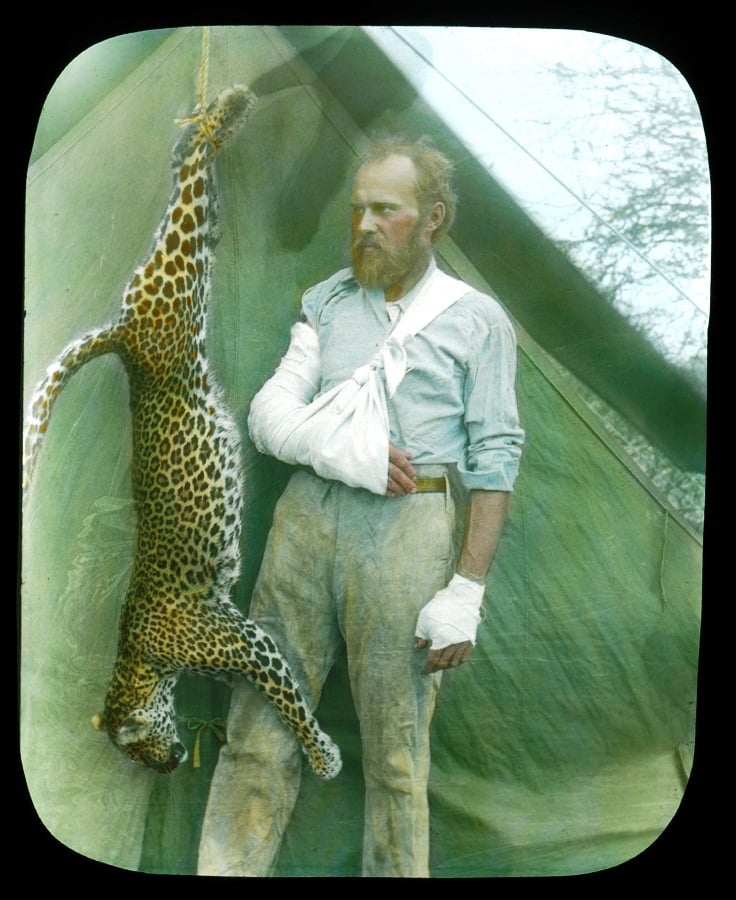 Taxidermist Carl Akeley. (Courtesy of the Field Museum) In April, Graslie launched an Indiegogo crowdfunding campaign titled Project Hyena Diorama to fund the restoration of four Carl Akeley-taxidermied striped hyena specimens and move them from their current location in the museum's Reptile Hall to a new habitat diorama in the Hall of Asian Mammals. The initiative raised over $155,000 from more than 1,800 supporters in only one month.
The Field Museum and Graslie are launching a new program this month titled Evolution@Revolution, which will be held from 6:30 to 8:30 p.m. on Wednesdays, Sept. 9, Oct. 7, Nov. 11, and Dec. 9, at Revolution Brewing. Graslie will host Field Museum scientists who will discuss aspects of evolution and how their research may affect that area of science.